It's time for Shopware 6.4.14.0 release notes! The bulk edit capability has been extended in the August release, along with dynamic picture linking, among other things. Additionally, a new feature that makes it simpler to track your social shopping sales is available for commercial versions.
Shopware 6.4.14.0 Release Notes – Learn More in the Respective Sections.
Perform Bulk Edit for Documents and Status Mails
Unified Payment Method Module
Products now have an active primary category.
Category Assignment to New Layouts Automatically
Dynamic Image Links In Addition
Summary in Release Video
Add an extra field to the customer profile
Tack Sales via Social Media
Perform Bulk Edit for Documents and Status Mails
With Shopware 6.4.5.0, we introduced the bulk edit in the previous year. Whether it's consumer, sale, or product data, you can quickly change various data sets at once. We have extended the bulk edit with this release of Shopware 6.4.14.0.
The bulk edit feature's new possibilities are as follows:
Create several documents at once and download several documents at once
Send many update emails with a few simple clicks
Use the bulk edit feature to create several cancellation invoices at once.
To avoid repeated execution of operations, you may also activate or disable actions from Flow Builder in this situation.
Unified Payment Method Module
You can create and manage many payment options for your online business in the Shopware 6.4.14.0 admin. The SaaS or self-hosted variations currently feature different payment mechanism modules. We compared the module in two versions and incorporated the best elements from each. Therefore, a unified payment method module that is simpler and easier to use.

It is challenging to identify between a SaaS-hosted version and a self-hosted payment method module.
Related Post: Top 5 Platforms to Develop B2B Multivendor Marketplace
Improved SEO & Shopping Experience – Products Now Always Have An Active Primary Category.
Multiple categories could be designated to products, but only one can serve as the primary category. This one will be shown on the product page. Additionally, since the primary category determines the breadcrumb, it is also helpful for SEO.
How Breadcrumb Helpful in SEO?
In order to properly identify subpages in the overall page structure, search engines can employ breadcrumb navigation to get insight into the page structure. Additionally: Google and other search engines might show the navigation route in the SERP snippets if you utilize structured data.
In the past, you weren't required to specify the primary category. The first category on the category tree was then picked at random. However, the status of this category was not verified. A message appeared when you clicked on a breadcrumb for an inactive category. In order to prevent mistakes, the automated selection can now only designate active categories as the primary category. One further step in the direction of a wonderful customer experience!
Category Assignment to New Layouts Automatic
You can design engaging layouts in Shopware 6 and add them to your store categories. But up until now, the task was a little awkward. Because each time a new layout was developed from a category, it had to be saved, returned to the category, and afterward assigned there. The newly constructed layout is now immediately placed in the category where it was first developed. This helps you save quite time.
Generate Dynamic Image Links In Addition
We previously made improvements to the linking procedure with the April release so that you can set links more quickly and cleanly. You can now generate dynamic picture links in addition to dynamic text links, which is a new feature we've introduced to this page. Therefore, the linked URL will immediately update and point to the intended linked destination if you alter the products or categories after linking them via an image.
Here is The Summary in Release Video
To see how the new features appear in the Shopware admin, view the release video.
Add an Extra Field to The Customer Profile
For Shopware app developers, this update includes a minor but important improvement: Now we can add an extra field to the customer profile in the storefront in order to collect additional customer data. Consider the recommendation for "Favorite Color," for instance in an app.
There are even more modifications that could be of your interest. More information may be found in the changelog.
Edition and Service News
News relevant to the commercial Shopware versions may be found in this area.
Easily Track Sales via Social Media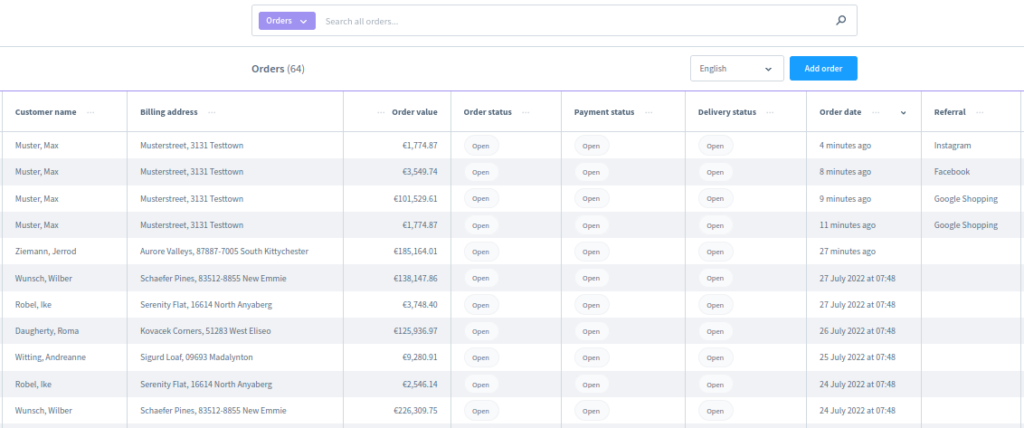 Social media may be linked to your shopware store so that you can utilize it as a sales channel. Shoppers who have made purchases through these channels will be identified now. This provides you with a brief overview of the quantity and types of sales you have produced through social shopping, which is also very helpful for your analytics and business approach.
All traffic and transactions that originate from social media sales channels may be tracked using referral codes.
The order overview may now be filtered by social media platforms like Facebook, Instagram, or Google Shopping.
Order, consumer, and sales information are available in each sales channel's module.
Need Help with Shopware implementation? We are always Here
Implement New updates to harness the most out of amazing e-commerce platform called Shopware. Hire dedicated shopware 6 developers from octal for all your custom shopware development needs.