With the outbreak of the COVID 19 pandemic, one thing that has seen immense growth in home delivery and online shopping services. From getting your food or your medicines delivered in a click, life has become quite easier.
One of the delivery applications that has generated great revenue and has helped customers in these tough times the most is Instacart. Having your grocery delivered at home is surely one of the easiest ways to manage your time and energy. Technology has made months of lockdown a little easier. It has also brought a major shift in the way the world shops and buys stuff.
E-commerce has gained popularity and has turned out to be the new normal today!
Gone are the days of waiting at cash counters to pay bills and remembering each thing that is to be bought from the nearby market area. Grocery store owners around the world are building similar app like Instacart to increase their revenue. Before we move forward and discuss how the Instacart clone app can prove to be the ace card for your fortune, let's understand what exactly Instacart is and what it does for the customers.
Understanding Instacart Business Model for Customers
The Instacart business model focuses on delivering online grocery items to its customers. It is functional in the US and Canada. The app offers a personal shopper, who shops, packs, and delivers the ordered items for the customers. Thanks to such ease, customers become quite dependent on the app thus inspiring other grocery store owners to come up with an Instacart app clone.
Sounds like something worth copying? Surely, it does!
The app was conceived and launched in 2012 and ever since there is no looking back. The reliable and growth-oriented Instacart business model has inspired a lot of owners to enter the market with an app like Instacart.
The value proportion of working with such a business model is customer-centric and aims at providing the best services. Building an app inspired by Instacart model is a great move if you are looking forward to making things easier for your customers.
Value Proportions: Understanding the Core of the Organization
The Instacart business model is aimed at providing customers the ease of shopping in the comforts of their bedrooms. Business models for an app like Instacart majorly depend on the number of participants who take their services. It not only makes things easier for the customers but also provides opportunities to local manufacturers and retailers to showcase their products. Some of the important things that provide Instacart an edge over the rest of grocery delivery websites are:
Offers over hundreds of variety of the items, giving buyers a plethora of alternatives to choose from
The shoppers can save extra money by helping customers make appropriate purchases.
With time-bound delivery, the app seems really quick and interesting in delivering the solutions.
Offers loyalty programs and other rewards to its regular customers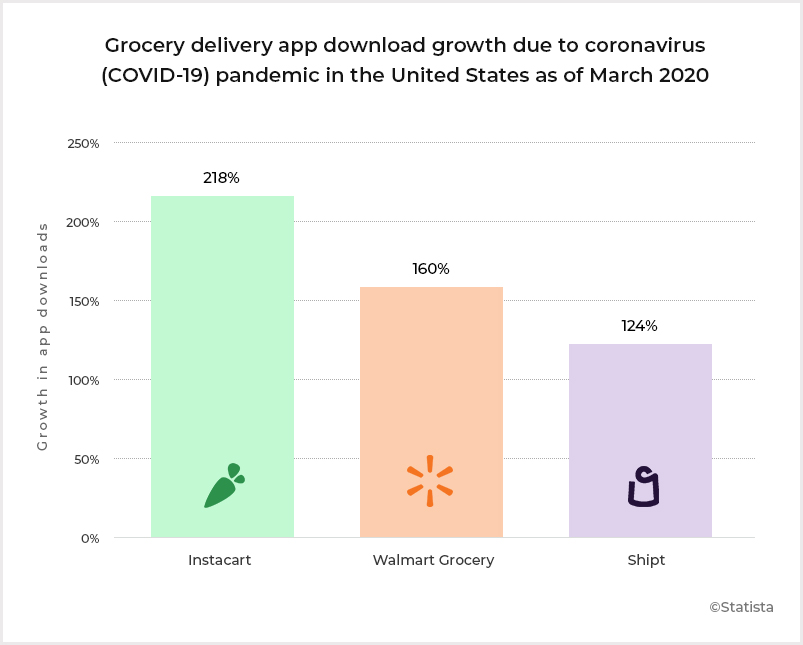 If you want to know how much does it cost for Instacart app development, list down its features, benefits, and other services that it offers and then build an estimate. Instacart pricing model clearly reflects its dominance and revenue scheme and how it can take your business to zenith.
How Is Your Product Delivered?
When we talk about the quick and record-time order delivery, the working strategy is to be credited. You must be confused about how much Instacart express costs? With a well-strategized plan to serve their customers, Instacart is creating wonders with pocket-friendly services. If you want to develop an Instacart Clone just checkout the delivery process we have elaborated here:
Shopper Checks for Your Order
You can place an order either via Instacart mobile app or the Instacart website and make the payments. You need not worry about any physical interactions or going out with the list. Just log in to the app and a click does it all for you.
Shopper Buys Your Stuff
Your personal shopper buys stuff for you and also, shares alternatives if any of the items are unavailable. Thus, if instead of one thing, its substitute is available you'll be updated about the alternative and you can decide if you want to avail it or not. This is something that sets business model of Instacart apart from its competition.
Shopper Pays Your Bill
Once your shopper is done buying stuff for you, the next thing is they make a payment. The payment is done via the Instacart debit card that is provided to them. This debit card simply works on the model of a normal debit card, other than the fact it works with Instacart money.
Shopper Delivers Your Order
The same shopper delivers your order too. Unlike other grocery delivery app, you need not wait hours or the next day for your order to be delivered. As soon as the shopper is done with payment, they deliver your order to you. So, now you know along with your order there are a few more things included in your Instacart prices.
In case you tip your rider with a little amount, it goes to their pocket. And if you tip via app or website it is added to their accounts and is given to them with their salary.
That's a lot of hard work surely!
You must be wondering how much does Instacart delivery cost? Well, to your surprise it doesn't cost a lot. The delivery charge at Instacart is around $3.99 for any order of value more than $10.
Affordable and Convenient! Exactly what a customer needs.
Well, the next question is with such low charges how does the organization earn revenue? Well, here we discuss the Revenue Model of Instacart.
Exploring Instacart Revenue Model
As already discussed, Instacart offers its services at minimal rates and majorly depends on its participants, the big question arises what exactly is Instacart revenue model? This business model has helped the business owners be one of the most talked-about service providers in a span of less than a decade.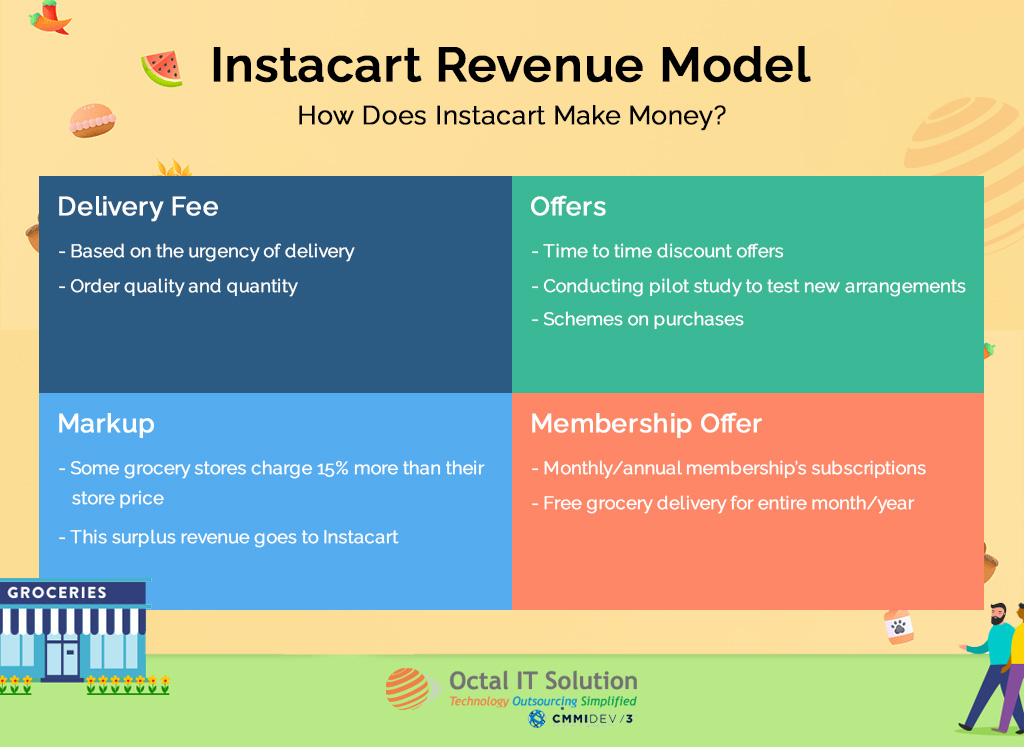 Well, they have various channels to generate revenue. In short, they do not expect to earn just from the delivery charges but other means too like surge prices, payments from grocery partners, order placement fees, advertisements, new collaborations, etc.
One can pay around $6 to get their items delivered in an hour.
Not just this, one can avail of Instacart Express delivery token for $99/year.
They charge some stores for markups. When you are building an Instacart clone app the best thing is you can find various channels that contribute to your revenue instead of being stuck with anyone.
The manufacturers have to pay around 3% of the MRP to Instacart for the sale of each item.
These are a few channels that help Instacart generate high revenues without letting customers being directly affected by the payments.
Customer rewards and loyalty programs are surely a great way to hold your customers and monetize on your goodwill.
This is the basic Instacart revenue canvas. When developing a platform like this, make sure you too gather revenues from various channels so that if any of these channels go weak, others don't halt.
What Features Influence Instacart Pricing Model?
When you decide to hire mobile app development team for Instacart business model, you need to be aware of the basic features that need to be a part of your application. Your feature list would surely influence how much does Instacart cost for you. Don't bother to add a lot of features here. A lot of unnecessary features would make the app file heavy and make navigation a little confusing.
For clear navigation and a great customer experience, your app needs to be well-defined and have interesting elements be a part of it.
Register Easily 
For any mobile application, it is important that the customers can easily join the web or mobile app to avail of your services. Users are expected to abandon the registration process if it is very complicated or needs a lot of information. Instacart basically works with a valid email id only.
Search Bar
Your search option needs to be really strong. It is important that it can access various categories and bring on required results at once. A little effort when searching isn't a good thing.

Shopping Cart
Let your users have a look at the items added to their cart. Also, remind them of the items left in the cart so that they can make the purchase.
Payment 
Integrate various payment gateways and e-wallet apps with your Instacart clone app to make sure making the payment is a hassle-free process. Let your users download their invoices and leave tips for their shoppers if they wish to.
GPS Integration
Let the shopper locate the buyer, and have a route to their place. This would make it easier for them to make quick deliveries. Along with this, let the buyer spot the shopper and help them with the address. Business model of Instacart takes care of its customers and shoppers equally well.
Notifications 
Make sure you keep your buyers updated with the latest developments, offers, and rewards.
Order Management 
With an easy order management system, your buyer can change the quantity of the product, cancel the order or repeat the order.
Feedback and Reviews 
This would help the buyer know how well the shopper works and how they can help the shopper earn more and better.
These are just a few basic features that you may need to integrate with your Instacart like app for high returns. These features are well researched and planned and each feature integrated into your app gets a rise in its popularity!
So, you are all sure to step up your application with some interesting elements with just the most required features.
Technology Stack for App Like Instacart
When it comes to any app development the first thing that matters is the technology that is involved. We share here the technology stack for Instacart development.
Developing and Deploying the App: Github
Programming Languages: C++, Java, Swift
Payment Gateway: PayPal, Stripe, Braintree
Navigation: Google Maps, MapKit
Messages and Notifications: MailChimp
These are a few aspects that you need to focus on when you reach to web app developers for an app like Instacart.
The next thing is preparing a budget inspired by Instacart pricing model.
What Is Cost of Development of Instacart Like App?
When we talk about the cost of development of Instacart like app, we need to first prepare a list of the features and functionalities we want to include. The cost of development for app like Instacart would be similar to the cost of developing ecommerce mobile app. How much does it cost for Instacart app development depends on the region you have reached.
For South-East Asia: $10 to $80 per hour
For USA: $50 to $250 per hour
For European Regions: $30 to $150 per hour
When you think what the cost for Instacart app development is, it would amount to $62k.
So, if you are ready to invest in an app like Instacart make sure you have done your homework well that can help you earn great returns on your investments. This journey of bringing a great customer experience on screen may seem a little hectic and energy-consuming, but it would surely be worth the investment.
The Final Key Takeaways!
Now that you know the business model of Instacart app and its revenue model you would be searching for "How to develop an app Like Instacart." Well, relax! You don't have to do it right away. Just reach to the right app developers who can help you here and let them put their expertise and experience to work. Their availability and customer relationship team would play a major role in communications. Along with this look at the technology stack and move forward as and when required.
At Octal IT Solution, we have been providing dedicated mobile app development services. We can easily visualize your idea and bring it on the screen with a little input from you.
All the Best for Your Project!