In this blog post, we discuss grocery list app development, including the key features, revenue models, and cost to make a grocery list app. As a leading grocery delivery app development company we not only have the right technical expertise, but also the right domain knowledge to explain what is required to build a shopping list app for any market across the globe. Thus if you are looking for a right grocery delivery app development company you are at the right place. This blog is for all those who are looking forward to develop an online grocery order and delivery app and want to know how much grocery delivery app development cost.
Let's talk about two scenarios today!

People around us have faced a very uncommon problem. Believe it or not, people are more reluctant to the technology than ever before. They have a stringent habit to check their phones for every important work. And why not? Quick access to the small device makes it super easy for them to remember.
On the other hand, people who are forgotten and have lethargic lifestyles are more rigorous for illness than those who believe in the importance of smartphones and have myriad daily food choices.
Thus shopping with a list discriminates for them the trade-off between taste, nutritional choice, cost, and convenience. These useful bunch of list makes people eat healthy food.
The mobile grocery list app offers better eating options to people who are living in not easily approachable places and have limited access to the varieties of food and groceries options.
In the study, it is seen that residents who belong to some of the most unreached paths like deserts, mountains, or rainy spots, have faced additional barriers.
These innovative digital shopping list apps are more promising for your everyday tasks. So there are now choices for the people to make their list for the times when they disappear and have options to go outside.
The point here is how these grocery delivery apps track and learn from their user's behavior and help them to prepare the most customized list of items used in their daily chores. That's right, these supermarket list apps are automatically prepared the list for a specific time in case you have meant to forget. The automatic list is personalized based on our shopping trends and we just have to pick and parcel. Isn't it a great thought!
So let's don't crack the climax here, get step in with us and understand how grocery list app development could be an ideal feature for the users. Grocery delivery app development process starts by understanding what is it exactly.

All about Grocery List App Development!
Talking quickly, a grocery shopping list app with a list is a tool that helps your users to navigate once through the food marketing environment. As shown above it is a guide to functional everything faster.
Generally a supermarket list app is assembled with unique features;
limit people from unnecessary purchases,

User can plan their meals and monitor their eating habits

It is the best way to preserve financial resources.

And many more.
A well-designed grocery list app that adds prices employed useful measures in user's life and improved their dietary quality. Apart from this these apps are fully loaded with food nutrition guidelines to meet users' needs. Hence every grocery delivery app needs to ensure that during development the complete flow is covered. For the same its recommended to hire the right grocery delivery app development company.
To the lower-income users, these lists derive effective methods to shortlist the essential items. It helps the user to practice and regulate their monthly shopping behavior and keep an eye on that.
The shoppers focus on health, track their calorie consumption and filter out the unnecessary products which would rely upon anything more than cost. The grocery list app development is designed for people to reach their health goals.
Related Post: Grocery Delivery App Development – Cost and Key Features
Finally its time to discuss some of the cool features attributed to the app for grocery shopping lists.
What would the market say about grocery apps?
Digital grocery supermarket list apps will impose to reach

$243B

alone in the US. The growth is faced with a countable increase of 20.5%.

The successful market has pointed many retailers into the market like Amazon Fresh, Walmart, GoPuff, and ultrafast (startup).

The surge of pandemics would raise the digital adoption of groceries, inclined more customers to use similar apps.

Brands are trying to catch the ball and track users' spending. Based on the cliche judgment they are likely to prompt customer loyalty and other subscriptions that can add benefits to the users and regulate the business as well.

Some of the top grocery list services fillers in the market are Walmart inc., Amazon, Kroger, Target, and Albertsons.

With the various delivery and payment options, the market of grocery has seen new rising levels in recent years.
Looking at other individual big sectors in the groceries market are staples and cooking. This industry have covered 27% largest market share in 2021. While the dairy and breakfast sector has forecast to grow by 30% in the decade. In a busy lifestyle, people depend on online platforms rather than go for a physical location. Eventually, it raises the dependency on the grocery delivery app development, and with advanced features like listing and budgeting, people are not able to track their buying journey more broadly.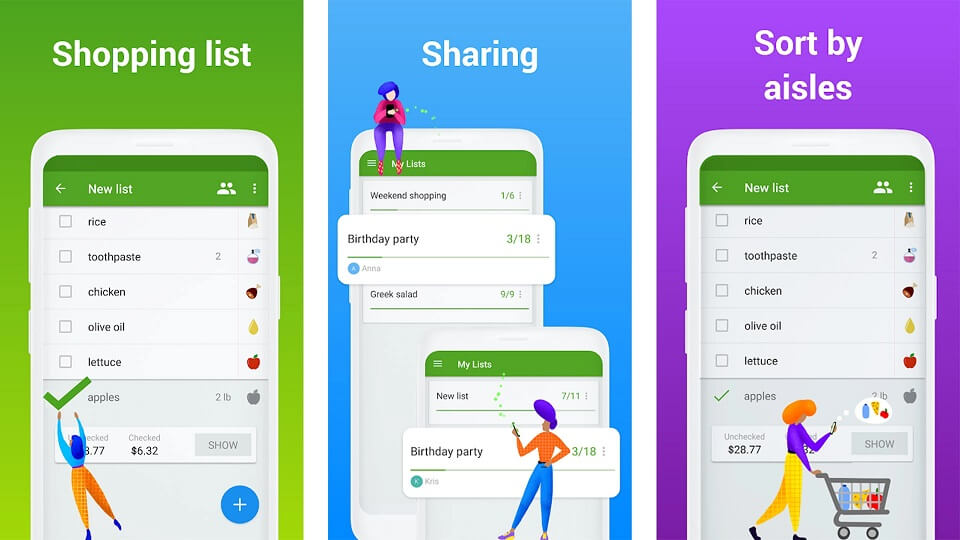 How does Grocery List App benefit?
Firstly let's talk about the existing factors that help to run the mobile grocery list app smoothly. Then we will move on to find out where it lacks and what next to accommodate inside the app.
It is an obvious thing, that app should be such that not only end up users' deeds but also make grocery shopping list super fast.
Understanding this fact, we came to know that the app should be functional in real-time and permit users the benefit. Grocery delivery app starts first with the ordering and so during development the whole process needs to be covered.
Finally its Time to discuss some of the benefits;
A well-organized menu and customized dashboards make everything sling for the customers. It is great relief for the users to have an automated and organized shopping list. Businesses have to take care of this feature to make a great impression on the user and reflect engagement and traffic. Most important is the UI/UX i.e. design of the app.
There are times when you wish to have hassle access to the groceries items for you and your family members. The grocery list software makes it super comfortable for our family at the time we are missing something.
Once you have done the changes it will update automatically.
Create customized recipes
Generally we are prone to personalize everything. And why not? With the technology, we can multifunctional at a time. Certainly now we have digital access to create customized recipes and diet plans and monitor our nutrition, intake, and even the water constraint. Undoubtedly the grocery list helps you to make your list and see yourself as tempting.
Related Post: Cooking-Food Recipe Mobile App Development- Cost & Key Features
You like and you access. That is what the grocery app makes you achieve. The editing option gives a more emotional touch to you. You can make notes of your favorite recipes, and add the percentage of nutrition to get to know the ingredients and how the fruit or vegetable content benefits your body.
You can plan everything under the carpet without limiting your needs and that's where your app is. Planning is something we need before every purchase. In this case the grocery app fills the gap and makes your app quickly functional. Specifically the calendar within the app schedule which date you need to eat that fruit or vegetable.
Related Post: Diet Planner Mobile App Development Cost and Key Features
Make for yourself the ideal app as your perfect companion.
Start with the feature to add in Grocery list app development
It is the need for time to finish everything quickly, else we have left forgotten. Haven't you heard the phrase? We have plenty of things to short and manage on time. Why waste time remembering items? With the grocery shopping list app, it is easily manageable to list our groceries in one shot.
Let's talk about the bunch of features that would make the app development super easy.
If a tool can sort everything for us, then what else do we need. Nothing. The grocery listing app not only creates the hyper grocery items list but remembers it for the next time. That's how it works.
Or you can make customized categories under budget-saving. Which helps you not waste your money on impulsive buying.
You can estimate the price grocery list app that adds every item and calculate the budget before buying. At a time when you are tight on budget, a grocery listing companion app would make a transit shift in your habit of buying less important things.
On the whole now you can make grocery shopping list app and get an insight into the groceries and save on your cost.
Related Post: How to Develop 10 Min Grocery Delivery App like Zepto
On the whole idea of this multi-listing app for groceries is about making the app's usability super easy and sharing features to allow your family and friends to get access. In a family, we have a generally similar habit of eating and buying things, but everybody needs an individual list to check and manage.
The feature allows users to edit, delete and modify the list that is common for family and let notify you of any changes.
No to mention more power of the technology, with the voice and sound feature inside your application, gives a seamless experience to the users. It is an addictive feature for our moms and kids. Moms in the kitchen have less time to type, with the voice assistants they can easily access the app and make their list. Point often overlooked is the integration of voice assistance in your apps.
Add custom items and categories
Particularly in the app, there is no limit to making custom lists for every category. One for your spices list, another for dry fruits, one for vegetables, and one for utensils. You just name it and get instant access to your favorite items and save or bookmark it for the time to purchase.
You get better control over your choices and spending.
Comparatively this smart feature works like google. Based on your past list for groceries item, you get the respective suggestions. This helps you to prepare the list in a smaller time and boost your time.
What if we add thorn of things inside the cart but less with money? At length it is quintessential or you can need to have with us a tracker to monitor our spending.
Evidently with the grocery list app, you can give personalized access to the items and more to that limit our money spending behavior. You can make your app functionality more specific to your users. A super easy and super fun feature is all we need in the app.
Coupons and loyalty programs
Generally humans are more excited about the coupons and offers. Keeping this feature inside your application would impact people's interests. In the time of technology, we can cut the cost of purchasing. And the grocery app listing gives us the same.
For the most part the more users purchase items for the app, the more they will get discounted pricing. The grocery shopping list app before every purchase automatically views the remaining coupons and coins to the user account.
Markedly barcode is the magnetic tool that on scanning gives detail of the product. This helps them to find their items in the app and makes it faster for them to add to their cart. In detail it helps to ensure proper orders are shipped and no items are missing. On the positive side this leads to better customer satisfaction. Sooner or later the users feedback reflects with more positive ratings and feedbacks on your app store listings.
To begin with using the barcode scanner, users can get the relevant information about their health, diet, nutritional value, and other healthy assistance. User can manage their dietary charts and get more control over their weight, heart, body, diseases, and many more things. To summarize adopting barcodes is essential part of any grocery list app development process.
Related Post: Challenges Faced by Online Grocery Delivery Business & Their Solution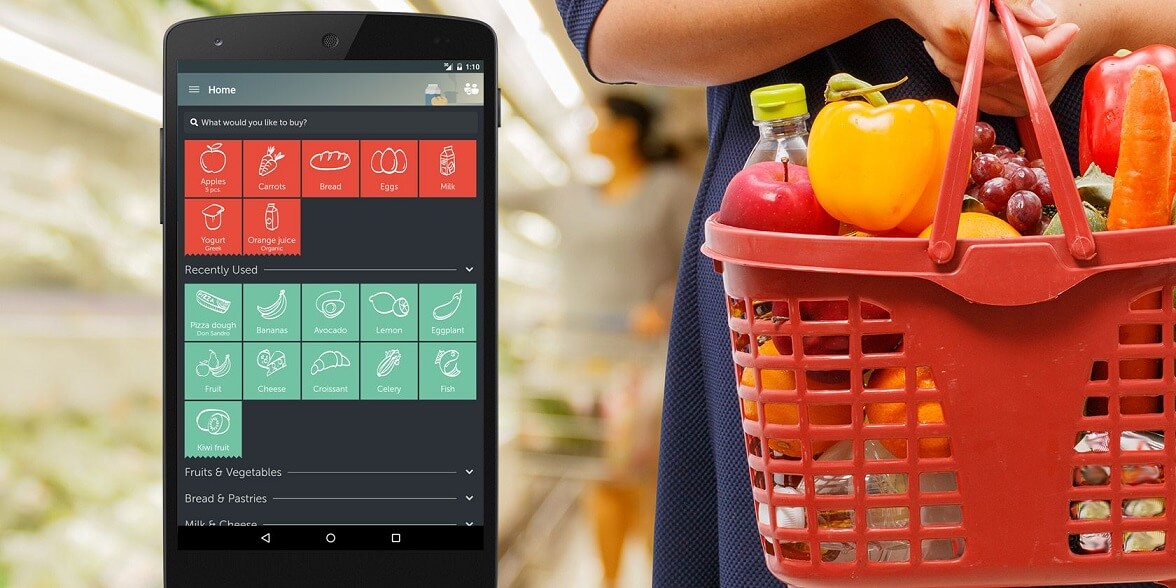 How to make a grocery list app super easy?
At last we have now come to the most interesting place. We have gathered notable information that would help us to know how the grocery listing app functions as a whole. Following the steps below you can ensure that your Grocery list app development is smooth.
Finally now is the time to discuss the process and steps to create a wholesome grocery list app development for your business.
The first step starts with the very basic but crucial thing. We have already aware of the fact that putting our hands under the bushes only causes our hands. For every business, it is important to prepare the basic roadmap to begin their journey into the leading industry.
The SRS of the document tears out the requisite and help you to choose the mobile app development company.
Outlining the critical things and starting the process accordingly will not only eliminate the posing burden but also saves your pocket. To begin the app, designing is something larger than the scope. Here the designer keeps focusing on details of the important features of the app. Your design ethics match with the app giving a clear perspective at the user's end.
Think about the way how to engage people on the app and what makes them motivated to use the app. How do they memorize the things and what they have expected from the app? While examining from every side you can reach the point which gives you clarity.
A bulgy, lagged and buffered platform is excluded from the user's end. A refined and proper functioning app hinged with the database and third-party APIs not only speeds up the entire application but also speaks a lot.
Give no reason to your user to halt at any place and it's where a good expert matters a lot to your company. He will be an asset to implement according to the user's needs and the market demand.
In the market there are numerous testing tools; some are premium and automatic while others are manual. Your product is your identity. Make it a next-level experience for the users.
Once you have cross-test your application as per the industry aspects, it's time to live it on real platforms like Android or Apple.
Let your app define a new mark on your success.
Related Post: Artificial Intelligence Makes Grocery Shopping at Supermarkets Futuristic
Other similar apps in the market
If you want to make a grocery list app, you better get to know about the competition and how these apps would help you intaken similar ideas.
Moving now to enlighten you with the most popular and rated applications for grocery listing in 2022.
Let's see.
The cartwheel helps you to make your list for groceries. You can order online or place deals and discounts from your profile. Its simple-to-use platform helps you to easily do things. Available on Android and iOS for its users.
It's the copy of your kitchen scheduler. ListEase makes everything properly organized so that the users won't lag anywhere in between. The app interface allows you to prepare the list and save time.
With Amazon Fresh, you can just drag and drop the items you wish to buy sooner. The app lets you buy any groceries online and deliver them to your place in time.
Related Post: How to Develop a Grocery Market App like BigBasket?
Cost to develop the Grocery list application
As I have shown, development is not a single primitive. Grocery app development cost is comprised of many factors. From platform to apps feature and functionality. The wise mobile application developers need not explain integration points in the app. It will improve the app's performance, but obviously at a cost. Adding visual ambiance and animations engages the users more time on the platform. And finally the maintenance and support. Talking on behalf of everything, the grocery delivery app development cost for the app goes from $20k-$35k depending upon the type of parameters you want to add on. Grocery app development cost can also change based on the selection of tech stack used and the platforms you want to launch your app for.
Time to Start!
In conclusion in this blog, we have assembled the top factors to crack your nut, Right! It's time to hire some good grocery list app development partners to develop a customized app for your business. The tech partner can always share the grocery delivery app development cost considering various features you require to develop in your project.
A grocery list app has high usage due to the presence of a large number of users globally. And it would not go to stop at the near end. So it is the right time to jump into this industry. Feel free to contact us to know how much grocery app development cost.