How easy it gets when you can easily book or rent a motorcycle to commute nearby with just a few taps on your smartphone. Not only is it affordable and offers a great level of comfort as well. Travelling is all about exploring and It is more fun while riding on a premium motorcycle. Like, when the weather is pleasant and you're surrounded by the picturesque locales, nothing can beat a motorbike ride. What do you think? But to add to your woes, getting a motorbike on rent while on vacay often poses certain struggles. However, nowadays mobile apps being the ultimate solution to every problem of yours, here again, it has come to the rescue? Yes, a number of businesses today are offering a mobile app solution for motorbike rental.
After all, with the usage of mobile apps not being restricted to just shopping malls, coffee shops, food delivery anymore, so why to lag behind in this domain as well. The motor bike rental app development trend is catching up pretty fast and we already have a number of companies getting the apps developed to make it easy for the potential customers to use their service.
MotorBike-Rentals worldwide Statista Market Forecast
As per the statistics, there has been a significant rise in motor-bike rental services over the past few years. In fact, the total number of public-use motorbikes has noticed immense growth since 2013 when there were just 700,000 motorbikes for rental purposes across the globe. According to the latest report by Bike-sharing Blog, there is a significant increase in bike-sharing services in recent years. As per the below-given chart, the total number of public-use bikes has experienced massive growth since 2013, when there were only 700,000 public-use bikes in circulation across the world.
Then in 2016, it was found that the number had shot off to 2.3 million and since then it is continuously growing.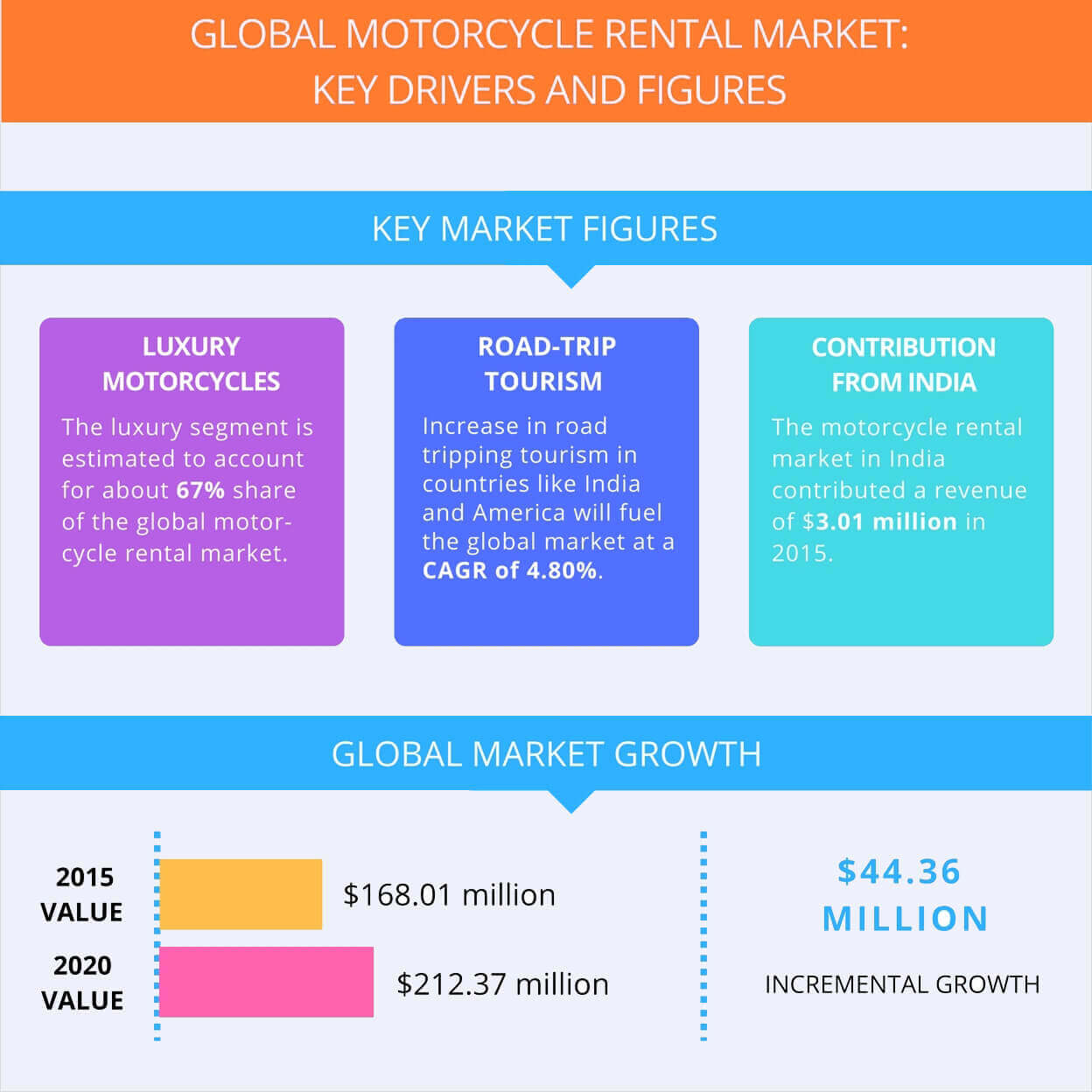 As indicated by a similar report, examiners anticipate that the worldwide motorbike rental industry is relied upon to develop at a CAGR of 7.74% somewhere in the range of 2017 and 2021.
Accordingly, it is protected to say that motorbike rental organizations are excited about taking their business advance and give the most proficient versatile application answer for motorbike rental. In the event that you have coincidentally found here for a similar explanation or are intending to build up a motorbike rental application, we have gathered everything in one spot, including highlight sets, cost, and some more. Continue pursuing to think about them.
Thus, no wonder the trend of motorbikes mobile app development has taken off, and today more and more motorbike rental businesses are eager to take their business forward to getting an app (after all, mobile apps have become vital for most businesses out there). So, if you are keen on getting a motorbike rental app developed for your business, then this article can be helpful to gain a deep understanding of the motor bike rental app development process. It covers everything from features, benefits, technologies involved to the estimated cost that will go in the making of such an app. Let's begin:
Key Features for Your Bike Rental App
Features play a significant role when it comes to working on the applications that you ought to take to the market. It is the feature set involved that would help you earn the best results in no time.
The rental app would have different feature sets for different audience groups. One would be for users, drivers and admin. We here elaborate on the features that we would include in your product. You can always suggest to us something better that would make your product unique.
USER PANEL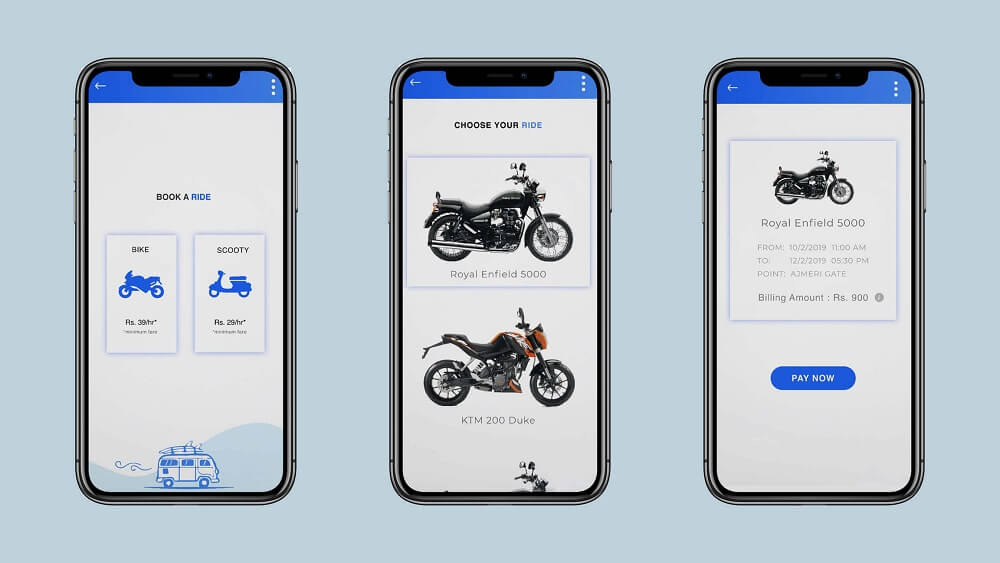 Login/Registration: This is the section, where the user will first land on. The registration can be easily done using the email ID or by using social media credentials.
Multiple Bike-type: Heading here, users can pick their favorite kind from the category of motorbike available. They can select one that meets their requirements well.
Scheduling: Once the user picks his type of vehicle, then he can get the basic info, like color, number, etc. and can accordingly schedule a booking.
Book Now: Often in case of certain urgency, this feature comes useful as it allows the users to book the motorbike on rent just instantly with no delay. Voila, let's get done!
Rent Your Motorcycle: You can also rent out your car and can make money. Easily manage your bookings and track payment records.
Manage Bookings: This is the section from where users can manage the confirmed booking as well as time-span charted, with just one tap on the screen. It allows them to also keep track of upcoming bookings.
Premium Motor-bike Section: There can be a different section from where users can book premium motorbikes, Like Harley, Ducati, etc. Here the charges will certainly be higher than the usual.
Easy Payments: Within the app, various digital payment systems are integrated, to allow users to make easy payments for the fare incurred during their visit. They can also generate an appropriate ride receipt from this section.
Fare calculator: From here, as per the distance that's required to be covered, users can find about the subsequent KM ranges & calculate the fare charges.
Set pickup points: To collect the rental motorbike, users can assign a specific landmark or suggest the navigation route.
Door-step delivery: Users can also make the booking via the app and get the chosen motorbike delivered to their doorstep for a prescribed time period. Then they can ride the vehicle to their desired locations.
Booking Cancellation: From here, the user can easily cancel an upcoming booking, in case of certain urgency as and when needed. This feature will make your rental mobile solution all the more effective and convenient for the users.
Alerts & Notifications: Once the booking is confirmed, users are sent alerts via push notification or SMS to inform about the confirmation. Same way, alerts can also be sent for other purposes, say when they attained a milestone.
ADMIN PANEL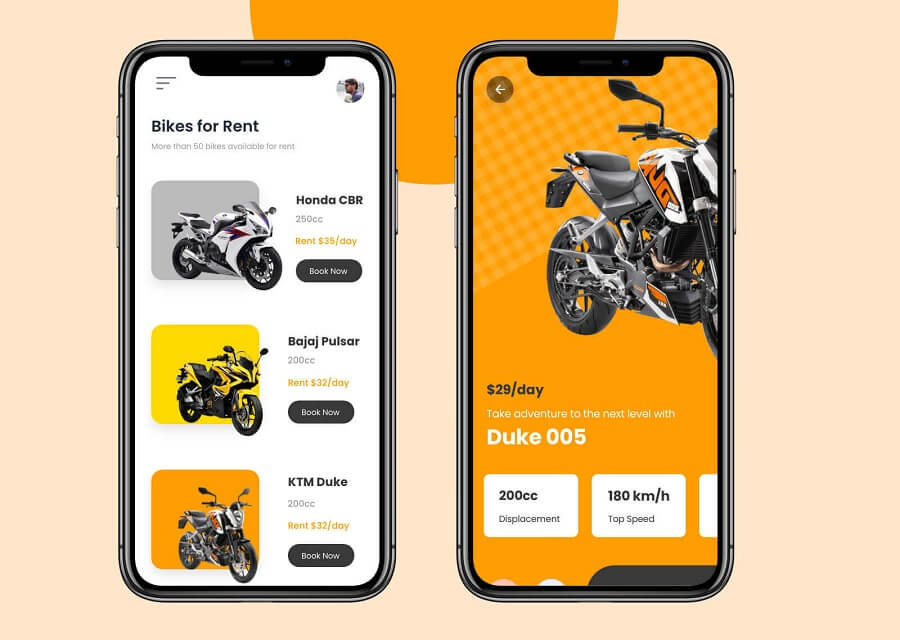 Dashboard: This section is for the admin from where the latter can closely monitor all the rental motorbike, and it also has a list of the vehicles that have been already assigned to the users.
Motorbike Management: Heading to this section, Admin can easily update the vehicle & its information as well as user allocation details. Great way to optimize overall vehicle management.
Manage Users: This category holds information regarding all the users associated with the motorbike rental app and the admin can easily manage them all from here.
Book Free Consultation for your Bike-Rental App Project
Manage Fares/Location-based charges: This section is for Admin to manage the fare structures and renting cost for a specific area or navigation route.
Manage Payments: This is the section from where the admin manages and stores all payment details, gateways, commission amounts, so to make for a transparent transaction system.
Manage Category: From this section, the admin manages the categories of different motorbikes. Admin is responsible for updated information regarding vehicle availability according to the rental bookings.
Reporting & Analytics: All of the real-time reports related to vehicle renting details, like most-selected motorbike category, time-schedules, the total number of orders, are prepared in graph format, so as to streamline the operations.
Additional Features:
Interactive Statistics: These statistics prove immensely helpful in streamlining the overall business processes. It comes useful in generating real-time reports concerning time-rates, base-fare, distances, fix packages & other settings. Thus, it gets easier to monitor the business processes effectively and the relevant business insights & ideologies can also be extracted.
GPS Tracking: This feature will allow users to track their location in real-time so that it gets easier to keep the family and friends informed about their present location. The location can also be shared with the App Admin to ensure security. Other than that, GPS will allow users to choose more optimized routes as they begin their travel.
Rental cost calculator: This feature allows the users to calculate the fare incurred from the usage of a rental motorbike. Here, the user needs to enter the city name, time & date of receiving the motorbike & date of return. As per that, the calculator graphs a rough chart of the rental cost that will be incurred. This way users get a rough estimate of the rental cost that will be incurred in the upcoming ride.
Payment Integration: For a bike rental app development integration of digital payment gateways is essential. It is advised to offer multiple payment ways, like Credit/Debit cards, PayPal, eWallet, Net-Banking, Stripe, Braintree, etc. so that users can conveniently make payments within the app. Hence, users can make payments while booking the service itself, thus saving themselves from cash payment hassles. Also, this way the users can assure themselves of timely vehicle delivery.
Book Free Consultation for your Bike-Rental App Project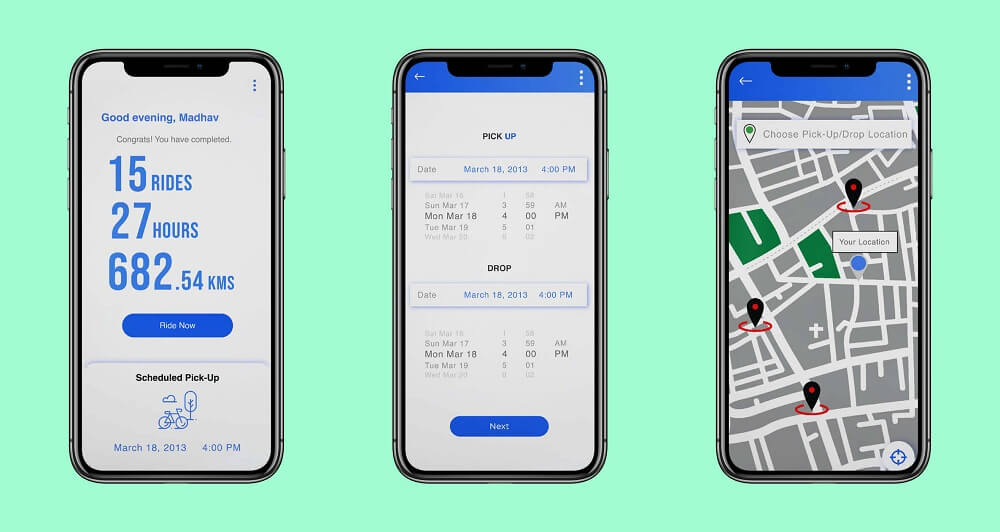 Offers & Promo Codes: When users are frequently sent alerts regarding deals, offers & promo codes, they will be more encouraged to use your motorbike rental services. This is a great way to boost user engagement with the app and to keep them attuned. After all, users appreciate services offered at a low-cost, and thereby by offering deals & discounts on a regular note you can certainly enhance user-base and app-visibility.
Behavior-Tracking: Usage of algorithms is a great way to make the search criteria of the users smarter. The algorithms do a great job of storing all the recent bookings made by users. Accordingly, the next time the user is using the app to schedule a booking, the relevant vehicle category along with specifications selected by users in the past will be charted down. This way, users can make an instant booking.
Cloud Environment: You can store crucial and private business data & deals in a lot more secure manner in Cloud-based servers. Vital information related to the users, vehicles, and others can be managed & authenticated under these secure cloud-based servers.
Operational Zone Setup: In case, you are keen on offering customized services, then Operational Zone Setup will prove very helpful. This feature will allow you to pick & serve the areas from where the most number of booking orders come through. This feature is also helpful to make users aware of your services in a specific area. It is a brilliant way to attract users and also to urge them to book your services owing to the many benefits that come along.
Technology Stack: In order to develop a sophisticated & robust motorbike rental mobile app, it is vital to have a strong technology game. After all, only by picking the right set of technologies, you will be able to meet the various user requirements and attain your business objectives. A mobile app offering excellent performance & great quality is certain to grab the users? eyeballs and stay steady in the long run.
Location Tracking: Apple Maps & Google Maps are used for iOS & Android, respectively to determine and monitor user location. As per the data provided by user-proximity sensors, the user's location is determined.
Cloud: Google Cloud Servers & Amazon Data Servers are used to securely store & access data.
Real-time Analytics: Google Analytics& Flurry is mostly used to track user-data, like the number of users visiting the app, number of downloads, bounce rates & other crucial information.
SMS, Phone, & Voice Verification: An app developers can use Google sign-in or Facebook SDK for authentication and spam-handlings.
Database: MySQL, Postgres, HBase, MongoDB, etc. are mostly used database technologies to store customer & business-related data effectively.
With the latest technology trends being involved in the development of your motorbike rental software our experts make sure your product stands ahead of time and competition. If you have any particular choices or better suggestions we are always open to it. We would appreciate it if you could help us with your choices as it specifies your expectations from us.
How to create a Motorbike rental mobile app
As now we have discussed all the vital features that go into the making of a motorbike rental mobile app, it is also time to put some light on the development process. Below, we have discussed the required team structure and estimated the cost that will go into the making of such an app.
Our best bike rental software developers fabricate an adjustable application model for new businesses and business people to make their own adaptation of bicycle rental applications.
Prerequisite Analysis
Our app developers comprehend and make an execution plan dependent on the customer's prerequisites. We make sure that the product that is delivered to you is in line with your business needs and helps you earn the most profits.
Ewallet App Integration
Implicit help for well-known digital transaction platforms with new mix support. We would integrate e wallet payment platforms with your motorcycle rental app to make sure that your users be it riders or drivers they do not face any difficulty when using your product.
Notification Integration
Message pop-ups, email, and SMS alarms set up, and other notifications so that your customers do not miss the service dates and the travel plans. They can also get to know about the discounts and reward points from time to time.
Analytics Integration
Backing for combination with well-known analytical stages so that you can always determine how much your business is generating and what aspects are working more than others. Our bike rental booking software developers ensure you face no difficulties when using the app.

Development Choice
On-reason or cloud sending choice according to the business necessities. We would suggest suitable technologies and other details but the final decision would be yours because you understand your business needs the best.
Security Compliance Check
Full information security review to satisfy guidelines and consistency guidelines. We make sure at no point your customers or you have to face any sort of difficulties regarding the solutions that are delivered to you.
Application Store Submissions
Once we are done with the development process we make sure to submit the product on Google Play Store and Apple App Store effectively for better reach. Once you have entered the market it is time to start earning profits and build a brand face.
Tech Support and Upgrades
We value our customers and look forward to lifelong business relationships. We ensure to provide after deployment tech-support and updates to ensure at no moment of time you feel left behind.
Required Team Structure
The right team consisting of skilled & experienced professionals is imperative in the making of such an app. You can get in touch with a Mobile App Development Company that holds a good name in the market and boosts of brilliant developers & designers who can contribute greatly to the app development process. You will require:
The four pillars of the bike rental app development team work together to deliver you solutions that stand out in the market. We experiment on various grounds and test various aspects to ensure that we only implement the best alternatives with your product. Our team strives to deliver only exceptional products that build an identity of their own in the market.
Since we follow agile methodology, you would always be a part of our bike rental mobile app development process. We ensure to take your feedback at various levels to ensure that the results that are delivered meet your expectations and business needs.

The Cost Estimation
As it comes to determining the cost of motorbike rental mobile app development, you need to first understand that various factors are considered to decide on the cost of an app, i.e. App Complexity, Features, Additional Features, Country where the app is being developed, etc.
Mobile app development is a complex process and it has several aspects that are needed to be taken care of. If the on-demand mobile app development team that you hire to work for you includes the following costs in your package then you can proceed with them. If they ask for extra charges then you need to think again.
We share a clear budget with a segregated cost division to ensure that the amount that is charged fits your budget. Outsourcing is already going to save you a lot and a little awareness can add more to it. Our motorbike rental app development experts would come up with suggestions that fit your budget and business needs.
In the case of a motorbike rental mobile app, it will be going through the following processes:
Documentation (15)
Design (40-60 hours)
Web Services (80-100 hours)
Front end Panel for Users (250-280 hours for each platform)
Admin Panel (60-80 hours)
Testing (40)
Thus, the cost to develop a motorbike app integrated with all the above-mentioned features will be somewhere between $12000-$15000 for a single platform. However, if you are keen on getting more features added to the app, then it will cost a little extra.
Wrapping It Up!
If you are looking forward to how to start a bike rental business then this blog would have made things clearer to you. Entering the market with an innovative idea is never going to let you fail. With our application developers, you can be assured that the solution delivered is world-class and helps you earn the most. We have been working in the sector for almost two decades and are well aware of the industry needs. With advanced technology like AI, ML, VR, AR, Data Analytics, etc. we make it a point to deliver motorcycle rental software that helps you generate the most profits.
Not just this, the team would be available to connect with you round the clock to help you assist in your queries and clear your doubts. With well-experienced UI/UX designers we affirm to deliver you solutions that are technically sound and aesthetically eye-pleasing.
So, if you have a business idea, just reach to our experts and get the ball rolling.