How easy it is to travel from one corner of the city to the other corner? Thanks to the Uber taxi booking applications. Other than us, public, there is one more entity that needs to have an app like Uber that can help them in the business functioning, i.e. the truck and logistics business.
If you are looking to grasp an understanding of how to develop an Uber-like app for the logistics business, you have come to the right place. In this post, we will discuss and explore the various aspects of on-demand transport and delivery services.
The Uberization of the economy and the logistics market at large was driven principally by the unprecedented success of Uber. As Uber made things easier for the public, the need for logistic and truck app development grew stronger. The fast-expanding company has not just revolutionized the taxi industry but also reinvented the logistics of the transportation industry by launching Uber Freight in 2017 and thus abolishing the middle man trader. Currently, the market giant Amazon is also setting its sights on establishing a feat in the logistics industry.
Trucking growth is increasing gradually by adopting technological advancements. Thus, it gives you startups a sure place to dive in with your app solution.
Moving on, mobile apps targeted at the logistics industry exhibit a niche in the market. The cost to develop a tracking app is not a lot, but its utility and need is quite significant.
Such apps hold the potential to make the industry much more efficient and organized by matching the consumer demands directly with the source and cutting out the middlemen or third-party brokers, who generally charge a handsome amount of commission.
This greatly optimizes the cost factor, as well as the time, is taken to deliver and receive shipments. This, in fact, is a great way of overcoming the downsides of an unproductive business model whereby the relocation of empty containers costs approximately the same as moving fully loaded ones.
How Does Uber Freight Address Issues in the Transportation and Logistics Sector?
Just like Uber, the service that connects drivers to customers, Uber Freight is a revolutionary model that offers immense simplicity and flexibility to the logistics market.
With the help of this app, what was initially a Carrier-Middle Man- Shipper chain has lost the middle link. This means that the shippers can now directly connect with the carriers. Thus, if you choose to build a trucking app like uber freight it would become quite easier for you to sideline human intervention and some silly errors. Thus, you can operate a more reliable and credible business with a small change. This approach has not only resulted in fewer errors but also greatly cut down the costs for both parties.
Lastly, Uber for logistics also tremendously minimizes the time needed for those who require delivery and those who can provide it to strike a deal. It has simply become a matter of a few clicks on your smartphone.
If you wish to make an app like uber freight for your business, you need to reach an on-demand solution providing a team that can help you through.
Hire mobile app developers from Octal IT Solution affirm that the solutions that reach you are designed to reflect maximum profits and efficiency.
We put to use our years of experience and bring on the screen a solution that is designed to bring on the stage maximum profits. We have been on the journey of growth together and we make sure that the solutions that reach you are customized to suit your business objectives.
How to Develop Uber for Trucking?
As discussed above, utilitarian mobile app development for the logistics industry holds great potential. If you want to enter this niche, you can hire the services of a reputed app development company. By closely working with a professional team that pays attention to detail, you can get your hands on a powerful and functional mobile app for logistics.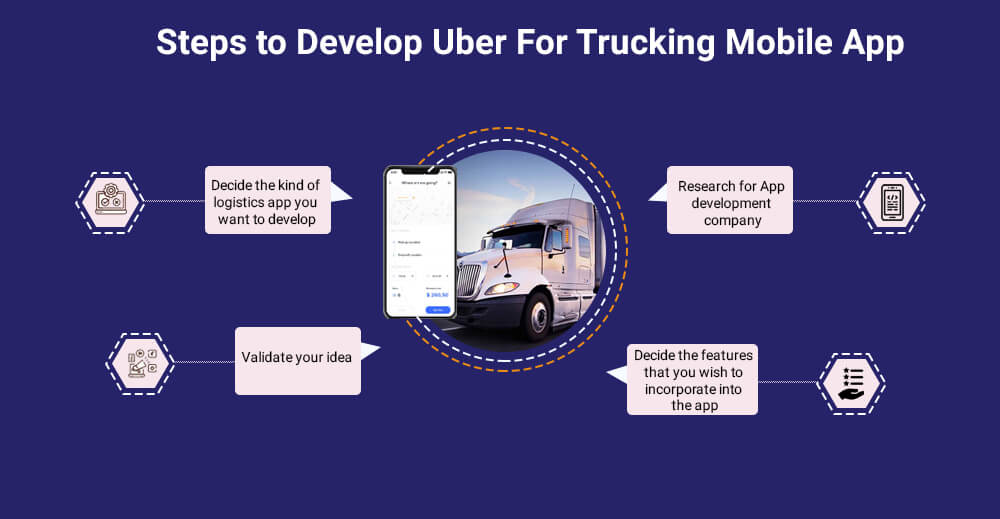 Step 1: Decide the kind of logistics app you want to develop
For this, there can be two possible scenarios: First, that you have your own logistics business with a fleet of trucks and you wish to expand your business and streamline operations with the help of an app? Second, that you wish to create a marketplace where the shippers can easily get in touch with the carriers. If we talk about Uber Freight, then it is the second type of model. It is just a marketplace that allows the carriers to quickly and efficiently get in touch with shippers in their area.
Step 2: Research for a reputed and professional development company for your mobile app
This is a crucial step as it largely affects the success of your business. Locating and hiring a reputed mobile app development company is important for many reasons. The app must be fully featured, easily navigable, and come with a user-friendly interface. If you are new to app development, you may find yourself amid a sea of options. However, you must conduct thorough research, check the previous client's testimonials, and much more to settle for the best company.
Step 3: Validate your idea
Once you have located a skilled app development company that matches your requirements, the next step is to validate your idea. This involves conducting in-depth market research to see if your app fits in the market or how it can be tweaked to deliver better results. This is an important step as it helps in certifying that all your efforts and investment will not go in vain.
Step 4: Decide the features that you wish to incorporate into the app
To begin with, launching an MVP (Minimum Viable Product) is always considered to be a wiser option. You can launch an MVP to test the app, gather positive and negative feedback, and acquire a base of loyal customers. Also, you may add a few unique features in addition to the basic and must-have ones to make your app even more alluring to the users.
Developing a mobile app becomes quite streamlined if you have everything planned in the beginning. With constant modifications and changes, sometimes the development process becomes complicated. To avoid such a situation, we follow an agile development methodology that makes it easier for us to stay in touch with our clients and let them be a part of the development cycle.

Features of Uber for Trucking Application
Any application gains popularity in the market with the kind of feature-set and information it carries. When talking about uber for trucking, it is important that one considers various user groups involved with the application and customize the features accordingly.
If the features are customized to suit one's needs, it becomes easier for people to engage with the application and get the desired solution to their problems.
Features of a Driver's App
The main goal of a Driver's app is to let carriers fill their trucks with cargo and transport it to the next destination. For this, they must be able to view all the available shipments in their area. Along with this, they must be guided by the shortest routes to these shipments that would help them save time, energy, and fuel.
Some of the most important features include:
Registration & Login: You can go for the traditional email registration, offer registration via social media networking, or provide an individual login id and password to each carrier after you approve them to make deliveries.
Shipment details: Through this, the carrier can see all the relevant cargo information, such as weight, dimensions, type, date & time of pick-up and delivery, pick-up and drop-off locations, etc. before accepting the shipment.
Request Management: The carriers should be able to cancel the shipment in case of an accident or emergency.
Route Tracking and Optimization: The carrier can track the location of cargo pick-up as well as the final destination point, where he needs to deliver the goods.
Push Notifications: These help in keeping the carriers updated on the delivery, switching to an alternate route, any emergency, etc.
Proof of Delivery: When a carrier successfully delivers the cargo, he might have to present proof of delivery to the shipper. This can be done by uploading a document or a photo.
Our truck app developers make sure that the solutions that are delivered to you are interesting and can help you win the solutions. If you are looking forward to entering the market with an interesting solution, we make it a point that you get the most of your investment.
Features of Shipper's App
Shippers should be able to use the app to easily locate trucks in their vicinity. For this app, you must aggregate carriers for a shipper to choose from and then notify the shipper once the shipment request has been approved by a carrier. Some of the most important features include: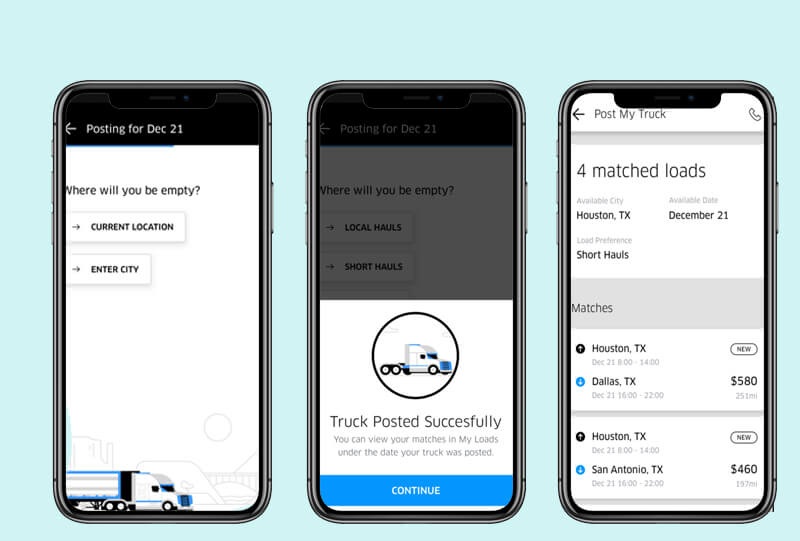 Registration & Login: Just like the Driver's app, this too will have a registration and login feature. If you are looking to offer services to both businesses and individuals, you should incorporate easy signup and login options via email and existing social media accounts.
List of Vehicles: This should include all the available trucks in the area along with essential information on them.
Booking: When a cargo shipment is concerned, people generally prefer to plan and book beforehand. Using this feature, the shipper must be able to book a vehicle for later or instant use. They can also get a fair estimation for the same.
Alerts and Reminders: This helps to remind the shippers about the date and time of the shipment. Also, these alerts notify the shippers when the cargo has been delivered.
Vehicle Tracking: This helps the shippers to track the location of the vehicle using a real-time tracking system.
Payment Options: You must offer the shippers different payment options, such as cash, card,

digital wallet app development

, etc. to make the payment for the service.
Uber for trucking app development isn't an easy task. The experts associated with us make it a point that the solutions that reach you are designed and defined in a way that makes it easier for you to engage your audience.
Over the years we have worked with some of the top names of the industry and offered solutions that could manage their solutions the right way.
Features of Admin App
This app helps the business owner keep a track of all the goods dispatched as well as track truck location. The on-demand trucking app development cost is highly determined by the feature-set you want to include in your application. The admin panel of the application is ladened with features to make sure not in the slightest way the solutions show any errors or misguidance.
Dashboard: This will contain all the information on carriers, shippers, and vehicles. It will also show all the orders – pending and completed.
Driver Monitoring: You can check each driver's location, estimated time of delivery, products contained in the shipment, etc.
Bill Management: Easily check and approve invoices that come through the app. The freight app development service providers affirm that you need not rely on human intervention for any activity.
Notifications: This feature can be used to send important notifications to the carriers regarding any change in the route, change in delivery location, etc.
We have outlined all basic features that must be incorporated into your trucking and logistics app to ensure success. Apart from these, several other features can also be added to offer augmented ease to both, the carriers and the shippers.
The smart trucking apps developers affirm that they can modify the solutions as and when required. They bring to the table the solutions that are interesting and futuristic. With artificial intelligence, machine learning, and big data technology being a part of the solution, it becomes quite important to bring on-the-screen solutions that would stand the test of time.

How Can You Make Money from Uber For Trucks App?
The ultimate approach to get money from your app is to establish a fee. It is crucial to calculate your expense on the uber trucking app development process and then decide on a business model that would make it easier for you to earn profits in the smallest time frame. Affirm that the charges should be affordable to the shippers and truckers:
You can set it free for drivers and charge to the shippers according to the load.
You can also demand about 10-20% payment counting from the estimated cost of the cargo.
For more, you can offer premium services like standard packages, secure transportation.
Whichever way you choose to establish charges or make money through the app, ensure that the shippers and truckers should find the deal attractive and reasonable so that more and more individuals will be motivated to use your services. When building a marketplace app like Uber for trucking, you get to offer various services in a limited time that would make things easier for you. If you are looking forward to creating a solution that earns you well, then you are at the right place.
Our development rates are quite affordable and our android application development team is well-versed with the latest technology and trends and can deliver solutions that would help you earn a name in the market.
Which Technology Stack Is Effective For Developing An Uber-Like App For Trucks
Are you looking forward to uber for trucking app with advanced solutions? Then you are at the right place. We at Octal IT Solution, affirm to use the technology that would make things affordable and easier for you. With our solutions, you can rest assured that these solutions would be a few steps ahead of your competition and would not need much modification.
An absolutely robust and impressive app like Uber for Fright should be built with technologies like
The uber for trucking solution app development team is open to suggestions and would modify the solutions as you want. If there is any technology that you want to change or any feature you want to add extra we are available for all kinds of customizations.
How Much Does It Cost to Develop an Uber for Trucks?
For developing a strong and fully functional app, you need to get in touch with an expert and practiced app development company that employs a team of accomplished engineers, such as Project Manager, iOS App Developers, Android App Developers, Web Developers, Front-end and Backend Developer, UI/UX Designers and Quality Assurance experts.
The estimated time to build such an app is 4 – 6 months. Moving on to the pricing, it largely depends upon the number and type of features incorporated into it. Also, it depends upon the expertise and market reputation of the app development company you select. The cost to develop a trucking app like convoy is around USD 45k to USD 70k with general features and with advanced features the prices may reach USD 120K.
The Final Words
When you are talking about the on-demand trucking app solution it is important that you reach a team that has experience in creating such applications. This team is acquainted with the market and understands what your customer may demand. They put to use their expertise and market research to affirm that the solutions delivered earn them the best results.
Trucking app development over the years has gained immense popularity and the solutions are designed to reflect on the screen what exactly the parking and the pickups do.