88% of the medical appointments are reserved over the phone and patients are kept waiting for up to 76 days from the day authorization is allotted to the day of actual appointment for a diagnostic process, Rock Health Report.
Over the years, mobile application This post guides you through the various noteworthy features and functionalities of a competent doctor on-demand mobile app. This discussion is immensely helpful for doctors who desire to build their own appointment app, where the patients can schedule their appointments and check availability, as well as for the entrepreneurs who are looking to develop a robust doctor on-demand mobile app to associate the patients with the doctors.
Doctor on Demand Mobile Apps
Imagine it's 7 o'clock on a Sunday evening and you are suffering from an appalling stomach twinge. What do you do? Wait for the next morning to take a 30-minute ride to your doctor's? Or, benefit from convenience-driven medical care facilities to make a call for a doctor to treat you instantly while you sit back at your home. Yes, we are talking about doctor on-demand mobile apps.
In a modest effort to streamline medical care, these doctor on-demand mobile apps cut out long queues in the waiting rooms. The patients can leverage the most reliable medical services to reserve an appointment with their preferred doctors instantaneously. Lately, there has been an increased focus on the need for on-demand healthcare. Consumers and patients are looking to obtain/buy dependable healthcare services in the same way they do other goods and chattels. So, if you are planning to plunge into this race of developing a proficient on-demand healthcare services app, follow our guide to oust all your doubts regarding on-demand doctor app development.
In 2019, the global digital health market was worth an estimated 175 billion U.S. dollars. With an expected CAGR of almost 25 percent from 2019 to 2025, the digital health market should reach nearly 660 billion dollars by 2025.
In 2019, the telemedicine apps global market was valued at some 50 billion U.S. dollars. The market was forecast to grow significantly and it was projected to be valued at nearly 460 billion U.S. dollars by 2030
Top Doctor-on-Demand Mobile Apps to Inspire you
There are a few reigning leaders in the health app market that have set high benchmarks in terms of type and quality of services offered. You can study these apps to understand how to develop a perfect doctor-on-demand app solution. When it comes to picking up doctor appointment app features for your product, our experts make sure to study these applications and their pitfalls so that you get the best results in a limited time.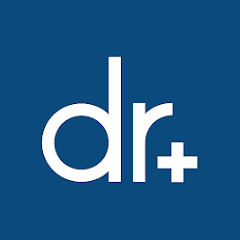 Doctor On Demand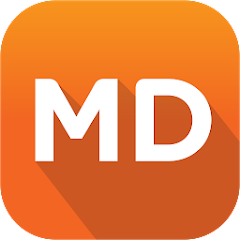 MDLive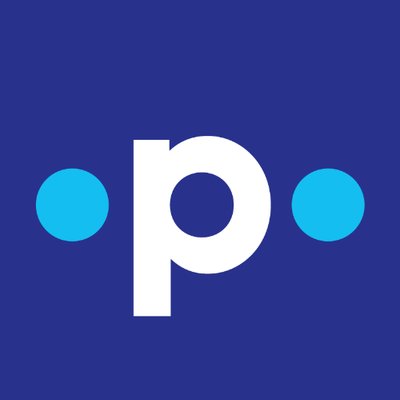 Practo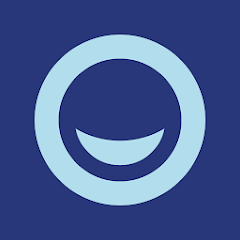 PulseCare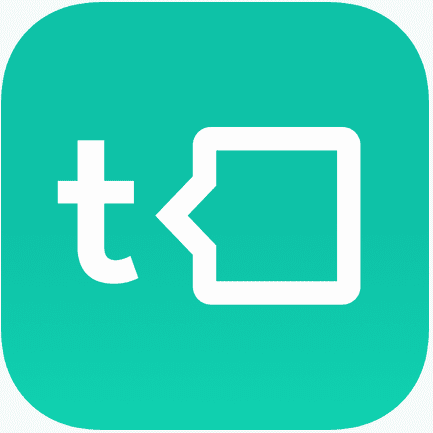 TalkSpace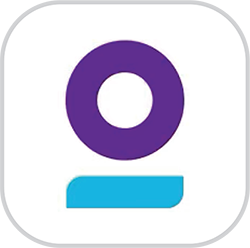 TelaDoc
Practo
Practo is an amazing doctor on-demand app that specially targets the Indian market. It permits the patients to check the nearby doctors and reserve an appointment according to their preferred choice, stores medical records online, schedule live consultation videos, order medicine refills, send push reminders when it's time to take the medicine, etc. Besides, it also provides a large archive of vital health tips.
Headquarters:- Bangalore, Karnataka, India
Founded:- 2008
No. Of Employees:- 1500-2000
Total Funding Amount:- $228.7M
Doctor On Demand
Headquarters:- San Francisco, California, United States
Founded:- Oct 1, 2012
No. Of Employees:- 501-1000
Total Funding Amount:- $235.7M
MDLive
Headquarters:- Miramar Beach, Florida, United States
Founded:- 2006
No. Of Employees:- 251-500
Total Funding Amount:- $198.6M
Teladoc
Headquarters:- Purchase, New York, United States
Founded:- 2002
No. Of Employees:- 1001-5000
Total Funding Amount:- NA
Amwell
Headquarters:- Boston, Massachusetts, United States
Founded:- Jun 1, 2006
No. Of Employees:- 1001-5000
Total Funding Amount:- $866M
Talkspace Counseling & Therapy
Headquarters:- New York, New York, United States
Founded:- 2002
No. Of Employees:- 793-800
Total Funding Amount:- $413.7M
These market leaders have changed the way the healthcare sector works. When the doctor-on-demand app development team gathers sources and information they make it a point that your product doesn't fail to impress your audience and helps you generate high ROI.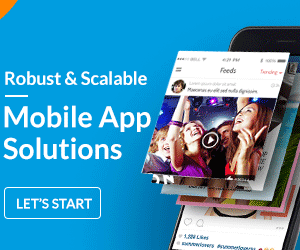 Doctor On Demand App Development – Features
A statistical report released by Steel kiwi reveals that merely 11% of the total medical & healthcare apps provide users with utilitarian and desirable features. Doctor finding mobile apps consist of two separately built apps-one for the patient and the other one for the doctor. Later, these two apps are linked to each other through a secure admin panel. Let's have a look at some of the most significant features of both these apps.
Doctor On Demand App – Patients Panel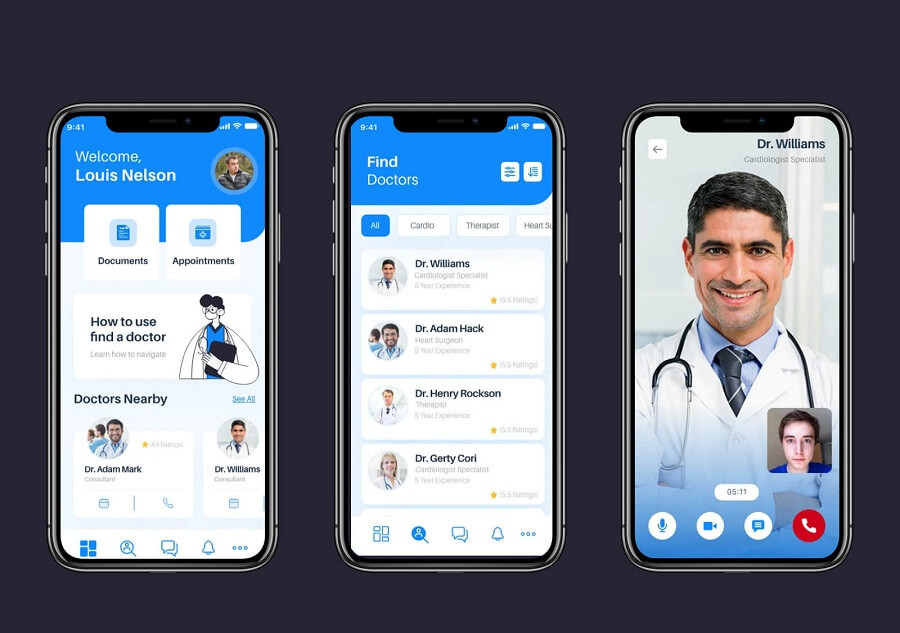 Patient Web/Mobile Panel
This is the first page your patients will land on, after installing the app.
Sign-In/Sign-Up
Here, the patients can log into an already created account. Or else, they can sign up via their email or any other social media account.
User Profile
Healthcare is a highly personalized service sector and therefore, users need to input significant details such as name, address, age, sex, medical ailments, and other data necessary for the treatment process.
App Appointment Booking
This is the central feature of your app that will allow the patients to book an appointment with their preferred doctor at a suitable time. You can provide an interactive calendar feature where the patients can check the doctor's availability and set an appointment accordingly.
Tracking Doctor's Location
This feature allows the patients to track all the specialists based on their proximity.
In-App Chat Option
The patients can communicate with the doctors through messaging service to receive timely updates on the reports, for addressing any queries, etc.
In-App Calling
The patients can make an in-app call to their doctor to discuss an issue that cannot be deliberated over messaging.
Live video sessions
The patients can refer to their preferred doctor through a live video and discuss all their health issues.
Electronic Medical Records
This allows the patients to upload and share health-associated documents that will be necessary for further treatment. All the records are maintained accurately and securely to improve the quality of care extended to the patients during the run-through term.
Prescription and medication tracker
This is an optional feature that can help in making your app quite popular among users. This dedicated section allows the doctors to comprise all necessary details of the prescribed medication treatment and then, the app will keep sending reminders whenever it's time to take the medicine, go for a scheduled appointment, or order a refill of the pills from a drug store, etc.
Payment Modes
The app developers are building the app for not only serving people but for returns as well, therefore, an immaculate monetization model should be adopted with in-app payments. Besides, it is exceedingly important to make sure that the payment model is easy, quick, and absolutely secure.
Review & Rating
Push the users to leave a quick review of their visit. You can also send them a push notification to remind them to share ratings.
Doctor On Demand App Development – Doctors Panel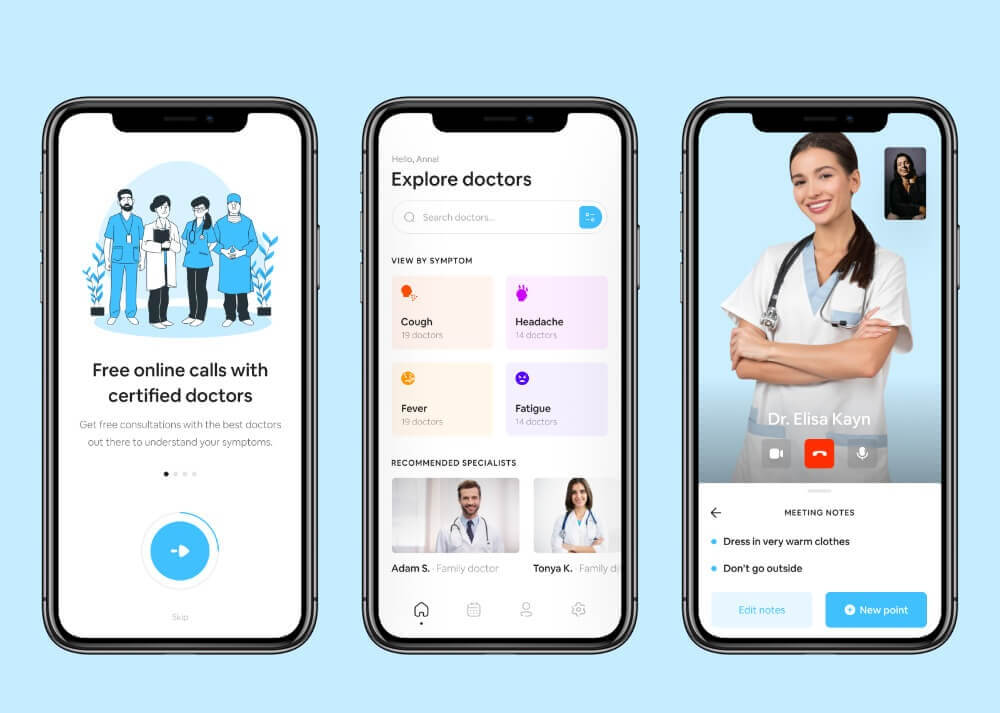 Doctor Web/Mobile Panel: This is the first page the doctors will land on, after installing the app.
Doctor's Profile: This includes crucial details such as name, photograph, address, area of expertise, user ratings as well as available appointment hours. You can also ask them to input additional information such as education and certification, past experience, and a brief professional bio.
Appointments Status: This feature allows the doctors to view the accurate dates and times of all booked, canceled, and completed appointments.
Accept or reject appointments: Doctors can view their entire list of appointments and have an option to either accept or reject any particular meeting.
Live Video call: A lot of times, doctors prefer to treat common symptoms like fever, cold, cough, etc. through a live video call. This helps them to spare time with patients having more grave problems.
Online Prescriptions:
Edit Schedule: Doctors can make the needed changes in their daily schedules based on their availability.
Patient Progression Chart: CMS for Health Article: Doctors can update their recent research and can publish them accordingly so as to aware society of the latest health insights.
Apart from these, a lot of features such as In-App Chat Option, and In-App Calling, are also present in the doctor's app, similar to the patient's app.
The Admin Panel & its Features
An admin panel is a special web application that controls every aspect of what your patients and service providers?. Let's have a look at some of the significant features of this panel.
Patient Management: This includes all important patient details along with their complete medical history. This helps to offer better and timely treatment to all patients.
Doctors Management: This includes the details of all the doctors and they are categorized according to their area of expertise. The patient simply needs to choose their category of problem and reserve an appointment with their preferred doctor without much hassle.
Report management: This includes the use of robust software to store the detailed reports of every patient. This also allows the timely generation of information whenever required.
CMS for News & Articles: Under this section, the admin can manage all the publishing details of the doctors associated and can publicize them as well.
Report management: All the reports related to the number of users enrolled, the number of doctors registered, and the health services availed are stored and managed.
Marketing Tools: Coupon Codes, Offers, SEO tools, Loyalty Programs, etc
Advance Features to Consider for Doctor on Demand App Development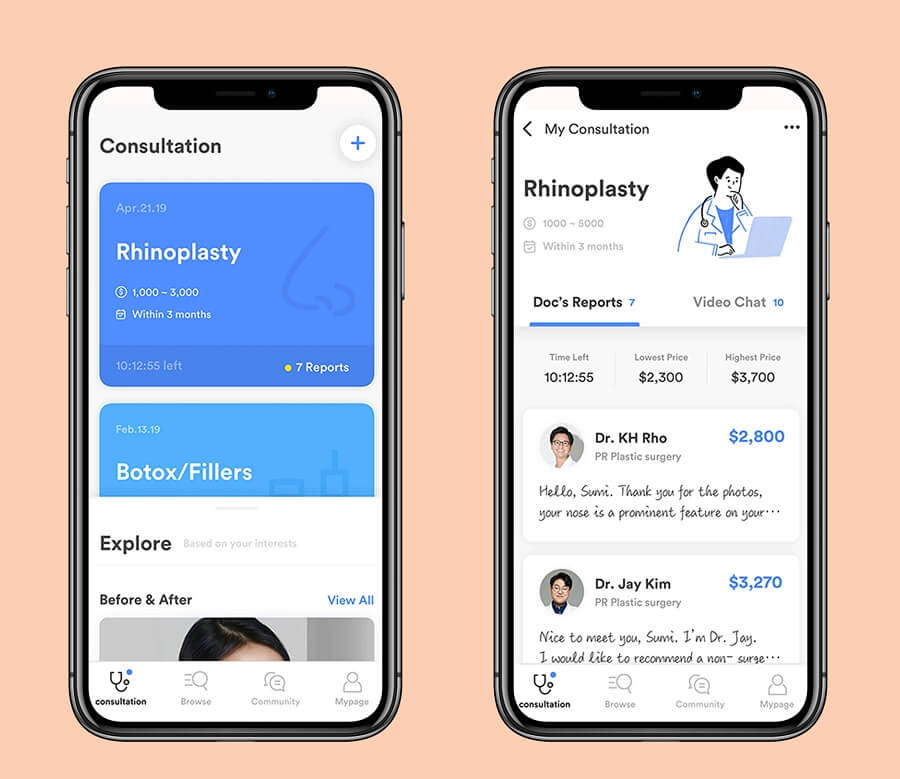 Real-time Analytics
This is an important aspect of the admin panel. The user can use graphs, charts, and tables to showcase the real-time data or stats of the app. Visual and graphical charts are better and less complex than numerous pages of facts and numbers and can contribute a great help for determining critical health information with more clarity.
Push Notification
Push notification is one of the crucial features to include in this app. It helps the users to get notifications from the app even at that time when the user stops using the app. So it is with 24/7 access to the user from the application side. This app is capable of sending an appointment reminder notification, medicine intake time, and tracking the doctor when the doctor is free in the nearby location for which the user was looking for a few moments back.
Communication channels
It is very imperative to have robust and sophisticated communication in an On-demand Doctor Mobile app. With the help of transparent interactive mediums, users can communicate with their respective doctors pertaining to any health issue that may arise at an abrupt time.
In-app Camera
The in-app Camera comes into play for expanding the peripherals of the communication standards. The users can interact with the doctors on a live basis. Accordingly, the doctors can suggest the prescription, thus making doctor-patient communication more effective.
GPS Tracking
The user can implement this for a more advanced doctor's on-demand booking app. The users can track the doctor's current location and vice versa in real-time on the maps. This is helpful in time management and accessibility.
Payment (Credit, Debit, Wallet, Net banking, Paypal, Braintree)
The payment mode can be implemented in many ways and should be there in this kind of app where payment is an important criterion. The users would have the option to choose from various payment modes from credit cards, and debit cards to other third-party payment gateways like PayPal, Stripe, etc. to in-person payment options.
Involved Technology Stack in Doctor on Demand App Development
Right technology implementation is a must for futuristic doctor-on-demand app development. Therefore, for crafting the polished app and for making it abreast across the industrial niche, the technology is certainly the one that is required to be selected very smartly. Our experts develop a doctor appointment app using the listed technology for various functionalities.
Mobile App Platforms – Android, iOS
Drug Data – openFDA Drug API | GoodRx
EHR and EMR – Allscripts API, DrChrono API
Prescription management – MDLive
front-end development: Angular, Java, CSS, HTML, React
back-end development: Laravel, Node.js
Push notifications, SMS : Batch, Twillo, Push.io
Database: MongoDB, Cassandra and Postgres
Cloud Environment: Amazon Cloud Services are Well Tested
Location tracking: MapKit for iOS, and Google Maps Android
Real-time Analytics: Hadoop, Spark, Apache Flink,
payment processing: PayPal API, Braintree SDK, eWallets
If you wish to work on any other technology for your doctor on demand app development you can talk to ur experts upfront. We aim to deliver solutions that resonate with your business idea and reflect your vision on the screen. Over the years we as a team have gained popularity around the globe for our dedication and quality.
Security and Compliance Requirements for Doctor On Demand App Development
Certified with EPCS (Electronic Prescription for Controlled Substance)
Electronically protected health information (ePHI).
Integrated with EPA (Electronic Prior Authorization)
In compliance with HIPAA
HITECH Act meaningful use stage 1 & 2
Health and Human Services (HHS) guidelines
Certification with EPSC (Electronic Prescription for Controlled Substance)
FDA Policy for mobile medical applications.
Health Level 7: HL7 Standards
Doctor on Demand App Development Process
In order to make a one-stop Doctor On Demand Mobile App, it is really very important to clearly analyze all the features and technologies required. Therefore, land your app on the surface of the App Store, once it had been rolled through the below-defined phases.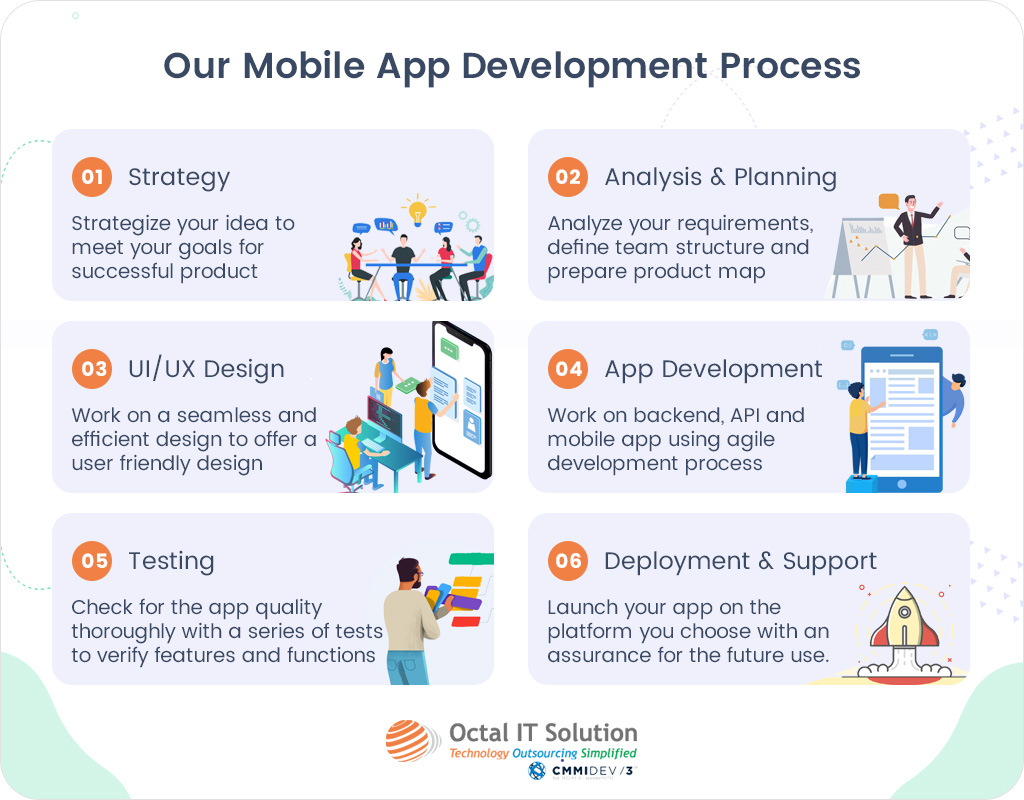 1. Strategy
A good strategy is the crux of a successful product. Struggle to validate your app idea by studying your potential audience, their preferences, market size & segment, and growth perspective, and thus develop a stout prototype. Also, work on creating an MVP (Minimum Viable Product) so as to discern the initial response of the users before hurling out a full-fledged comprehensive product in the market.
2. Analysis
It is vital to have a competent Business Analyst team to develop complete wireframes, Use case diagrams, sequence diagrams, SOW, SRS, etc. in order to implement your idea in an effective manner.
3. Design
The app design plays a vital role in making the users stick to your app. narrow down on the prime functions of your app and attempt to offer a rich user experience. Additionally, ensure that your app is easy to use to make it last longer on the user's device.
4. Development
Before you move to the app programming and coding phase, make sure that you are cognizant of all the particular app store guidelines. In case you wish to hire an app developer for your app-building process, carefully review his portfolio prior to appointing him. Also, sign a non-disclosure agreement and decide on a timeline for your project.
5. Quality Assurance
To achieve success, it is imperative that your product is absolutely free from any bugs and glitches. Perform rigorous unit testing, regression testing, integration testing, speed testing, load testing, and security testing to ensure optimal efficiency.
6. Launch
Preparing for the launch of your product is very important. This may have the biggest impact on the success of your product. You need to get the right marketing team involved to arouse the interest of the users. Do not forget to integrate app analytics to optimize your app and increase its popularity among users.
Thus doctor on demand app development involves simple six steps. Our experts over the year have gained excellence in providing these solutions and make sure that you get the best results when it comes to taking a healthcare app development service.
For the successful execution of the discussed steps, it is important that the team that you are working with is well designed and helps you earn the best results.

Required Team To Develop Doctor On Demand App
Right App Development Company, an astute squad of developers, designers, and testers; are the keys to developing a sophisticated medical application. The App Development team should have the following members for on time, on budget, and goal-based delivery:
Project Manager: He/she must have complete knowledge about Healthcare IT solutions and must be equipped with managerial skills.
Developers: Android App Developer, IOS App Developer, Back-end App Developers
Designers: Expert UX/UI designers, Graphic Designer,
Testers: A skilled pool of Quality Assurance Experts with good testing & bug tracking skills
How Much Does IT Cost to Develop a Doctor on Demand App?
Well, the cost of doctor-on-demand app development largely depends on the type of functionality you wish to implement in your app. However, a simple appointment booking app may cost around $30000-$40,000. Whereas a more sophisticated solution that comes with a prescription tracker and live video consultation features may go beyond $100,000.
U.S.-based developers: $80 to $250 per hour
Eastern Europe-based developers: $50 to $150 per hour
India-based developers: $20 to $50 per hour
and the below-defined estimate for your app as well (For developing a reasonable app, with limited features and Android coding, the cost in India can be calculated based on the below bifurcation of involved activities).
Technical documentation (40 hours – $1000 to $2000)
UI/UX design (60 Hours – $1500 to $3000)
Front-end and Back-end development (400 Hours – $10,000 to $ 20,000)
MVP testing (80 Hours – $2000 to $4000)
Polishing and bug fixing (40 hours – $1000 to $2000)
Another significant point to remember is that developing an iOS app costs slightly less than an Android app. This is because it needs rigorous app testing which involves an enormous sum of money.
What Are the Problems When Developing a Doctor on Demand Mobile App?
When we talk about a doctor on demand app development, our developers face a lot of challenges. We try to make sure that the product that is delivered to you is well developed and has all the features that we have discussed.
Our experts share here the major problems that come with doctor on demand app development.
Information Security
When talking about doctor on-demand app development solutions it becomes important to take care of the privacy of the patients. It is very significant that the patients are assured that their information is secure when they use your product. They would cherish their experience and share it further if they know that the application is secure and can it ensure their transferred data.
Since we have been in the healthcare app services for years, we understand how important it is for you to have a solution that sticks strongly to HIPPA compliances. Information security highly impacts the cost of doctor-on-demand app development. It is to abide by compliance that a lot of struggles are made. Matching the standards and putting control on the way the developers are seeing the product development process. Along with this, it is from the backend that you will need to permit all the data transfer and accessibility.
Experience for Users
User Experience is an important aspect that needs to be seen in doctor on-demand app development is the way things are built up. With pitch-perfect aesthetics using incredible UI/UX execution, the application offers different panels for different sectors of users. All three panels; the doctor panel, the user panel, and the admin panel need to have specific characteristics and features that are unique to them.
To ensure that the application offers an incredible experience our on-demand doctor application development team ensures:
Keeping style consistency
Watching out how every one of the components will work as a solitary unit in the two pieces of the application.
Financial Compensation
When talking about global levels, a lot of countries around the globe choose to have a healthcare service equality law that sets up the guidelines of charging for distant patient treatment by medical care subject matter experts. When we develop doctor on demand app we make it a point that the solution offers packages that stick to these general guidelines. It majorly focuses on secure card installment, Medicare protection, modifiers, and different codes in the way toward utilizing the application.
These are some of the major challenges that our experts often face when we are asked to build apps to make doctor appointments. Over the years we have excelled in the field and can deliver you solutions that are highly flexible and scalable. We deliver you future-ready solutions that would be in the market for the long run.
The technology used plays a major role in estimating the cost to build an on-demand doctor like Practo, Zocdoc, Teladoc, and Healthgrades. Our experts make sure to integrate the latest technology like AI, ML, Big Data, etc. into your application to make sure that the results delivered to you are world-class and can help you earn great profits.
The Key Takeaway!
If you are looking forward to on-demand doctor app development then you need to be extra cautious. As these applications deal with the medical history of the patient safety and security integration become a major issue. If you are looking forward to entering the market with such a solution, then hire a team that can help you expand your business.
At Octal IT Solution, we make it a point that you get your products delivered right on time. We use our experience and expertise in the field to make it a point that the product that is delivered to you doesn't only complement your business intentions but helps your audience too.