What is the first name that comes to your mind when you think of a Q&A website or web apps Quora, indeed! Well, Q&A web platforms are nothing new to the world of the internet, in fact with time they are attracting more and more users. The main aim of these platforms like Quora (the one reigning the race) is sharing knowledge, hence one can be assured that the need for these services is never going to expire.
Yet, it is not easy to stay on the top and that's why even biggies like Answers.com, Yahoo, Amazons Askville, & Stack Overflow are finding it tough to secure their users. With Yahoo Answers, despite making so much effort, it is slowly losing its prominence. So what does Quora have, which others do that makes it prosper at all times even when its counterparts are struggling to survive in the market? This and a lot more, we will find here, in this blog. So, let's start with understanding Quora.
What is Quora and how does it work?
Well, to put it simply, Quora is a web platform, where it allows users to ask questions, and other users can answer them. Here, one question may get many answers, showing opinions and outlook of different people. Here, the users can't just respond to the queries they have expertise in, but can also arrange & edit them.
What sets apart Quora is Quality. Yes, it's basically the quality of user-generated content this platform provides that makes it popular among the masses. This also comes from the fact that here the users are required to use their original identification/names while registering as this reduces the number of bots. Now, this is one great feature, but what makes Quora remarkable, making the audience return to the platform all the time.
Focus is the answer. While starting out, for a really long time, Quora had its eyes set on a niche market instead of trying to capture all the categories of questions. In the beginning, it mainly concentrated on topics such as marketing and entrepreneurship. Now it started out with one niche, and thus its founders successfully created a domain where the like-minded audience was sharing their experience. Later on, this engaged community expanded hugely and it started collecting knowledge on many business arenas, like software development, beauty, fashion, and whatnot. Thus, today it serves such an enormous audience.
What steps were taken by Quora to attract the audience?
The developers of this platform took things into their own hands, and starting for few months after the launch, they were themselves creating content for the platform. They asked and answered questions from their own accounts. Meanwhile, another similar and successful platform Reddit chose a complicated way instead. They didn't use their own accounts but instead made many fake accounts, to make it seem as if the posts were being published by different people. Its creators now reveal that it took them some time to gain the users and before they stopped publishing posts on their own.
How to proceed to develop a platform like Quora?
If creating a Question & Answer website like Quora is in your mind, then you first must create a community. This strategy will absolutely work for you. After all, nobody wants to discuss the empty web platform. So, fill content all by yourself before the users join them. You can choose the strategy, whether Reddit or Quora, as per your liking, as both approaches are beneficial. When you create profiles, your platform won't look like it's managed by numerous people, whereas content is added from the personal profiles, it will make promotion a lot faster & easier.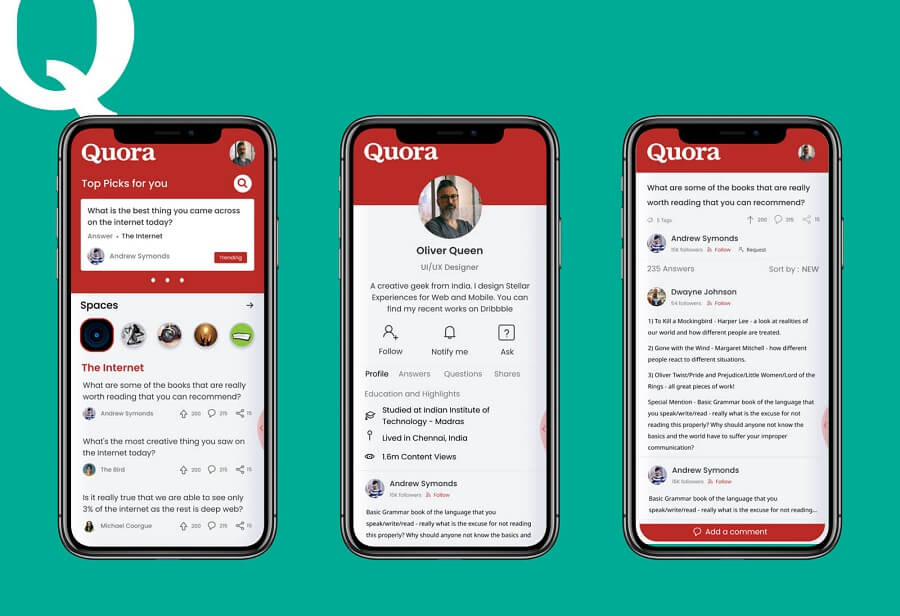 Another important aspect to keep in mind is sticking to a less variety of content and instead emphasize things you are ace at when creating content by yourself. In this manner, if you can provide high-quality content to your users and resultantly increase the chances of their website visit again.
You can always hire an on-demand mobile app development team to help you with the development process. We can help you create websites like quora and earn better results in no time. If you have an idea and not sure how to develop it then our experts can make it quite easier for you.
Why will it be profitable to create an app like Quora?
Below is the answer. Yes! Just have a look at these Data Analytics and User Statistics showing the success of the Quora Web page. These numbers themselves are motivated to create an app of your own like Quora and join the bandwagon.
Daily Pageviews are 3,421,990
Daily Website Visitors are 1,425,829
Daily Website Revenue is $12833 USD
Daily Bandwidth is 65.84 GB (1.99 TB/month)
The Website is worth $4,693,471 USD
IP Address is 54.84.216.68
Server Signature is Nginx
In case, you are now thinking about the investment to develop a Quora-like Web platform, then this concern will be answered in the latter part of this blog. Next, let's find ways to manage a Q&A website.
How to manage a web platform like Quora
Well, basically, its success depended on the content & audience. So, here we tell you how you should be managing these aspects to appeal to your users and keep the content relevant.

The right use of emails & notifications: Sending out a million emails to users never results in increased visits, instead, it ends up annoying them. So, put your efforts in sending a few newsletters and notifications but add as much value to them as possible. Like, it's a good idea to send weekly/monthly newsletters based on your user's preferred topics. Also, try inserting the links to the most relevant questions and notify your users about the latest answers to the questions they posted. In the case of the mobile app, you can replace emails with push notifications. This way they won't duplicate each other.
The relevance of the information provided: Offering relevant information to users not just saves their time, but it also turns them loyal. So, the next time they are looking to a piece of information, they are certain to search it on your web platform instead of others. Content organization is also vital. Like, we have Facebook, Instagram as examples to put the most relevant content on top, or the latest content is on top. Hence, this will make your audience feel that they may miss out on something important, and thus they will be opening the web page time and again. Then, it will also work that you indicate users who have expertise in certain areas. It will certainly encourage those users to share their expertise and knowledge and get the expert badge.
User engagement is essential: The time spent by the users on your website serves as the best indicator for how intrigued your audience is with your platform. This is why, every business must try increasing this time, so as to turn their clients into their customers. Even though websites as Quora are not selling goods or providing any services, they are constantly working to engage people so they stay online longer. The more views a website has, the more will be the revenue it can get on the advertising front. Hence, if your monetization model is through advertisements, then time & amount of traffic should be your focus. But how exactly shall one engage their users, making them stay longer at their websites? Well, if we see how Quora does it, then it enables its users to follow numerous topics, users, and categories.
So, as they open the webpage, they are served with new pieces of information each time. Also, each question has this section called, Related Questions. This way they make it interesting for their users to enjoy surfing the website for a long period of time, and this obviously increases the number of page views & time spent on the website.
Features of Q&A app like Quora
Once you have made up your mind and are ready to develop the Q&A platform, it's time that you take a deeper look at your main competitors, such as Reddit & Quora. The foremost thing you will notice is that they have this simple yet very intuitive design. As users open the web page for the first time, they get to see the latest questions from the random categories and they will read answers if they are interested. Once the account is created, users can also select categories and then they will receive questions on the selected topics wither via email or directly in their feed. Here, we have mentioned the basic and advanced features that must be included in-app like Quora:
Features of the User Panel:
Register/Login
Social media login
Search
Feeds
Specific topic Q&A
Forum
Answers of questions
Edit Questions & Answers, Topics
Answer Later list
Hide identification
Personalization
Post Questions or link
Request Answers
Manage Post
Messaging System
Stats
Manage Ads
Push Notifications
Add Campaign Management
Features of the Admin Panel:
Login with Username & Password
Manage Ads
Manage Users
Manage Topics
Manage Posts
View Stats
Manage Notifications
Personalization
Real-time Reporting
Advance Features: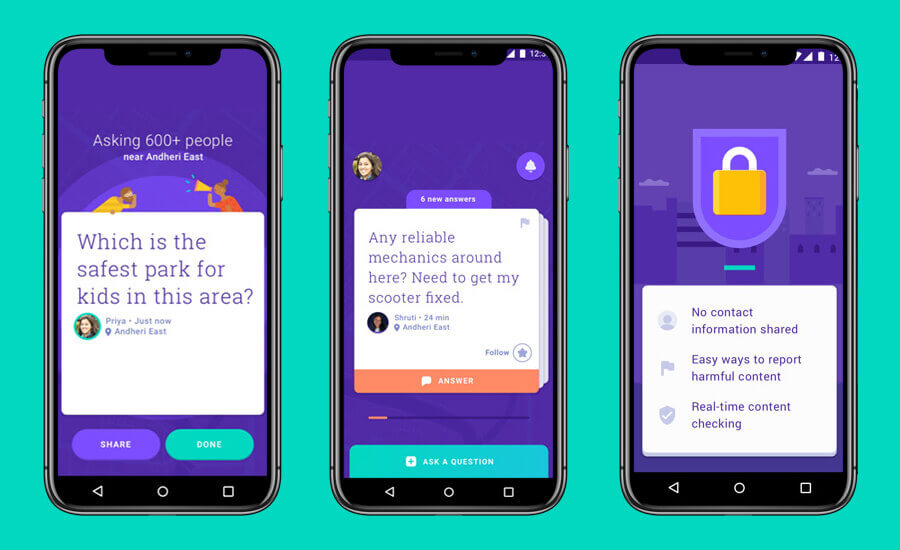 Social Media API Integration: In order to enable your users to share content with others, integrate social media API into the website and web apps, as that will allow your users to connect to their social media accounts.
Cloud Storage Integration: In order to securely store the information and data, Google cloud storage and Amazon data servers can be used.
App, PWA, & Website: It really works wonders to implement the system on the website, PWAs & mobile apps, so that it can be accessed on any of the devices.
CMS Integration: To manage the website and web app content, you need to integrate them with Content Management System (CMS).
With these features, we make it a point that the products that are delivered to you are not just user-friendly but help you earn the best results. Often when our clients reach us with how to create a website like quora requests we make it a point to integrate these basic features along with their requirements in the solutions. It helps our development team deliver solutions that are innovative and interesting.
Which KPIs to consider to create Quora-like Web Apps
Audience Engagement: It works wonders to increase the audience engagement with the app, and with Q7A apps it can be done in a fun manner. Create your app in a manner that your users love to use it. Try coming up with your own unique features like upvote for a likable answer, downvote to dislike, go anonymous, special thanks, answer edit suggestion, & inbox the chats to further discuss the topic as that will promote the app.
Retention Rate: You can increase the retention rate by allowing your users to synchronize the app with their social media accounts. Send a notification to their contacts each time a new person from their friend-list joins the platform. Ensure a favorable user retention metric through push notifications which help in drawing user attention to your app throughout the day.
User Acquisition: It really works when your total number of active users is constantly growing and this can be done by encouraging your users to have more followers by making them invite their friends on your platform. You can grab more users by understanding the value of your application, as then you can plan a strategy accordingly. Also, have a good understanding of your target audience and show them how it can be beneficial for them to use your platform.
Monetization Model for Quora-like Question and Answer App
Same as any other portal with a huge database of users & their interests, this kind of app will also make a huge sum of money through advertisements. The same is with Quora, which begun as a beta test, showing advertisements from limited advertisers. However, today is making a big chunk of money through massive advertising.
Required Team Structure:
How to develop an app like quora? To create an app like Quora, you will require to hire a special Quora-like mobile app development company. The team must consist of the following set of dedicated professionals, who work to understand your requirements better and deliver results as desired: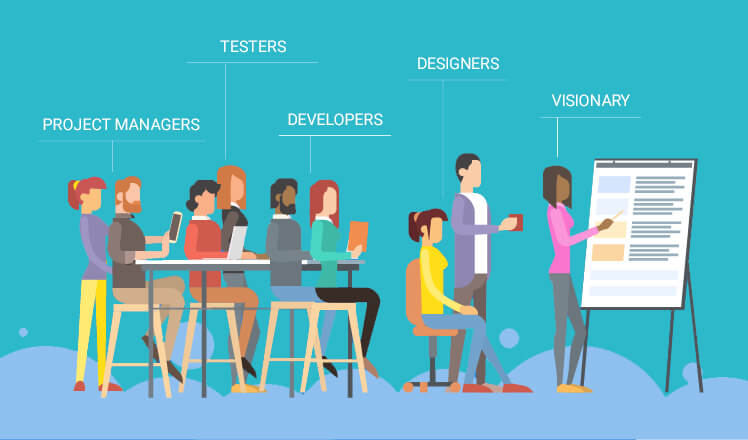 Project Manager: He would take care of the milestones and the deadlines of the product. Also, it would be his responsibility to structure the functioning of the question and answer website software.
UX/UI Experts: To work on the aesthetics of the application so that it looks engaging and interesting on the screen. Our UI/UX Design experts put in their best efforts to develop an easily navigable and helpful application.
Android/iOS Developer: Our quora mobile app development team delivers you a product that is compatible with both platforms. We make it a point that you get the solutions that help you earn the best results.
Back-end Developer: We make it a point that your solutions meet the needs of your application and help you earn the best results. Have been working to deliver results that can help you earn the best results.
QA Analyst: We make it a point that the product that you get is tested before being deployed. Question answer website design reflects to earn the best results in the limited time.
Delivery Manager: The delivery manager makes it a point that the results deployed help you earn the best results.
We make it a point that mobile application development questions and answers are done in a way that helps you earn the best results.
How much does it cost to create an app like Quora?
Various factors go into the making of a Quora-like app, such as features, the region of the mobile app development company, development platforms (Android/iOS or both), time taken, design, backend, and a few other factors. Also in the case of the Q&A app, it will also involve artificial intelligence, machine learning solutions, NLP (Natural Language Processing), & Algorithms. Usually, the creation of Quora like the app is a time-consuming process and it is most important that you choose the right web app developer for the job.
Choose an organization on the basis of their past performance. Calculating all the expenses, it should take somewhere $20000-$30000 to create a Quora-like app. However, if you want to add more sophisticated features and tech-stack, the cost could reach around $50,000-$70000.
This is the basic cost to create a question-answer website like quora. We at Octal IT Solution provide you the best solutions on a stringent budget because we understand how important it is for you to reach the heights. We take your business like ours and make sure to help you earn the best.
The Final Words
Question answer app development is quite an interesting project that our experts love to accomplish. Over the years they have delivered several solutions similar to quora like apps that have impressed our clients and their customers a lot. With our key focus on delivering user-friendly engaging solutions, we have made it a point to deliver you solutions that are impressive and rewarding. We can help you earn better results in a limited time. Our experts integrate cutting-edge technology like AI, ML, Big Data, AR/VR, etc. to deliver solutions that can help you be your customers' favorite. So, if you have decided to enter the market with such an application, reach out to our experts and see how to develop an app on quora.