And as time evolved, smartphones have become a basic necessity for everyone. We live in times where the internet is driving the world. If you aren't sure why your business needs a mobile app in this situation, then my friend, you are at a significant loss. 
With start-up culture growing every year, many of them turning to unicorns, the role of mobile applications cannot be disregarded. No matter how small you start or how big you have grown, latching on to the opportunity and trying to make the best of it is an intelligent choice. 
Here are the numbers to advocate the need for mobile apps for every business despite its industry and size. 
Market Stats of Mobile Apps for Businesses 
The mobile app industry is very vast. It is estimated that the Apple store has the second largest number of active applications, with 2.2 million apps. The Google Play store has the largest app store, with 3.5 million apps.  – Yes! 
Millions of applications are available in the app stores. So, if you think your business doesn't need any application, you are already lagging behind your competition. The major reason for the rising number is the ease of accessibility. 
Smartphones are now a necessity. The number of smartphones operating worldwide will be around 15 billion in 2022, which is expected to go 18. 22 billion by 2025. 
Forecast number of mobile users worldwide from 2020 to 2025(in billions)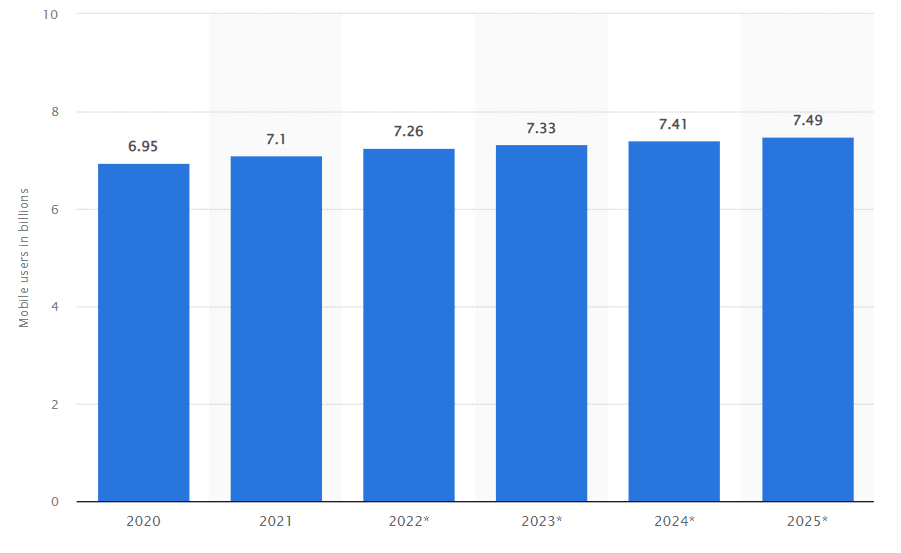 The number of smartphone users in 2021 was calculated to be 7.1 billion, and it is estimated that this number will see an upward graph and increase to 7. 49 billion by 2025. 
Source: Statista
Time spent with nonvoice activities on mobile phones every day in the United States from
2019 to 2023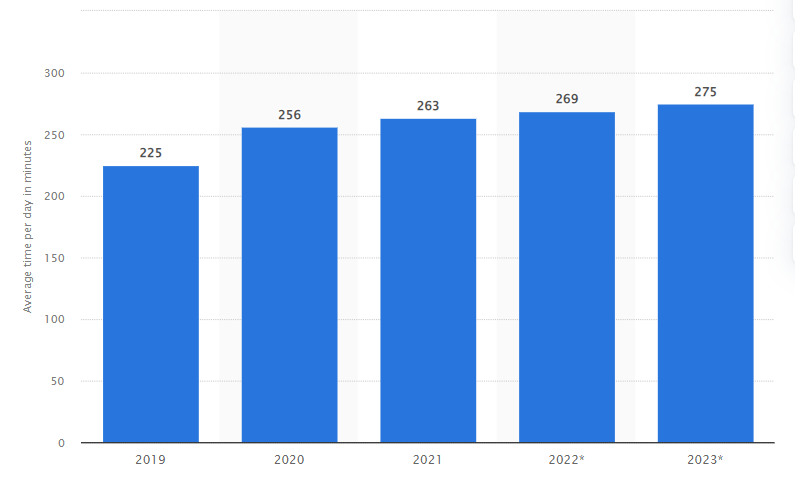 And if we talk about daily hours, the numbers aren't a surprise. The average time spent by an individual over the mobile phone (not considering calling time) was around 4 hours 23 minutes in 2021, and it is estimated to rise to 4 hours 35 minutes in 2023. 
Source: Statista
The numbers reflect if you want to reach your audience fast and efficiently, a business mobile application is the best idea.
How Dedicated Mobile App Helps Business Grow 
Every business these days needs to have its dedicated app, be it a small clothing store in a locality or an extensive showroom in the mall. Come to think of it, even fashion designers these days have apps dedicated to their work. They are minting money like anything by putting up their work on their applications.
While it is difficult for each person to go out in the market or any place to buy something, they can quickly switch on an app and purchase it online. Also, companies offering services are doing well in the app world.
Cost Effective Brand Building Solution 
To run a business, it is vital that you look for cost-effective solutions. Developing a business mobile app is one of the easiest and most pocket-friendly ways to take your business to a broad audience and grow strong. 
Generate Extra Income 
With advertisements and subscription models, you can use your business mobile app to generate extra income. It would help you grow, earn a great income, and build strong partnerships. 
If you have a website of your company that is performing very well and the customers like to return to it repeatedly, you are wasting your time. You must put time and effort into developing a mobile app for your brand and launch it as soon as possible. It will help you get double the traffic, and customer loyalty will remain the same.
Top Reasons Why Your Business Needs a Mobile Application  
Reach Wider Audience 
As we have already seen, the time spent on mobile phones is more than a sixth of the day, it is a great way to reach your customers. With time we have grown dependent on mobile applications, and building a solid presence over the internet is a way to fight in the market. A dedicated mobile application with the correct name can give you a competitive edge. 
Also Read: Tips to Select the Perfect App Name 
Make Your Customers Feel Valuable
Most of us own the point cards we collect from stores we return to now and then. How about launching the same system on your app, making your customers feel valuable? 
Also, since the points information is available on the app, it lures the customers to make more purchases or return to the app for more offers.
Increase Brand Recognition
It is essential for you to make sure that the people out there know about your brand. Therefore, apps work in such a way that you don't need huge hoardings, or you don't need to spend a lumpsum amount on advertising. An app single-handedly does all the advertising work for you.
With your own business app, You can share All new offers directly shared with the users rather than paying the channels to advertise your product. 
Outshine Your Competition  
While you will be a part of the competition with several others offering the same products or services, try to do something different and stand out from the crowd. Many small businesses still think there is no need to make an app. You can take the giant leap here by developing an app for your business if you are a part of that race. This will help you stay ahead of the others in the long run.
Customer Engagement Is the Key
Making a call for service has become quite an old school. People like to get things done within a few clicks. You must ensure that the customer is appropriately attended to and that all his complaints are heard. Add a messaging feature to the app so you can directly get in touch with them in case they get stuck at a certain point while using it.
Earn Loyal Customers 
Yes, you heard that right. Like brand loyalty, customer loyalty is of extreme importance to any business. People these days are surrounded by advertisements of hundreds and thousands of things. In this complex maze of billboards, hoardings, television, newspaper, magazine, online, social media, Facebook, Twitter, and other advertisement mediums, you have to keep the users engaged with your app and your products or services.
Make a connection with your customers through your app and build that bond that brings your customers back to your app again and again.
Showcase Clear Solution 
Are you sure to answer all customer queries online or through phone calls? No! Then act upon it and start developing an app for your business. While several customer calls stay unanswered, you can at least try to address all grievances through your app. This is the best way to come closer to your customers and create that bond where they easily talk to you about their problems with the products they buy through your app. This will help you solve the issue, and your company will create goodwill for itself in the market.
Mobile Specific Functionalities
While building the app for your company, you must include features your customers will find engaging and want to return to the app. Try and test the app's features yourself, and look at it like a customer. This will help you make the features efficient and engaging.
Lastly and most importantly, you must know that customers love to use apps that utilize their device's functions like the camera, calendar, or accelerometer. One of the most popular apps that are doing well because of this feature is that of the wearable manufacturer Under Armour.
Conclusion:
It is time for all those who have been delaying the launch of their business apps to hire an app development agency and develop an app for your brand. If you are unwilling to invest much in an app, launch it initially with fewer features, gradually increasing them as and when you start getting returns from the app.
In today's competitive tech world, it is essential for all companies to stay connected with their customers and make space for themselves. From small-scale businesses to medium size companies and well-established names, all need an app for themselves. So, don't wait further and step into this digital world of which everyone is a part.