Traveling is stressful. But, you can remove the stress out of your itinerary by using your smartphone more smartly. From ticket bookings to taking a virtual detour, mobile apps have simplified the life of avid travelers with their functionality. A well-planned city guide app development can help in exploring every new destination with a completely new perspective. They allow wandering at your own pace and be informed, nomads. These apps are integrated with the hardware like the camera and GPS of a mobile device.
What Does It Take to Develop a Travel Guide App?
Mobile app development is a complex task that must be handled by experts. It entails project ideas, planning, development, testing, and deployment of the app. During the process, you need to stay updated and integrate the latest technologies and trends into the product. Here are the factors that you shouldn't ignore:
Conceptualize a Great Idea:
The city guide app development should begin with basic planning. This app serves as a navigation guide for travelers visiting a particular city. It comes across as a platform where they can receive valuable insights about the city, its attractions, hotels, and transport facilities. As such, it should become a platform where travelers can share their knowledge through reviews and images. You can enlist all these functionalities and design the app accordingly. As a rule of thumb, keep it simple with lesser features in the starting phase and add more versatile UI/UX design principles to it at a later stage.
The main motive of entering the market with a city guide app is to offer comprehensive and latest information not only to the tourists but for the localites too. It is not only the map to the city but has all the information like the main tourist attractions, the places of sightseeing, amusement parks, and their timings, malls, shopping areas, hotels, restaurants, cafeterias, etc. Along with this information, one can get to know about the basic things like local transport and others. A city guide app is basically a sneak peek into the culture of the place and the interesting local events that would keep everyone engaged.
Integrate Functional Features:
As a matter of fact, an advanced mobile app for travelers should be simple, fast, and intuitive to make an impression. Instead of stacking it with redundant features, integrate your app with high functionality. Content should be vivid and informative. It must focus on the leading destinations around the city. Also, it should offer key information about the public transport system and guide travelers with locations, weather forecasts, and guided navigation within the city. An App loaded with these features can contribute to simplifying traveling.
Features in your mobile application become imperative to define your idea of taking the application in the market. It should be designed and developed in a way that the user can feel at ease in using it. The ease of navigation, the clear elements, and the maximum information about what is happening make it quite possible for others to use the application further.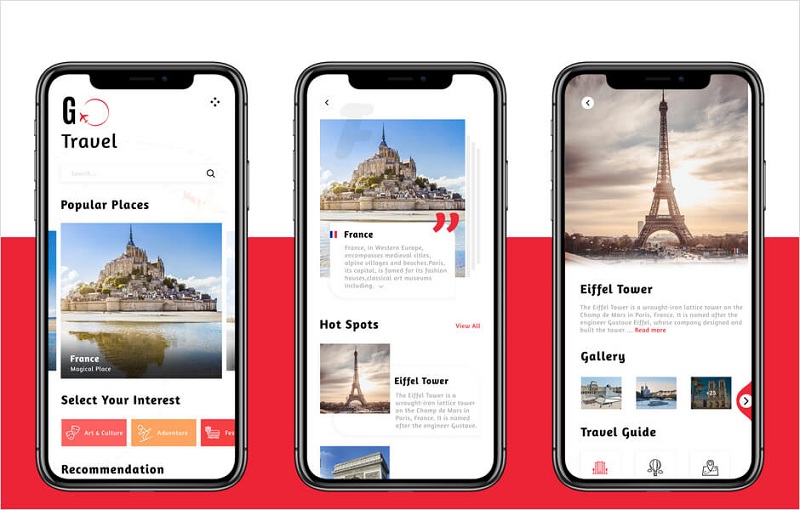 The more features the more information and services the more possibility and popularity. If your application turns out to be a one-stop solution for the users it becomes easier for them to earn the most profits in no time.
A Simple and Intuitive User Interface:
UI of your app should be well-defined and direct. There should be ample information regarding each destination without adding too much content. Strengthen the app with additional tools like push notifications and by inculcating local information about services like hospitals, petrol stations, currency exchange counters, pharmacies, and much more. Here, it is imperative to design a brilliant landing page. A minimal and uncluttered design with easy navigation menus can serve this purpose effectively.
A simple UI and UX design can take your solution miles ahead of your competition. You can take your application to new heights of popularity with basic renditions and color schemes. It is the aesthetics of the application that counts. It could be a simple color scheme, design, looks, aesthetics, or others that would make it really easy for the experts to win over. If you are building a city guide application it is important that it is intuitive and can pick the locations and show nearby places easily. The significance of UI and UX designs is well defined by the elements and the engagement of the user in the application.
Unique and Informative Design:
Your app will become a success if it encourages users to download instantly and stay connected. Make it unique and integrate the information that is hard to find elsewhere. It may include some exclusive deals, discounts, and offers for users. It is never easy to get users engaged in the functionality of a travel app that should be enhanced by providing easy booking features and other solutions for enhancing the overall traveling experience.

As we talked about the intuitive designs the other part that is to be taken care of is the information that is passed. When we work on the solutions and share information over the internet it becomes easier for the people to connect with your brand if the solution that you offer is easy to relate to and use.
Our city guide software development team makes it a point that the information shared is well-curated and helps you earn the best results in no time. If you want to make a mark in the market then hire our experts today. They can help you avail the best solutions earliest and build a strong solution that would help you earn great profits and a better position in the market.
Social Media Sharing:
After designing an exceptional product, you need to ensure its promotion as well. Encourage the users to share the app on their social media networking. But remember, they will share it only when the app adds some value to their travel plans.
Be sure that your application has a design that easily attracts your target audience towards the application. Promote it over social media and let people know about it.
A lot of applications that underperformed earlier gained popularity once their promotion and accessibility were leveraged to social media. As Social media is the place where the world plays its cards it becomes important to deliver solutions that are important and engaging.
It is important that the applications that you take to the market are not just interesting but engaging and adorable too.
One can always start from the beginning with a new course.
Follow a Streamlined Process:
Creating an app that meets the expectations of users can be daunting. You need to invest ample time and hire experts for the task. A functional prototype should be built and tested for improved UI and UX. This will help in analyzing the features of parameters of performance.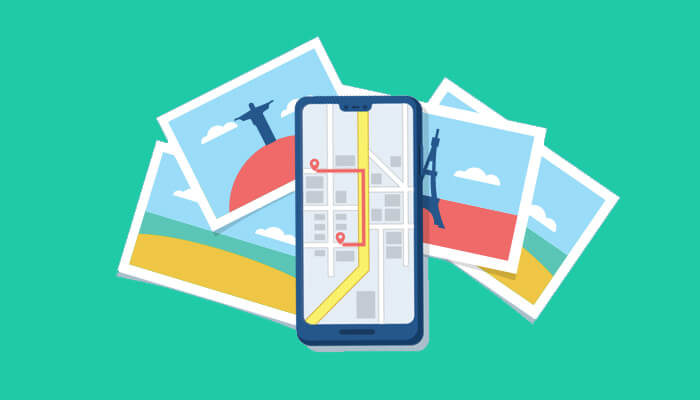 The flow of information should be cleared and well-identified. It is important that the city guide app with ibeacon solution helps you earn the best results in no time. We understand you wanted to build an application that helps you earn the most and with the latest technology combined with the innovation our experts have to offer we make it a point that the results delivered are interesting and engaging.
Choice of the Platform
It is important that before you decide to work on the application you do your part of the homework and find yourself an interesting solution. If you are looking forward to taking your business to new heights then the platform is an important factor to consider. It should be defined in a way that the most services are available in a click.
Multilingual Application
It is important that the application can be used by people of various backgrounds. It should be used in various languages and can easily be explored to deliver solutions that are interesting and can be used in various languages. It becomes easier for the people to enjoy their tour to a city.
These are a few things that need to be taken care of. If your application is ladened with these features you would surely make a mark in the market.
Other than this, monetizing your application is a bigger challenge.
How to Monetize Your City Guide Application?
There are umpteen number of ways to create incomes from a city guide application for someone who owns the business. As the client base for such an application is ever expanding, it becomes quite an interesting talk in the city the application is utilitarian in. In such a case, the city guide application owner can connect with neighborhood organizations to promote their business on the application in lieu of a charge. Well, there are some other income age openings related with a city guide application, including:
1. Promoting Local Businesses:
The most simple approach to monetize your city guide application is to publicize local businesses. You can partner with various cafés, interesting lodgings, visit administrators, shopping arcades or other business foundations to convince them to promote on your application. At the point when a business discovers a client drawing in potential in a city guide application, it will be intrigued to pay for in-application marked notices.

2.Occasion Bookings Management:
You can utilize your city guide application to promote nearby occasions and even oversee appointments for the equivalent. By charging a commission on each fruitful booking, a city guide application proprietor can create colossal incomes in a brief time frame. Insider and BMS are a clear example of how you can monetize by simply engaging events.
3. Google AdSense:
This is an easier and the most sought after way to monetize your business. Google AdSense lets application owners show in-application commercials and create incomes that are a result dependent on the impressions and additional clicks. When you list down your city guide application for Google AdSense stage, one can begin creating incomes.
These are simple ways to monetize your business applications.
Conclusion:
The process of city guide app development must be carefully planned and executed from the initial phase. The competition is fierce in this space. Also, you need to consider the costs entailed in this process. Always look for result-driven development solutions that fit your budget and serve the expectations of travelers. Hire dedicated developers having comprehensive knowledge of this domain.