Mouth-watering food is loved by everyone, everywhere but what about the process that goes into it. Cooking is an art that can make someone's otherwise ordinary day into a memorable one by the quality of food served. There are many people out there who take this art as a hobby or a profession. But you cannot learn cooking while always being on the run, be it as a student or as a professional, so one needs to have a guide such as a cooking mobile app or Web app that can march them through the learning process without much fuss.
That's where cooking apps for both iOS and Android come under reckoning. These apps offer you all the needed instructions to make a homemade meal or a weekend special delicacy that can raise your stature as a chef. With trends, the on-demand food recipe app development has seen great rise. These apps differ on the basis of sophistication as some provide new latest recipes to the already proven chef while others provide the baby steps to a person trying his hand in learning something new.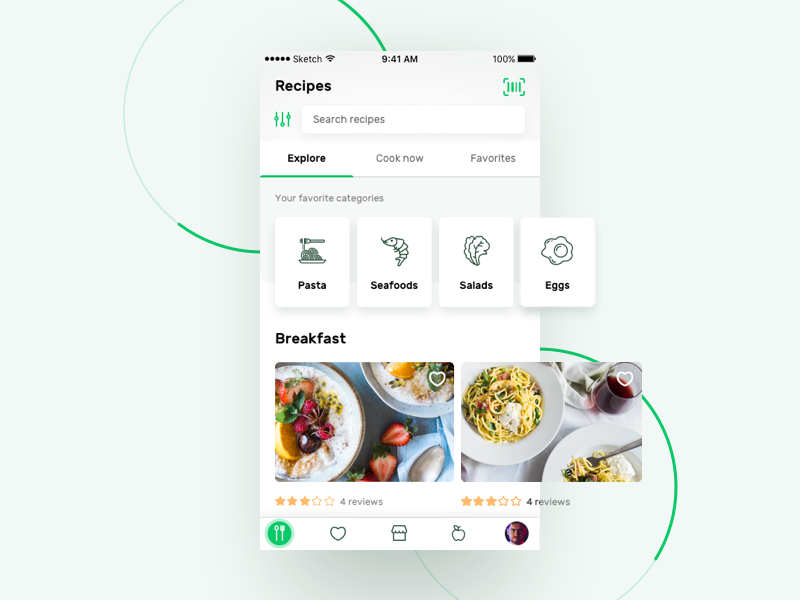 As per research, food recipe platforms enjoy a market size of 22,755800 people that come from the nations of the United States, Canada, the United Kingdom, India, Australia, Ireland, Pakistan, Philippines. Usually, these users fall under the age group of 18 and older. People have used various mediums, like Google search, YouTube, Facebook, Mobile apps to search for Food apps.
There are all-in-one apps and other recipe mobile apps that focus on one function: listing ingredients for recipes, creating meals, providing necessary suggestions for cooking. But for an app to be successful, it must have a simple design structure that combines mouth-watering snaps of food and an easy way to master recipes. More and more businesses are planning to invest in Food recipe mobile apps and in case you are interested in the same, then here in this article we have discussed all the crucial details of Food Recipe & cooking mobile app development.
Where to begin With
Once you have decided to develop an on-demand food recipe app, the first thing you have to do is conduct research where you evaluate all the available offers keeping in mind the major platforms like Android & iOS.
For the same, you require answers to the following:
Will it be worth spending money on the app?
What are the pros & cons of its functionality?
Is a similar product available in the market?
Will you require including extra features to exceed the expectations of users?
Once you find answers to all these questions, it will be possible to define the scope of the future app will have in the market and accordingly plan to create cooking app. However, before beginning, do give a look at two prominent apps like Green Kitchen Stories and Deliciously Ella's. Both of these apps have succeeded in garnering their users' attention, even though both of them are absolutely different from each other. We provide recipe development app to ensure you get professional guidance when taking up the task. Hence, it is important to realize that sticking to a single strategy is not necessary; instead give a thought to different scenarios for your specific product.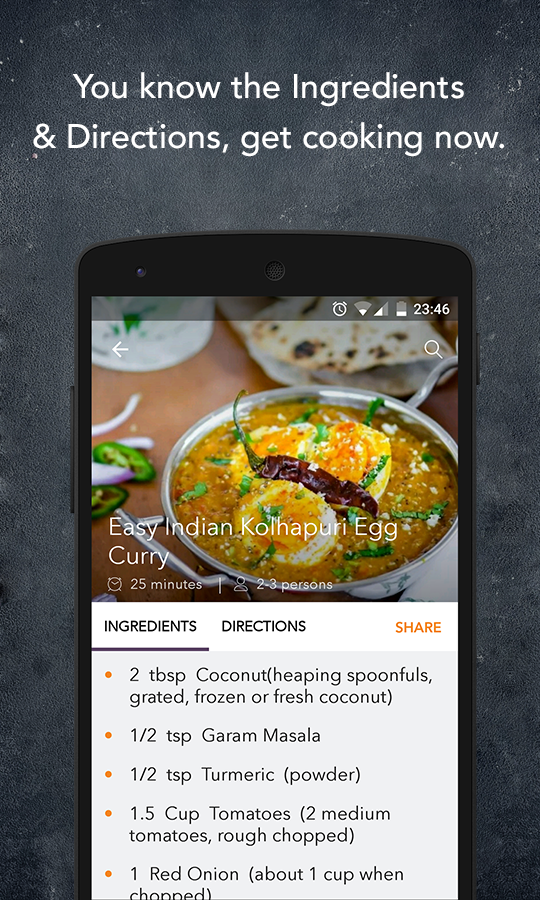 Know Your Mobile App Development Team
You must know well who you want to develop the cooking app for, like who is your target audience. There are a few food recipe app features and services, like Location-based service, time management, etc. which provides a list of nearby grocery stores with an array of products that will be required to cook a specific meal. This kind of app works best when you are keen to create a mobile app for meal-planning. Here, the Location-based service proves really helpful. Also, you help your app users to easily find the best grocery store, filtering by location, prices & other basic parameters as you build food recipe application for the users.
Related Post: On-Demand Cook Finder App Development Cost & Key Features
If you cannot plan how to create a recipe app reach to the right mobile app developers who can help you with a highly engaging and user-friendly app.
The Idea Is to Create Something Extraordinary
Well, the main idea behind why you should create something different is to surprise your audience with something exclusive than to simply develop a menu planner app. Like the Home-Screen' of the app should encourage your app users to engage with a search bar in order to discover new recipes, list the favorites, and engage with your app as much as possible. Food recipe app development cost is quote determined with a lot of parameters. After all, if the user is not encouraged to engage with your app or in case they get bored with your app, then it is bound to fail. You can ensure the same, by taking care of the following parameters:
App Functionality:
As you start with the mobile app creation process, keep in mind the device structure. After all, cooking app features would surely need to define your target audience/potential buyers' persona. In the next point, we have defined several types of users.
Multi-Purpose App:
If you aren't sure how to build a recipe app reach to our iOs app development Apps are supposed to solve user's problems. This is what people expect from the app and that is why they download them. Hence, your cooking & food recipe mobile app should offer the users ease and must have several modes.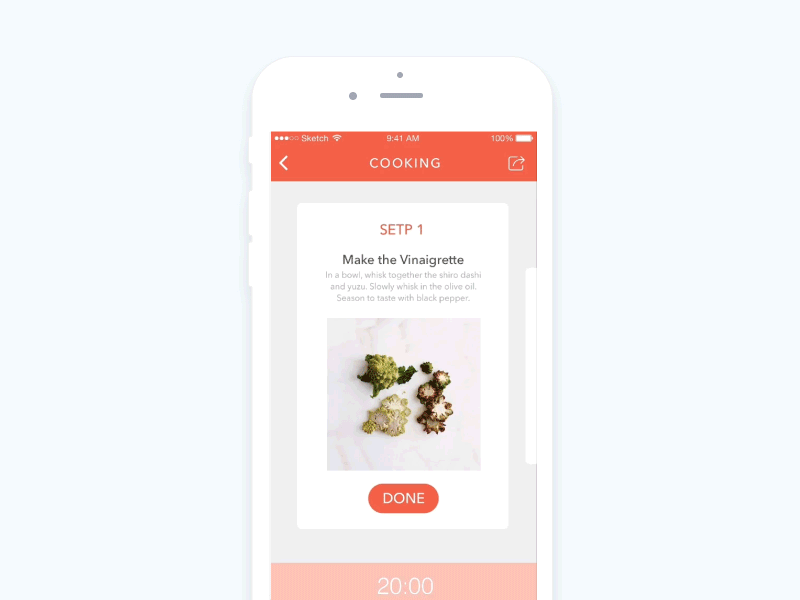 Cooking Mode:
Quite certainly, this mode is for cooking app market size that includes people who love to cook. This category may comprise of women & men who love cooking for their family and surprise them with new and exciting meals. It may also include professionals chefs who are keen on exploring new cuisines or want to experiment with the new ingredients. Now, the Cooking mode will be a complex one to develop as it needs to be supported by too many features and high-quality content, like food recipe app documentation in the form of tutorials, video-guides, photo instructions & other necessary tips to make the process of cooking easy, fast & entertaining.
Shopping Mode:
Integrating e-commerce features in your cooking & food recipe mobile app would be a brilliant step to entice more users to the app. Meanwhile, for the same, you must focus on the app's functionality and requirements to integrate location-based service, along with the other tools useful in finding a nearby grocery store with just a single click. For this, the Geo-fencing feature will come useful. Besides, you may also choose to provide cooked meals to users to integrate On-demand Food-ordering feature in your app. This will take your app to an all-new level and attract a wide user-base.
Other than that, when you reach to experts for how to make a recipe app you must include the additional features as well, like price comparison, nutrition tracking, shopping list & other useful functionalities. It also offers your users discounts, offers, coupons, etc. from time-to-time and ensures that this data is associated with the venues that your potential users usually prefer.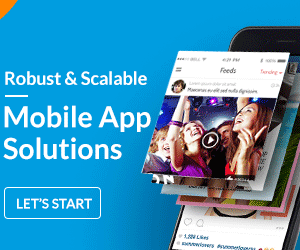 Target Audience: You Will Have Three Types of App Audience
The cooking app development cost depends on the features that you want to include in your app. The features would be defined by the type of audience you want to aim at. The three major user types are:
Users Usually Eating Out
The ones who are a fan of cafes and restaurant hardly appreciate a wide array of recipes. Like, even when you offer them simple guides to prepare delicious & authentic cuisine, you may still fail to grab their attention. So, here location-based service can be useful to win them over. Using location services, you can find which cafe and restaurant the user visits the most. Accordingly, you can suggest recipes (meals & ingredients) that are most popular in those places. This will encourage users to cook their favorite meals at home.
Travel-Based User
This is again a potential user category for the cooking app. Such people prefer less time-consuming and easy recipes, as they cook rarely at home, & usually go for meals that won't require too many ingredients. Here, location-based service proves helpful to define what amount of time these users spend away from their homes.
Lifestyle User
In order to appeal to your potential app users, you first require to learn their location-behavior. For instance, if a user plans to cook a meal for three or six people, then your app must provide the correct proportion as per the recipe. It is actually a simple feature, and here the app can have an easy one-step prompt asking users about how many people they are cooking for.
Besides, each user has a different cooking experience, like students hardly go for lavish cuisine, so they tend to require an easy and less complicated recipe list. Fast ideas taking a few minutes suit them best, besides they tend to prefer cheap ingredients, hence the grocery list can be customized for them by price. Here, the idea is to gather useful information about the preferences of users, like you can find what cuisine they prefer, what kind of food they like, etc.
Once you know their buying persona, it gets easier to add context to your app, hence making the app more vital to these users.
Content Quality
Take care of this aspect not just in terms of e-books or cooking blogs, but also in mobile apps. Offering powerful content is a great way to entice your users to re-visit the app time & again and to keep them engaged with your app. After all, Content is the King. So, when you decide to develop cooking food app, make the recipes interesting to read, add delicious pictures and allow people to share & comment. You can choose to focus on crucial issues like healthy products, nutrition, and budgets.
Feature-List
First things first, as you are building a cooking & recipe app, ensure that you integrate a grocery list as well. However, in the long run, that won't be enough, as you'd need many other crucial features, like cooking techniques, cooking check-list, grocery store calculator, price-filters, ticking-off ingredients, recipe tracking method, and a lot more.
Next, let's explore the integral features of a Cooking & Food Recipe Mobile App.
Important Features of Cooking & Food Recipe Mobile App
When you are looking for features to include in development of cooking and food recipe mobile app make sure you have a list that can help you earn great clientele in less time. These features would be your unique selling point in the market. We would discuss the features of the user panel here.
Features of User-Panel:
Registration: Users can easily register into the app using their login credentials, or via their email ID. Other than that the app must also offer social media login as users find that pretty easy and use it often.
Create Profile: In this section, the user is required to enter basic information, likes & dislikes related to food and their much-liked cuisines. This way, the app can offer a personalized suggestion to them.
Search Recipes: You can make it easy for your users to search for the recipes by using filters like title, recipe category, and ingredients.
Advanced Search: This option allows the app users to execute a search as per the occasion, course, cooking method, health, diet, special consideration, seasonal, etc.
Personalized Recipes: Allow users to get personalized recipes for food, so in case they don't like red pepper in their food, then the customized recipe should be offered to them, replacing red pepper.
Subscription: Users can be enabled to subscribe to the app, on per weekly, monthly or annual basis. This way, each user can pick a subscription package as per their liking and this move will certainly help you grab more users.
View Recipe List: This offers a list of recipes that users can choose from.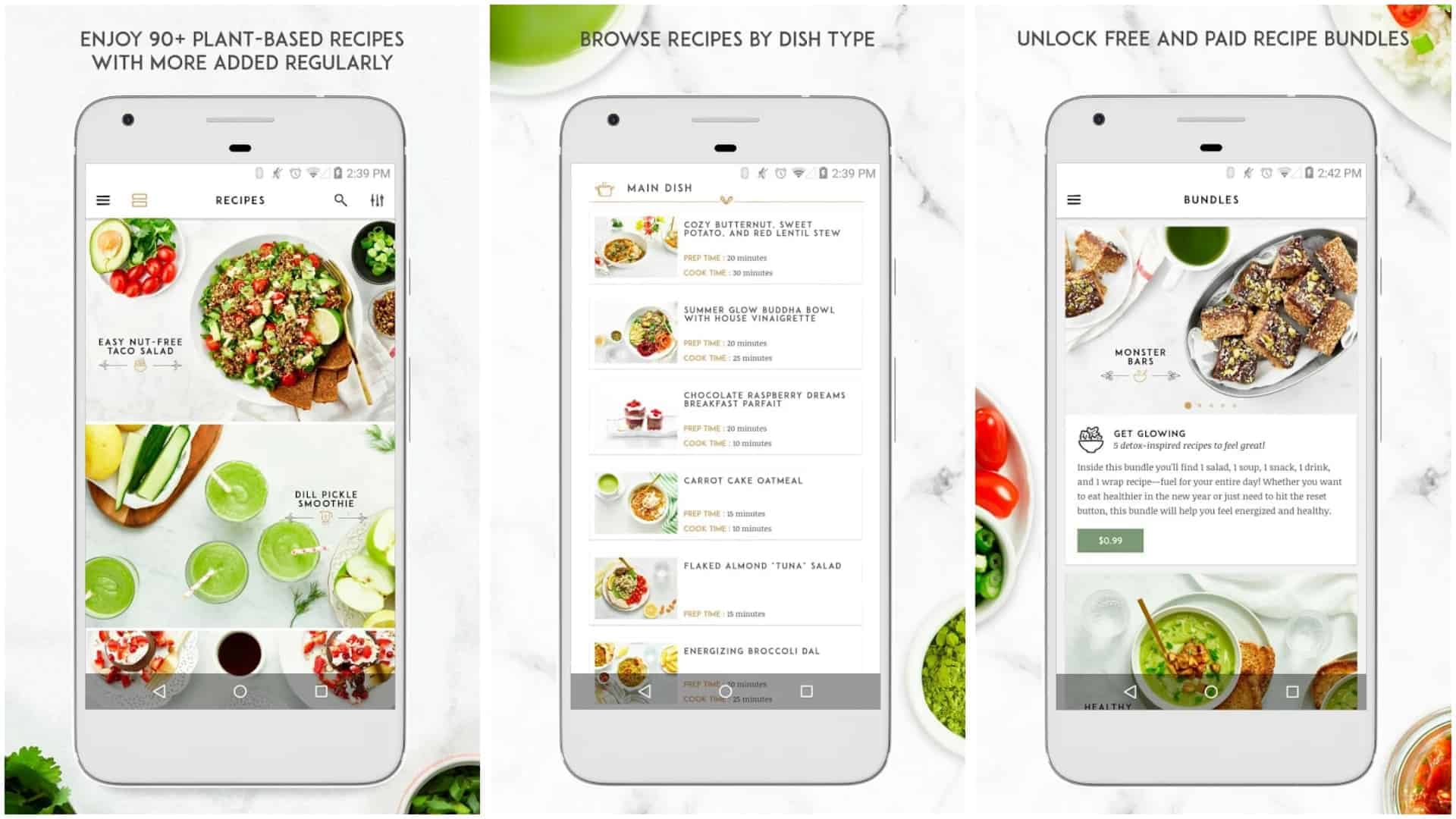 Provide Nutrition Facts: With each recipe, you can choose to offer nutritional facts of that recipe. This way users will know what they are eating exactly and will be encouraged to cook the recipe.
Video-Tutorial: With each of the recipes, a video tutorial can be offered to the app users. Video
tutorials are really helpful while cooking as they offer step-by-step guidance.
Photo-Gallery: Each recipe can have an integrated photo-gallery to entice the users with mouth-watering pictures.
Save Recipes: Enable your app users to save their favorite recipes and then access them from anywhere, and anytime.
Print Recipe: Integrating this feature can again be helpful. This offers ease to the users who can easily get the recipe printed and used the printed version while cooking instead of holding smartphones all time while cooking.
Ingredient Quantity Calculator: This functionality allows users to know the exact quantity of the ingredients to be used in a recipe, as per serving members and they can view the required cooking-time of that recipe as well.
Personal Notes: With each recipe, personal notes can be added, so that users will get special input as they cook a particular recipe. For instance, in some recipes, milk cream is mentioned in the ingredient list. However, if the milk cream can be replaced by milk, then this can be mentioned in a personal note at the end of the recipe.
Social-Sharing: Allow your app users to share their favorite recipes with their friends on social media. This will garner more attention towards your app as well as will enhance user-engagement as well.
Rating & Review: Users can rate and review the recipes that they tried cooking. This will give an idea to other app users as well, about the performance of that particular recipe.
Upload Pictures: Allow users to upload pictures of their cooked recipes.
Add recipes: Users can be enabled to add their own recipes on their profile, which they can keep as Public or Public, as per their liking.
Community: This feature allows app users to interact with fellow users. They can ask questions & post answers as well as comment on the questions posted by other users.
Plan Meals: App users can plan meals for each day and choose the recipes they will use.
Manage Profile: Users' profiles can be managed from this section by the users themselves.
Read Content: App users can read content like Blogs, e-books, etc. within the app.
Alerts & Notifications: This feature can be a useful way to engage the users, like they can receive notifications whenever a new recipe is added in the app, new offers, discounts, coupons for their favorite eateries & restaurants, etc.
The user panel is designed in a way that it reflects all the needs of the end-user. It is significant for the developers and the business owner to make sure that your customers are heard and their needs are visible all the time. If they find all the alternatives in one place it becomes easier for them to trust your app and recommend the same to others.
Features of the Admin Panel:
The admin panel plays a significant part in the development of the recipe cooking app development. It would hold the details of managing the app from the backend that makes things okay to work on.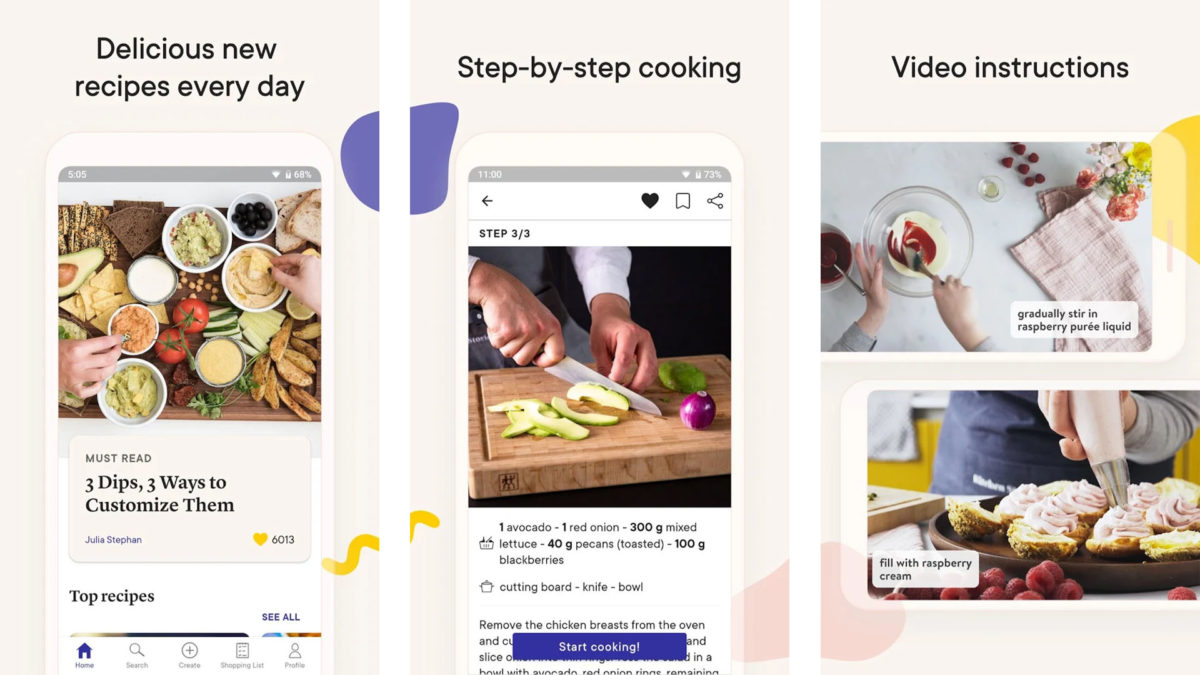 Login: From here, the Admin can log in to the cooking recipe app using her log-in credentials.
Manage Profile: This feature allows the Admin to view and edit the profiles of the users.
Manage Users: From here, Admin can view, manage and delete users.
Manage Cuisines: A variety of cuisines offered within the app can be managed by the admin from this section. Like, the admin can view, add, edit or delete the cuisines.
Manage Recipe Category: From here, Admin can manage the recipe category and choose to view the recipe category or add a new category, edit the existing ones, or delete them as well.
Manage Special consideration: In this section, the admin manages the special considerations offered to the app users.
Manage Subscription packages: Admin manages the subscription packages chosen by the app users from here.
Manage recipe: Recipes provided in the admin are managed from here. Like the admin can choose to view the recipes as well as delete them.
View Reviews: Reviews given by the users can be viewed by the admin with each user detail.
Manage Community: Admin can manage the community where the app users connect with each other. Like he can view, hide or delete questions and answers if he comes across anything inappropriate.
Manage Payment: Payments made by the users for app subscriptions, nearby grocery stores, e-book purchases or food delivery can be managed by the users from this section.
Upload Magazines: Admin can choose to upload e-magazine related to the food on the food recipe mobile app.
View earnings: This section reflects the earnings made during each month in the form of a graph.
Content Management: Admin is responsible to manage the content published in the app. It needs to be constantly reviewed and updated.
Notifications: From this section admin sends the alerts and notifications to the app users related to the offers, coupons, new additions & features in the food recipe mobile app.
The features you want to include in your app determine the cost of development of cooking recipe food mobile app that would help you manage your investments and calculate your ROI in the easiest way. It is important that you hire the right development company to help you in development of your cooking mobile app to deliver feature-rich and interesting solutions.
How to Choose the Right App Development Firm for Your Cooking Recipe Mobile App?
Creating a mobile app is a mammoth task and involves a lot of intricacies. Hence, you must ensure that choose the right Cooking Recipe Mobile app development company to get the app development. The firm must have a good standing in the arena of the app development market and have a proficient mobile app development team. Once you have chosen the firm, now it's time that you convey all your business goals and requirements with the app, so the firm can plan the development process accordingly.
If you cannot work with the right team for your app development then there are probabilities that you get results that are disheartening. If you want to earn better profits and enjoy your market journey then hire a firm that has a structured team to look after your business idea.

Required Team Structure to Dedicatedly Develop Your Cooking Recipe Mobile App
Most product development organizations work with a client-centric development process or agile process, where they update the clients about the recent developments time to time. When you hire a team to develop your cooking recipe mobile app hire an organization that has strength in the team.
To create a sophisticated and feature-rich Cooking & food recipe mobile app, the team needs to comprise of the following experts:
Requirement Analyst
Project Manager
Mobile App Developers (Frontend & Backend)
Quality Analyst
These are the basic members who would help you get a mobile application that you have been eagerly waiting for. Sounds like a costly deal? Well, it is not!
We share here the basic cost to develop a food cooking recipe app.
Cost to Develop a Food Recipe Mobile App
How much you invest in your app is quite a complicated decision. This would reflect your trust on the organization and how much you can invest. Make sure that before making any payments you study the guidelines and offers very clearly. This would make things easier for you.

Development of a Food Recipe mobile app for both iOS & Android platforms is certain to cost around $5000 – $8000. In case, you add more features into the mobile app, then the cost may escalate up to $120000. However, spending that much amount in the app development process ensures the making of a robust and feature-rich Food recipe Mobile app.
Once you hire our mobile app development team to accomplish your task, we would help you build a solution that is affordable, scalable, flexible, and future-ready. If you are looking forward to building a strong presence in the market then let's meet and discuss your idea as soon as possible.
Wrapping It All
Cooking food is an art and the art comes live when the user uses the right recipe from your cooking recipe mobile app. Enter the market with an application that can help your customers make their lives easier.
At Octal IT Solution we have been providing mobile and web app development solutions for around two decades and take your business as ours. We are available in the wee hours to resolve your queries and answer your doubts. With a team dedicated to developing a money-generating profit we have delivered future-ready and scalable solutions to all.