Being a pet parent is never easy! Millennials move to different countries and cities for work and in pets, they find their new friends. Like any other living being your pet too needs care and health checkup at times. Pet health tech is a growing trend in the market, and we make sure to assist you to make the best of the trend.
If you are a pet owner, you must often need to take your beloved pet to veterinary doctors for various reasons; however, with a gruesome work schedule, it can become a tough task for you. So, now you can have a sigh of relief with the emergence of On-Demand veterinary mobile apps.
These applications are designed specifically to ensure that your pet and you need not take the pain of waiting in the queue when in need of a vet.
Simply connect with the app and communicate with the vet.
Are you looking forward to hire mobile app developers that can help users meet their vets without actually meeting them in person? Just read further and have a basic idea of what you may need for vet consultation app development.
How Can an On-Demand Vet Mobile App Save Your Day?
With most relationships falling apart nowadays (pun unintended), people often find solace in pets, and considering this fact virtually everyone owns a pet (often dogs). They hang out with their owners in purses, sit at restaurants, and even run around in co-working spaces (in some cases only). Hence, the presence of the Vet On-Demand mobile app doesn't really come as a surprise. These applications let pet owners chat with a licensed vet, without having to leave their homes. Even the costs are lesser so people can afford easily. Besides, visiting a vet can be a time-consuming and not-so-fun task for the animal. Hence, Vet On-Demand is solving this problem by giving access to licensed vets who lets them know if their pets need to come in person or the issue can be dealt with over a video call.
So, with the growing demand for Vet On-Demand mobile apps, here let's explore all that it needs to create such an app, its crucial features, and the cost involved in its making:
ON-DEMAND VET APPLICATION FEATURES
Any application that is taken to the table is ladened with exclusive features that make it easier for the end-user and the vet to make the journey easier in the market. If you are looking forward to creating solutions that stand out from the crowd and keep you ahead of the competition, then you may consider integrating these features.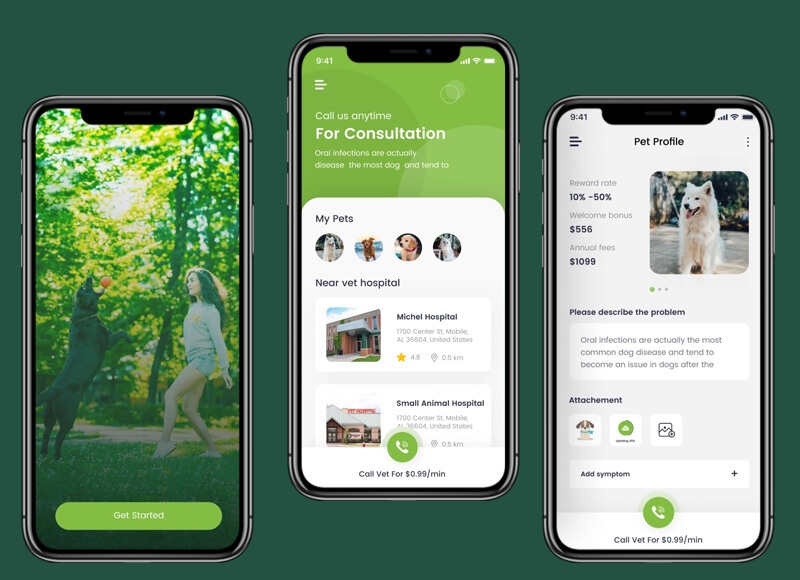 App Branded to Your Practice: A Sure-shot way to make your brand popular. It features your brand and also gives direct access to your pet owners to your practice and past pet medical records on Android & iOS.
It would become easier for the users to trust your application and connect with you. With credibility in the market, it becomes quite easier for people to rely on your application and help you earn better profits.
Reminders & Confirmations: Presents an effective & sophisticated blend of email, postcards, text messages & push notifications.
If your clients can easily be reminded of the next appointment and other details they would choose not to switch the application. We have been delivering solutions that gain popularity among users and help you survive the market risk.
Appointments & Refills: No more time-bound as your front desk will now open 24/7. Hence, decreased routine phone calls & eliminate potential errors via digital appointments & refills. It will leave your staff & customers thrilled for sure. Optional Direct Booking feature for an appointment can also be added.
With appointment applications, it becomes easier for the client to make a booking. They need not stand in long queues and wait for their turns. Pets sometimes, when not well cannot bear to be seated or wait and thus sometimes may turn a little dangerous.
With no need to wait, taking care of the pets becomes easier.
Targeted Marketing: Emails & notifications can be sent to users. Besides, there are special promotional schemes & personalized dashboards with comprehensive reporting.
You would gradually build a database, where you can connect with the pet owners if there is any new scheme or discounts. Also, you can drop newsletters and advertisements to the target audience that would reflect better than sending emails to a random set of people.
Text & Picture Messaging: Send real-time updates straight away from your cell phone as that is pivotal in building trust.
When talking about real-time updates, it becomes important to talk about the solutions that are reflecting well. With texts and pictures being dropped to the vet in real-time they can suggest immediate relief for the problem the pet may be facing.

Practice Analysis: On the easy-to-read dashboard, it is possible to monitor appointments, channels, refills & delivery performance. Also one can view compliance easily.
It is important that the user is aware of the experience of the vet. In applications, the vet needs to update their certificates and there would be reviews to reflect how well any particular vet is performing. We have been working in the field for a decade now and understand how important documentation and certificate verification are.
24/7 Medical Record Access & Updates: Whenever desired or for research purposes, easy access to past medical records is available and the records are frequently updated. Hence, it's time-saving in case of an emergency.
Recording the medical history of the pet becomes an important part. The further medication would run accordingly and it is important that the treatment followed is in consideration with the past medications.
Appointment Confirmations: Great technical support eliminates potential errors through digital appointments and refills. Here the front desk is open 24/7 and there are many effective ways to communicate appointment confirmations, via emails, text messages, postcards, push notifications, etc.
Also Read: Doctor on Demand Mobile App Development Cost and Key Features
Food/Rx Requests: Requests can be placed by your clients in case of pet supplies, food, or in-house prescriptions. Hence, offering a convenient experience to users.
Most pet substitutes aren't available in the market. It is important that the solutions that are delivered to you have this facility where the pet owners can request specific supplies.
When building a veterinary doctor app it is important that the features are ladened on the surface. We make sure that the solutions that are delivered to you are impeccable and stand out from the crowd for better results.
USER PANEL
When talking about the user panel, it is important that the solutions that are delivered to you are defined by some intriguing features that help you earn better.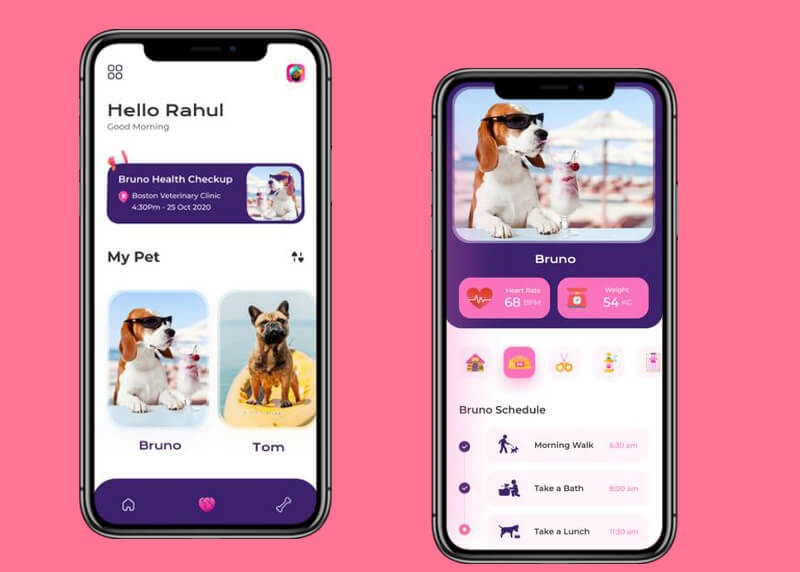 Auto Suggestion for users: Users often receive suggestions in regard to pet care, vaccinations, and medications, for the well-being of their beloved partner.
It would be fun for them to get some interesting facts and information about pet care that would make things easier for them. We have been delivering solutions that would make it easier for you to earn better results.
My favorites: Users can add their favorite products or vet specialist to their favorite list, so when even required that will instantly reach it without wasting any time.
With favorites being marked it becomes quite easier for the user to check the last order and the services they often seek. Also, it makes it easier for them to take care of the vaccinations and medications.
Barcode Scanning: Using this facility, users can check the authenticity of vet special products available in the online shop.
Scanning barcodes would also make it easier to generate digital bills. With the in-app payment method, it becomes easier for the customers to earn better.
Digital Billing: This facility ensures there are no errors in calculation and in case there are any discounts on the products or vet specialist fee, they will know about it as the bill is generated digitally.
In-app Payment: To avoid cash-related hassles, users can instantly make payments online using their Debit/Credit cards, or via other digital payment modes.
Previous History: Users can go and check their previous purchases and appointments in the history section.
With the previous history, it becomes easier for the user to repeat the services if needed. They would know the experiences and would further take suggestions in a similar manner.
New Client/Animal: This platform can be a good means to get in touch with other clients and to know about their pets, in order to share advice and other stuff.
If there are new animals of clientele in the list, it is updated in the application that would make it easier for the app users to track a record and the history could be checked at any time.
Clinical Note Taking & Photo Capture: Note prescribed by the veterinarians is sent to the users via emails so no hassle of writing down notes.
The clinical notes would be a part of the applications that would make it easier for the owners. We make sure that the solutions that are delivered to you have a system where you can check the images of the infection or other needs and move ahead with better results.
Directions: When needed to take a pet to a clinic, users can easily find directions and easy routes using the map in-built in the mobile app.
We would integrate GPS with your application that would make it easier for the user to find the right route to the real place where they can come to meet the vet if required.
veterinary web development team delivers solutions that are easy to understand and navigate. We make sure that the solutions that are delivered to you are defined by the feature set that is a part of the solution.
Read More: How to Develop a Telemedicine app on the concept of Doctor on Demand?
ADMIN
Performance & Activity Dashboard: All the information related to the performance and ongoing on the app dashboard, an admin to have a look at whenever needed.
Email Marketing Tools: There are a number of email marketing tools that the admin can function from here.
Allow Discounts: In case, you are keen to offer discounts to few customers to treat them special, the admin can do that from here, and the discounted amount will reflect in the user's bill.
Manage All users: From this section, the admin can manage all the users associated with the mobile app.
Make Appointments for others: Coming here, the admin can make appointments for other vet experts as well.
ADVANCED FEATURES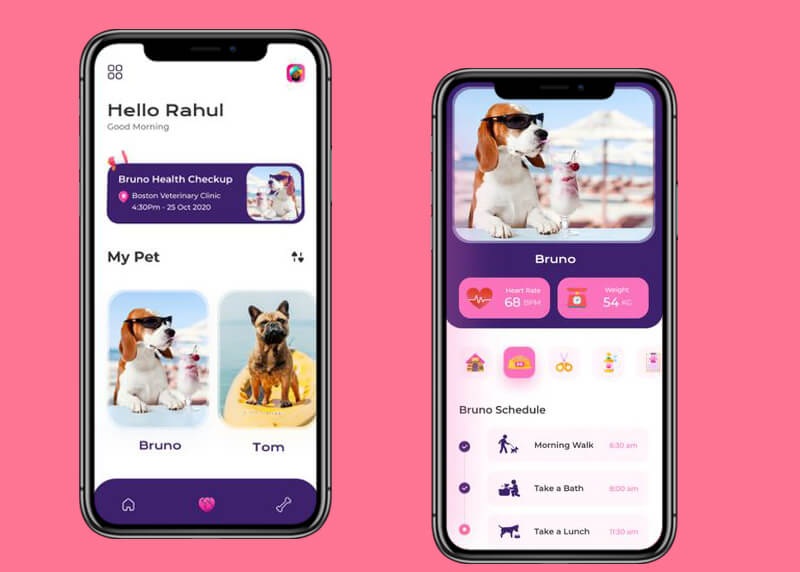 Intelligent reminder via App notifications: Users receive constant reminders whenever their appointments are due, so this way no worries of forgetting.
Text & Email Notifications: App sends text & email notifications to the users, in regard to pet care, due appointment, new product launch, or convey other important information.
Connect Text & Picture Messaging: To keep things interesting for the users, app owners can connect via text & picture messages.
Loyalty Program: Users can benefit from the loyalty programs run by the app owners, where they can bag discounts, vouchers, and other gifts.
Cloud-Based: The data storage is convenient and safety is assured as all the information is stored in a cloud.
Selfie Shots: People love taking a selfie with their pets and so to keep the app vibrant, there is a feature where users from all across the world can share selfie shots with their pets.
Performance Stats: As the performance, statistics can be viewed by the app owners, so the right measures can be taken from time to time to further improve the app.
Pair your Pet: Pet pairing has never been easy, as via app users can connect with various pet owners within their city, hence pet pairing is possible with the same breeds.
Multiple Payment Methods: To make it convenient for users, various payment modes are offered like

digital wallet app development

, so users can make payments, however, desired.
How does On-Demand Vet Care App function?
Well, the functioning of the Vet Care Mobile app goes as follows: Once the user (vet care service provider) loads the app onto their tablets or phones, they need to contact CFL to sign up for integration to their app server. After the configuration and setup are done, the users are then ready to upload designated clients, animals, services, products, as well as their own appointments. They can even load other staff appointments if configured and allowed by Management.
Then on, intelligent notes for Client, Animal, and Product records, along with Drug Withholding Notes are synced. Finally, the service provider is then ready to head out to see patients off-site. Usually, a particular staff member owns the device, however, the app is often designed in a manner to be
Staff Agnostic on a device, this way data loading is dynamic for staff that logs in. Hence, it helps in facilitating support for a number of communal tablets at the charging bay in the organization, despite their practice branch location. This allows Vets to pick any device, log in, and sync as they head out to farm or house calls. As the bills & other data is synced to the server, then they display under
Mobile Bills section for individual review or edit prior to finalization. Such is the workflow that each invoice needs to be opened by the office staff for reviewing and only when it is completed and posted.
How to develop a Vet On-Demand Mobile App?
Be ready to start off with the development process after collecting all related features needed to create a sophisticated and superior-quality mobile app. While proceeding with the development procedure, ensure these below-mentioned aspects are taken good care of: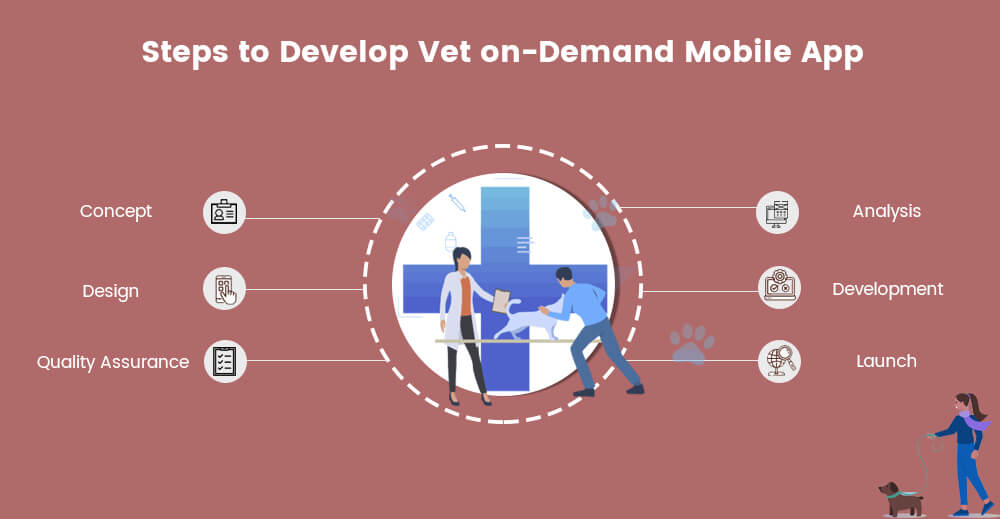 Concept
Analysis
Design
Development
Quality Assurance
Launch
Required Team Structure
Creating a high-functional Vet On-Demand app is a tiresome process and a great deal of dedication, hard work, technical involvement go into the making of such an app. It is vital that you hit upon the best and experienced mobile app development company. You will require a pool of talented managers, mobile app developers, designers, and testers so to create a superior mobile app.
Project Manager: Find one equipped with great managerial skills and good intellect, who is able to identify the best in the mobile app industry landscape. She/he must be capable of finding the most productive solutions required to attain your business goals and insights.
Developers: Android App Developer, iOS App Developer, Back-end App Developers.
Designers: Expert UX/UI designers, Graphic Designer
Testers: A team of proficient and skilled QA experts for delivering a smooth and rich experience to users.
The Cost to Develop a Vet On-Demand Mobile App:
Now you need to get an idea about the cost to develop such an app. Well, the development cost of any app can be determined by calculating the size and complexity of an app, and the same goes for this kind of app. Also, it depends on the developers' physical location and on the number of hours consumed in making the app. On the basis of various zones, here the outline has been created to determine the cost of Vet On-Demand mobile app development.

The US. based developers: $100 to $250 per hour
Eastern Europe based developers: $80 to $180 per hour
India based developers: $70 to $180 per hour
Now according to the segments to be developed, the actual cost of developing this kind of Mobile App is graphed.
Technical documentation (40 hours ? $1000 to $2000)
UI/UX design (60 Hours ? $1500 to $3000)
Front-end and Back-end development (400 Hours ? $10,000 to $ 20,000)
Testing (80 Hours ? $2000 to $4000)
The above-mentioned overhead charges are calculated to get the average cost of a Vet On-Demand mobile app. A reasonable app with limited features can cost up to $8,000 to $25,000 for a single platform and the charges can extend up to $35,000 in case, the app developed is feature-rich and is driven by high-quality standards. Now as you look for the right mobile app development team to go ahead with the mobile application development service, you will find quite a number of prominent IT service provider firms in Healthcare. Ensure that comprehensive research has been conducted on the firm before you put your special project in their hands. As you zero upon the right firm, you are good to go.
Wrapping It All Up!
We make sure that the solutions that are delivered to you are well defined and help you earn better results. We have been working in the direction of solutions that are scalable and future-ready. Our flexible solutions are industry-specific and would help you survive the market easily. We have been working in the direction of providing solutions that would make you stand out from the crowd and help you target a wider audience.
Easy to navigate and aesthetically advanced applications make sure that the solutions delivered you hold your audience on the application and help you make great profits.