Veterinary Software & Mobile Application Development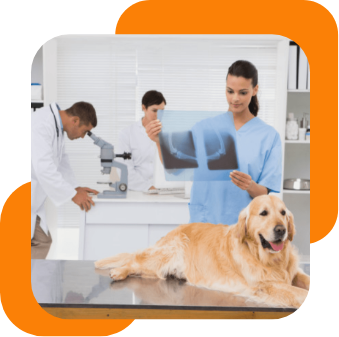 Regardless of size and location, all veterinarians can do big business. And we think business success is a very important means of purpose. Octal IT Solution is helping veterinarians like you to achieve freedoms obtained in successful veterinary business.
We program professional veterinary software for horses, cows, large animal practices. We will develop pet microchip registration database and integrate database of American Veterinary Hospital Association (AAHA). Program the report module using the comprehensive business intelligence (BI) engine, and the KPI visualization tool. We also design an employee's scheduling interface integrated into the Human Capital Management (HCM) program.
We also provide Development of web-based doghouse management software with integration functions of monitoring equipment for boarding facilities, animal hospitals and shelters. We also integrate bi-directional portal of diagnostic laboratory technology and program for test order of third party wrapping service (Abaxis, DiaSys, Heska).
Our Veterinary Software Solutions
01

Veterinary Software Solution
Clients and patient record database, cloud-based number management with customer portal, schedule platform, treatment tracker, inventory management, drug manifest, CDS engine and billing, accounting, insurance management functions etc.
02

Custom Veterinary Application
We program telehealth applications with an easy-to-use interface to integrate client and veterinarian, intuitive currency management, video conferencing software and medical records database.
03

Pet GPS Tracker Software
We program embedded software for RFID (Radio Frequency Identification) pet tracking microchip and geographic information system (GIS) program that meets American National Standards Institute (ANSI) and ISO 11784/11785 standard.
04

Veterinary Client Communication Portal
EHR / EMR can be active archives, display and payment processing of claims, submission of insurance information, sharing of marketing materials, record of registered documents, treatment plan / administration.
05

Veterinary Accounting Software
We implement accounting and RCM software for managing the financial management of the veterinary office including billing / billing platform, payment gateway, insurance processing module, POS integration and inventory management system.
06

Veterinary Scheduling Software
The Customer Relationship Management (CRM) program integrates custom promising platforms including customer self-scheduling, unique scheduling templates for periodic patient screening, and promised reminders for automated email / SMS.

All-in-One Solution
All the required features come up under a single portal so that user can manage and monitor all the related activities without any confusion.

Data Collection & Privacy
Implementing the most effective big data analytics solutions, we easily map the data of the right patient so flows out to the therapist, and makes sure that it comes with the effective solution.

Wearable Tech & Cloud
While using all the cutting edge technologies, we create fitness apps that delivers on-demand medicine services and patient care prescriptions and beyond.

Targeting Patients Personally
We deliver solutions that comprise of medical history, health care plans and other critical data so as to make the patients realize that he is being treated personally and with utmost importance.
What Makes Us the Buzz of Tech Town
Here's what our business partners say about us.
Tech Talk: Stay Up-to-Date with Our Latest Insights
We have our eyes on what's new in the tech world and bring you the latest updates here!
Octal In The News
Octal IT Solution Has Been Featured By Reputed Publishers Globally
Let's build something great together!
Connect with us and discover new possibilities.






Gain More With Your Field Service
We're always keeping our finger on the pulse of the industry. Browse our resources and learn more.
Let's schedule a call