Luxury Concierge App Development – Key Features and Cost

By Palak Khandelwal

October 1, 2021
Perhaps not everyone is aware of it, but the concierge services can improve and make a hotel stay more pleasant and simple.
But what is the meaning of the concierge service and what role does this person play?
The concierge is a professional who, within a hotel, performs various tasks: that of welcoming and relating with guests, monitor their safety and that of their goods within the structure, ensure order and cleanliness, promote the tourist offer of the place, take care of all the needs of customers by fulfilling their requests, within the limits of the reasonable and their needs.
A lot of people from the hospitality business often look forward to hiring concierge services that would add charm to their hotel's reputation. If you think, you can manage an application that offers such services to various hospitality joints in your area then, without much ado, hire professional software for a personal concierge company to win over the market.
How the Concierge can help you?
The concierge service is offered to all guests with the express purpose of helping customers. But how?
Whatever the problem, need or advice you need, it is precise to him that you must turn; from indications on places to visit, to the best restaurant in the area, to tickets for a show you want to see, to booking a taxi or a car, as well as solving problems related to your accommodation or any other difficulty during your stay. No request is too small or too large, as long as of course, you are not asking for anything illegal or unreasonable.
With concierge hospitality service software it becomes easier for the audiences to connect with the hotel services and make their complaints and requests. The service provider would be available to you in a click and make sure that the solutions that are delivered to you are interesting and engaging. Over the years, we have affirmed that the solutions that are delivered to you are interesting and can take care of various aspects of such applications easily.
The evolution of the luxury concierge app:
With new technologies, the figure of the concierge has also evolved and some important hotel chains now offer their guests special digital concierge apps which, when booking or checking in at the hotel, provide all information on their interests and needs, they will then be able to indicate and suggest tailor-made activities, places and services.
One more opportunity, because in this way you can both interact with a natural person who will always be there to help you in case of need, and manage yourself based on the personalized suggestions that will be provided by the application.
In this article, you will find out how to develop a specific luxury concierge app for B&Bs, non-hotel structures and hotels.
In a few minutes, we explain the advantages, costs and features of a digital concierge so that you can immediately understand if it can be useful and which type of digital concierge to choose.
In fact, digital concierges are increasingly in demand by bed & breakfasts, property managers and hospitality operators because they are truly effective in improving the customer's stay experience, even before they arrive at the facility.
In the hotel industry, there are already excellent examples, such as Marriott and Hilton who have developed their luxury concierge app from which they derive significant profits.
We know what you are thinking!
I don't have the budget of a big hotel chain!
For this reason, today we explain how to develop a digital concierge app even if you manage B&B, Airbnb, holiday homes, or boutique hotels.

What is a digital concierge for?
A digital concierge app for B&B, non-hotel, small hotels is a useful technology for both the customer and the operator of the hospitality sector.
In fact, the customer can use the digital concierge as a personal assistant throughout the trip, from when he -to when he returns home.
In a few lines, you will find a list of the basic and extra functions of a digital concierge software, so you will understand in detail what the customer can actually do with a digital concierge app such as: better plan your stay thanks to the advice on what do, see, where to eat; book essential services; receive all the assistance you need; check in from your smartphone.
Keep in mind that a digital concierge is a smartphone app. So it will always be within reach of your guest, right inside his inseparable phone!
In turn as a host, thanks to a digital concierge you can automate many operations including check-in and sending notifications, manage the team with less work and effort, increase earnings.
Given all these functions, it is clear why the popularity of digital concierge apps is growing. The customer is satisfied with the service received while the host improves reputation, profits and work.
Let's see together how apps are spreading in the travel & hospitality sector.
Is it worth having a luxury concierge?
Why not? Investing in any business that would help you make a name in the market is the right choice. After the outbreak of the pandemic and social distancing being the new normal, the demand in the market for software for concierge service has seen exponential growth. We make sure that the solutions that are delivered to you are interesting and engaging and help you grow the business easily.
As you just read, luxury concierge apps have huge advantages. But sometimes this is not enough to convince the user to download an app on their phone.
What about digital concierges? Let's rely on the numbers of these marketing app market analyses to answer the question.
Overall, total mobile app profits will reach $935.2 billion by 2023, a sustained growth that goes hand in hand with the increase in the number of apps available on both the App Store and Google Play. As a result, competition will also grow.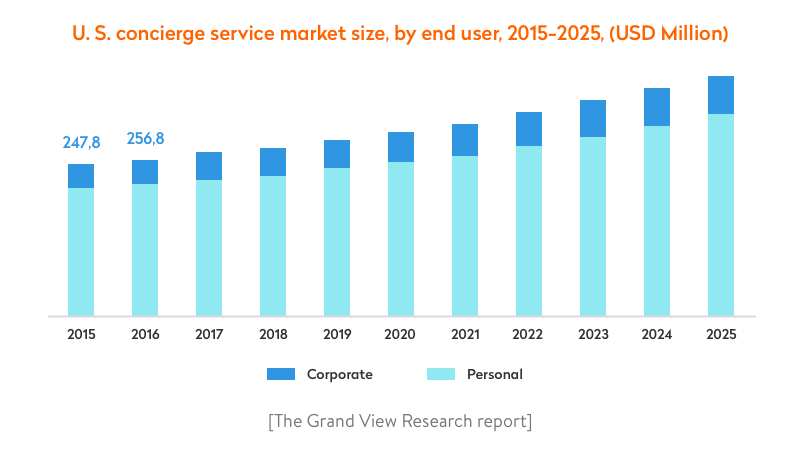 In this extremely competitive market, the travel app penetration rate is 95%, very high. Hence it is estimated that the category of luxury concierge apps will grow by 8.52% between 2020 and 2024.
To this, it must be added that the clientele of travelers will increasingly be made up of Millennials, Gen Z, and very young people, that is customers who are used to booking and buying flights, accommodation, services, and experiences via mobile.
Based on all this, analysts consider digital concierges to be a technology in which to invest.
Now you are ready to find out what are the most popular types of digital concierge today, their functions, and their costs.
Digital concierge app: which one to choose?
Before you understand how to develop a digital concierge app, you need to know what type of digital concierge you need based on the characteristics of your clientele and the managed accommodations.
At the moment, the most common types both in the hotel and non-hospitality sector are:
The front-desk concierge or the digital version of a receptionist or concierge in flesh and blood. These apps help the guest to book internal and external services, check-in and check-out, give information on the price. The major flaw is that their use is limited to the period of the stay.
The hotel concierge app for the front desk would take care of the issues related to the check-in and check-out of the guests. It would also deal with problems related to the ups and downs of the solution providers. We have been working in assistance with the solution providers over the years and make sure that they are available in a click.
The app management conference for the management of meetings, events, and conferences, from temperature regulation to food and beverage services. We have been a part of the circle where we would easily make sure that the solutions are interesting and affirm that you can get exactly what you want.
The travel assistants, who assist the customer throughout the trip, allowing you to find out what to do at your destination, book services, and experiences, receive assistance since the customer books.
How to develop an app: The 6 basic functions of a digital concierge
Now is the time to discover the essential functions of a digital concierge for B&B, holiday homes, Airbnb, small hotels that will change the way you work and assist customers. If there are more places that you want to think about then you can manage to take care of the solutions that are interesting and engaging.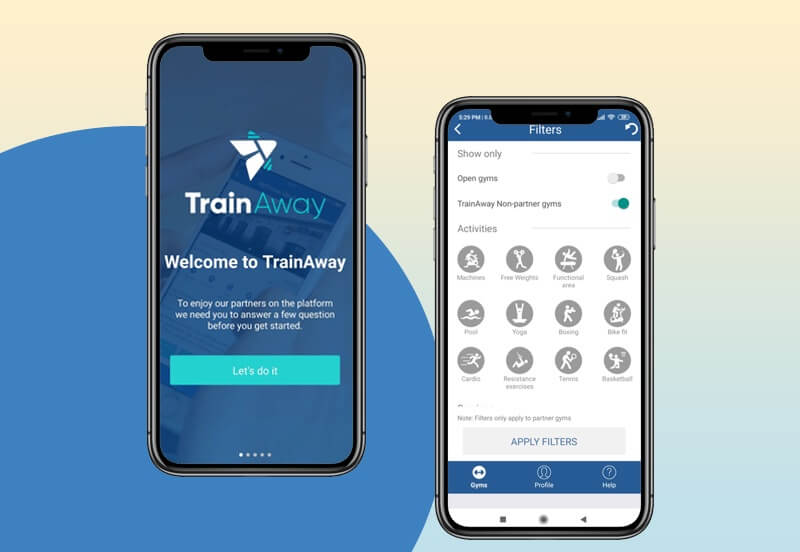 We share here the six basic functions of the digital concierge that define a strong solution.
1. Information About the Facility
Customers who have booked one of your accommodations must be able to find all the information on the structure, rooms, check-in / check-out times, regulations on the digital concierge…
You must be able to insert textual information, pdf, captivating images, and videos on your app. For example, with a video, you can explain to guests how to use the air conditioner and avoid damage from incorrect use or answer the most frequent questions asked by guests without having to repeat the same answers every time.
The service provider and the user must be aware of the solutions that are interesting and engaging and help you earn better results. We have been working with the best people in the market and make sure that the solutions that are delivered to you are interesting and affirming.
2. Import of Reservations and Booking
It is essential that you can quickly import the reservations you have received directly through the booking engine or through distribution channels such as OTAs.
In addition, all customers who have downloaded the app, stayed in your facility, and, are satisfied, want to book again (it often happens especially with business customers) must be able to do it from the app in a few clicks.
With all the reservations and the booking details being considered, it becomes important for the experts that the solutions are interesting and keep yourself engaged.
The developers associated with us have been delivering solutions tour and travel and understand all the basic elements quite well. We make sure that the solutions that are provided to you are interesting and help you build a place in the market that helps you earn well.
3. Map of the Destination
This is perhaps one of the most important features in light of the new way of traveling for global tourists: with the smartphone in hand in search of things to do and see.
Your customers must be able to discover the area directly on the digital concierge. The best thing is that you can customize the map to give your advice on the best restaurants, the most interesting attractions, the services useful to your customers (parks, rather than spas or sports facilities, night clubs).
With a 3D navigation map, we make sure that your users can always have a virtual visit to the place before they are actually there. It makes it easier for them to see the look and feel of the place before even planning their vacation.
Over the years, the hospitality industry has grown stronger and better and is making the most of the technology. With AI and ML experts in our pool of developers, we make sure that the solutions that are delivered to you are interesting and advanced.
4. Direct messages and push notifications
WhatsApp, Telegram, Messenger have accustomed us to communicate with each other through short and fast messages as an alternative to SMS and phone calls.
By now all consumers expect to be able to contact product and service companies in the same way. Especially in the travel sector.
Your digital concierge must therefore integrate a direct and secure messaging system that allows you to always be contacted, contact you in turn, send push notifications with the certainty that they have been received by the customer to push promotions, personalized services, and provide urgent info.
Being in touch with the experts and affirming that the solutions delivered are up to the mark is no pain. We have been working in the direction of interesting solutions that affirm that the solutions that are delivered to you engage you. If you are looking forward to creating a solution that can make things easier for you then you are at the right place.
5. Login and personal e-mail
The customer who downloads the app must be able to log in so as not to have to re-enter the data every time.
With an advantage for you too. In this way, you will retrieve the personal e-mail of customers who have not booked directly and that OTAs hide from you. In this way, you will be able to create personalized e-mail campaigns to promote services directly bypassing OTAs, as long as the customer books.
With the right contact details, it becomes easier for the service providers to connect with the experts and deliver solutions that can make things easier. We have been working in the direction of delivering strong solutions that make things easier for the service providers to bring interesting solutions.
6. Management panel for the host
We refer to the Extranet through which you manage the app. Creating and/or customizing your concierge app doesn't have to be a job that adds to what you already have. In addition, you must be able to manage notifications, automatisms, partners, and customer requests in a few clicks.
Before creating your app or selecting a customizable one on the market, check that its use is easy, intuitive, fast!
The 6 TOP features of a Luxury Concierge App:
These features are those that, based on our experience and the dynamics of the market, make the concierge app a tool that you can no longer do without.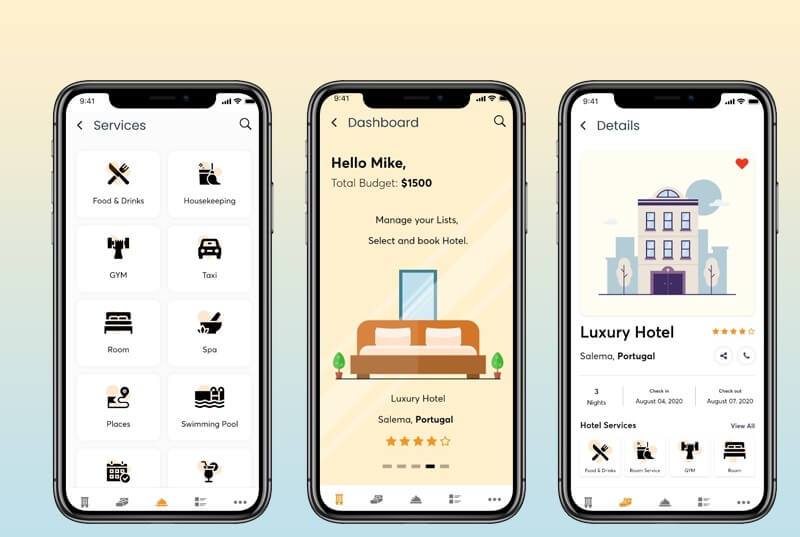 1. Internal and External Services
Your concierge app must be the mobile showcase of all the services you make available to customers, both external services and those offered by your partners.
It means that if the customer has to book the transfer service, he will not need to search for it on Google because it will be enough for him to access the app to book it, turning to you rather than to third parties.
If your concierge allows you to have a commission for each service purchased in the app, you will increase profits thanks to cross-selling and up-selling.
2. Method of Payment
This feature is connected with the one-on services. It would be a contradiction if you offered a mobile tool like a digital concierge app but then your customers had to pay in cash.
Check that the app integrates a personalized and third-party payment system such as Stripe, safe and reliable, which allows guests to purchase services and experiences with a credit card.
3. Insight
In the era of Big Data, any technology must also provide you with data that to understand what your customers want in order to improve the quality of the stay offered and customize it.
We make sure that the solutions that are delivered to you are interesting and engaging and help you earn the most. If you are looking forward to building strong solutions we are just a click away.
Like social media networks, PMS, OTAs offer you insights, the digital concierge must also process data and reports for you on the use of the app by customers.
4. GDPR compliant
If we talk about the processing of personal data, we cannot neglect the GDPR topic, related to European legislation on the subject.
If you collect and use data through your concierge app, the software will also have to help you be GDPR compliant.
5. Integrations
If you have a B&B, you are a property manager or you manage hotels, you probably also use other software such as booking engines or hotel management systems.
Your concierge app must be integrated with these technologies so that reservations, requests, info are easily imported and everything works synchronously.
6. App for the host
Finally, a gem, which can make your concierge app the safest tool to assist customers.
That is, in addition to the Extranet, a mobile tool to manage guest requests directly from mobile, quickly, without missing any notification and having the security of being able to respond to the needs of the guest as soon as possible.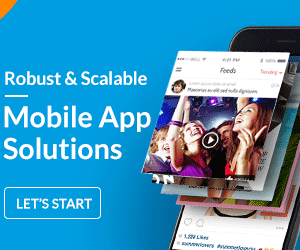 How to develop an app: Proprietary or Customizable Digital Concierge
The benefits of a digital concierge for an accommodation business, such as B&B but also small hotels and holiday homes, are therefore many and indispensable given the new way of traveling for global tourists.
Is it better to invest in the mobile app development of my own or to choose a ready-made application just to be customized?
How long do I have to wait to have my digital concierge?
How much will it cost?
Calmly and briefly, we will now answer all these questions!
If you want your own app, first of all, you should choose the technology from which to start: iOS, Android, Google Maps API, MySQL database, Java … Acronyms that probably seem Arabic.
Cost of Development of Hotel Concierge App
The cost of a proprietary app is very high. Based on these studies on how to develop an app, the average investment goes from a minimum of 10,000 to 30,000 US dollars and the development takes over 6 months. This is without calculating the cost of updates over time.
Budget and time are influenced by the type of features implemented, the platform is chosen, the experience of the developers, and many other factors.
Wrapping This Up!
Want to give your hotel/accommodation business a digital touch? Contact us now and we will build a luxury concierge application within your budget and with the features you require. We are here to help you through the solutions and make it big in the market.