Craving a pizza, but can't head out? Well, with these millennial food delivery platforms at your disposal that really is not a problem anymore. No matter what you are craving for, whether pizza, pasta, burger, continental, or Chinese, they are all just your fingertips away, and you can enjoy them while binge-watching your favorite show on Hotstar. Mainly, it is this amazing convenience that is behind the insane popularity of food on-demand.
When talking about the restaurant food delivery business applications it becomes quite complicated for the experts to deliver solutions that earn better solutions and help you make a strong presence in the market.
Today the preference of people has shifted from traditional dining out to on-demand food delivery services, with Uber Eats, Swiggy, Pizza Hut, Domino's, all of them offering their own. And with the availability of a wide range of restaurants, eateries, unlimited cuisines, and ease to make single-tap payments, people are gravitating more and more towards these food delivery apps. This whole shift is changing the scenario of the food delivery industry and the food delivery businesses are actively ruling the food market.
So with more and more businesses, constantly entering the industry, often it is wondered whether there are any sure-shot ways to make it big in this landscape. Thus, making it all easy, here we have discussed some easy ways to jump up your food delivery sales.
Ways to boost your food delivery business
There are several ways to boost your food delivery business that affirms that the solutions that are delivered to you are interesting and well defined. We have been working over the years to affirm that the solutions that reach you are developed in a way that earns you better opportunities. Some of the points considered to boost the popularity and authenticity of your food delivery business are:
Know Your Customers
It is vital to have a good understanding of the people to whom your food delivery business would cater to. This requires doing some preliminary research on your part and learning the eating habits. Find about the time they like ordering their food, and what are the types of food they prefer ordering, and all the other things that are related to your business. By gathering this information, you can make a proper plan on how to run your business.
Offer a Complete Menu from Your Target Audience's Favorite Restaurants
This should be the next step where your food delivery business should focus on, i.e. offering a complete menu from the favorite restaurants of your target audience. When a complete menu guide is created from the restaurants offered by your service, it can be ensured that the food being served to the clients from a list of restaurants is carefully studied, has good value for the price, and is coming from a renowned restaurant chain.
An initial survey can also be done to ensure that the menu guide includes the best restaurants and eateries in the area. Also, the food must be served hot & fresh and should arrive at their doorsteps without any delays.

Promote Your Business
Next comes promoting your business, THE MOST IMPORTANT. After all, despite how great your food service is, it won't be of much use if people are unaware of it. Try traditional fliers, ads, promotions, digital marketing, through social media networking, emails & websites, so that you make more and more people aware of your food delivery service.
Pick the Right Place
As it comes to choosing a location for your food delivery business, ensure that the location you chose is not so small that getting a decent number of delivery orders is difficult, and it also must not be so big that you are unable to handle the number of orders coming up. Hence, picking the right place is a critical factor to consider as you set up your own delivery service.
It is important that you start your business at a place where you can generate profits by engaging the people around you.
The Right Use of Technology
As it comes to implementing technology, you should first integrate online ordering, which is literally the most liked method for food ordering today. We have big names in the form of Zomato, Food Panda, Swiggy, UberEats, and many others. It is easy to pick service as per your liking and requirement. If not these platforms, customers also have the option to make an easy pick directly from the restaurant's own online ordering apps or websites, such as those offered by Dominos, Pizza Hut, etc. These online platforms are directly integrated with POS.
Another great technology to integrate is Cloud Telephony, which works wonders for the restaurants where delivery orders' volume is high and they are majorly placed over the phone. Hence, there are high chances of missing orders. Even if you're having multiple numbers to take orders, at times, they may go unattended or numbers could be busy. So, to deal with these situations, cloud telephony comes useful.
This way, as a customer calls at your service for placing an order, but the line is busy, or for some reason, the calls go unattended, then it is automatically transferred to the next number, and then the next number, till the order request is received. As all of the call logs are maintained here, so you can keep easy track of them.
With advanced technology, we make sure that the solutions that are delivered to you are interesting and engaging. We have been working over the years to make sure that the solutions that are delivered to you are interesting and engaging.
We have ensured strong solutions that would bring on the screen interesting solutions.
Clear communication Is the Key
Despite the technology progression and prominence of online order booking, phone ordering is still prevalent though it can prove to be inefficient. Often staff makes the mistake of taking down incorrect orders, or maybe the customer failed to explain the order correctly. Hence, it must be ensured that the staff is trained properly in how to communicate with the customers over the phone. They should be trained to politely confirm orders to ensure no confusion or disagreement. Also, ensure that your customers are provided with clear ordering options, so they can understand & place orders easily.
Have an Online menu
Present an online menu that conveys all of the relevant information and it must come with a clear CTA. The online menu can be placed anywhere, whether on the restaurant website or any restaurant delivery service provider. After all most of the delivery orders come from online channels, hence it is best to optimize your online menu so as to augment online orders and the restaurant delivery. Having an amazing landing page for online orders is also crucial as that is the way to coerce your customers into clicking on the "Order Now" tab.
Assign Orders & Track Deliveries
We make sure to integrate the latest technology solutions that affirm the drivers do not miss the solutions that are interesting and engaging. We make it a point that the solutions that are delivered to you are interesting and engaging and help you earn better.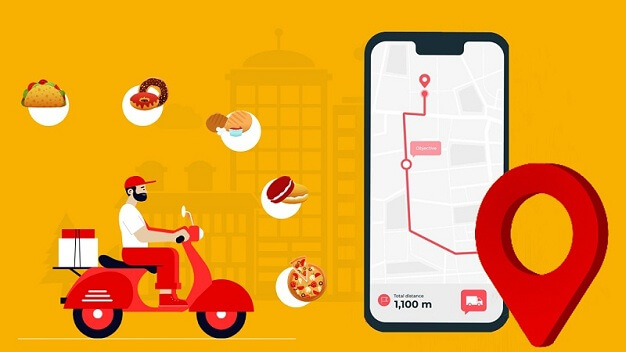 It is best to utilize technology to assign orders to the restaurant delivery agents and track orders once they have been dispatched. A delivery app can be used to assign orders to free-riders and it also allows keeping track of the whole delivery process, like assessing drivers' performance and optimizing routes. It is helpful in registering dispatch time, tracking delivery staff, and analyzing the time taken for the orders to be delivered. Now, this module is also helpful to categorize customers as per their order data and optimize the home delivery orders on the basis of that data.
Provide excellent service:
The ultimate idea should be to offer great service and provide an amazing customer experience and it shouldn't be simply limited to serving the customers well at your restaurant, but extended even to the restaurant delivery orders.
The restaurant you are partnering with needs to be assured of the fact that the solutions that are delivered to you are interesting and takes care of your customers.
It is not just the delivery man's responsibility to take care of the spilling and the temperature of the food, the equal responsibility is shared by the restaurant's owners too.
Take care of things like:
Food is delivered hot: When the food is delivered hot, the customers can believe that it is prepared fresh, whereas when delivered cold, it may give an impression of stale food being delivered. This leaves a negative impact on customers. However, it can be taken care of easily by keeping tabs on delivery time and making sure that the orders reach the customers well on time. You can equip the delivery staff with the insulated food bags to keep the hot items warm while the cool items cool while riding. For items like drinks & ice cream, dry ice can be used keeping them fresh & frozen.
Working in the food delivery business, one thing that you need to take care of is the fact that the food that is delivered to your customers is hot. It is important that the solutions that are delivered to you are interesting and engaging.
Pack the food safely: It must be ensured that the food doesn't spill or that no mess is created in the containers as that makes the food less appealing to customers. Hence, try implementing the right packaging technique and give try spill-free containers for the orders that are to be delivered.
Packing your food to affirm there is no spilling is significant. With spilling food the reputation of your company would fail. Gone are the days where a casual approach in the packaging can easily be entertained.
Now is the time where you need to focus on upscaling your business and offering stronger solutions that would make it easier for you to earn better results.

Pay attention to the add-ons: Imagine a customer has ordered a portion of spring rolls, but they find the schezwan sauce missing. Aren't they certain to be disappointed? So, to make the experience fulfilling and memorable for them, ensure that the necessary condiments, tableware, and napkins have been provided with the orders.
Cross-checking the packaging to affirm the food delivered is packed properly and has all the elements intact is important. These small checks affirm that the services that you offer to your customers are great and help you earn better results.
These are the details that are to be taken care of not just when your staff is delivering orders but even in the case of third-party delivery drivers. This is the ultimate way to increase your delivery orders on even online platforms.
Third-party Delivery Partners
Today with the availability of third-party delivery drivers, there is no requirement to invest in the fleet of delivery vehicles and boys. In fact, outsourcing delivery drivers are what you need to reduce delivery time even during rush hours. It is even helpful in reducing overall food delivery costs like insurance & hourly wages.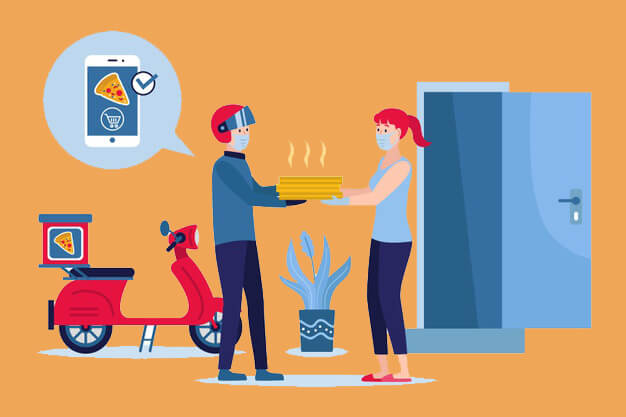 Hiring these third-party delivery persons becomes an easier job for the people in the town. If you are looking forward to hiring a team of delivery boys who can help you survive the market competition, make sure that you collaborate with a team that can help you win the game.
As per the research, online ordering on average generates around 70 percent of the orders for all the restaurants and almost all restaurants integrate with several online delivery services. This saves the hassle of having in-house delivery boys.
Get the Proper Address Details
Many times the restaurant delivery orders get delayed due to prolonged delivery time. It could be the case that the delivery guys have a hard time finding a given address. However, this small hurdle is easily manageable by just properly communicating with customers. So, before booking an order for delivery, make a call to your customers to confirm the address, and don't forget to ask for the appropriate landmarks in case of any confusion. A CRM software maintaining the name, customer address, and contact details can be used in order to avoid disturbing the customer's time and again asking for their address. Offer a GPS to your riders so they can easily locate the provided address.
No Compromise on Service Efficiency
Just so you outsourced the restaurant delivery staff it doesn't mean that the service efficiency needs to be compromised. Instead, specific delivery responsibilities must be assigned to kitchen staff & delivery drivers. It is important that the outsourced delivery drivers are well-versed in the coverage area they handle and also ensure that they keep orders ready to go. This leaves more time for the drivers so they correctly match the contents to avoid making mistakes.
These are some of the points that one needs to consider before one gets into the food delivery business. The business is no doubt a high revenue-generating opportunity, but over the years due to increased competition, if you are not a part of the advanced culture then you are always lagging behind.
Conclusion:
As it comes to food delivery from restaurants, there can be any compromise neither in regard to the time taken for the delivery nor efficiency of preparations. Customers who order food are eagerly waiting for their arrival and in case of delayed delivery, they would be skeptical of ordering from the same restaurant again.
Hence, every opportunity needs to be made the most of.   And now with the availability of technologies and changing demographics, the future has a lot in store for restaurant delivery. These ways will help you in increasing your restaurant delivery sales tremendously and make great profits. I am sure while reading this article you might be wondering on developing a food delivery app and the cost for such a development. So you check our blog title "Food Delivery App Development Guide – Cost and Key Features" today to hire the best talent in the industry.