Food Delivery has become an indispensable part of our lives. It has turned into a thriving business opportunity gaining success at various levels. Many business modules have become popular, adding this sphere in their projects. But have you ever contemplated how online food delivery has become popular? You must have not. The credit goes to the Seamless Business Module.
A contributor itself in the same field took this business to the new heights of success and popularity. Seamless as the name describes is a food delivery app for home delivery and takeaway options. This was launched in the year 1999 and made food accessible to every user ordering from any corner of the world.
The article today focuses on Seamless Business & Revenue Model. It is the colonizer that is now taken by the Grubhub. Seamless years back has started online meal delivery and since then, has influenced many businesses around the Globe.
Looking interested? Let us understand What is a Seamless Business Model? How It Works, What are its Pricing or Revenue Policies? People are very impressed with this business and adopting this thriving opportunity from small to large scale. You must have seen small grocery vendors to big food chains delivering through such applications.
It has also raised the requirement to hire mobile app developers, who can contribute their skills to develop such applications. Hence, it becomes obvious to study Seamless Business and its related aspects.
Seamless Business Model: A Complete Guide
Let us begin with understanding the term Business Model. In general terminology, any legal activity that has gained some profit is termed as a Business Model. But in the broader sense, a business model is a layout or plan that has been implemented in any company/ institution/ organization, etc., and earned popularity and money to you. It has marked your existence in the market and people have started utilizing your offered services.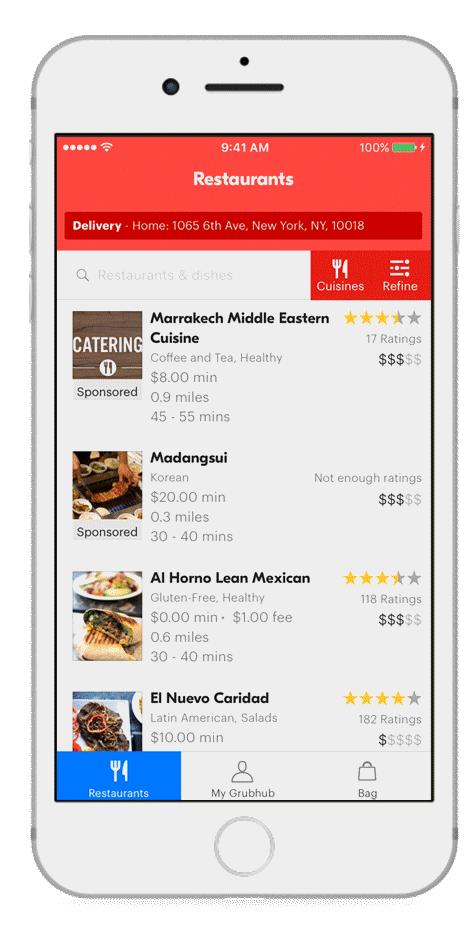 Now, What is a Seamless Business Model?
Seamless is a private entity that has come into existence in 1999 in New York City. It was founded by Jason Finger, Paul Appelbaum, Todd Arky, and Andy Appelbaum. Earlier it was a web-based system, offering online food delivery from popular food chains and caterers.
It has currently joined its hands with more than 12000 restaurants, 4000 companies, and over 2,000,000 members in the United States & London. In April 2006, SeamlessWeb was acquired by Aramark in April 2006. Then seamless has faced a $50 million minority investment from Spectrum Equity Investors. This has made the business came out of Aramark and become an independent entity.
On 28 June 2011, SeamlessWeb has become Seamless and was taken over by Grubhub in May 2013. It has notified its clients of the merger with Grubhub and became a combined company with huge order volume with improved regional coverage.
Merging with Grubhub resulted in connecting with 25,000 restaurants. The company had covered around 130,000 orders per day during the first half of 2013. Now, comes the point of how this giant has managed to offer such huge orderings per day? Well, it's better to read, rather than think.
How Does Seamless Business Works?
At that time, food delivery and order were not normal. People were used to offline menu cards and afterward pushing their orders. Seamless that time had shared a magnificent way of ordering favourite food, just in a few clicks.
People sitting at any corner of the globe can order from a vast menu offered online by the top food chains around the globe. Choose your menu and place your order, that's it! This functioning had blown away the food industry and now everybody was willing to get their food delivery app development done.
So basically, the customer needs to open the web or mobile app to get their hands on their favorite food hankering. Afterward, select your meal and make payment. This is what the app asks its user to do.
This method took away the market and Seamless has become the king of the food industry overnight. Seamless has acquired many eyes on it and even experts were estimating the revenues from this business.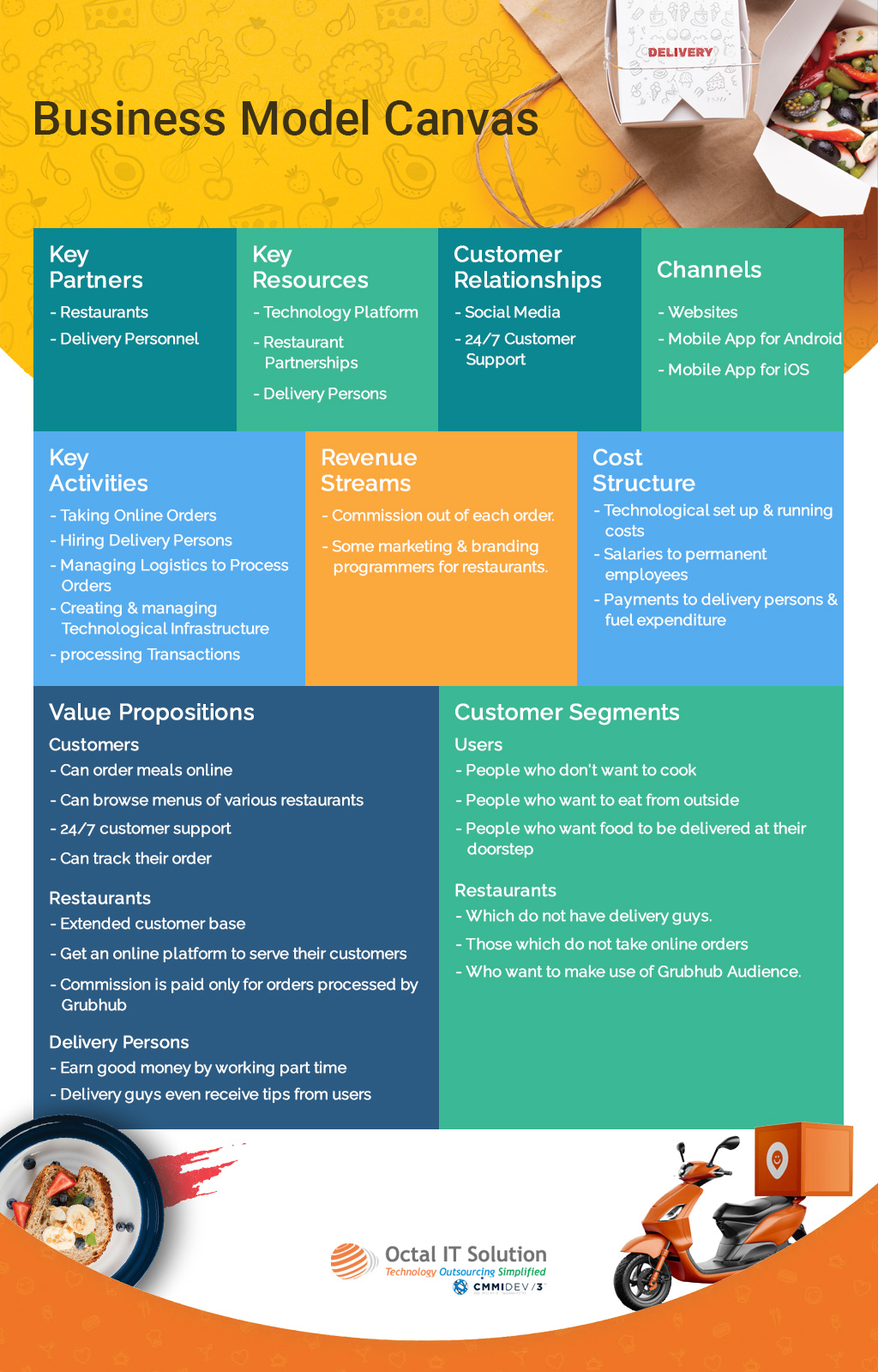 For those, who still want to have a glance over the pricing and revenue model of Seamless, here is a quick tour.
Seamless for Users
Seamless works differently when it comes to users. There are a few steps that any user have to follow for settling up their food cravings:
Firstly, download the app from the Playstore or Apple Store.
Sign up with your particulars like Email ID or Phone Number and Password.
On signing up, it will automatically take up your location or you can manually do it.
Now it will show all the top restaurants and food chains that are serving in the nearest areas.
Choose a menu from your favorite place and make payment in the online mode.
You can either pay on-delivery but due to COVID-19, there might be some contact restrictions.
Once your payment is processed, sit-back on the chair and rest-assured for good food delivery.
Features like real-time tracking, hygiene information, contact numbers of valet, restaurant's contact details, etc. are being displayed to ensure high reliability.
Seamless for Driver
For drivers, it is necessary to make up your mind on lifting the huge orders on a per daily basis. Seamless as the name suggests offers the same kind of smooth service to the Driver too. The delivery person or valet gets a pop-up notification about an order to be picked up from nearby areas.
Here the driver availability plays a vital role. If the driver is available to pick up the order, they have to accept the call or have to avoid or discard it. The delivery person on accepting the order has to reach the respective restaurant with the relevant order ID.
The ID will be verified and then the status is updated on the client and restaurant side. This will send a notification that the order has been accepted and will arrive in a few minutes. Once the order gets prepared, the driver can contact the client for location confirmation and other details.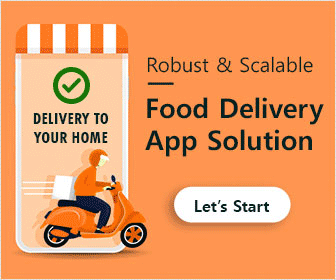 Seamless for Business
Here the role of the listed restaurants comes into play. Restaurants have to accept & then have to deliver the orders in a shorter span. The business gets a push-notification once the order is confirmed from the client (customer) side.
The order then has to be prepared with proper hygiene and should get delivered with the respective valet within the requested time frame. This improves the reliability and standards of business among the clients. Once the order gets packed, a notification is provided to the client, and then it is delivered.
This is how the hankers to get satisfied by the Seamless food delivery app. Seamless has remained to be the trendsetter since its existence i.e. 1999. Being part of Grubhub, its value has increased and so has the client base.
Seamless stepped in the market with a strong business model and has inspired the game for many relevant food delivery applications like Grubhub, Doordash, Zomato, etc. These names rule the market today and have gained popularity thanks to their credibility and reliability.
What Features Are Packed in Seamless Food Delivery App?
When we study a detailed guide, it becomes obvious to study the features any app has. The features integrated with your Seamless like application play a significant role in building its popularity. The features are like the cherry on the cake and have blown away the market:
Exact Searches
Usually, the user seeks its favourite food on the menu card of their food chains. Seamless make sure that the menu card has all the foodstuff that a client can ask for. Simultaneously, provide them with search options that help them find the right food selection easily.
Easy Payment Process
Payment mode has been kept as easy as possible. Moreover, the dedicated developers have deployed all the payment modes like GPay, Paytm, Payzap, Cash on Delivery (COD), Card on Delivery, etc. Any user any time can make a payment from the respective mode and have their hands on their delicious food.
Smooth Ordering Process
The developer has ensured the smooth ordering process to grab more clientele to the business. Easy searching, selecting menus, adding a menu to the card, and then taking the client to the payment section should be as flawless as possible.
Favorite Ordering
While using the Seamless app, you can add food that has remained your all-time love. The app provides features of adding your loved food into the cart directly. Menu options are always there, which directly gets added with a single click from your chosen place. This helps any user fight with their food hankers immediately without much-a-do.
Coupons & Discounts
Discounts and add on benefits are something that attracts everybody. An app dealing with fresh coupons and discounts always benefits the user as well as the business. Provide timely coupons and some sorted discounts which boost the sales and business at the same time.
So these are some of the ravishing features which Seamless Mobile App holds. Unique add-ons and upgrades always take place which makes this app work well for all the segments. Now, if the app has smooth working and then it encourages Revenue as well. So, here is the Revenue Model of the Seamless food delivery app.

Seamless Revenue Model: What is the Earning Source Here?
Revenue is what anybody seeks either it is a small business or a well-established one. But when it comes to businesses like Seamless, an encounter on the cash-flow is must-watch criteria. Wherefrom all the cash flows take place? How Seamless is Managing to do so Well? These are some of the interesting queries, people have for well-settled enterprises. So what to wait for?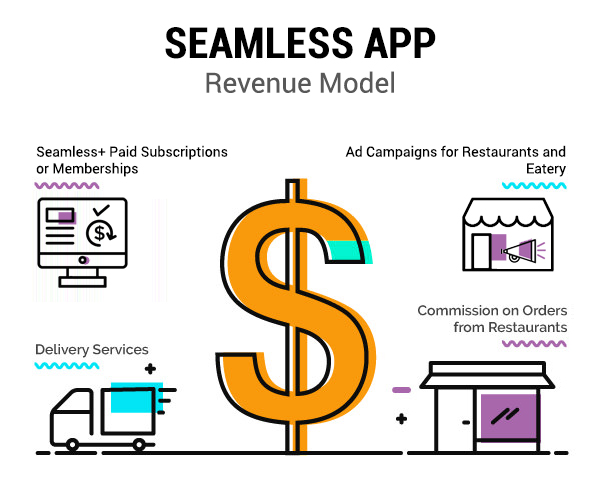 Let us peep into the Seamless Revenue Diaries:
Commissions from Food Chains
Seamless is a bucket fill-up of every big name in the food industry. Any user from any place may get their popular food chains delivering in their respective locations. What else people want after a messed up day.
Seamless has tied-up knots with many well-liked restaurants and cafe's which in return gives adequate revenue on their listings. The revenue collected is termed as Commission and on an average basis, there are more than 12000+ restaurants and cafes listed on Seamless. Now keep on estimating the Commission received on each listing. In this way, the business tycoon earns some part of the revenue.
The Commission is received on a fixed percentage basis. There might be some slots on which the percentage is being settled. It has come to notice that for top listing, the client needs to pay a higher % of commissions, and on the other hand, the dropped listing pays less %.
After the satisfactory deposits of commissions, clients of Seamless are still earning huge revenues as the giant is taking more than 2,00,000 lac orders per day.
Ad Campaign
One more source that generates Seamless a huge revenue is ads campaigning. Seamless offers ad campaigning to the new restaurants and eatery on its application. It promotes their business to get on the top slots of the listing. It improves the per day orders and in return, generates direct revenue for the Seamless company.
Similarly, the ad campaigning for Seamless itself drives more user base and revenues. Ads placed on social media handles, search engine improves the clientele and generates more business opportunities.
Seamless+
There are subscriptions or memberships for the users who are accessing the app for a long time. The subscription may charge a less amount but having millions of clients will result in it in huge amounts.
Memberships also help to build the clientele for the long run. Taking memberships allows any user to get prime access to the top food chains. Cool offers, great discounts, etc. are some bonuses, you get being a subscribed member of the application. The charges usually fall under $10 to $20 which is as low as possible.
Final Words:
Seamless food delivery app has blown away the market since its existence in 1999. Now, being a part of Grubhub, it has encountered many restaurants and popular food chains that have also impacted Grubhub's Business.
If you aim to build an application that sticks to the similar business model and helps you earn great returns on less investment, then hire the team of mobile applications developers today!