The demand for the food industry is reaching new heights every day all around the world and along with that the demand for delivery services is also increasing rapidly. And even the audience of the UAE is not untouched by this frenzy, after all, nowadays every consumer expects the food to be delivered at their doorstep. Apart from that, they desire an easy and convenient manner to place food orders online with the fastest delivery options. This increasing online e-Commerce awareness among customers in UAE, Kuwait, Saudi Arabia, Bahrain, Oman, Qatar & Jordan Egypt certainly comes up with a profitable opportunity for the Food industry.
Upon adding the online food ordering facility to your food business, it is bound to boost your sales as well as brand awareness among the customers. Build Own Talabat Clone and see your application idea turning into a working reality in a few months. In the app development market in UAE, there are a number of on-demand food delivery app development solution providers who are brilliant at creating food ordering websites as well as food ordering mobile apps for Android & iOS platforms, for both domestic and overseas clients.
Food Delivery App Market in UAE
The market size of food delivery apps in the United Arab Emirates between 2016 and 2018* (in billion U.S. dollars)
The food delivery market in the UAE has grown tremendously between the period between 2016 and 2018. In fact, as per the forecasts made on the Statista website, the food delivery app market is going to be worth around 13.2 billion U.S. dollars in UAE by the end of the year 2018.
The revenue is estimated to show an annual growth rate of 4. 35% (CAGR 2021-2024). It is expected to result in a volume of around US$1,385m by 2024.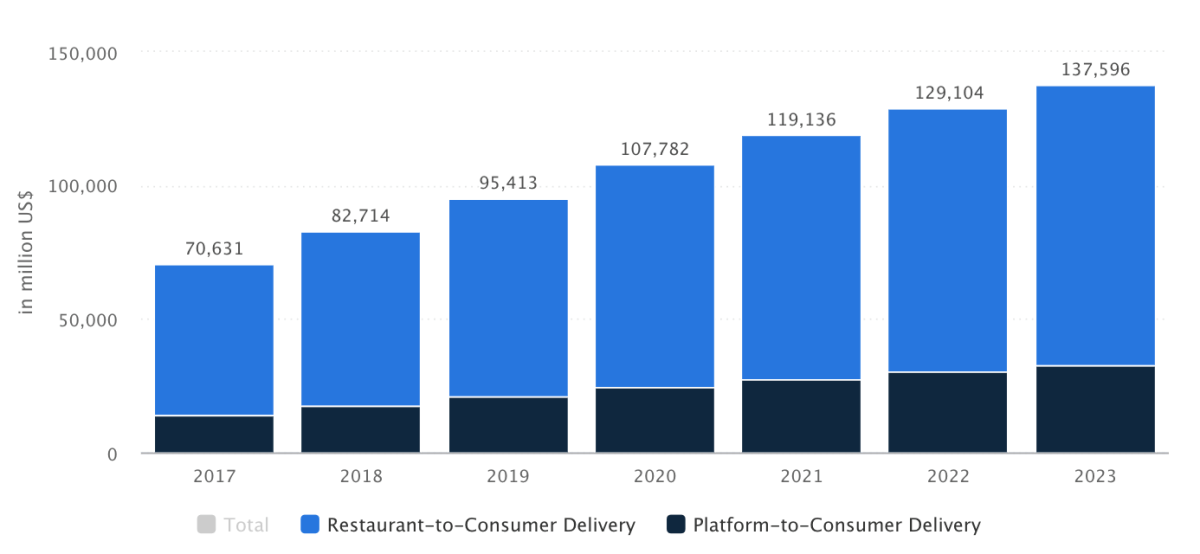 It is expected that the Online Food Delivery segment would grow to almost 6.5% in 2022.
These numbers are another sure-fire reason why you should start an app like Talabat. It would make the lives of your users easier and also help you earn great profits in less time. If you want any assistance from the experts, you can simply connect with us.
The Prominence of the Talabat Food Delivery App in the UAE
The above statistics have made pretty clear the dominance of the food delivery app market in UAE and among the many apps prominent in the arena, one is Talabat. This on-demand food ordering and delivery service helps its customers easily locate restaurants in their area, browse menus, filter by cuisine and place their orders with an option to pay online or cash on delivery (COD). Here, the services are offered via desktops and mobile apps for Android, iPhone, iPad & Windows, a lot like Uber for the X model. Often as a customer, it gets difficult to manage the time processes due to busy schedules and lack of time. This is why the entrepreneurs have realized that food ordering and delivery is one big market to target, and hence many business owners are keenly investing huge sums of money in Talabat like app development to target the local niche market. In fact, food companies have started to generate huge revenues by updating the business model from traditional into Uber for X.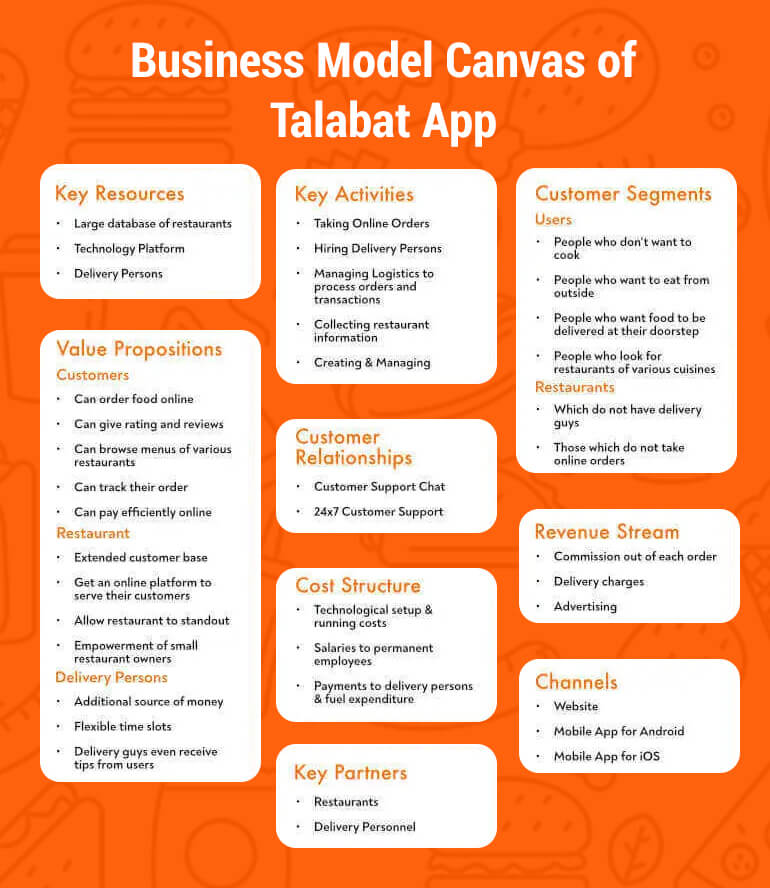 Market Statistics and Presence of Talabat
Well, it won't be wrong to say that Talabat has pressed the nerve of the UAE audience in just the right way and managed to win many accolades coming it's way consistently. Its owners were proud to announce that the app has hit the 100,000 order milestone last month. Initially, Talabat was originated and established by the young Kuwait entrepreneurs, which today makes for an inspiring regional success story for the passionate young minds in this region. Then in the year 2015, Talabat went on to acquire US$170 million and today it is owned by Delivery Hero, who happens to be the global leader in the arena of online and mobile app food ordering.
It turned to be the largest tech exit the MENA region saw at the time. The basic idea behind the origin of Talabat was creating a kinda platform that was efficient as well as easy-to-use, and today it gained the position of being the biggest online food ordering service in GCC, which is present across all six markets. Its owners now aim for further growth and solidifying their leadership stance in the Middle East Region. In the present time, this Kuwait-based start-up has earned the status of a regional leader in the e-commerce business and in UAE it does enjoy a great stance.
As per research executed by KPMG, in the last few years, the overall UAE F&B market has expanded exponentially from US$10 billion in 2011, today it is a US$14 billion industry. In the words of Abdulhamid Al Omar, CEO of Talabat.com, From signing up over 4,000 restaurants, hitting the 50m order mark, and the 6m download app mark, each new milestone we hit is a great new success for us as a team. We are also proud to say we recently won BBC Good Foods Food Delivery App of the year and were selected as a Google Play Best of 2016 winner in the MENA region for Best Local.
What Makes the Talabat App Truly Exceptional Food Delivery Service in UAE?
Talabat business model is quite unique and has to offer a lot of interesting services to its users. Over the years the application has better itself to an extent where it alone rules the entire food delivery market in the UAE. There are numerous factors making Talabat extremely popular among the audience of the United Arab Emirates and here we have discussed the few major ones. So here let's explore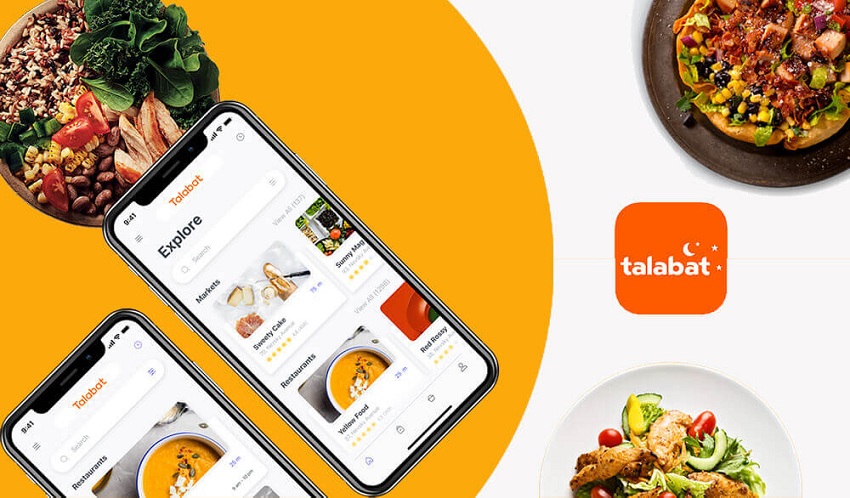 Offers Varied Range of Services
The platform offers all kinds of cuisines, restaurants, and takeaway. What certainly can be better than this than to have all the options available just at the touch of a button With Talabat, the outlets are categorized into various helpful sections such as Asian, Arabic, desserts, burgers, Indian Shawarma, pizzas, Mandi, etc. In fact, there is a list solely for a variety of burgers. Isn't it amazing?
Constant Offers & Discounts
When you decide to hire experts to develop a food app like Talabat, make sure they integrate features of interesting offers and discounts. As soon as you hit the Talabat website or mobile app, it will show numerous discount offers. While other premium food delivery firms charge double for food delivery, Talabat instead constantly offers discounts and keeps costs down for its consumers. So with Talabat, they get delicious food at cheaper rates. Win-win situation.
Order from the User-friendly App or Their Website
In order to make a mark in the foodservice industry, you would need a mobile app and Talabat has one. It's super easy to navigate and hence user-friendly. User engagement is another important factor that your Talabat portal development team needs to consider for better results.
Available Round the Clock
Does the platform feature numerous restaurants operating 24/7? Yes. Talabat clone app development team makes it a point to deliver solutions that need no regular updates. As it comes to food cravings, well it can come at any time, and with Talabat, you can simply login at any time of the day, and a variety of options will open in front of you, so to satisfy those nights hunger pangs.
Drone Delivery by Talabat
Well, this is definitely one of the most extraordinary features offered by this platform, as now it has started to deliver food via drone, so the ones living in far-away areas or beaches can also order food for their location. With the advancement in technology, the application is experimenting with various delivery methods making it one of the earliest users of drone delivery users in the market.
Various Options for Health Freaks
Talabat is effortlessly simple and offers abundant healthy options. Who would like to spend their time in the kitchen when great food ordering options are available to them Talabats healthy food section very well caters to the taste buds as well as keeps the customers healthy. Talabat app developer team ensures to deliver solutions that are healthy and highly rewarding.

These are a few perks that clearly reflect why people look for Talabat clone. It offers a lot of advantages over other applications in the market and makes it a point to be always ahead of each of them. Along with these perks, there are some more interesting benefits that make Talabat the most popular food delivery application in the market.
What Are the Benefits of Creating a Talabat-like Mobile App in the UAE?
It will certainly be a profitable deal to get a food delivery app developed for your restaurant or food business if you are in UAE as the on-demand food delivery industry in the United Arab Emirates is growing massively. So, here we have mentioned a few benefits of creating a great on-demand food delivery solution for your business.
Easily Deliver Customized Services
Your business will be able to deliver customized services to your audience as per their likings and preferences. All the customers need to do is tapping the customized icon right beside every food item and they are making the request accordingly. No confusion, nothing. Food ordering app like Talabat is gaining popularity in the market thanks to the ease and pace of providing the delivery services to its customers.
No Phone Calls
Often people are shy or hesitant about making phone calls to place orders. Thus, a food ordering portal will solve this issue as the order could be placed easily via a website or an app. This will result in more orders which means more profit.
Cost-efficient Solutions for Better Future
Having a food ordering mobile app will result in lower development costs and faster time to market and. Offering Comfort to customers: Restaurants would grab more sales by allowing the customers to place orders from the comfort of their homes, or workplaces, or other locations. This will mean more customers and frequent orders from them.
Hassle-free Payment
Indeed a winner. So, there would be no need to deal with cash-related hassles as the customers would be able to pay directly through the app, using multiple payment modes offered in it.
When our experts build food ordering app like Talabat, they make it a point that you get to take to the market an application that your customers would love. It is not just these perks, also the features we offer that create a difference in the market revenue.
What Are the Basic Features of an App like Talabat?
Mainly, the feature list is divided into three panels:
1) Customer App – Customers utilize this application to see the most recent arrangements for food and request food from cafés close to them.
2) Delivery Boy App – In this application, enrolled conveyance kids gain admittance to convey food from the eatery to clients.
3) Service App – This application is utilized to oversee orders and eateries, acknowledge or decay orders, reestablish the data on their present menus and costs by the administrator.
User Panel:
Login
Location
Homepage
Menu
Set Pickup on Map
Cart Section
Payment
Reviews Screen
Past Orders
Offers & Discounts
Contact Information
Track Delivery Boy
Search Refine Search
Restaurant Panel:
Dashboard
Accept/Decline Orders
Manage Restaurant Account
Payment
Delivery Boy Panel:
Login
Order Request
Order Delivery
Order History/Logs
Chat/Call
Push Notifications
Cash on Delivery
Wallet/Get Paid Offline
Withdraw Payment
GPS Tracking
Transaction history
Online Support
Google Map Navigation
Advanced Features: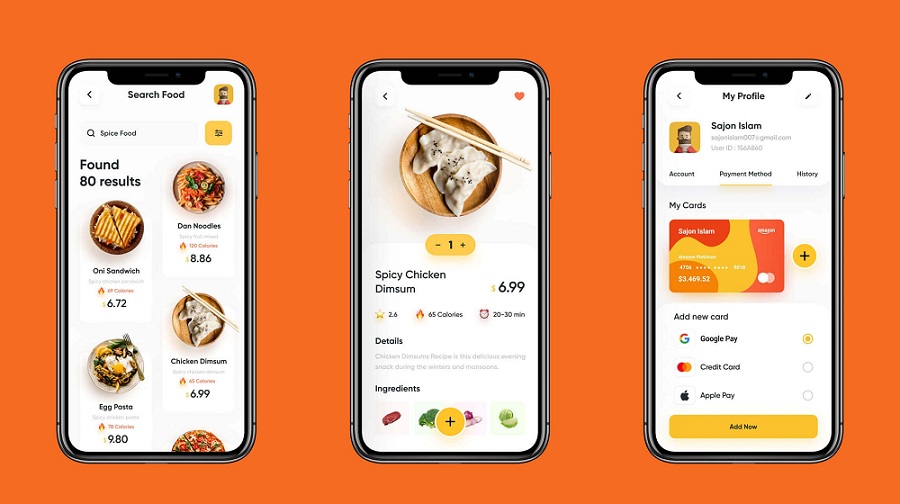 Push Notification: This feature allows the restaurants and delivery staff to send push notifications to each other every time an order is placed, as well as they can both send alerts to customers regarding order details and their status.
CRM Integration: This technology is a critical one in order to ensure the satisfaction of customers with the service.
CMS Integration: Content Management System integration is crucial to make sure that the content published on the website is user-friendly, authentic, and up-to-date.
Real-Time Tracking: This feature allows the users to track their order status in real-time.
Real-time Analytics & Reporting: This technology is used by Restaurants to manage the order dashboards.
Loyalty Program: Something to please the customers and need to be done on a time-to-time basis. Like, restaurants and delivery companies can surprise their customers with free gifts, coupons, discounts, etc. from time to time to keep them enthralled with your food ordering platform.
Multi-Currency & Language Support: Often it happens that the customer who placed the order isn't well versed with the native language, so, in that case, multi-language support can be offered, whereas multi-currency options can be provided for easy payments.
Security Assurance: Like the food, orders are usually delivered to customers' homes and offices, so their security should be ensured by appointing the delivery persons after proper verification.
Cloud Environment: This is just great to store a lot of website and app data safely and easily.
Social Sharing & Signup/Login: All customers like this feature as it allows them to sign-in. easily via their social networking accounts, or by entering their email ID.
App Personalization: With smart functionality, it is possible to track user behavior with the app, and accordingly, the results can be offered to them each time they visit the app or website.
Multiple Payment Option: This feature will allow your users to make payments via various modes, like Cash on Delivery, Credit/Debit Card, PayPal, Braintree, Stripe, etc.
Drone Delivery: Including this exceptional feature will do wonders for your on-demand food-delivery business as then it would be possible to deliver food orders to customers way faster as well as beach delivery will also be possible.
Reviews & Feedback: This is one crucial feature as it will help you in knowing your customer's experience with your service.
In case you want to create an application for an on-demand food delivery business, it is fundamental that one should comprehend that a futuristic and well-developed application should be adequately skillful to coordinate with Restaurants, Customers, Delivery Person, and the Admin too. The necessities of each factor in this chain enormously change from each other and assuming the application can satisfy every one of them all the while, a definitive objective of encouraging an ideal on-interest food conveyance business application that engages every one of the partners.

What Challenges You May Face While Getting a Food Delivery Mobile App or website developed for UAE?
Well, one major and probably the only big challenge that will come in your way is in terms of the UX/UI design (user experience and the user interface), as the audience in UAE read right to left (as is the case with the Arabic language). Thus, this is one area where the issue may crop up. However, by hiring a good food delivery app development company where they have an entire team and regional language experts, this problem can be efficiently dealt with.
What Is the Top Food Delivery Mobile App in the UAE?
There are a few top apps that are prominent to deliver food to customers, so here let's begin with:
Deliveroo: When in need of quick recommendations regarding what food to order, the Dubai audience often heads to Deliveroo. Be it throwing a pizza bash or desiring a lunch deal under AED 25, the app runs some quick offers and promotions which really pleases the customers. Also with Deliveroo being a global brand, you will be able to use this service in the other nations as well, where it operates.
Zomato: One of the most prominent delivery apps, Zomato offers an amazing selection of new as well as established restaurants. It offers user reviews that allow the users to decide which restaurants & food items are best as per their preference, and accordingly, they can place an order. And with Zomato Gold for the premium members, they offer special offers on orders too.
Talabat: As mentioned above already, Talabat is one of the oldest on-demand food ordering services in the region and it pleases its users with great offers. Here in the app, users can find prominent fast-food chains as well as small cafes as well.
Uber Eats: Uber eats offers a wide selection of restaurants to the users to order from. Same as Deliveroo, Uber Eats also operates its own set of drivers. Also, the app can be used in nations where this service operates.
Eat Clean Me: This one is for healthier food options, as the app has partnered with restaurants that serve nutritional food. One can order healthy juices, wraps, salads, to be delivered at the location of their choice. Paleo, gluten-free & vegan options are also available for the users.
How Much It Costs to Create an App like Talabat?
To create an app like Talabat, you would need a set of professional, such as: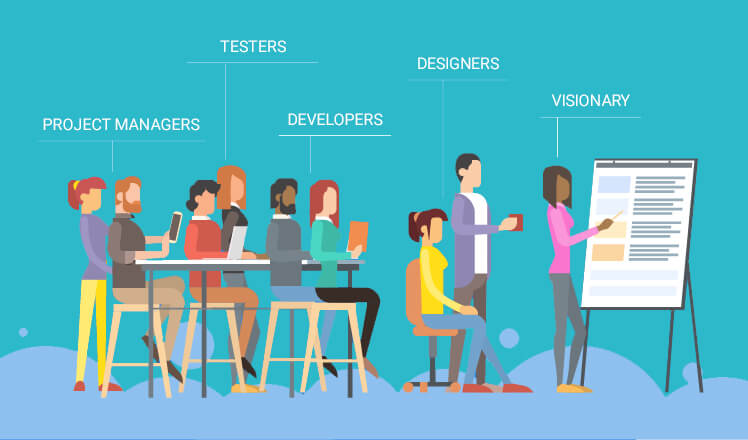 Project manager
Android & iOS Developer
UX/UI Designer
QA Experts
The Action Plan of the Team
Create A Plan
The premier advance is to concocted an arrangement that not just spotlights on the secret weapon, offers yet additionally the expense structure, income streams, channels the business will zero in on. When you have a reasonable thought regarding where you wish to take the business suggestion, it will get significantly simpler for you to execute your thoughts. Before you proceed with the tasks, it is recommended that you should begin searching for financing to guarantee no deterrent.
Reach Out To Developers
Despite the fact that this application may be your child project, however, you actually need specialized hands on deck to execute your thoughts and plans. While you are attempting to interface with a solid group of designers, ensure you pass on the entirety of your interests and prerequisites heretofore to forestall any miscommunication so you are happy with the final result.
Build a practical UI
Before you continue making an information base for the application, work on the UI. Ensure that the necessary consideration and point of view is given from the engineers, creators, just as the brand tactician in order to think of an eye-getting UI as this is the thing that the end-client sees.
Work on back-end and data set
After our development team has finished the UI plan, you can begin dealing with the back-end and information base framework. In the underlying phase of improvement, it is upheld that you should work with little arrangements of information and accompany an insignificant reasonable item or a model to give you an unmistakable thought about how the application will function. In the event that you are not happy with the item, you can recommend a few changes which can be effectively executed as the application has not been sent at this point.
Testing for Errors
Once the application has been concluded from the developers' end, it is further passed to the testing stage whether the developers can run different tests on the application and take out bugs assuming any. After this stage, your application is prepared for sending, and afterward, it can go live when you need it to.
The cost of the app will depend on factors like:
Location of the app development company (development cost is lowest in the Asian countries)
Number of Platforms
Number of Team members
Features
Once all the costs are calculated, it is expected that an app like Talabt would cost somewhere around $10000 to $30000, depending on the app functionality and features, within the time period of 150 to 180 days.
The Final Words
We can fabricate a clone of food requesting versatile applications like Talabat inside 8 to 10 weeks according to your necessities. We are a group of profoundly talented engineers, continually wanting development and flawlessness. We can fabricate the best online food requesting business sites and versatile applications for your prerequisites. On the off chance that you own a food conveyance business and need to have an application like Talabat then you are at the ideal spot. Simply reach us, talk about your application thought and get a speedy statement for your requirements.