The outbreak of the COVID 19 pandemic has seen the biggest corporate experiment of all time when most companies around the globe adopted the "Work from Home" policy overnight.
Amid this crisis, we saw how enterprise mobility took charge and the companies relied on various platforms that make it easier for the employees to stay connected. It wasn't just Skype that saw a rise in usage, but Whatsapp, Google Meet, and Teams to become a significant part of the journey.
If you are reading this, then surely you have decided to move forward with Discord app development. We understand moving forward with something new is always a risk and you would need assistance and motivation all the way.
Our dedicated mobile app development company shares here everything that you should know if you have decided to move forward with Discord-like app development.
The key points that we would address in the blog are:
1. Design a Business Model
2. Basic Feature Set
3. Cost of Development
These are the most vital details that you need to be updated with. Let's have a look at each of these one at a time.
Design a Business Model
A well-curated business model would make it easier for you to get higher returns on your investment and move forward in a way that would add to the popularity of your Discord-like app.
Know Your Target Audience
Before you hire a team for Whatsapp-like app development, research your target audience. As specific as you are about the target audience, you get better results and understand your application better.
Also, this helps you build a stronger presence in the market and helps you earn great results.
Define Monetization Scheme
A well-defined monetization scheme would help you build a strong presence in the market. You can choose to enter the market with a freemium model, premium model, or try and test model.
Also, list out the brands you see as your target audience's favorite and collaborate with them.
Research Your Competition
Next is to research your competition. Know what they are doing and find out the loopholes in their solutions that are troubling your audience. Reading your competition can help you define the feature set of the application that you are planning to build.
App Value
Evaluate your app in a way that reflects on the basic investments in a month or so. This is basically talking about the features of your business application and how much it would cost.
App Optimization
Optimizing your app to fit the play store and app store is a little herculean. You have to be aware of how to do it.
Look for ease of navigation and how the buttons respond.
With a well-defined business application, you can rest assured that you would sorry be the perfect person out there. The business model of your application would reflect high profits if you consider all the minor points that may ruin the game for you. Since the application is the current trend, not using it may make you a little older.
Do you want to make the most of the trend that goes on in the market? Well consider these basic features that would keep you ahead of the competition:
Features to Include in App Similar to Discord
The app that brings to the screen the solutions to the customers' troubles reflect well. Understand that apps like Discord have been scaling well because of the features it has to offer. These features are technically advanced and are designed to keep customers in their minds. If you want to compete in a tough market, you have to be very aware of the solutions that you are taking forward. Offering something similar could be a risk, but a little innovation and more understanding can keep you steps ahead.
Basic Features Your App Development Team Can't Miss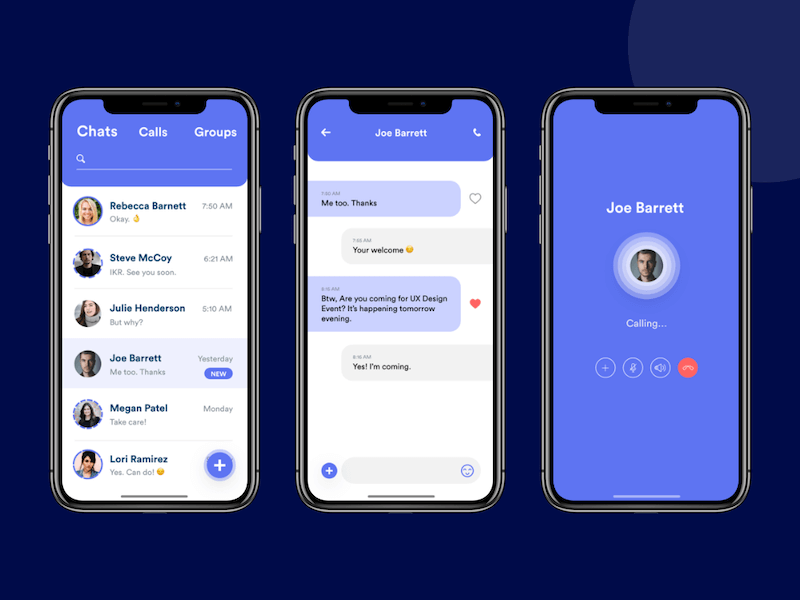 Easy Onboarding Process
If your onboarding process is time taking and needs a lot of information from the customer, there is a likelihood that they may abandon the application even before signing up. With an easy signup process, you can let your customers enjoy your services easily.
Create an Impressive Profile
Let your users create an impressive profile with all the details and profile pictures once they have joined your VoIP app. Once the profile is set up, they can connect with other users, create chat rooms, invite friends and explore the services your application has to offer.
Channels & Servers
The channels and servers are the main points by which the groups and the users communicate. When talking about Discord, it has around 500 channels that are supported by the servers. The server administrator takes care of the confirmations of the new users to affirm that there are no spammers and bots.
Permissions & Roles
When creating groups the admin can change the roles and duties of the members. With a proper server channel and control, we make sure that the solution that is deployed to you is the most appealing feature.
Sharing a Screen
Your users can share the screen with others to easily discuss their ideas or communicate graphically. With comprehensive and interactive conversations it becomes easier for the users to understand each other and work on the idea.
Sharing of Files
How easy it would be if you could share your files over the chats themselves. An app like WhatsApp and discord allow you to make these choices. You can share audio, video, and text files.
Notifications by Push:
Never miss a message!
Users can customize the app setting to get notifications of everything happening within the app. They would be notified of the received messages, new servers or channels, special mentions, and so on.
One can easily muffle or partially muffle notifications as per their convenience.
Integration of Other Applications
You can connect your application with other accounts and services. This would be an add-on service that allows app users to connect their other social media accounts with the VoIP app that you have to offer.
Chat in Private:
A Big No to Privacy Infringement!
Data security is the priority in any app. When you hire a team to develop an app like Discord, do check the measures they would take to focus on the users' data security. Creating a private chat room, encrypted messages are some of the points to consider.
To deliver a unique experience, this function adheres to established security measures.
History of Messages
One can always be sure of getting back old messages whenever they wish to cross-verify or check something. The application we offer you would not automatically destroy your old conversations. You can choose to backup them or delete them manually.
Voice Calls with Enhanced Features
Users can benefit from a clear and uninterrupted voice call with this upgraded voice call feature. This feature is backed up with noise reduction and auto settings. Also, you can add a feature to record calls or remind you of certain calls if needed.
Video Call
As your team is dedicated to Develop apps like Discord, make sure they do not miss integrating the video calling option. This lets your user use the same platform for voice and video chat options thus saving their time and effort.
These are some of the very basic features that your Discord-like app should be integrated with. Make sure to hire mobile app developers from a reputable firm that can deliver a high-quality app. Instant messenger app development looks like an easy task, but the complexities associated with it cannot be ignored.
Advanced Features of Your Discord Like App
The basic features that we have talked about here are important for your application, but what makes your product stand out from the competition are the advanced features.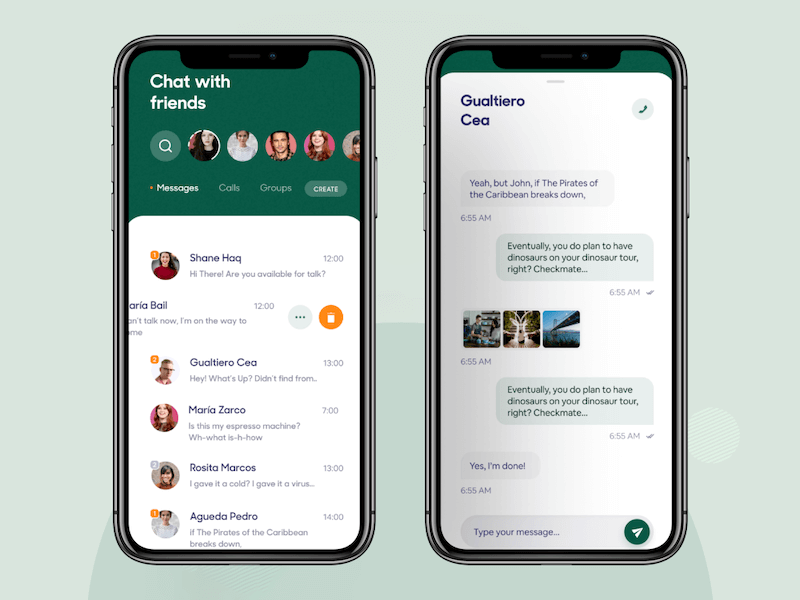 Geolocation
You can easily share your location with your friends and family over the application. You can share either your current location or if in case you are traveling, share your live location.
This lets your loved ones be updated with your whereabouts and they need not worry.
Biometric Verification
You can secure your app with finger touch or face recognition locks. This affirms that no one has any access to your users' application and the data and chats are safe.
Also, this affirms two-way verification process need not be in the picture and yet the security can be maintained.
Services for Live Streaming
No matter if you are building an application for business purposes or general, do not miss to add a live-streaming feature that would let your users enjoy their favorite movie via the same application. With live video streaming app development experts, you can integrate the feature easily.
Games for Fun
Despite the fact that you are building an android app or iOS app, you should let users have a few in-app games to enjoy. Discord has established itself as a one-stop solution for all the entertainment-based requirements and you are expected to enter the market with something bigger and better.
In-app Payment
With an in-app payment method, one can make small transactions with their friends and family easily.
Also, since the app holds the records you would not have to struggle with the calculations.
These are some of the advanced features that help you stand out from the crowd. This advanced feature list was curated only to affirm that the solutions dropped are interesting and interactive and can hold your customers very strong.
Now that you are confident about the features and the business model, let's move forward to the third important point – the Cost.
The cost of development of such applications is defined by a few general elements.

What Defines the Cost of Development of Your Discord Like App?
Discord-like app development cost would minimal be $45K. There are a lot of elements that define the cost of the development of any mobile application. The basic elements you would have to take care of are:
Platforms You Want to Consider
If you are working on the native app development the cost of development would be lesser. And if you choose to develop a cross-platform application that is compatible with all the platforms then surely the price would rise.
Feature Set
Talking of the feature set if your solution has a basic feature set with little customization then the cost of development would be less. But as you raise the standards so the prices would rise.
With advancements in technology, it is more convenient to go for a feature ladened application that has basic and advanced feature sets ladened.
Area of Development Team
When talking about the area of the mobile application development company, it is quite evident that south-east Asians would be the best choice. At Octal IT Solution, we have been providing products to our clients at the most affordable rates.
We have been offering solutions globally and are available to connect with you even in the oddest hours of the day.
Technology Stack
Technology stack plays an important role in determining the cost of development of the solutions that would be deployed. If you want a solution that is ladened with advanced technology, then the budget would be a little extensive. We have been offering solutions that are engaging and interactive without compromising with the technology that you would like to see.
Number of Team Members
Since for most organizations, the cost of development is evaluated on an hourly basis, do check for the number of involved. Make sure that not a lot of people are assigned the same work and you employ the minimum number of developers.
The basic cost of the development of a discord-like app is $35k to $50k. And if you go a few steps ahead with customization, scalability, and utility the mobile app development cost may rise to $75k to $110k.
Wrapping This Up!
Now that you are well aware of everything that you wanted to know to develop a voice chat app like Discord, simply hire a team and get set go. If we summarize the whole development pattern, the work style would be:
Step 1: Choose a business model that would be in line with your business objective.
Step 2: Find a team that can help you achieve your objectives at the most affordable rates.
Step 3: Work on the app architecture
Step 4: Add MVP features to your application and check its functioning.
Step 5: Launch the Beta Version of Your Application
Step 6: Launch the Final App
Step 7: Update Your App based on Reviews.
With such ease to develop an application like Discord, you can surely make great profits and have an identity of your own in the market.