You must have already heard a million times about the convenience and efficiency brought in by mobile apps. Like, you name anything and you have it at your disposal. And we really wonder whether there is a single service left behind for which there is no mobile app. I mean, from maid booking to car cleaning and from salon booking to car-booking, today there is an app for every basic to every high-end service. Now in our previous blogs, we have talked about so many different mobile applications and this time we have an app for an altogether different service zone.
So, did you really think that there could be a mobile application even for gas delivery solutions or on-demand fuel delivery apps? Well, let me tell you there is. After all, that is the very purpose of mobile application development, to make your life easier in every way possible, so why not cover this zone as well. Today, in this blog, we have discussed in-depth the on-demand fuel delivery app development, which is available out there in the market, adding to the convenience.
Rising On-demand Economy
However, before we get into the fuel on-demand app development arena, let us first shed some light on the very term of on-demand. Now many of you all must be already familiar with this concept, that on-demand means very much now and fastest. This concept at the moment is creating excitement in the app market, as the on-demand services are what everyone wants for every little thing.
As per the industry standards, the market fuel demand is estimated to be $4.1B with a growth rate of 23.2% in the forecast year 2020 to 2028.
A report coming from the U.S. Census Bureau's American Community Survey states that at present the on-demand economy is successful in attracting more than 2.4 million customers on the annual business and $57.6 billion in terms of spending.
Thus, it won't be wrong to say that the on-demand economy has absolutely transformed the business world. What started from this simple idea of cab-booking to on-demand food delivery solutions, and e-commerce services has now entirely redefined every business niche, and these on-demand app economy statistics vouch for the same.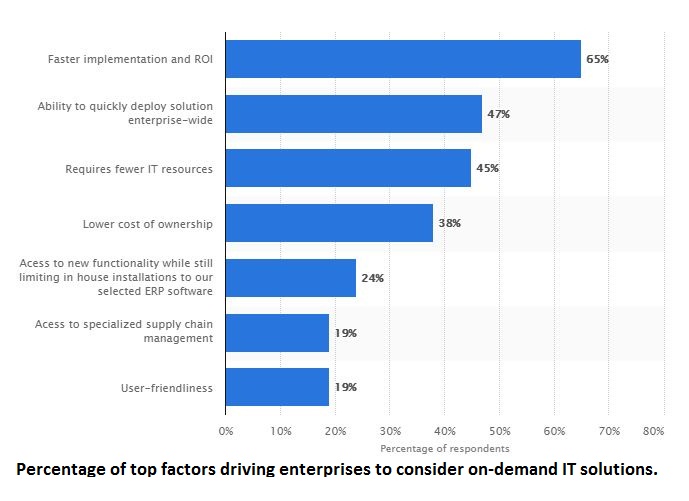 Going by the numbers and estimation, it is expected that by the year 2025, the on-demand market is going to hit $533.5 billion, with more than 45 million users in the USA alone who have offered the on-demand services.
Then, according to HBR, there are around 22.4 million users who have spent around $57.6 billion to access on-demand services annually.
The market of India has shown its major adoption in the prominence sector of the oil & gas industry in 2021. It has attracted more than $25B of revenue in consumption, with a 9% growth. According to a survey, the consumption of fuel and oil resources will exceed a jump of 11M by 2045.
In the transportation sector, the investment made in on-demand services has in fact tripled in the last year. This way, it is clear that the on-demand economy is only going to experience the rise and now it has one new entry in the domain with the online gas delivery app development.
With the dominance of the private sector in public services, it becomes more inclusive of renewable energy sources. In the proceeding of this sector, some of the best fuel key market players are; Fuel Cell Energy Inc., Ballard Power Systems, SFC Energy AG, and Bloom Energy.
These stats and figures giving rise to the market doors of new business, take the advantage and inspiration for the later ones.
Concept of Fuel Delivery App Development Solution
With this new service at its disposal, now the users are heaving a sigh of relief. Not anymore, they would have to run towards the gas station in order to get their vehicle tank filled and this certainly would make the daily commute for them immensely hassle-free and convenient. The fuel supply will reach them at their doorstep as and when required by simply using an on-demand fuel delivery app. Its advantages are many and that we will be covering in the later part of this blog. But before that let's understand how the on-demand fuel delivery app works for you.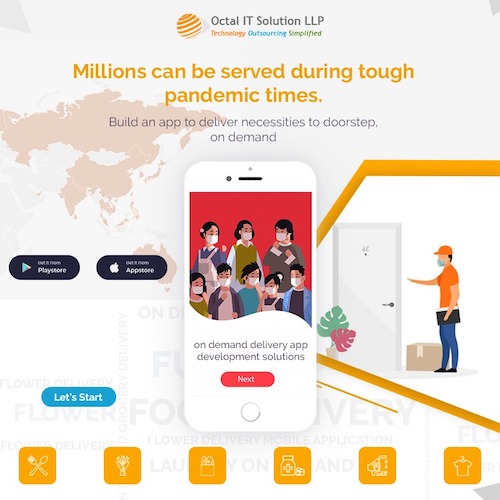 How Does the On-Demand Fuel Delivery Mobile App Work?
Well, the functioning of an on-demand fuel delivery mobile app is the same as Uber. Like Uber comes at the customer's doorstep upon booking, for pickup and drop. The gas delivery solutions work in the same manner, where one can book the fuel for delivery at your location and the fuel is then supplied for the car or maybe generator, by simply using the mobile app. Here, the app will cover all of the information and do the reporting for stocking, procurement, delivery, and accounting of fuel.
Common Challenges that the On-Demand Fuel Delivery App Comes Across
It can be said that the only and one major challenge comes in the form of safety. For the concept of an on-demand fuel delivery application development, safety must be ensured at all costs and this concern needs to be addressed honestly, or it can even end up in a fatal accident.
Thus, if you are someone who is looking to launch make fuel on-demand mobile application in the market for your fuel business, then it is imperative that you take the necessary precautions & measures, restricting any kind of unauthorized entry and cutting off the main tanks in case of an external fire. It should be ensured that the regulatory amount is not exceeded for additional security. Now that you know about the challenges, next, it is time to explore the many benefits of a gas on-demand app development.
What Are the Benefits of an On-demand Fuel Delivery Mobile App?
When we talk about on-demand gas delivery application development, the market is booming at full pace making it easier for the users and the suppliers is one thing; the major part is making it accessible for all.
Considering the fact that the fuel industry has moved to technical advancements a little late, let's give it a moment and see what the benefits of technology in the industry are.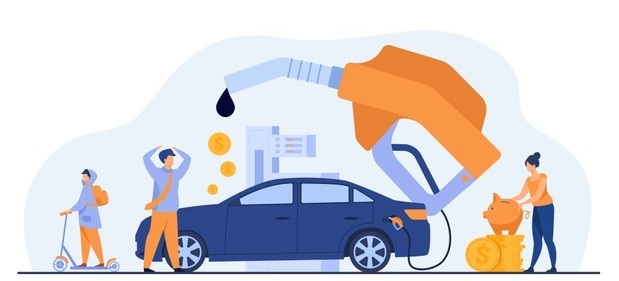 There are endless benefits of an on-demand fuel delivery app development, but to name a few they are:
Accept the fact that none of us really liked making this tiresome effort of going to a fuel station and waiting for the turn in order to simply get the car's tank filled. As mobile fuel delivery software development entered the market, we can save a lot of our time, energy, and efforts by simply booking and ordering the fuel at our doorstep whenever required.
Great Help for Emergency Situations
This is even a savior for emergencies as the on-demand fuel delivery service is available 24×7 at the customer's service. Whether it is emergency roadside help, where the fuel is delivered to a faraway location, or for the early mornings when you have to head out with your car for an urgent visit, but the car tank is empty. Simply book the fuel delivery and it is all done.
Now in the case of fuel that is available at the gas stations, it is stored for a long period, and this affects the quality of fuel to a large extent, whereas in the case of gas delivery app development the fuel is filtered & delivered much frequently and this way it ensures high-quality.
Many of the on-demand fuel delivery mobile apps available in the market do not just enhance the user experience but also bring convenience for the fuel service providers. Like, they won't really need to make this big investment while starting a new venture and further to run and maintain it as well. This way, the service providers would be able to earn a lot more revenue with low investment.
No one likes standing in long queues waiting for their turn to fill their vehicle's fuel tank and often they leave the fuel station in case there is a long queue, and hence the fuel service providers end up losing many of their potential customers. However, the on-demand fuel delivery app development solution allows the service providers to cater to the needs of customers as and when they require and this helps in building higher customer loyalty at the not much-added expense.
Owing to these many advantages on the part of both customers and services providers, many of the fuel businesses are showing keen interest to come up with their own on-demand gas delivery app development, and in case you are among them and intend to deliver fuel at your customer's doorstep, then this blog has kept you covered. Below, we have discussed the essential steps to create an on-demand fuel delivery app for the fuel business.

Required Steps to Create an On-demand Fuel Delivery Mobile App
An on-demand gas and fuel delivery app is not solely about the delivery of the fuel to customers, as apart from that the mobile app also does the job of maintaining a record of all information and data related to accounting, delivery, stocking, and a lot more. Thus, a number of processes are needed to be taken care of to create a user-friendly fuel-delivery mobile app.
1. Develop an Infrastructure
It is vital for a mobile app development company to create an infrastructure, which mainly consists of creating a base for all of the further work that you'd do. To start with, you require building a fleet of fuel delivery vehicles (mainly trucks and tanks), then you need to get fuel drivers who would be serving as the building blocks, and next and foremost is to ensure that you are complying with all necessary safety regulations. The approval needs to be sought to provide this service and it consists of a lot of inspection & reviewing. You would require basing the whole structure on standards assigned by the designated authority. Finally, it works best if you cover a range of products, like Diesel, Petrol and Compressed Natural Gas, as that way you would be able to cover a major market.
2. Prepare the IT Infrastructure
Next, what is needed is to get technically equipped. Keep in mind that the gas delivery application development is way different in the other app, as here the complexity is of another level because to develop on-demand fuel delivery apps one needs to consider various kinds of information and technicalities. Like, here you would require creating a facility that integrates with GPS attached to vehicles of both customers and drivers. This facilitates tracking and allows for enhancing the efficiency to deliver the service. IoT devices can do a great job here as they can perform the reporting task in a lot better manner and even provide statistics and save both time and money.
3. Reporting & Analytics
In the case of a ready-made fuel delivery app solution, here the data management system has to be robust. After all, this concept involves a lot of risks, and thus to ensure safety, delivery trucks must regularly meet some safety standards. It could be checking a fuel carrier's temperature from time to time, the quality of fuel that is being delivered, and a consistent check of fuel volume before and after fuel delivery. Thus, when the data management system is rock solid, things get easier. Thus, it is wise to deploy some highly-equipped smart devices and technology like Big Data solutions that calculate the number and send statistics to the cloud manager who is then going to analyze that further. This data assimilation assists to manage stock & supply and is also helpful to build market strategies for the future.
4. Software Development
Once the above-mentioned aspects have been taken care of, next, it is time to create the app for your on-demand fuel and gas delivery mobile app. Here, the fuel delivery software development is executed in the form of a mobile app, where you would require working on the front-end, back-end, UX/UI design, a mobile application development company needs to create a lot more than an app development process involved. To create an app, you first require to know the features and functionalities that your on-demand fuel delivery mobile app must consist of. So, let's begin with that.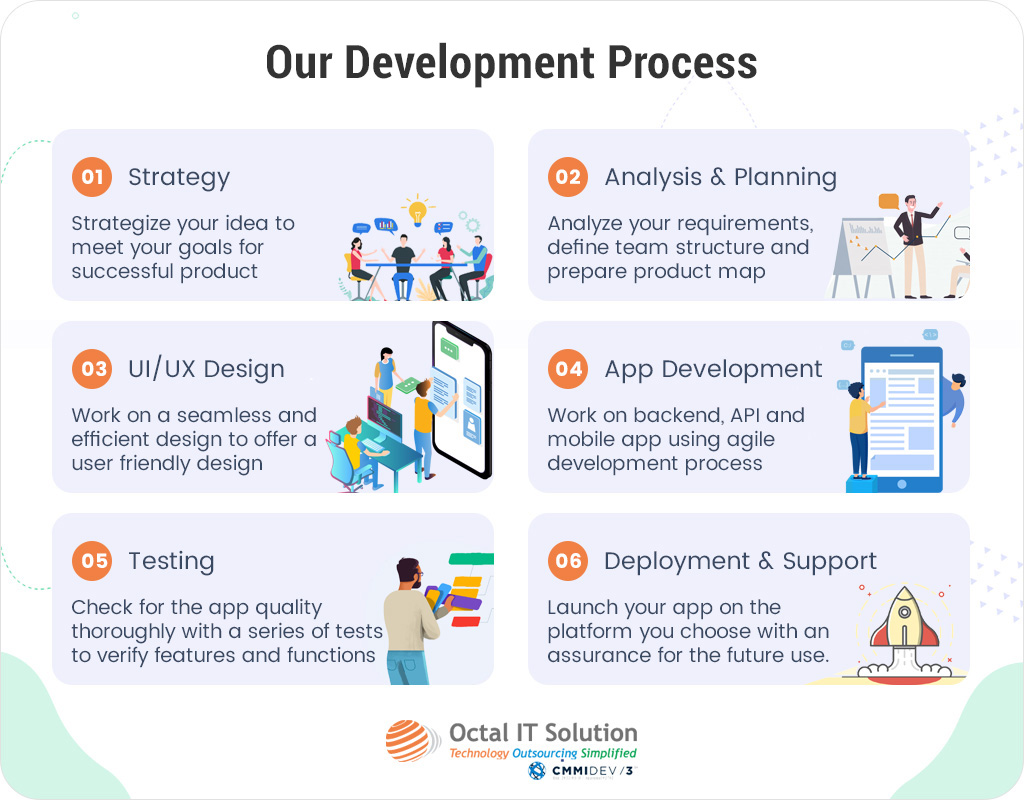 It is important that the fuel and gas delivery application that you are working on is interesting and lets your customers enjoy all the services that they need to look after. If you are looking for a solution that can help you beat your competition, read them well and include a solution to their loopholes in your product.
What Are the Features of an On-demand Fuel Delivery Mobile App?
The features that your on-demand fuel delivery app development team includes in your product need to be well thought out and curated for the best results. Mainly, the basic features of a fuel delivery app consist of three panels:
Customer Panel
Driver Panel
Admin Panel
Let's talk about the major features in each of these panels.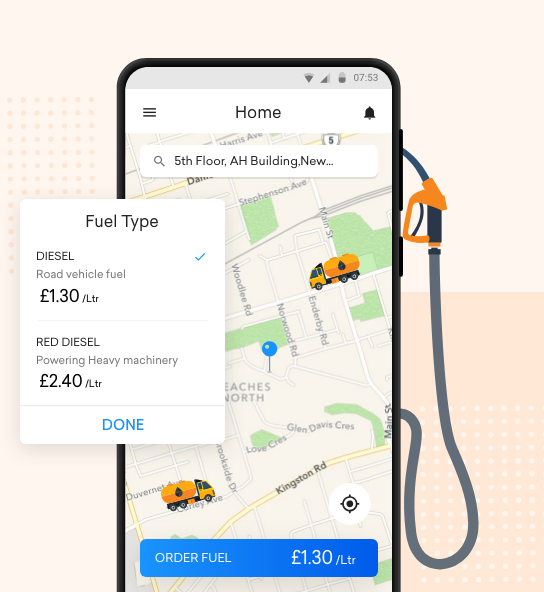 Features of the Customer Panel:
This panel needs to be designed in a way that engages your customer and motivates them to use it in the future. User engagement plays a major role in the popularity of the application, and our experts have earned expertise in delivering solutions that have the potential to hold your customers.
Easy Onboarding: It's very easy to get on board with the app via phone & email login options.
Quick ordering: Customers have the option of setting their vehicle location along with selecting the fuel type & quantity in the quest of getting a delivery.
Scheduled Delivery: If you want to alter the date and timing of your order then you can easily adjust it according to your convenience.
Upfront Pricing: Customers will be provided with the luxury of the approximate cost before they confirm their order.
Real-time Tracking: Customers will be able to track their fuel order in real-time, to stay aware of the processing.
Seamless payments: Users have a variety of options to pay from like cards, wallets, or even in cash.
Order history: Customers have the option of viewing & managing their past & current orders from a particular section in the app.
Ratings & Reviews: Customers can share their personal experiences related to their orders and provide their reviews.
Digital receipts: Detailed delivery details for the fuel cost, taxes, delivery charges are provided to the customers.
Manage profile: It is very easy for users to manage their profiles with some beautiful features to make them special.
Referrals: Each & every user gets a referral code that he can share with his friends to get various rewards.
Features of the Driver Panel:
Easy on-boarding: Drivers get a different version of the app with its native UI & effortless onboarding process.
Mobile login: Fuel truck driving partners are provided with a simple option of logging in via their contact number.
Availability Toggle: Drivers have the option of switching between their online & offline modes depending on their convenience.
Help & Support: Customers with any kind of query can easily get access to customer support without any problem.
Real-time requests: Drivers, in real-time, receive many fuel refill requests from their customers and other manual dispatchers.
Manage requests: Scheduled & current bookings can be viewed by the drivers on a single screen.
Request details: All the relevant details are provided to the drivers in order to complete a successful refill request.
Built-in Navigation: Navigation becomes very easy when the app gets integrated with Google maps.
Accept signatures: Customers can provide digital signatures to the drivers when they want to authenticate a refill or delivery.
Accept payments: After the job has been successfully compiled, drivers can easily generate an invoice to accept the payment.
Rate customer: It's only that customers get to rate the driver but drivers can also rate & review the customers.
Driver dashboard: Drivers can look through their completed jobs & then associate earnings through a dedicated screen.
Manage Profile: Customers are allowed to create their own profile, bank account & document details, and look after it.
Manage bookings: This keeps you updated with all the current & upcoming delivery requests.
Manage Drivers: You can easily manage all of your drivers with the help of the driver management tab.
Help & Support: A totally different section is created in which users can call to discuss their queries & problems.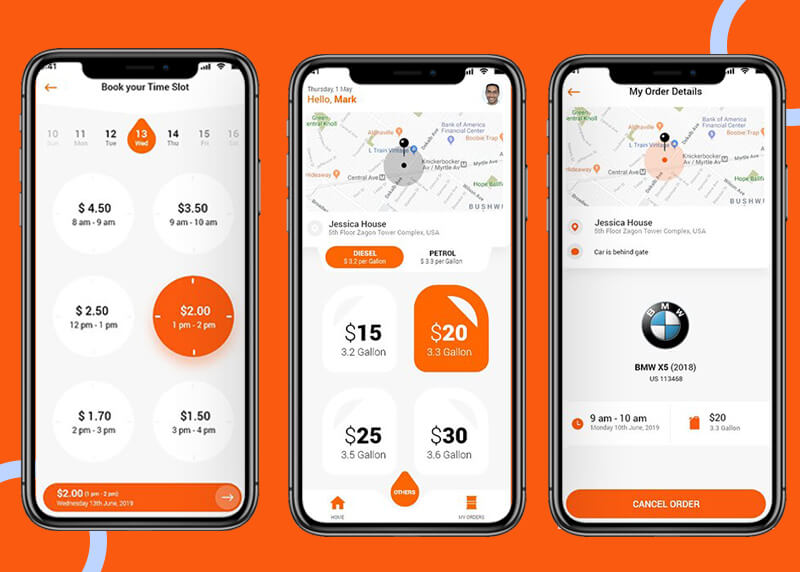 Features of the Admin Panel:
Secure login: Both the admin & sub-admins can securely log in to the web-based panel.
Admin dashboard: This section provides a top-quality view of all the paramount data in a very detailed & easy way.
Manage Fuel trucks: It is an absolute gem of a management system that allows you to add & track all of your fuel delivery vehicles.
Manage Customers: Managing all of the registered customers becomes very easy with the fuel delivery platform.
Manage Categories: This category helps you offer delivery services on demand for various multiple fuel types & grades.
Manage Prices: Admin can easily add & update all the prices of various offered fuel types from the section of price managing.
Track Deliveries: Through a real-time area map you can constantly have a look at your delivery trucks.
Manage Notifications: Admin can configure notification settings for channels like SMS, email & push alerts.
Manage Payments: You can add & manage your payment account details & also the payments to the drivers.
Reporting & Analytics: Get all the key metrics plus insights on the performance of your gas on-demand service.
Additional Features
Allowing users to choose the location where the 'Vehicle is parked': One of the most attractive features that you can provide to your users is the freedom of choosing the location of your vehicle parking. To make it even more precise, you can allow your users to directly "move the pin to vehicle location".
Let the user schedule the time, select the quantity & types of fuel: As soon as the user selects the exact location of the vehicle parked, the app should allow them to fill the necessary information up next. Keep in mind, all these steps should be fairly smooth, fast & convenient.
Payment gateway integration: It is one of the most important features that bring flexibility to the users. Apps like WeFuel & Booster are a payment gateway integration that provides users various options of paying the money, be it via credit or debit cards, e-wallets like Google Pay & Apple Pay.
Sign Up: An easy registration process should be on the top of the priority list while going for on-demand gas delivery app development. The options provided to the users here are, either sign up with one of your social media accounts or create a new account altogether.
Profile Management: Profile management includes uploading your personal information, details of your vehicle plus also your location. This portfolio is necessary for the service providers to provide you with excellent services.
Location Sharing: This feature provides users an escape from calling the driver and directing them straight to your location. This facility allows the users to pinpoint their location on the map that will help the driver to reach exactly on time & then deliver the fuel.
Request Fuel Delivery: This is the most important feature of the app that allows the customers to pick the quantity & type of fuel that needs to be delivered, apart from the time & day of availability.
Real-time Tracking: This feature allows the customers to keep a real-time tab on their gas delivery requests. They have the luxury of checking the details of the driver & also his route which will give them an estimate of fuel delivery time.
Delivery schedule: This feature also leaves a lasting impact when it comes to the delivery schedule. Users can request to refuel their cars for a specific time and this allows users to do their other tasks while their fuel tank is being filled.
Payment Integration: Another feature that will boost the popularity of an app is that of Payment Integration. As discussed earlier also,

ewallet app development

allows the user to pay via different platforms like debit & credit cards, e-wallets apps like Google pay, mobile payment, net banking, cash, etc.
Push Notification: This feature keeps the users updated with the service they have asked for. Not only that, but it will also allow the users to be in touch with all the latest offers & discounts.
Transaction History: This is deemed optional but can play a major part in making an app a hit. Customers can check their previous fuel delivery requests & bills and this, in turn, will increase customer loyalty.
Cost comparison: As can be judged by its name, this feature enables the customers to compare fuel prices at other spots and this comparison will benefit the customers. This, in turn, increases sales, & upgrades the customer experience.
Geolocation: The main focus of the demand fuel delivery app is on detecting the user's location. The customer can be left stranded on any type of place, be it highway or some other isolated place, therefore the app must have both facilities of manual location & auto-detection of the location.
Request forms: Forms provided to the users should not be complicated as customers want simple solutions. These forms should include details like Fuel type, quantity, additional add-ons, and many more. Once, the key features have been covered, next let's find out the additional features that can be integrated into the app to give it a competitive edge.
Tech Stack
In order to retain potency in the market, it is a must. A futuristic technological stack is well attuned to the app life to more years in the marketplace. Look upon some of the set of tools and frameworks that enhanced the on-demand fuel and gas development of the mobile app.
Languages; Swift, Java, Ruby, Python, Javascript
OS; Android and iOS
Servers and Load balancing; AWS, Google Cloud Server, Azure, Apache, Cloudflare.
Data storage; Splunk, MySQL, MongoDB, PostgreSQL.
Backend Frameworks; Ruby on Rails, Django, .NET
Front-end Frameworks; Angular.js, React, Bootstrap, jQuery, Backbone.js
API services; Zapier for automated workflows,
Monitoring and performance tools; Relic, Datadog, Big Data, Spark, Apache Flink
Business intelligence solutions; Microsoft Power BI, SAP, Tableau
IoT integration; smart locks, detailed view of the route,
Real-time messaging; MQTT
Payment services; Braintree, Stripe, PayPal, Google Wallet,
Push notifications; Push.io, Twilio,
Required Team Structure for On-demand Fuel Delivery Mobile App Development:
The creation of a mobile app involves a required set of team, and the same goes with the Fuel delivery mobile app as well, where you would need the following experts: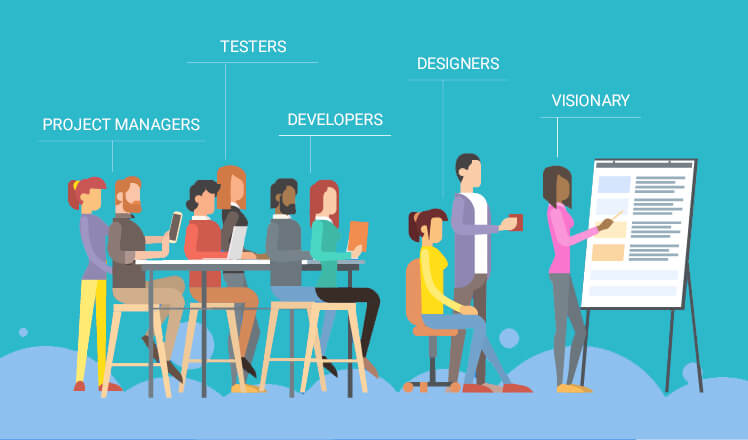 Project Manager: This person is responsible for the development of the app at all stages and communicates with the clients as well as mobile app development experts to convey the requirements and discuss the app proceedings.
Android/iOS Developers: This set of experts is responsible for developing the front-end of a mobile app. Now, it depends on the client that s/he is keen on Android app development or

iphone app development

, or for both the platforms, and according to the client requirement, the app is developed.
Back-end Developers: These experts are responsible for designing the back-end of an app.
UX/UI Designers: For an app to be a success, it is vital that it has the right look and gives the right feel to the app users and this is the job of UX/UI designers to ensure the same.
QA Testers: To ensure that your on-demand fuel delivery app works smoothly and is entirely free of bugs, you need a set of Quality Analysis experts who ensure the same.
Delivery Manager: This person is responsible to deliver the app to the client once it is ready.
Next, it is time to find the cost of the mobile app.
How Much Does It Cost to Create an On-demand Fuel Delivery Mobile App?
Well, the cost to develop a fuel delivery app cost depends majorly on three crucial factors that are:
Number of Platforms for which the app is to be developed
Size and complexity of a mobile app
App Development Region
For those who don't know, the hourly rates of app development differ from country to country, like the rates for:
US Based Developers: $50-$250/hour
Eastern-Europe Based Developers: $30-$150/hour
India Based Developer: $10-$80/hour
Upon calculating it all, it is found that creating a basic on-demand fuel delivery app in India, will cost around $10000-$25000 for a single platform, be it iOS or Android, while creating a feature-rich fuel delivery app development cost for both the platforms may go somewhere around $35000.

Popular On-Demand Fuel & Gas Delivery Apps in the Market
We all are in a hurry, to fuel up our- transportation, apartments, community houses, offices, and tech stores. On-demand fuel and gas delivery apps, bring the fuel delivery directly to the owner or customers; no breakage of adulteration in between. This way it reduces fuel theft, misuse of fleet cards, spillage, etc.
There are existing market players in a similar niche, keeping the motivation to the new entrants in the similar industry. So let's check them out one by one.
1. WeFuel:
WeFuel consists of contactless mobile fuel emitters at the doorsteps of their customers with just an OTP. Without fuel we have to stick to our work in the meantime, our vehicle needs to run. On the roadside, without the worry of the efforts, let the fuel station come to you. At WeFuel, you can limit the outburst of gas filling, prevent any of the unsafe stockings of fuel, and reduce the wastage of fuel.
Just place your preferred time and place or drop the pin at your current location, that's it. Let the fuel come to your place at the most precise time. So that you can track the invoice, history, monitor the consumption, and analyze the reports on your screen.
2. FuelBuddy:
Fuelbuddy is the 24*7 fuel buddies for their partners. India's one of the largest fuel or diesel delivery apps up to 20M people without any interruption. With smart fuel efficiency, it has to refill more than 3M liters of fuel to 200 B2B customer's vehicles. They monitor it with smart tanks, with the smart buddy, Cans storing your fuel consumption into the inlets in case of any emergency.
Intelligent fuel tracker for the smart analysis of every drop of fuel for better usage, prepare the audits or reports, and touch new paradigms of consumption to avoid any issues.
3. Booster Fuels:
This California-based company aims to secure earth energy and make it more rapid for everybody. In the present time, whether you are a small business enterprise, retail business, or corporate, fuel content is for everyone. We generally have less time to add on fuel that can be savage for their pockets as well. Reduce the misuse of fuel, time to refill it, cut the cross-passage cost, and fuel theft if any.
This booster fuel has a zero percent carbon footprint, promoting healthy landscapes to the earth. Booster with the three unique delivery solutions offered to the customers; gasoline, diesel, and renewable energy. Schedule your fuel timing as per your choice, and monitor it.
Parameters like fuel insights, cloud services, and other tech-enabled operations for the proper disposal of fuel and energy emissions.
4. Yoshi:
Yoshi, the name for gas filling, washing, oil changing, and repairing of vehicles of the customers with 30 days free service. They have DOT-approved services that can be scheduled on a timely basis, refill the fuel, change the fuel, and many more services. Starting back in 2015, it has raised $2M revenue for the quick submerging of different services like auto, entry into new towns, and many others things.
You can refill your vehicles, without any delivery cost upto six refills. Customers can choose the ease payment and subscriptions options as per their budget for refilling their vehicles. Else you can ask any of your queries related to gas refilling issues, or place images to make it more clear for the support admin.
The Key Takeaway
On-demand fuel delivery solutions are gaining popularity in the market. If you want to have your clients being loyal to your application, surely reach the experts and enter the market that can make it easier for the customers to earn the best results.