It is so mesmerizing to think about how businesses have changed, how they have adopted new ways to operate, and how seamless and easy has everything become from the consumer perspective. Else who could have imagined this a decade ago where businesses would serve on-demand and at the doorsteps of customers?
Today, a click on the device can get us medicines, clothes, toys, taxis, apparel delivered to our doorsteps, and even professionals like a hairstyling expert, a masseur, etc to serve at the comfort of our homes.
Things have drastically changed – all thanks to the birth of the on-demand industry.
This industry has opened fresh doors for businesses to make enormous profits by extending their reach and breaking several service barriers offline as well as online. On-demand spans across different niches ranging from healthcare to finance, from food to logistics, from household services to e-commerce and education.
According to the PwC report, the on-demand mobile apps and website markets are likely to value at a whopping $335 billion by 2025.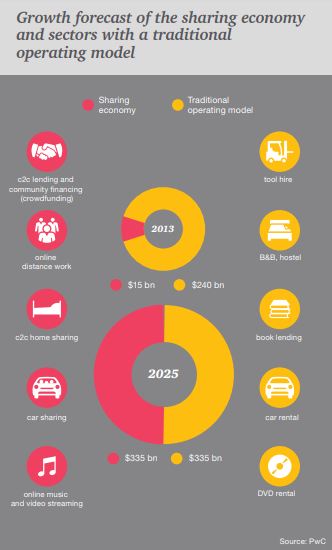 Presently, the on-demand economy is contributed by more than 22 million users with spending of approximately $57.6 billion, which the consumers are readily paying at the cost of convenience and comfort they are currently being served.
Diversification of the spending is as follows:
$35.5 billion (online marketplace)

$5.6 billion (transportation)

$4.6 billion (food and grocery delivery)

$8.1 billion (other services)

$3.8 billion (all left out categories)
Out of the total number of users of on-demand apps, 49% of them are millennials and 54% are males. Talking about the customers, 47% of the users using on-demand apps earn at least $ 75,000 per annum.
On-demand Delivery Apps Scope and Trends 
On-demand delivery of products and services has not only simplified the lives of the consumers but also helped businesses to scale and become more profitable than ever.
What to expect from the food delivery industry?
In today's "stay at home" era, the food delivery business is on the roll. People are willing to order food online while staying at home because visiting crowded places or sitting in a restaurant with friends is still fearsome.
While the consumers get their orders from a food delivery app in a jiffy, the other beneficiary of this concept is the restaurant owner who now has more sales opportunities with extended reach.
According to a report by Technavio, the US-based research firm, the food delivery market is projected to have a CAGR of more than 15% from 2019 to 2023. The market is likely to grow by $104.4 billion during the same period.

As a result, more entrepreneurs would join the bandwagon seeking food delivery app development companies to partner with.
With the evolution of technology, the way food was delivered to the consumers has also seen innovation. While Zomato, which is a food delivery app based in India, successfully tested drone food delivery, the other startup called Eat24 in association with Marble and Yelp created a robot to deliver food at customers' doorsteps.
The major role of a food delivery app development company is to simplify consumers' lives with avant-garde features in their app. One such feature that we want to highlight here is the in-car food ordering system that was developed by Pizza Hut, an American restaurant chain, in collaboration with Accenture and Visa. This system allows users to order food while on the road without looking at the screen through voice commands.
The goal of food or grocery delivery app development is to simplify the ordering and delivery processes just like Papa John's Pizza has done with its collaboration with Apple TV. People with smart TVs can now order food through TV. They can browse the entire menu on the TV, choose & customize and place the order. Also, view the order history.
Amazing things are happening in the food delivery app development domain. Businesses are on a constant lookout for innovative ways to keep customers closer. Certain trends can become popular in the coming years, including:

Virtual Kitchen

: Introduced by Uber, under this concept Uber Eats lists meals, snacks, and eateries that do not exist physically in the real world. This helps restaurants to save the additional expense of renting or owning a physical place.

Pet Food Delivery

: The growing demand for healthy pet treats has given birth to pet food delivery app development services. The company named Monster Pet Supplies has a pet food delivery app that offers free delivery, a variety of food supplies, and a delivery scheduling feature for recurring orders. In the future, we can see more entrepreneurs joining this niche with new features and functionalities.   

Food Waste Management

: The amount of wasted food around the globe is one of the reasons needy people get starved of food. Food delivery app development company can help by launching food waste management apps that could manage the leftover food and deliver it to the needy at lower rates. Apps like 'Food Rescue' and 'Food for All' are doing their bit to help the needy. We expect more such apps would be launched in the future.
Modern Food Ordering and Delivery App Development:

As per reports, 60% of users who order food online are millennials. This means food ordering and delivery apps should be built in such a way that they effectively serve the audience's requirements. Features like one-step checkout, advanced tracking system, and gamification can prove useful here.
Medicine delivery app development- Scope and Possibilities
On-demand app solutions in the healthcare sector have revamped the usual. With the introduction of medicine delivery app development, the problem of buying medicines from the nearby store within working hours has come to an end. Now people don't have to travel all the way to the centre of the city to buy meds in case their neighbourhood store got closed.
Aside from medicine delivery, on-demand healthcare solutions have made possible the following.
Real-time appointment booking

Doctor at home facility

Instant consultancy while at home

Instant medical data sharing
As a result, more players are entering the market and competition is getting stiffer. More importantly, the pharmaceutical drug delivery market is projected to grow at a CAGR of 7.1% from $1,430 billion in 2020 to $2,015 billion by 2025.
The trend of medicine delivery is picking across the globe. In the US, Amazon had partnered with PillPack, which is an online pharmacy company licensed to fill prescriptions via mail order in the entire US, to grab the major share of the retail pharmacy.
Online medicine delivery app development has reached a new level in Europe where countries like Finland and Estonia allowed e-prescriptions issued in one country to be filled at pharmacy stores in the other.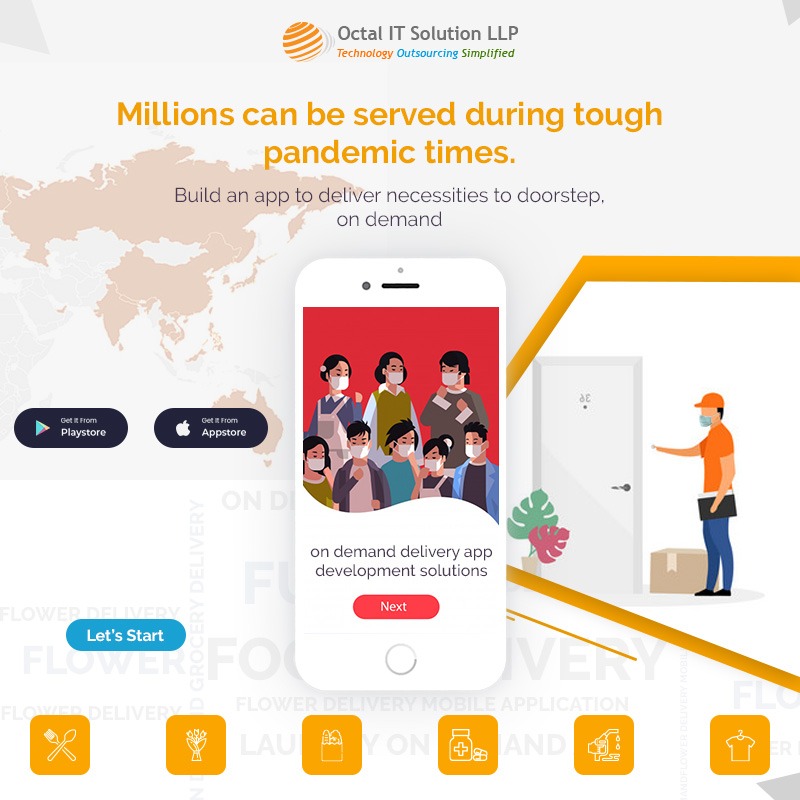 To add more to the table, the click and collect model is popular in the United Kingdom where customers can order and pick-ups medicines at the location of their choice. This model intends to ease the process of medicine buying and distribute medicines more efficiently to the customers.
GlobalData, a data analytics firm headquartered in the UK, has revealed that click and collect options will double in the upcoming five years.
What's in store for on-demand delivery apps?
We have already witnessed a drastic change in the way businesses operate due to the inception of on-demand apps like food delivery apps or medicine delivery apps or grocery delivery apps or house cleaning apps.
In the future too, we are likely to see more innovative businesses entering the space of on-demand service and delivery which will also increase the demand for delivery app development companies around the world.
Employment opportunities will increase as industries like healthcare and medicine would require more skilled workers. Background verification checks would become mandatory for visiting professionals at home providing an added level of trust and confidence to the consumers.
The growing consumer base is also one of the reasons the on-demand app delivery industry will prosper in the coming years. On-demand verticals may see the emergence of unconventional businesses by 2025. Entrepreneurs might want to invest in on-demand dog walking app development, laundry delivery app development, plant delivery apps, on-demand professional service apps, etc.
There is an entire ocean of possibilities waiting. Are you the next one who'd bring the revolutionary change to society? If you have an idea, then get in touch with one of our associates for expert consultancy and guidance.