And the speed game begins, and so is the craze for Fantasy Auto Racing and Fantasy Formula 1!
With less than a month remaining when the F1 circus returns to the road, the speed lovers cannot hold their excitement. This is the right time to invest in Fantasy Auto Racing App Development and make the most of the Grand Prix fever until November. 
Fantasy Formula 1 has made it easy for users to interact with the games they love and be a part of. Using their skills and understanding of the game, they can explore what it offers and earn significant profits. 
If you are looking forward to building a fantasy auto racing application, Hire F1 Fantasy app developers who can turn your vision into a fantasy Formula 1 app. 
Before we get into the details of the Formula One races and its F1 fantasy league app, let's quickly look at the schedule. 
The Schedule
So yes, not even a month remains. Formula One racing is one of the biggest and most awaited gaming events worldwide. Here's a quick look into how things happen.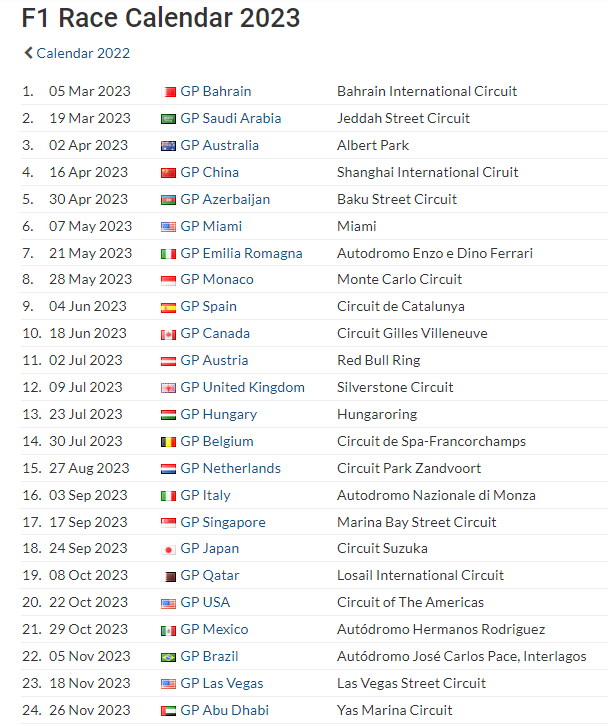 How Are F1 Formula Race Finalists Shortlisted?
The Formula One (F1) Grand Prix events are among the most prestigious and thrilling in motorsports. It is one of the most eagerly anticipated events for auto enthusiasts who free up their weekends to appreciate and embrace speed.
In fact, very few people are aware of how it operates.
Here is a step-by-step explanation of how an average Formula One Grand Prix race is conducted:
Practice Brings Perfection
There are usually two practice sessions (also known as "Free Practice") on Friday before the race, followed by one last practice session on Saturday. Teams and drivers use these sessions to adjust the car setup and become familiar with the track.
Getting Ready for the Big Event
The crucial qualifying session, which determines the starting order for the race on Sunday, occurs on Saturday. Each driver completes one flying lap in turn, and the driver with the fastest time is placed first on the starting grid.
Getting Settled in the Right Sequence
According to their qualifying times, the cars are arranged on the starting grid, with the pole-sitter at the front and the remainder of the field lining up behind them.
Get Set, Go!
The vehicles queue up for the start of the race after assembling on the starting grid and completing a warm-up lap. When the race starts, the cars accelerate from a standing start.
On Your Marks…Race
The F1 Grand Prix race typically consists of several laps and lasts about one hour and thirty minutes. Drivers must maneuver around the circuit during the race, passing other vehicles and stopping at pit stops to refuel and swap out tires.
F1 cars have limited fuel and tire life between touch-ups. Thus, drivers must frequently pit during a race. These pit stops allow the team to change the tires, refuel, and make necessary repairs.
Goal Post
The winner of the race is the first driver to cross the finish line after a predetermined number of laps.
The procedure for an F1 Grand Prix race is described in general here. But factors like the weather, the use of safety cars, and technical issues can influence the race's conclusion and determine the winner.
The F1 fantasy motor applications work on a similar model. Select a team, or race, whoever wins gets the reward. Simple!
Not that simple. The Fantasy Motorsports app developers explain how these applications function and what factors you need to consider when working on a project like this. Develop custom mobile apps with all demanding features with our proficient developers.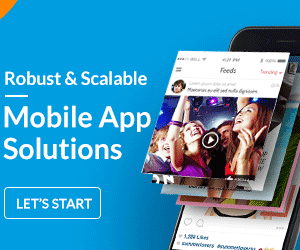 What is the Fantasy Auto Racing App?
A particular mobile app category, Fantasy Motorsports, enables players to build and control their fictitious racing teams. These Formula 1 fantasy applications often let users choose drivers, assemble teams, and engage in multiplayer games or online races.
Typically, users may gain points based on how well their preferred teams and drivers do at racing competitions. To win the competition, you must accrue more points than other users.
The NASCAR Fantasy Live, Formula 1 Fantasy, and MotoGP Fantasy mobile applications are just a few of the Fantasy Motorsports mobile apps available for download. Using these applications to interact with and compete against other fans worldwide may be entertaining for racing lovers.
Top Fantasy Auto Racing Apps To Inspire You to Develop One
F1 Fantasy
MotoGP Fantasy
NASCAR Fantasy Live
How Does Fantasy Motorsports Mobile App Work?
Fantasy sports are all about using your understanding of the game to build a virtual team that helps you earn great profits. In the case of fantasy motor sports app development, the users can build a virtual squad of drivers and constructors for a single race or the entire season. Then, users are given points based on the actual race results of their chosen drivers.
Here's a basic explanation of how fantasy auto racing:
Users choose a squad of drivers and builders within a wage ceiling or set spending restriction.
Users receive points based on how well their chosen drivers do in a race. This covers the placings, the fastest laps, and the pole positions.
The user who has earned the most points overall after a race or a season is crowned the winner.
Some fantasy Moto GP apps also let players switch teams before each race and compete against other users in leagues with more prestigious prizes.
Reading the F1 fantasy app's rules and regulations is a good idea because it's crucial to realize that each Formula 1 fantasy app's scoring system and restrictions can change.
The next in line is all the crucial elements that your fantasy auto-racing app must have now that we know the players in the game and how it functions.
Fantasy Auto Racing App Development – Key Features
For any application to be successful, it is vital that its feature set is exciting and stands out. The F1 motorsports fantasy app developers who work with your project include standard features as well as special features that make your F1 Fantasy 2023 application one of its kind and engage a wider audience. 
Easy Onboarding
The home screen looks like a Grandprix ground. With easy onboarding, users can sign up for the Fantasy F1 application in minutes without investing much time or energy. 
Various Gaming Option
Your F1 fantasy application would not be limited to a few races. It would include Formula E. Formula One, Nascar, and other events. Let users choose the racing event they want to play in.
Create League
Let your users create a fantasy league F1 and invite their friends and others to enjoy their scheduled matches.
Payment Gateway
The payment gateway is one feature that you cannot miss. The rewards and transactions need to be secure over a reliable platform.
Track Earnings
Another essential factor to consider when developing a Formula One racing fantasy motor app is letting the admin easily track the transactions. 
Live Race Updates
Let your users have the ease of enjoying the races live. Here, they can enjoy the game and choose the members they want in their team next. 
CRM Integrations
It becomes more convenient to change and specify how things work for your application once you know with what parts of the fantasy F1 app your user interacts more.
CMS Integration
With the content management system integrated with your F1 fantasy league app, it becomes easier for you to update new events, rewards, offers, and discounts for your customers.
Driver and Constructor Records
With driver and constructor records on display, users of your Formula One fantasy application can easily form a team to help them beat the competition and earn significant profits. 
Push Notifications
The easiest way to interact with your audience!
Push notifications let you connect with your audience and help you remind them of the scheduled events and competitions.
E-commerce Store
Includes an e-com store to sell merchandise of the teams and have a comprehensive source of income that helps you grow. Now that you know the feature set, let's quickly look at how the Fantasy Auto Racing application works. 
How to Play Formula One Fantasy Sports?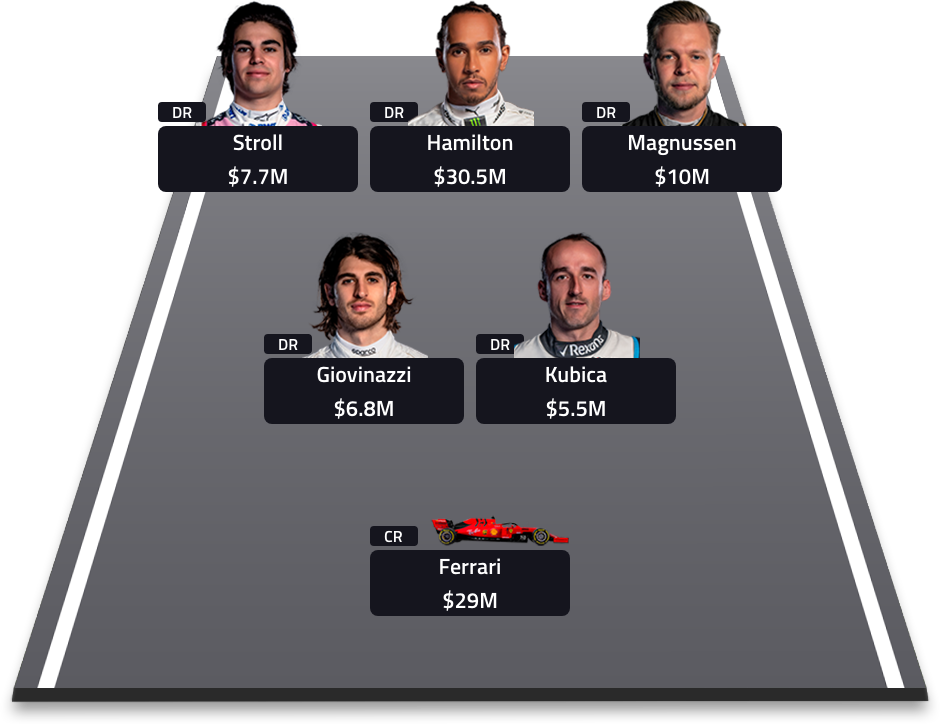 Pick Five Drivers and a Team
The first stage is choosing a team for yourself as you join the Formula One Racing Fantasy App.
You can choose at max 5 drivers and one constructor to be a part of your team.
Before qualifying on Saturday night, lock in your choices by keeping an eye on each driver's price. Sprint events could cause this deadline to change over the year. You are allowed three substitutions before each Grand Prix. Enter F1 Fantasy, select "Manage," and then begin changing your drivers. The list of accessible drivers can be sorted using several parameters, including pricing.
The team you are building should not exceed the $100M budget.
Join or Create a Fantasy Formula 1 League
Create or join leagues in F1 Fantasy to play with friends, family, or other like-minded rivals worldwide, enhancing the thrill of every Grand Prix.
Create your fantasy league F1 by logging in, selecting the "leagues" button on the left, or using a code provided by someone who has already created a league in the top right corner of the screen to join.
Play Your Powerups
The next step is to employ your powerups, which come in three different varieties, after selecting your league, five drivers, one constructor, a league game, and an amusing team name.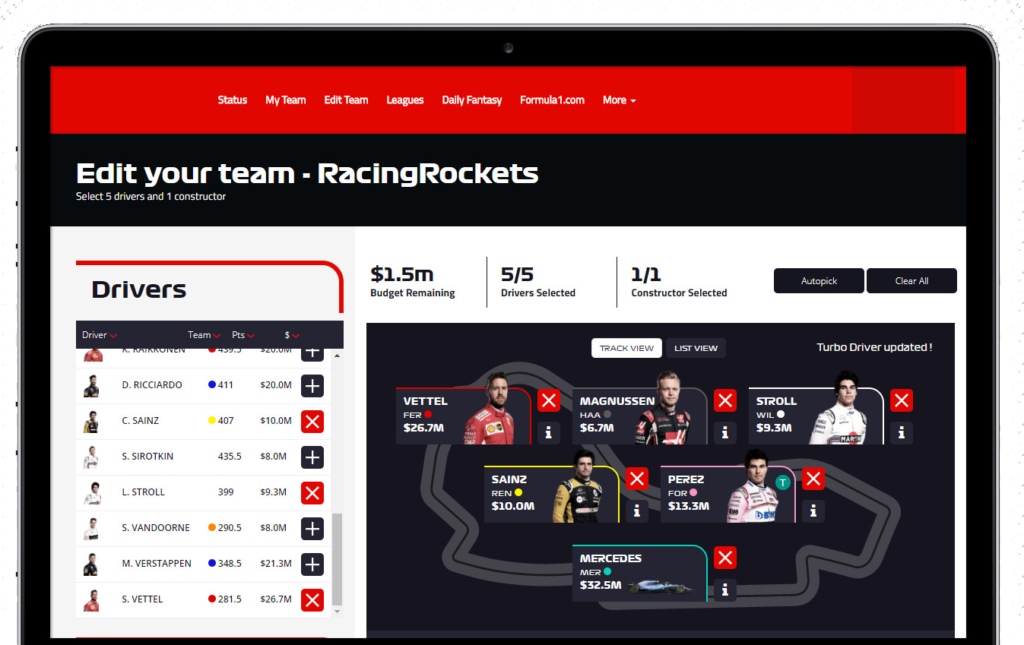 Turbo Driver
Any driver with a value under $20m receives a score boost from the Turbo Driver feature. Every week, play it by tapping the "TD" icon on your team selection screen.
Mega Driver
Any driver, regardless of value, will have their score doubled by Mega Driver. Utilize the pre- and post-Hungary plays that you receive from this season. Tap the "MD" icon to use it.
Wildcards
In the race week they are played, they let you make up to 12 free substitutions, allowing you to reassemble your team and add more substitutions to raise your budget above $100 million. You are granted two Wildcards per season, one in each half of the season, ranging from Belgium to Abu Dhabi. The icon with the joker hat must be tapped to activate this power-up.
Account for "Streaks"
The Streaks feature is crucial for scoring in fantasy Formula 1 app. It works as follows: if your driver finishes in the top 10 for five straight races, they will receive 10 bonus points; if they qualify for five straight races, they will receive five bonus points.
Streaks also function with constructors, however, to activate streaks for their team, both drivers must qualify for three straight races or finish in the top 10 each time.
Hot streaks and the aforementioned powerups can be combined to double or treble your bonus. That is the true way to make it matter.
We affirm that you get the best results when you hire formula one fantasy sports app developers from our team. We add more fun to the application with our gamification experience, making it easier for you to beat your competition and reach a wider audience.
Now that you know you would have to build a team with a few drivers and constructors; let's look at the team competing for F1 fantasy 2023.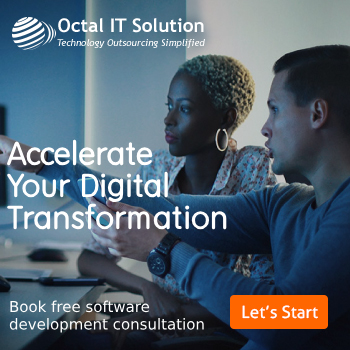 List of Drivers and Constructors Participating in F1 Formula Race in 2023
Red Bull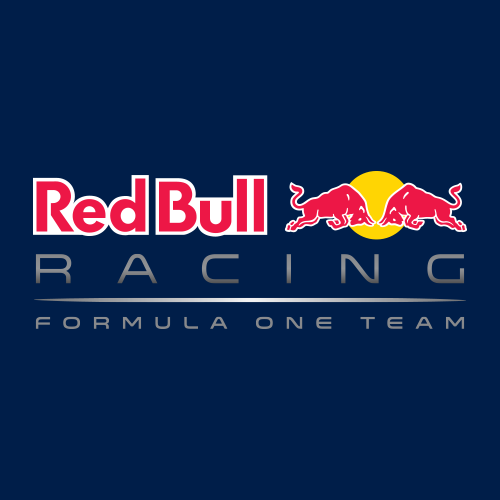 Max Verstappen – #1
Sergio Perez – #11
In the drivers' standings, they weren't able to complete a one-two, but Red Bull nevertheless defeated everyone else in 2022. Can they use that form again in 2023? While Sergio Perez aims to top his two victories from 2022, Max Verstappen will put everything on the line for a hat-trick of victories.
Ferrari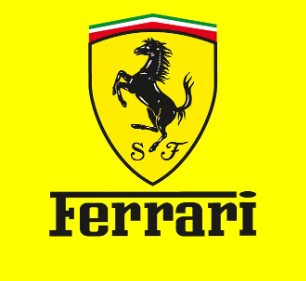 Charles Leclerc – #16
Carlos Sainz – #55
For the third consecutive year, Ferrari will run with the same lineup. They made a strong start in 2022 before their challenge waned, but thanks to Sainz's victory at Silverstone in 2022, they now have two experienced race winners in their ranks. Leclerc has stated that he anticipates competing for the championship again the next year. However, can Ferrari produce yet another race-winning vehicle?
Mercedes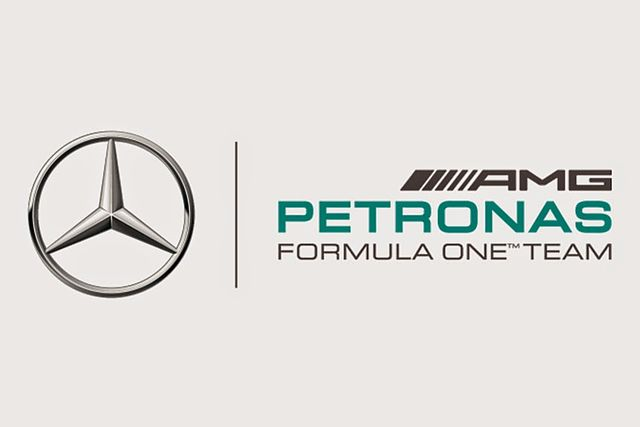 Lewis Hamilton – #44
George Russell – #63
Mercedes is doing more of the same as the Silver Arrows attempt to recover from a dismal season in 2022. Russell was able to secure both, and he is in a good position to expand on that success in 2023. It was the first time in Hamilton's career that he failed to secure either a pole position or a victory.
Alpine

Pierre Gasly – #10
Esteban Ocon – #31
When Alonso left Alpine to pursue other opportunities, Gasly took Alonso's place and joined an all-French lineup alongside Ocon. Both drivers have claimed victories in races, and they may be closely matched, while Ocon will attempt to take the lead by drawing on his prior teamwork. Alpine dominated the middle in 2022, and will at the very least, anticipate doing so in 2023.
McLaren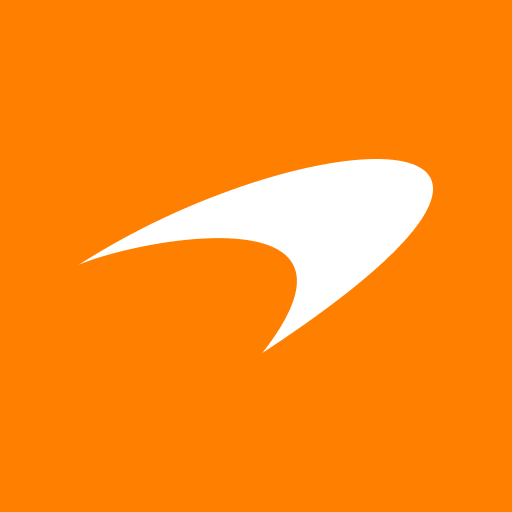 Lando Norris – #4
Oscar Piastri – #81
Alongside Piastri, a rookie, Norris begins his fifth season with McLaren. The Australian is a sought-after candidate, and McLaren hired him over Alpine. Can they make a comeback in 2023 and take the lead in the midfield?
Norris won a podium in 2022 as the only driver outside of the top three groups, and he'll be looking for more the following year.
Alfa Romeo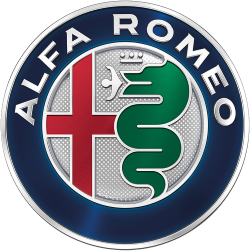 Zhou Guanyu – #24
Valtteri Bottas – #77
Despite using a brand-new driver pairing, Alfa Romeo had a solid start in 2022 and finished sixth in the overall standings. The expertise of Bottas and Zhou's excitement will continue to be a partnership in 2023.
Can the Chinese racer step up now that he is no longer a rookie and begin to keep up with his colleague every week?
Aston Martin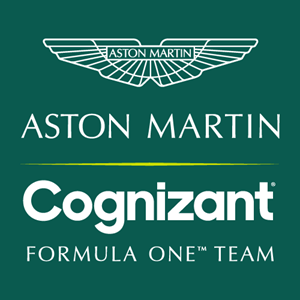 Fernando Alonso – #14
Lance Stroll – #18
Aston Martin still employs stroll, but he has switched out a more seasoned team member. With Alonso, a two-time world champion, switching from blue to green in 2023, the Canadian must compete head-to-head.
But will the switch return the Spanish player to the field's front, where he desperately wants to be?
Haas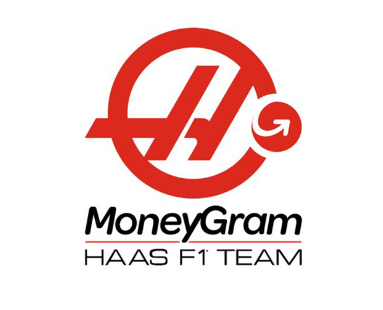 Kevin Magnussen – #20
Nico Hulkenberg – #27
The combo had many tongues moving when it was first revealed that Hulkenberg, a dependable "super sub," would be making a comeback to a full-time F1 drive after missing the previous three campaigns. At Haas, he joins Magnussen, a rather comeback-king Danish player. Haas, who finished seventh in 2022 with a pole position to their credit, is counting on experience to move them up the order in 2023.
AlphaTauri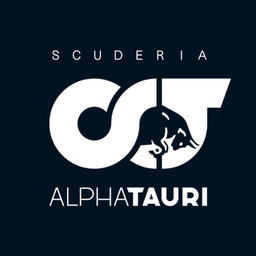 Yuki Tsunoda – #22
Nyck de Vries – TBC
In his third season in Formula One, Tsunoda must take the reins as a team captain now that Gasly has gone for Alpine. De Vries, a rookie who the Mercedes family values, joins the Japanese racer. It will be interesting to see how those two interact with one another because AlphaTauri wants to improve on a somewhat poor P9 championship finish.
Williams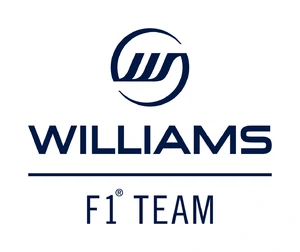 Logan Sargeant – #2
Alex Albon – #23
Albon stays with Williams through 2023. Nevertheless, he now has a new colleague to lead in the form of American rookie Sargeant, who was chosen after earning the necessary number of Super Licence points with a stunning debut in the F2 championship. Will the American be able to transition to Formula 1 without any problems? To prevent having to prop up the table once more, Williams requires him to.
These are the teams competing for excellent work and can help you earn great profits in no significant. Our team can help you build a strong presence in the competitive era with their skills. The technology stack we use to build your F1 fantasy app which is advanced and competitive.
Tech Stack for Fantasy Formula 1 Sports App Development
As you hire a remote fantasy sports app development team for your project, the tech stack they are familiar with plays an important role. The mobile app and web developers associated with Octal IT Solution affirm that the solutions delivered to you stand the test of time and are easily scalable.  
However, some common technologies in developing an F1 fantasy sports app:
Front-end Development
The front end is responsible for the user interface and user experience and is typically built using technologies such as HTML, CSS, and JavaScript. Angular, React, or Vue.js are popular front-end frameworks that can be used to make the app's user interface.
Back-end Development
The Formula One fantasy app's back end is responsible for managing data, processing requests, and communicating with external APIs. This could be built using technologies such as Node.js, Ruby on Rails, or Django, along with a database such as MongoDB, PostgreSQL, or MySQL.
Choosing the Right Platform
If the F1 Fantasy League app is to be made available on mobile devices, it may need to be built as a native app for iOS or Android or as a cross-platform app using technologies such as React Native or Flutter.
API Development
The app will likely require API integration to allow for integration with external data sources, such as race schedules and driver/team information. This could involve building custom APIs or integrating with existing APIs, such as those provided by Formula One Management or other sports data providers.
Payment Processing
Since the F1 fantasy app would include rewards and financial transactions, it integrates with a payment processing solution, such as Stripe or PayPal, to handle user subscriptions and payments.
Hosting and Cloud Services
The f1 fantasy sports app will need to be hosted on a server or in the cloud to be accessible to users. This could be done using a cloud hosting service such as Amazon Web Services (AWS), Microsoft Azure, or Google Cloud Platform.
Some standard technologies might be used to develop a Formula One fantasy sports app. However, the specific technology stack will depend on the app's requirements and the development team's preferences.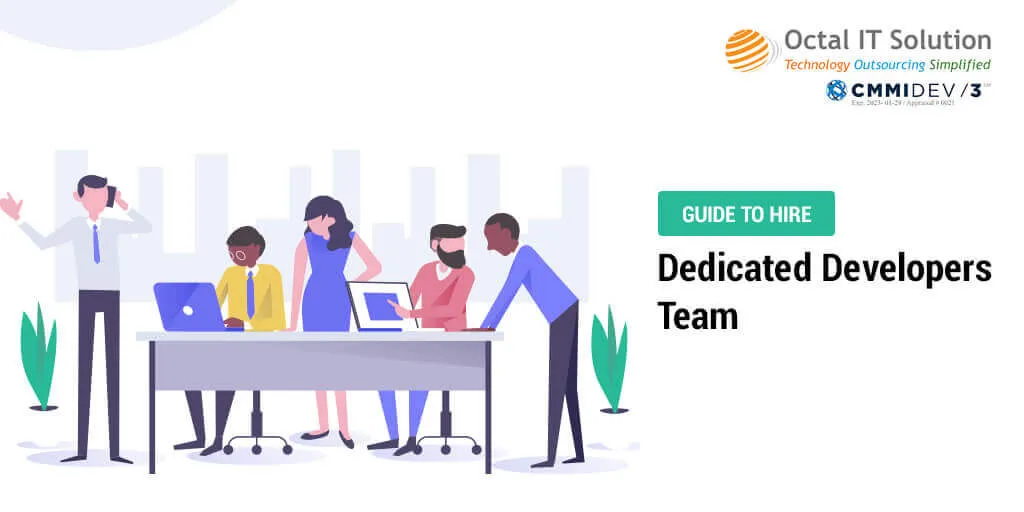 Cost of Developing Fantasy Auto Racing App
The cost of a fantasy motor sports app development depends on various factors. The team size, feature set, tech stack, location of the development team, and various other factors determine it.
Fantast car racing app development cost of development would be around $25000 to $45000. The cost of developing an advanced solution with all the elements and exciting features may be up to $80000.