"Magical, meaningful items you can't find anywhere else."
Who hasn't experienced the thrill of new orders being delivered? Who doesn't love those beautiful handmade artefacts in the nearby market? Well, we do have had those cravings to have a luxurious space that is well decorated and has an essence of beautiful handicrafts that make the place look classic and aesthetic.
But it is not possible to visit various parts of the world to collect such great collections!
Well for people who would love to have a beautiful collection at their place, Etsy is helping them turn their dream true. In general, Etsy sellers involve in handicraft products. Usually, they knit, draw, weave, create new furniture, work on decor items, or create some sculptors to add to the beauty of your home. They generally work from a studio or home. Etsy business model is a marketplace which is a distribution outlet for the craftsmen who could rarely ship their products to other countries or continents. Along with these, there are a few attorneys, physicians, or high school teachers that come up with various products and sell them over the platform in their spare time.
Before we get into the details of how Etsy works, let's see how the marketplace made its space in the competitive battleground.
Etsy: Understanding the History at Its Best
The idea of the marketplace was conceived in 2005. Its founders Rob Kalin, Haim Schoopik, and Chris Maguire decided to develop a marketplace portal to let craftsmen and traditional businesses showcase their products online.
The timeline of the market giant looks like this
2005-2007: Idea of the marketplace is conceived and worked on. Mid 2007 saw millionth selling of the marketplace and the profits rose exponentially.
2008: The team at Etsy managed to raise a funding of $27 million from the names, the Union Square Projects, Hubert Burda Media, and Jim Breyer.
2009: Ran a social campaign "Etsyday" that managed to drive traffic and reflected in high profits in the meantime.
2011: The Facebook campaign to expand search results was launched.
2012: Etsy managed to gain 40 million dollars in Series F investment
2015: The $1.8 billion valuations of Etsy were issued.
2016: Etsy acquired Artificial Intelligence ( AI) software platform Blackbird Technologies. The current model of eCommerce is the marketplace.
2017: Active selling products includes 1.93 million vendors to Etsy 33.36 million active purchasers.
2018: Over 60 million active users and over 3,9 million sellers were active on Etsy.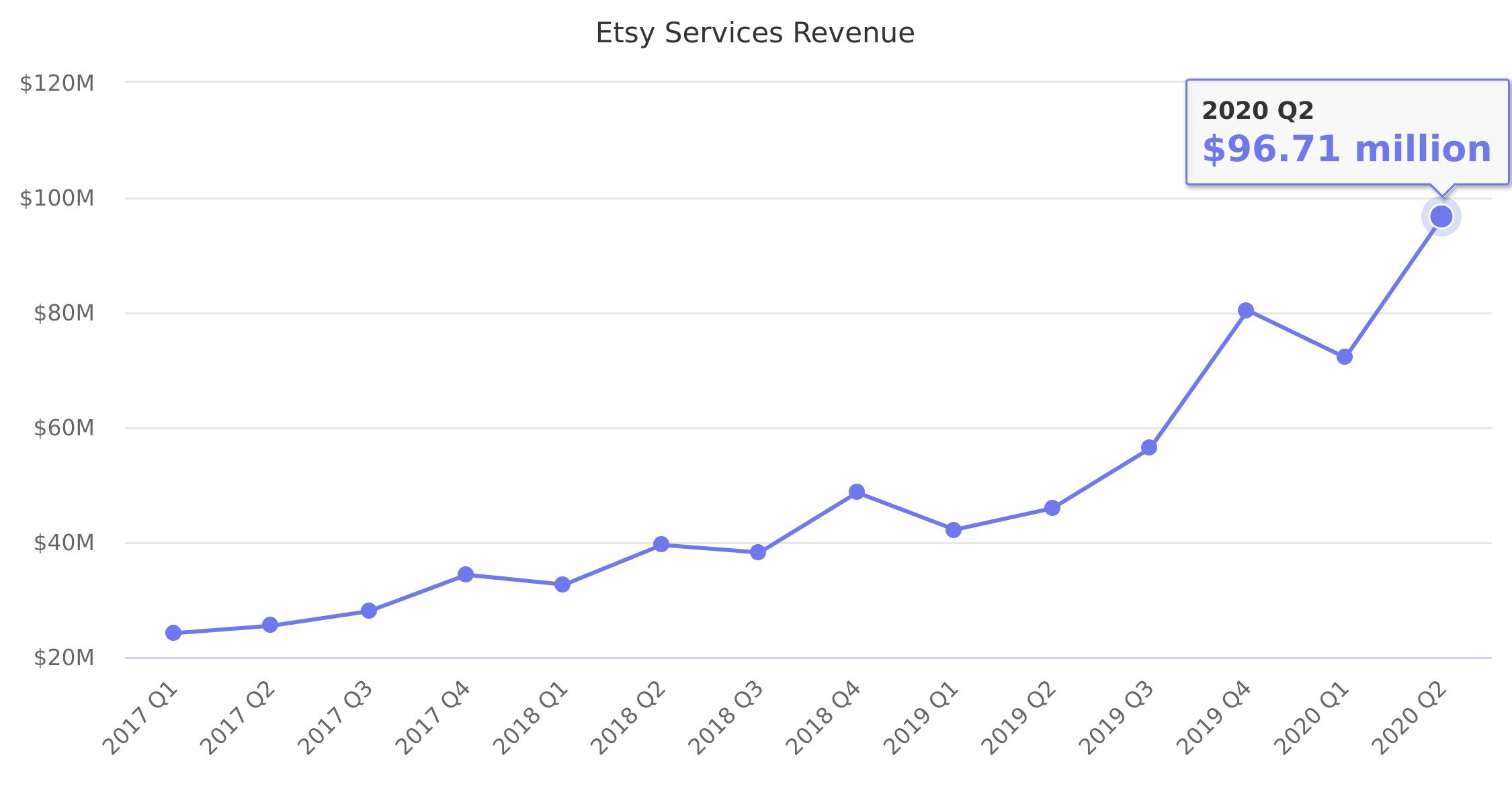 The timeline here reflects the clear consistent growth of the organization. Also, it is a clear picture of the struggles that you may have to face when you want to build a marketplace like Etsy.
Understanding Etsy Marketplace with Numbers
The stats are quite interesting and they reflect a lot of things when we talk about the Etsy revenue model results.
Experts predict that Etsy's revenue will grow 22% between 2019 and 2021.
Etsy sellers live all over the world in 234 countries.
Etsy has been one of the most loved shopping websites in the US even after cut-throat competition from Amazon.
The proud moment is 40% of the clients of Etsy are repeated customers.
These stats are the motivation how Etsy revenue model is changing the world and creating a better place for the artisans and local businesses and even for the customers with great aesthetic sense.
Stand Out Features of Etsy You Cannot Miss to Include
What makes Etsy unique is its business model. It seems like a popular online auction stage but when you dig deeper you'd realize it is more of a place where artistic, antique and handmade products are sold. With working in a domain that deals with vintage products, they have some really different needs and demands.
The marketplace lets sellers create own websites and showcase their products for the best outcomes. With majorly women and children being the driving force, there are features that make things easier for sellers and buyers for better ROI.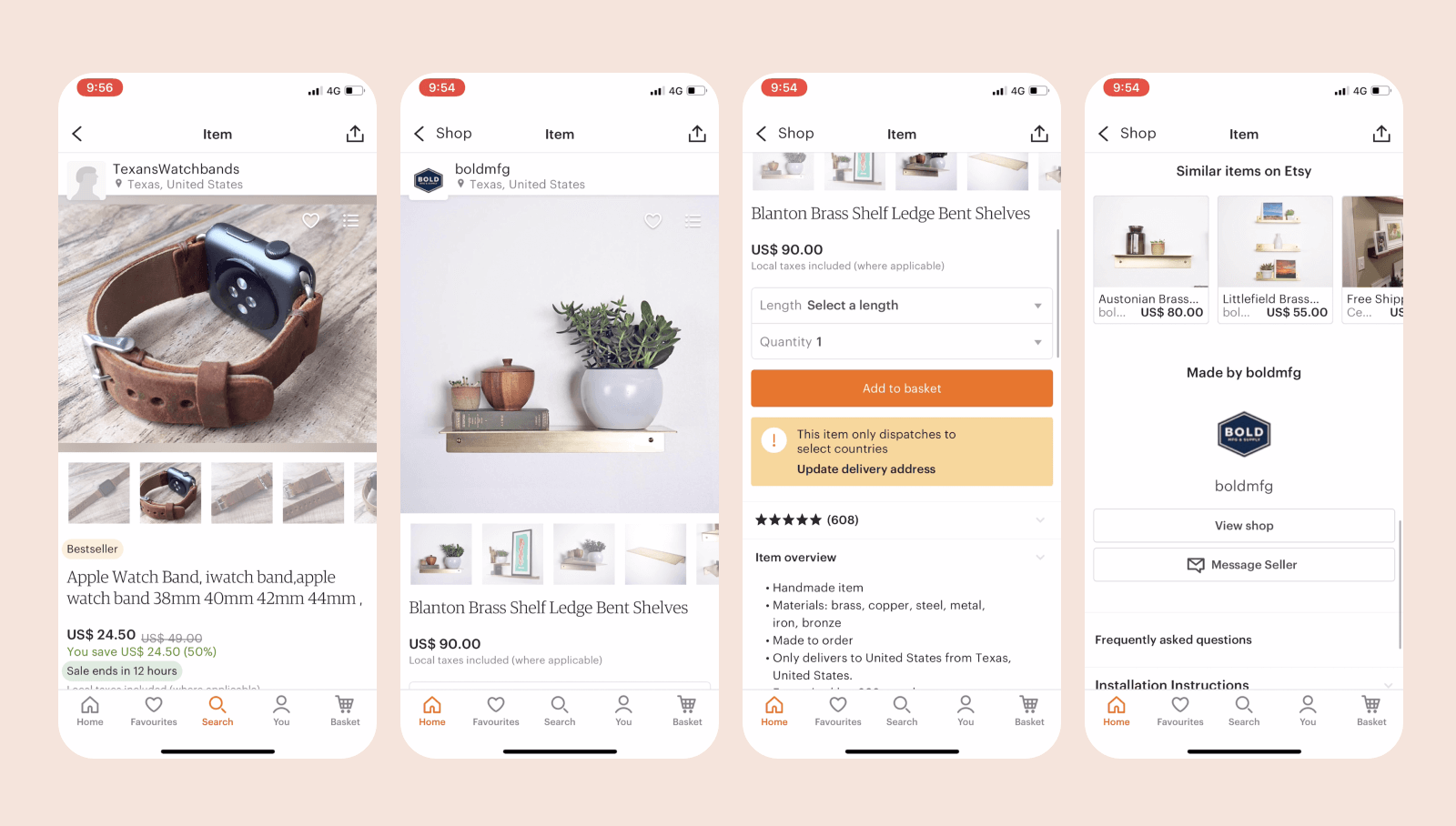 List of Etsy's Features
For Admin:
Dashboard for real-time updates
Ability to set the commission
Reports and analytics
Customer management
Invoice management
Stock management
Category management
Tax management

For Sellers/Vendors:
Chat system to discuss details with buyers
Stock management
View upcoming/past purchases and shopping details
Transaction management
Create their own pages with vendor-specific store URLs
Order management
Internal chat system
Reports and analytics
For Buyers:
Manage personal profiles
Shopping cart to choose items and buy them
View listings
Product search
Manage payment methods and view transaction history
Chat system to discuss details with sellers
Leave reviews
If you have a look at the list of features here you would understand how similar it is to any other e-commerce store, but when it comes to its functioning the organization is building its unique identity in the digital frame.
Steps to Build an Online Marketplace like Etsy
We have already seen how Etsy has managed to survive the market alongside biggies like Amazon, Flipkart, and eBay. Working on developing a marketplace like Etsy could never be difficult as it requires a lot of technical understanding and how does Etsy work for businesses.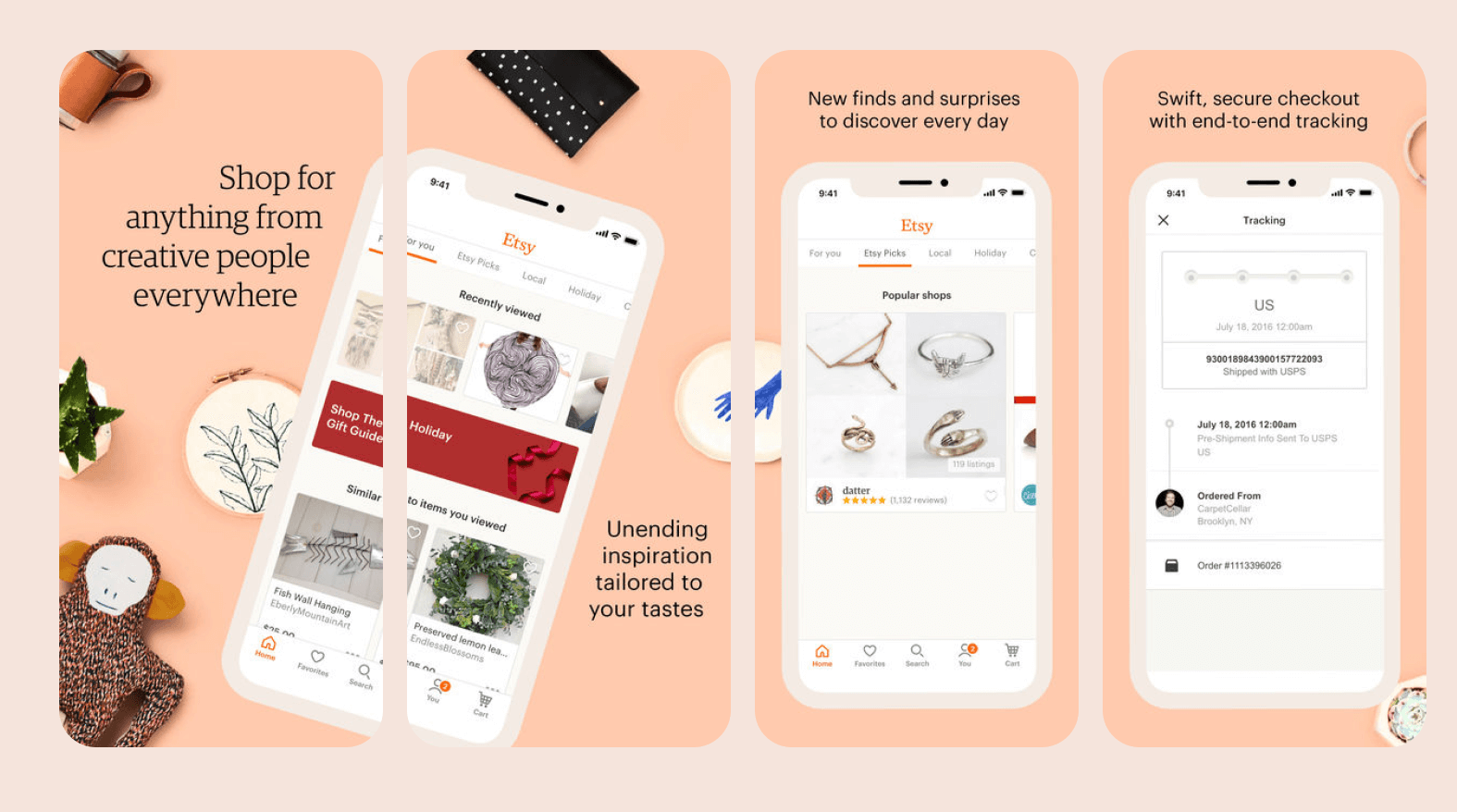 Step 1: Research and Analysis
When you decide to enter the market with the Etsy business model, you would first need to see what is trending in the market and what would make your app popular in the market. Training and planning your work process for a reliable marketplace like Etsy will take time. It would gradually prosper to a profit-making business that you have been waiting for so long. Working on something that involves so many complexities needs a lot of research and analysis and planning.
Competitor Analysis
How does Etsy work and how much does it cost? Etsy is going to be your key rival for sure. But the competitive arena is expanding and there are a lot more websites that are trying to dive in the same business. They all would have some interesting features that make them stand out.
Look at these websites and research for the features. Study your competing before you jump in the industry.
Analyze the seller group and the buyer group and let your Etsy like mobile app developer know what you actually want on the screen.
Buyer Persona Development
You surely cannot enter the market with a product or an application that would impress all. If it was so easy, the customer-centred business would never exist. The digital domain has brought a major shift from product-oriented business to customer-oriented business. Understanding what your customers expect from your website and how the sellers can operate it would be a wise decision. When you understand your buyer you can bring on the screen something that would be appreciated and loved by all.
Design the Revenue Model
The one important aspect of setting up the store is making money. You decided to develop the marketplace and enter the business to earn some great profits. Along with the monetization model and implementation process, one thing that you would surely have focused on is how to maximize sales. There are a lot of things that influence the Etsy revenue model like the registration cost, income ratio, advertisement costs, etc.
Work on your revenue model in a way to reflect maximum profit in limited time.
Step 2: Platform Development
When talking about the development process, it is important that your screen looks like something that is easy to understand and deal with. Your buyers should be able to navigate through the work easily and your suppliers must not see any issues.
Hire a team of dedicated developers who would bring on the screen something that is easy to understand and would reflect in great profits.
UX Development
When talking about UX Designing it is like mapping the human brain to keep your customers engaged in your work. The designers need to make sure that your customers find what they want in a click. If they can spend time over the internet and browse a little to find what they want, then you have successfully adapted Etsy business model.
UI Development
When talking about UI development, it is basically how your screen would look. With the perfect blend of right colour, font, type and transformation, you can work on the various aspects of your website. It should be done in a way that reflects your idea and impresses your customers at once.

Hiring a team of well-experienced UI and UX designers would help you create a prototype of the market place that would make things easier for your team to work.
Step 3: Development & Testing
MVP Product
When you work on the Etsy business model, you need to make sure that you are going really slow. With a standard MVP product being in the picture you would understand how and where you want to take your business in the given time frame.
Upcoming Marketplace
Understand you are taking to the digital world a complicated piece of work that would carry your identity. The Etsy clone app development team associated with us would make things easier as they have worked on similar apps over the years.
Test for Your Work
Etsy market strategy is quite tried and tested. You need to understand that each aspect needs to be worked upon well and reflect in great results. The website that you are expecting from the developers need to be flawless and help you earn profits that would make things easier for you.
The development of a web solution like Etsy would never be easy. It would take the majority of your time and energy. If you are looking for a profit-making business understand how Etsy business works and what results it can bring on the screen for you.
Step 4: Support & Scale-up
Now that you have entered the market with a simple and sophisticated website, you would need to be prepared for the real-time customer interactions and engagements. Understand that not everything would be covered in a few clicks. Sometimes you may have to extend your support for the customers where they get clear information of what they want and how it works.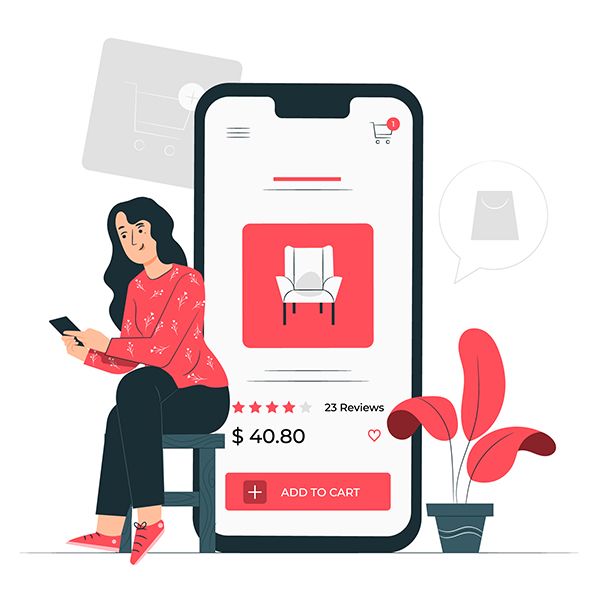 The growth is important but ignoring the customers won't work. Etsy business model is customer-centric and offers its customers the best user experience in the domain.
Step 5: Revamp When Required
It is important that you understand the functioning of your website. Also, with the reviews and the ratings understand what aspects of the website aren't working well and revamp them. Read your competition and see how you can bring on the stage an experience that is high performing and strong. If you are looking forward to creating Etsy like the business app, understand that frequent revamping and understanding your website would be the driving force of your business.
This is exactly how Etsy business model has seeped in the market and inspired others to grow better and stronger. Over the years, the app is only seeing an upward graph.
Final Words!
When working on developing an app like Etsy, it is important that you do not take it like a child's play. It is a complicated task. You need to understand this is far beyond a simple B2C platform development. The team associated with us makes sure that your product is well-developed and helps you make a change in the workplace. With your motive to provide great products at the most trusted prices would help you take your business to new heights. If you want to connect with our mobile app development team at the wee hours we are available in the click.
So, all the best for your Etsy like the business model and be ready to earn great results in no time.