Online marketplaces and classified mobile apps have gained immense popularity over the last few years. There was a time when people had several unused and unwanted products at home but didn't know how to get rid of them. However, things have changed now. Plenty of websites and mobile applications are there that allow people to buy and sell refurbished or unused items at a cost.
With a buy-sell classified app, people can list items of varied categories like electronics, furniture, cars, bikes, etc. Along with local people, even businesses are now using classified apps to market and promote their solutions and reach a large audience base.
Several such websites and apps provide a dedicated marketplace to users. People often prefer a native mobile app for this purpose over a website. It is because they find it easy to list products, receive instant notifications, explore the products listed by others, etc. This is why apps like Craigslist and Wallapop have become popular in the market.
If you have a plan to develop an app like Wallapop, this is the right time for you to do it. This industry segment is growing exponentially as more people look to buy and sell used and unwanted products. On the other hand, there are people who want to save money by purchasing used things at a low cost.
In this comprehensive article, you will find what a classified app is, why invest in a buy-sell classified app, key features, UI/UX design consideration, and how to create a website like Craigslist for free, app development, cost, and more.
What is a Classified App, and How Does it Work?
A classified app (such as Craigslist or Wallapop) is like an online marketplace that allows users to buy and sell used or refurbished things. The products are listed and made available to the users on the basis of their locations. People can easily search the required item or browse by categories (electronics, vehicles, books, furniture, etc.) using their smartphone. This all is done using a buy-sell classified mobile app.
The working of classified apps like Wallapop and Craigslist is quite simple. These applications provide users with a platform where they can list the products they want to sell. These listings are added on the basis of location and category. So that buyers see only relevant items. Sellers need to add the price of the product, description, and other details so that buyers can learn more about it.
The listed items can be searched directly from a search bar. People who want to buy anything can also browse the products by categories and easily find the relevant item.
Why Develop a Buy-Sell Classified Mobile App?
There are several benefits of developing a classified app, as an increasing number of people opt for buying and selling things through mobile apps like Craigslist, Wallapop, and others. Below are some crucial insights from authentic reports and statistics to show the growth of this sector and the number of users of classified mobile apps.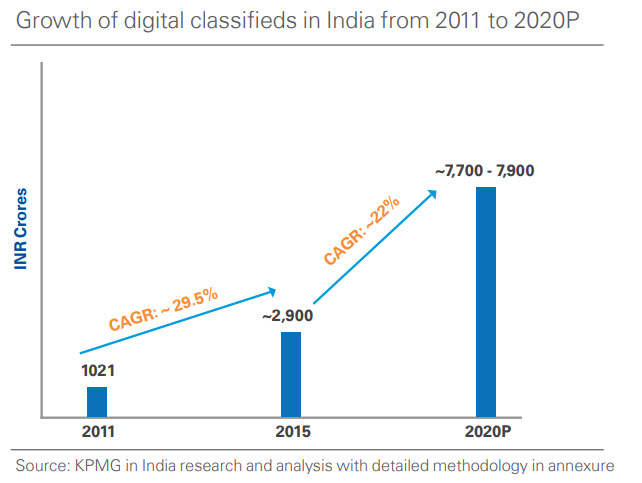 The online classified ads market will witness a growth of 9.5% year over year from 2019 to 2026.
As per a report by Google and KPMG, the digital classifieds market in India is gaining enormous momentum over the last few years. The classified market valuation reached around INR 7,900 crores in 2020 from only INR 2,900 crores in 2015.
Craigslist, the leading player in the buy-sell classified apps market, crossed the $1 billion mark in revenue in 2019, despite the competition from other apps and the launch of the Facebook marketplace.
Spain's classified market leader Wallapop raised nearly $200 million earlier this year to expand and grow in the market. This fundraising came in the difficult times of lockdowns, venue closures, and social distancing practices. At the time of raising this fund. The company was worth over $840 million.
OLX is one of the most popular buy-sell classified apps in India, having an audience of more than 350 million. The mobile app is looking to invest in branding and growth to cross the $1.2 billion market valuation.
Read Also: How to Make Similar App Like Amazon eCommerce Marketplace with Impeccable Features
These numbers and facts prove that the buy-sell marketplace app development is in demand. Not only the existing players are investing more, but new startups and apps are emerging into the market. If you want to create app like Craigslist or Wallapop, this is the right time for you.
Business Model of Classified App Like Craigslist
Before investing in mobile app development, it is important to know how classified websites earn money or what are the best ways to monetize a buy-sell classified app. We have done the job for you. Here is how the business model of the classified app works:

Premium Product Listings
This is the best way to monetize your app. What you have to do is to allow the sellers to get enhanced visibility for the products they are listing. With the premium listing, the seller will need to pay some amount. In exchange, he will find buyers for his product easily.
Advertising
You can allow other businesses to showcase their ads in your app. With sponsored ads, you can charge them based on the ad period, clicks, impressions, etc. However, you must ensure that the advertisements are somehow relevant to the app users.
Additionally, you can also enable Google AdSense or other such ads that appear to your users based on their interests. You are paid for impressions and clicks.
Commission
For every product purchased by a customer, the seller is charged some commission. You can set the commission amount and deduct it automatically when an order is successful. This is a continuous revenue stream that keeps the app going and growing.
Key Features of Buy-Sell Classified Mobile App
To drive users to your mobile app, the features play a vital role. Following are the primary features to be integrated into classified mobile app development:
User Features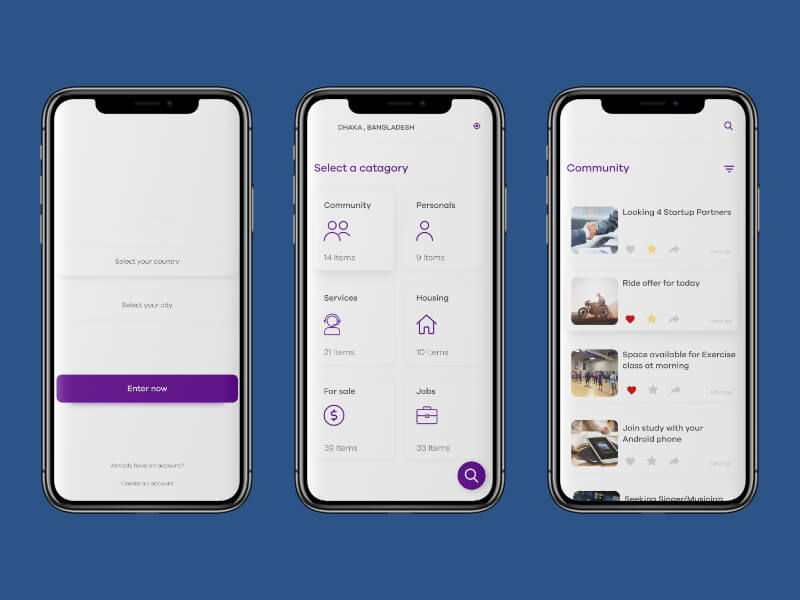 Sign-up/Registration: The first step is to allow users to register on the app using an email address, phone number, and password.
Profile: After registration, users can set up and edit their profile, by adding the name, profile photo, or make changes to the mobile number and email address.
Browse listings: To help users explore the products listed on the app, you need to add a category feature.
Search bar: This is a must-have feature for improved user experience. It helps users to quickly find the things they are looking for.
Geolocation: It is very likely that your app will be available in multiple cities and regions. You need to access the location of the users to show them only the relevant classified listings available in their area.
Filters: While searching or browsing the listings, the filter feature can be a time-savvy element. It helps users to apply filters and see products based on price, relevance, date of listing, etc.
Wishlist: While browsing the listings on the app, there will be multiple items that users may want to save for later. With a wishlist feature, you can allow them to do so.
Reviews and ratings: After purchasing an item, users should be able to share their experience and give a rating.
Queries: This is an essential feature for users. It helps them to ask questions related to the product they are interested in buying.
Product images: When a user chooses to sell a product and add it as a classified listing, he should add multiple images to give buyers a better view and idea.
Notifications: It helps in notifying buyers about the order status, delivery, etc. Whereas, sellers get notifications about new orders, payments, queries posted by other users, etc.
Related products: When users browse a particular product, a tab should show the related items that might interest the user.
Read Also: How To Develop Marketplace App Like Wish – Cost And Features
Referral: The option to allow users to share the app with their friends and invite them can bring more app users. In exchange, you can provide them with some bonus points, free delivery for an order, or any other reward.
Place order: After browsing the products and finding the right one, the users can go ahead with placing the order by adding the address and paying the required amount.
Payment methods: For a convenient user experience, you must integrate ewallet payment options, like debit/credit card, UPI, PayPal, etc.
In-app chatting: This feature will help buyers and sellers to connect and communicate about the product through messaging within the app.
In-app calling: It enables buyers and sellers to get in touch and talk about the product through an internet call made within the app.
Social sharing: When a user posts a product listing on the app, he/she can share the link on social media. This feature will not only bring customers to the product, but also raise your brand awareness.
Order status: After placing the order, a user can check its status and know when to expect the delivery.
Order history: The role of this feature will be to show all the orders placed at a single place, along with their dates and price.
Admin Features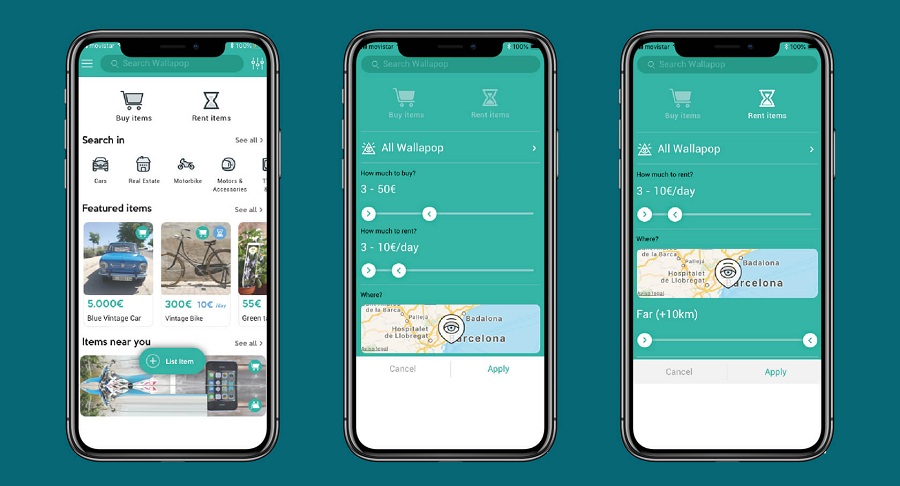 Dashboard: A centralized place from where the admin can check and manage every element of the app, like users, orders, products, payments, etc.
User management: A handy feature for the admin to manage user profiles, check new users, track their activities, etc.
Manage products: There will be numerous products in the app listed by users. The admin can manage the products, remove or edit the listing, check pricing, etc.
Monitor transactions: The users who buy the products will pay for it using the in-app payment methods. An admin can supervise all the transactions and get rid of fraud activities.
Pricing management: It is important for the admins to keep track of the product pricing. The admin team can set benchmark pricing for specific products to keep things relevant and genuine.
Supervise reviews: The admin should keep an eye on the ratings and reviews submitted by the users to ensure that they are satisfied with your services.
Order tracking and management: With this option, the admin can see the status of the orders and manage them for timely delivery of products.
Gallery: People who list the products will add the images and screenshots. It is important to check the images for relevancy and quality.
Spam prevention: Many users do fraud and spam activities on the app, impacting the user experience. With some robust tools and features, admins can prevent such activities.
Manage content: This feature is for managing all the content within the app, like the sections shown on the app homepage, offer section, etc.
Analytics: Reports and analytics about the audience, products, buyers, sellers, payment, and specific activities are crucial for the success of an app.
Ad requests: The app will allow sellers to promote their product listings. When a request is made, the admin receives it at the backend and responds to it accordingly.
Support: It is important to provide support to the users, whether it is a buyer or a seller, for a satisfactory experience.

Advanced Features
Affiliate: Affiliate programs are great for finding more app users and product customers. It is different from a referral. Any user can share a product link on social media networking, with friends, or add it with a banner on a personal blog/website. When someone purchases the products through those links, a commission is paid to the user.
Social login: Along with allowing users to register with email, phone number and password, you can also enable them to login with a Google account or social media account.
EMI: For expensive products like mobile phones, laptops, etc., you can allow users to pay in EMIs. You can ask the seller whether they can accept the EMI payment option for their products.
Phone number masking: Some users don't want to show their number to other users. If they want to call, this can be done with the phone number masking feature. Both parties can talk over a call without knowing the actual phone numbers.
Multilingual: The option to use the app in multiple languages will help users to browse the app in the language of their choice. It is excellent for user experience.
Premium listings: A user who lists the product can do it in two ways. Either add it as a normal listing or a premium listing. The premium listing gets more attention and brings potential buyers in less time.
How to Develop a Classified Mobile App?
If you have decided to get a buy-sell classified app developed, then here is the step by step process: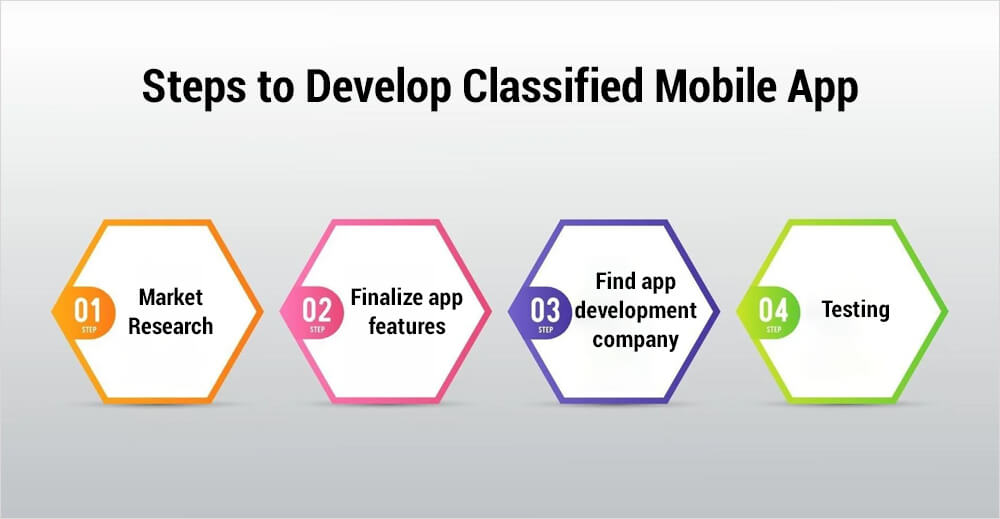 1. Market research
Research your target market properly to understand the audience, demands, what users expect, existing competitors, as well as how the competitors are doing well. This will help you get an idea about investing your time and resources the right way for a successful business.
2. Finalize app features
You shouldn't compromise with integrating the essential features. Moreover, if you want to compete in the market and find more app users and keep them hooked, the integration of advanced features is the way to go.
3. Find classified mobile app development company
To bring your idea to action, you need to find a trustworthy and experienced app development team. You should check the portfolio of the company and see their existing work. Also, ensure that they handle the classified app design and testing parts of the app. Then, share with them your idea and vision, required features, platforms (Android, iOS, or both), and when to expect the delivery.
4. Testing
This is the final stage. Once the app is developed, the team of testers will test the app to find bugs and critical flaws in the app and fix things. This is a crucial step because if users face problems in using the app because of bugs, they will abandon your application and give it a poor rating.
Read Also: Leverage the Power of AI for Your Ecommerce Business Success
Cost of Developing a Classified Mobile App
So, coming to the final question- how much does it cost to develop a buy-sell classified app? Well, the classified app development cost depends on a number of important factors, including the app development platform (Android, iOS, or both), UI/UX design, classified app builder, app complexity, testing, and the experience and location of the app development company.
Some companies charge on the basis of the hours consumed by the team of developers, designs, and testers. Whereas, other companies give a quotation according to the app platform, features, and complexity.
On average, the cost of classified mobile app development will be somewhere between $20,000 to $30,000.
Wrapping Up:
The buy-sell classified mobile apps are definitely in demand. People want to sell out used and unwanted things, and there are consumers who want to save money by buying old products. This is the reason many classified apps are successful and profitable today. If you are wondering whether it is a good business idea or not, then the answer is definitely yes. It is the right time for you to consider classified app development.