Multiple high-quality applications are available for different types of activities globally. One of the top requirements in the current scenario is having high-quality language learning apps. In fact, the e-learning market is expected to grow to USD 38 billion in revenue by 2024.
At this point, different types of mobile apps are available that contribute to this high market growth. A popular one among them is language learning apps. Statistically, the projected CAGR of the online linguistic training market due to solutions like apps is 18.8%, given the high demand.
Among the varying solutions available, many best online language learning sites are available with high-quality features and benefits. Here, we discuss some of the top solutions we came across in terms of usability and benefits that you can try out. But first, let us know what these apps are.
Use Cases of Language Learning Apps
If you are planning to learn a language, starting with a mobile app that provides these uses is highly suitable. Through these apps, it is possible to practice the verbal and writing rules related to different global languages. In addition, many of the best language learning apps that are available provide visual and auditory examples of different terms for easier comprehension.
Moreover, some of these apps allow users the ability to attempt tests on their language of choice to check for progress. There are multiple uses of these applications, and here are some of these.
1. Entertainment
A lot of companies invest in the development of language learning mobile apps as an entertainment benefit. The quality and functionality of the best free language learning apps 2022 provide an engaging and intuitive experience. With these solutions, one can learn a new language fun while retaining information better.
2. Modern Teaching Services
The traditional fields are available for learning and preparing for new information. The same is available for those looking to learn new dialects and languages. The apps work as a modern solution for quickly downloading content in other languages, hearing quotes and excerpts in different languages, reading the meaning of phrases, etc., in clear verbal tones.
For practicing pronunciation and diction, these solutions are really valuable to note the difference in an immersive manner. This helps improve comprehension ability and potentially improve one's fluency level. Moreover, as an e-learning solution, these language learning apps are effective tools for intermediate and beginner-level students.
Related Post: Language Learning Mobile App Development Cost & Features
Best Language Learning Apps
There are multiple app solutions available that are high-quality solutions for people who want to focus on language learning. Each version available in the market currently assure versatile usability with their interfaces. In addition, they are portable and user-friendly, contain a wide range of advanced features, and offer their services at different cost levels.
To help you decide which ones to depend on, here is a list of the top service providers with relevant information like features, pros, cons, etc. Read ahead to know all the necessary details and plan accordingly.
(1) Duolingo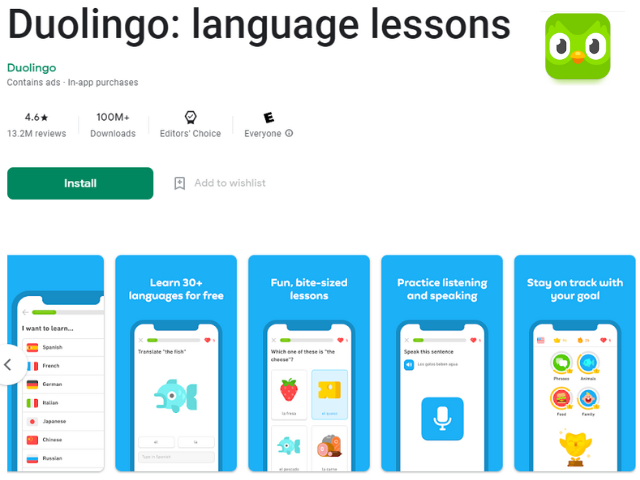 Duolingo is one of the top software options available when learning a new language, and it is a popular choice globally. Through this app, you can access and prepare for different languages, like Spanish, Italian, French, Russian, German, Portuguese, Dutch, Turkish, Korean, and more.
The app is easy to log in to, and you can learn multiple languages simultaneously. Furthermore, the progress of each level and version are saved automatically in specific sections that you can access later to continue your learning.
Features:
Check the learning progress of different languages/stages.
A simple breakdown of classes as per proficiency levels.
Audio recordings of pronunciation are available for each lesson.
Practice tests after each stage/level.
App Category: Education
App Downloads: 300+ million
Reviews/Ratings: 4.7 out of 5 stars (iOS), 4.6 out of 5 stars (Android)
Pros:
Simple interface for beginners to use.
A variety of languages are available to learn.
Even the free version has many useful features.
Cons:
The app size is relatively big.
Not available for free.
(2) Memrise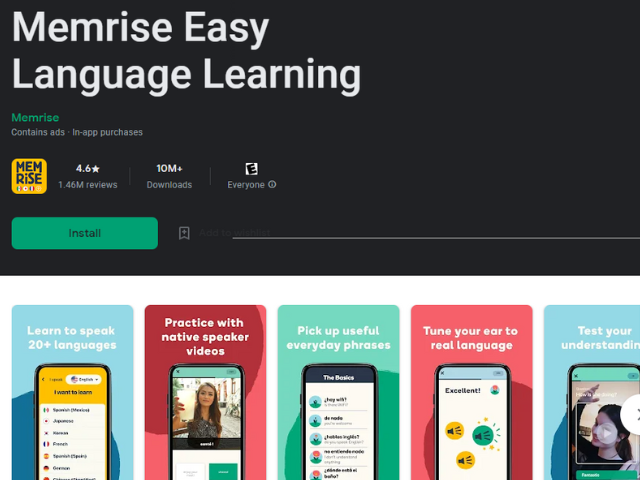 One learning app that you should consider seriously is Memrise, which includes useful quizzes and flashcards for training. Besides those, you can click on the words, and it will play them with the right accent and intonation. However, what sets this app apart from its contemporaries is that users get an immersive learning experience here due to video-based training.
There is a Learn with Locals function on this app, where native speakers talk in their languages with an accented emphasis on sentences, phrases, and words. Therefore, when you are learning a new language, you would know the real way the locals speak it.
Features:
Around 4000+ lessons are available for different languages that users can learn on this app.
Tips and phrasebooks are present for users to download and utilize.
Gamified skill assessment types for an engaging language training experience.
Around 22 languages are available that users can choose between.
App Category: Education
App Downloads: 60+ million.
Reviews/Ratings:4.8 out of 5 stars (iOS), 4.6 out of 5 stars (Android)
Pros:
Real-life video examples of native speakers are available for users to see how the locals speak.
There are not many intrusive ads constantly.
Create a customized learning plan for your training with this app.
Cons:
The app is not accessible in some regions due to different national regulations.
For advanced uses, one has to buy a paid plan or in-app purchase, starting at USD 2.99.
(3) Pimsleur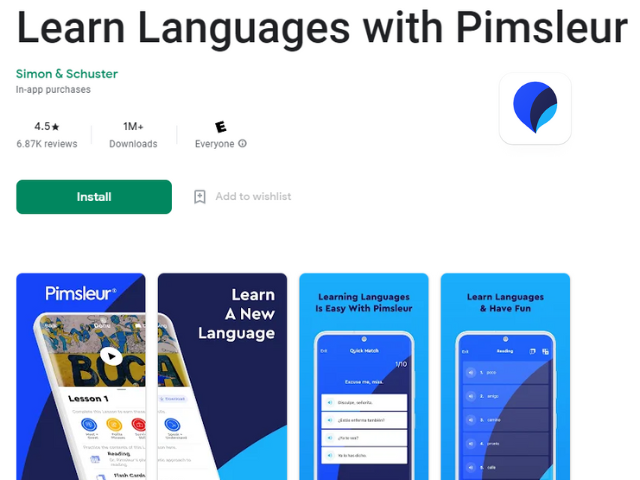 One of the best online language learning sites available today is Pimsleur. While the cost of using this service is in the higher range for the average user, the quality of the training service is top-notch.
This app features a comprehensive course for users with audio-based course material for a full understanding of the language they are learning. You can use this English-speaking course online app to get 30 minutes worth of lessons per day.
Features:
Core subject lessons are extended for 30 minutes per day.
Role-play conversational scripts to practice speaking in the language you are learning.
Get batches for skill improvement.
Practice the spelling and written material knowledge with online flashcards.
App Category: Education
App Downloads: 1+ million.
Reviews/Ratings:4.7 out of 5 stars (iOS), 4.5 out of 5 stars (Android)
Pros:
Fun ways to learn languages, like through digital flashcards or games.
Support more than 50 different language types.
Culturally appropriate language pronunciation and training are available here.
Cons:
Not for foundational-level students.
It is impossible to change the languages you're training for in Pimsleur Skills.
(4) Rosetta Stone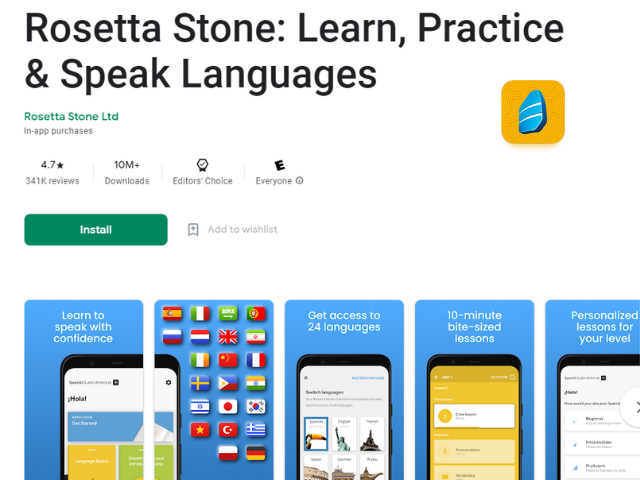 If you are looking for the best Android app to learn German or such European languages, Rosetta Stone is a good choice. This software is a popular option in the market that runs with a robust TruAccent speech recognition algorithm.
Due to this technology, users get access to a reliable audio-based practical pronunciation service. You can hear it and practice accordingly, learning to speak like a local with just a phone app in no time.
Features:
Supports training material for around 25 language variations.
Shortened lessons for a few minutes each are available for users.
Modern speech recognition software for specialized accent training during language learning.
Detailed reporting support for organizations, both business and school-oriented.
App Category: Education.
App Downloads: 10+ million.
Reviews/Ratings:4.8 out of 5 stars (iOS), 4.7 out of 5 stars (Android)
Pros:
Specialized lesson plans are available for individual users, schools, and businesses.
The app is useful in both online and offline modes.
Live tutoring sessions are available.
Cons:
Not available for free to the users.
Very high plan costs, especially the lifetime deals.
(5) Babbel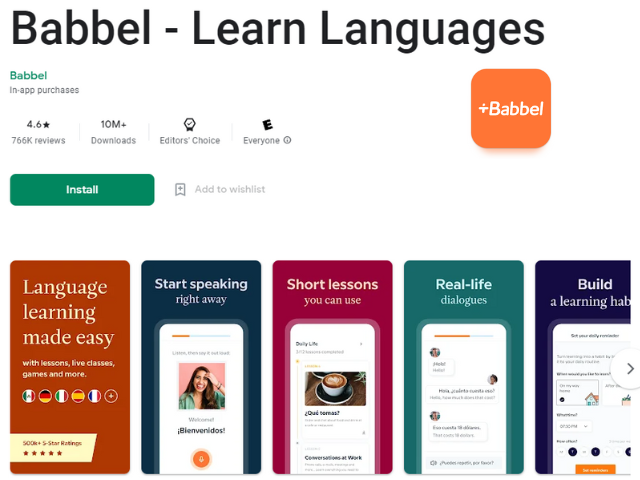 One of the best language learning apps that are available online is Babbel, due to the availability of high-quality features for both beginners and experienced language students.
This is one of those educational apps that users can try out for short 10-15 lessons for short-term but effective language practice sessions daily.
With this app, you can practice speaking local phrases and words of other languages conversationally. This, indeed, improves the confidence of users in the language they are practicing. The additional in-depth excerpts on grammar also help improve your speaking, listening, and writing skills.
Features:
In-depth training material with around 60,000+ lessons available.
Use offline mode for training.
Online live classes are available for users.
Heavily oriented towards native language improvement with proper regional dialect and intonation differences.
App Category: Education
App Downloads: 10+ million.
Reviews/Ratings:4.7 out of 5 stars (iOS), 4.6 out of 5 stars (Android)
Pros:
Powered with an intuitive speech recognition technology for accurate speech benefits.
Around 14 different languages are available.
Easily review the online lessons.
Cons:
All the paid courses have a high cost, with one-month courses starting at USD 13.95/month.
A lot of cookies are created.
(6) Busuu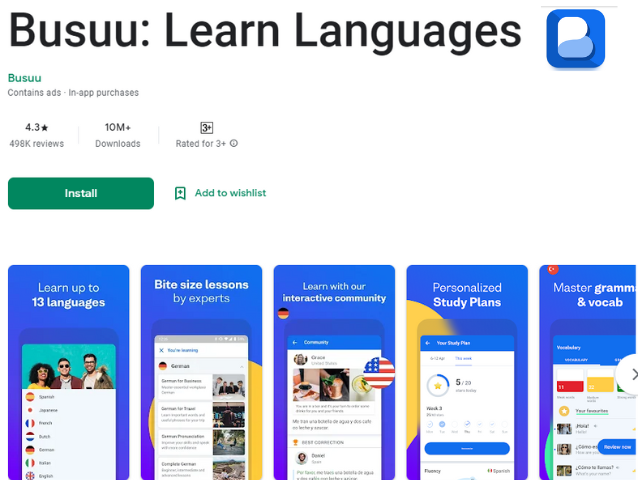 Busuu is a top choice among the different language training applications available online. The software is equipped with ML-centric technology that optimizes language training quality. Moreover, it creates a real copy of conventional classes and allows users to create personalized lesson plans as well.
While using this app, you can interact with other Busuu users and share your lessons/results. This exchange and collaboration process allows people to interact with native speakers for real-time technique improvement while perfecting a new language.
Features:
The Grammar Review section comes with specialized testing and reference sections.
As a user, you can correct other work and send it to specific users or the in-app community.
Live sessions are available for users.
Opt for one-on-one or group training sessions.
App Category: Peer-based, Education
App Downloads: 200+ million.
Reviews/Ratings: 4.7 out of 5 stars (iOS), 4.3 out of 5 stars (Android)
Pros:
All of the study progress is saved automatically for future reference.
Many detailed notes and explanations for top global languages like Spanish, French, etc.
This focuses on a peer-to-peer data sharing and learning approach.
Cons:
The Grammar Review benefit is only available for select AI language types.
You cannot delete specific lessons; instead, if you choose this step, the whole language course progress will remove.
(7) Drops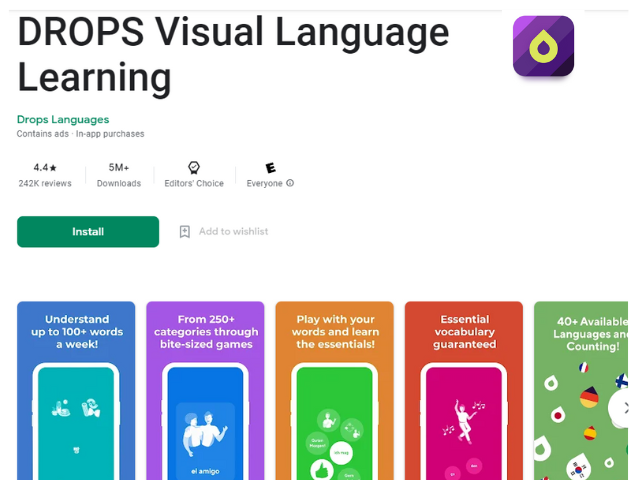 One of the best online language learning sites you should try out for learning new languages is Drops. This app is a major platform that specializes in offering a wide-scale vocabulary to practice and learn.
You can select the type of language you would prefer to learn and decide the total amount of time you will focus on the training. Then, decide between the theme and options like business, travel, and food-based topics before starting the learning process.
Based on the category you choose, you will get the transactions for specific words, with the relevant illustration as a reference. The drops with the words speak the word out loud as well. This is highly useful for vocabulary and grammar practice using tiny snippets.
Features:
Visual illustrations are available for easier vocabulary explanation.
Members of this app can expect early content access benefits.
Offline mode is available.
Professional voice artists/sound effects to ensure the right pronunciations.
App Category: Education
App Downloads: 35+ million
Reviews/Ratings: 4.8 out of 5 stars (iOS), 4.4 out of 5 stars (Android)
Pros:
The in-app vocabulary contains around 3300+ words for 180+ topics.
Language content is available in a gamified manner.
You can view full progress through the app.
Cons:
The trial period is available only for 7 days.
(8) Mango Languages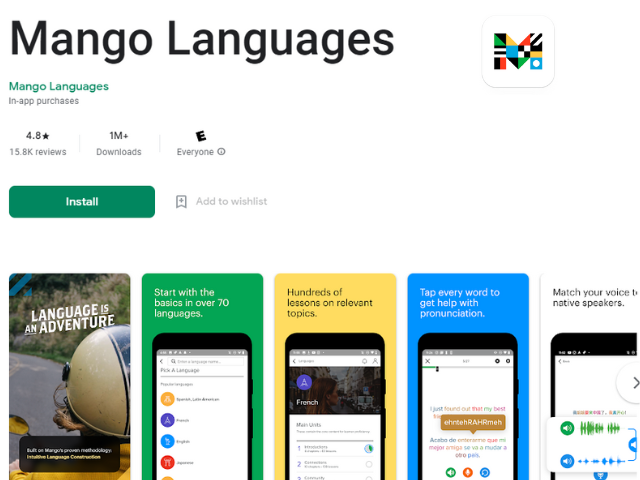 If you are looking for a free French learning app, many options are available, including Mango Languages. This is a suitable choice for new language learners due to its easy-to-use structure and lesson plan.
You can learn a wide range of languages besides French if that interests you. In fact, this application offers rarer types like Igbo and Biblical Hebrew as well. You can get wide-scale training with this software, including speaking, listening, and writing practice tests.
The app offers the option to create personalized training plans, which is a favorite benefit for many.
Features:
Native language speakers narrate the lessons, and the audio recordings are available for training.
Personalized reviews for the courses.
You can switch on the auto-play function to travel and listen to audio recordings.
Additional cultural insights are given for a more intensive learning experience.
App Category: Education
App Downloads: 1+ million.
Reviews/Ratings: 4.8 out of 5 stars (iOS), 4.8 out of 5 stars (Android)
Pros:
The free and even the premium plans are not as high compared to other options.
There are specialized English courses for specific language speakers to use.
The app allows offline usage via downloads.
Cons:
The app has some age-restriction settings.
(9) Beelinguapp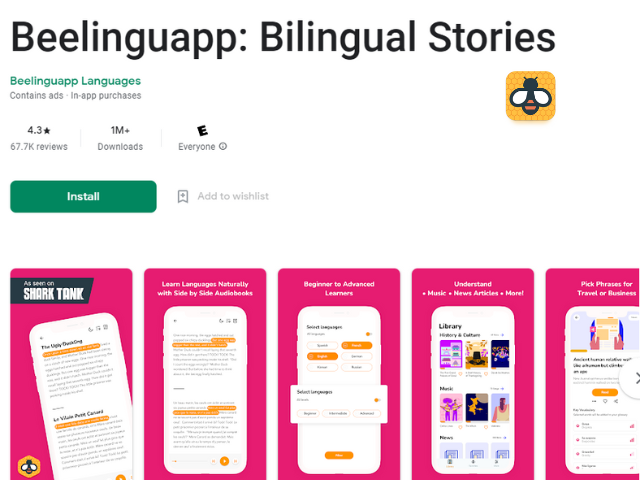 Are you willing to learn a wide range of languages from different parts of the world? If yes, this software is something you should try at once. Combining a translator and a tutor will help you easily grasp any concept, which is what Beelinguapp deals with.
Users get to practice 14 different languages in organized lesson plans and concepts easily. Furthermore, with the availability of audiobooks, learning a new language is interesting as you will learn the phrasal meanings of translated work while enjoying a smooth storytelling session.
Also, this works as a free French learning app besides other such romantic languages, adding another layer of appeal.
Features:
No from your mistakes, and become proficient.
Engage in conversations with others speaking their native language.
Improve your knowledge of multiple languages at once.
Features a wide range of audiobooks and translated material.
App Category: Education
App Downloads: 4.1+ million.
Reviews/Ratings: 4.6 out of 5 stars (iOS), 4.3 out of 5 stars (Android)
Pros:
Best for beginners.
Access to multiple languages.
Easy to navigate interface.
Cons:
A tailored learning plan is not available.
(10) Mondly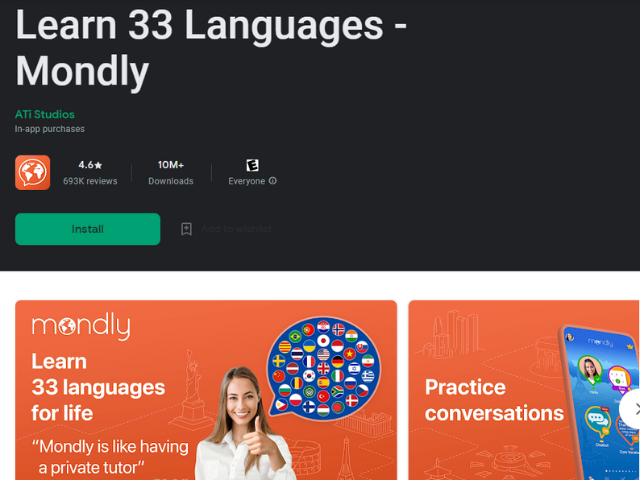 If you are willing to learn about the maximum language spoken in the world, no other application can be as effective as Mondly. With an intuitive user interface, the application is perfect for beginners and experienced users to operate.
The combination of bright and fun colors further enhances the overall visuals and keeps the users engaged with its functionalities. From Hungarian to Danish, several inbuilt languages are there, almost like 33 major languages. In addition, it also comes loaded with multiple images and auditory/translation aids to suit your particular learning style.
Take the test and check if you have learned anything or not with this application, where the built-in translator speaks melodically with perfect native foreign language vocal flairs. Not only will it engage you in the games and quizzes, but it is also easier to remember the phrases with this language learning app.
Features:
Integrated with 33 languages, Mondly is a great app to start your translation learning session at the earliest.
Bags multiple features that make translations much easier and hassle-free.
Intuitive user interface with bright, bold colors.
Available in both free and premium subscription types.
App Category: Education. Translation-based.
App Downloads: 100+ million.
Reviews/Ratings: 4.8 out of 5 stars (iOS), 4.6 out of 5 stars (Android)
Pros:
Easy to understand translations.
Flat learning curve.
Best for beginners.
Cons:
A Premium subscription is a bit costly.
(11) Speakly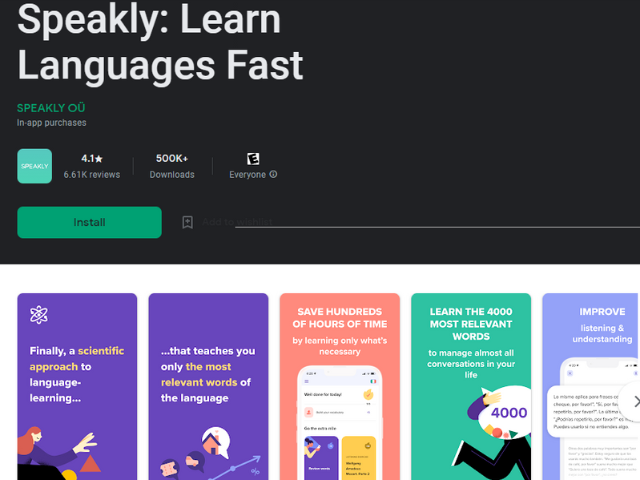 Packed with some of the best features you can find in a language learning app, Speakly is something you should try at least once to understand what this platform is all about. It not only helps you understand native languages but also trains you in speaking and writing.
It would help if you gave it a try to learn a new language from another country with a conversational approach for better training.
Features:
Built-in translator for understanding the conversations of native foreign language speakers.
Better knowledge about different cultures with guided tips.
Inbuilt corrector to help you understand the mistakes at once.
Set goals for your training, and get personalized study plans to learn a new language.
App Category: Education
App Downloads: 500k+
Reviews/Ratings: 4.6 out of 5 stars (iOS), 4.1 out of 5 stars (Android)
Pros:
Easy interface for beginners
Helps learn native languages
Affordable pricing plans
Cons:
Learning methods are a bit difficult
(12) LinguaLift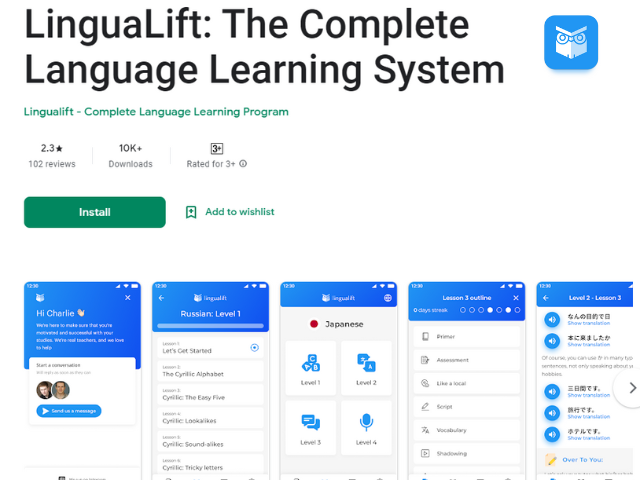 Known to be the best application for professional learners, LinguaLift will definitely help you master multiple languages like a pro. Here, you will get complete access to the tutors from whom you can learn the translations and other aspects of languages in depth. From grammar training to pronunciation, the tutors perform multiple functions to enhance the learning experience and increase your knowledge.
In fact, this application will give you direct insight into the cultural specifications of previous zones on the earth. If you are stuck at any point, just seek help from the tutors who know the ins and outs of every language or culture.
Features:
Comes with tutors who will help you understand various aspects of different languages from across the world
You will get easy access to the language learning secrets book, curated by all tutors, which includes culturally appropriate tidbits for the foreign language types.
A personalized road map for learning the languages is possible with this application
All courses are segregated into small portions of 15 minutes maximum to make learning easier
App Category: Education
App Downloads: 10k+
Reviews/Ratings: 2.3 out of 5 stars (Android)
Pros:
Online tutor for better guidance
The full course on grammar, fluency, and understanding
Access to multiple courses at once
Cons:
Not ideal for beginner learners
(13) HelloTalk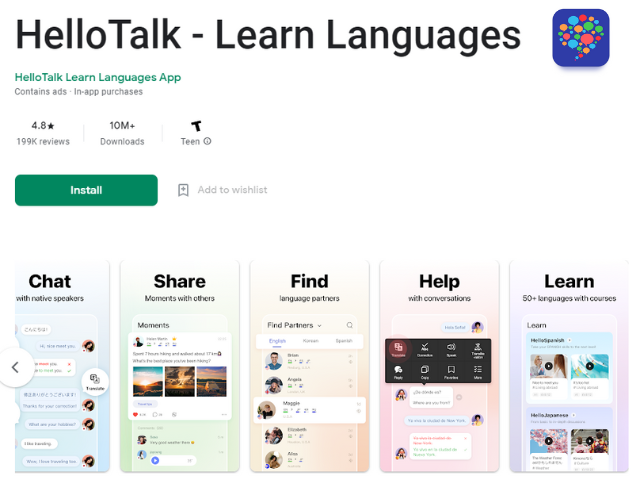 Just like the name sounds, this application is designed to help you speak and relieve stress from your mind that usually hinders you from having a fluent conversation in any language you know. Moreover, you can easily find a community of native speakers and start chatting with them, just like you do on WhatsApp.
With the explicit goal of learning a new language, it is not uncomfortable to converse with another person you haven't seen yet. In fact, you can easily correct the mistakes your friend is making through the built-in correction tool.
A built-in translator helps you easily understand several aspects of different languages that are not similar to your mother tongue. For example, use the text-to-voice option to understand how the pronunciations are made.
Features:
Exchange the doodles with HelloTalk when you don't have any language to learn
The translation feature assists you in learning various languages from across the world.
Offers an excellent opportunity to correct everything another person has made through conversation.
Easy access to the native-speaking community.
App Category: Education
App Downloads: 30+ million
Reviews/Ratings: 4.8 out of 5 stars (iOS), 4.7 out of 5 stars (Android)
Pros:
Easy to understand interface
A huge number of native speakers
Cons:
(14) MindSnacks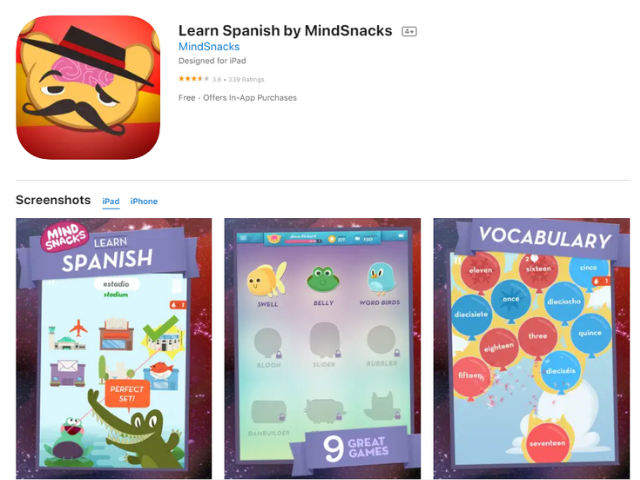 MindSnacks is one of those language learning apps that offers and excellent opportunity to learn about different languages and understand the global culture more deeply.
Featuring a gamified user interface and seven integrated languages, this is certainly one of the best apps through which you can learn several things about a language. In addition, 8 to 9 games are present to help you learn multiple aspects like grammar, vocabulary, and auditory skills.
Features:
Inbuilt analytical feature for monitoring the progress
Charming and appealing user interface design for keeping the interest of users preserved
Quests are automatically assigned to help you unravel secrets about multiple languages
Games come with a timer to help you keep on edge till you finish the level and get the secret about the language you want to learn
App Category: Education
App Downloads: 1000+
Reviews/Ratings: 3.6 out of 5 stars (iOS)
Available for: iOS
Pros:
Play multiple games
7 languages integrated
Easy to understand translations
Cons:
The subscription plan is a bit high
(15) TripLingo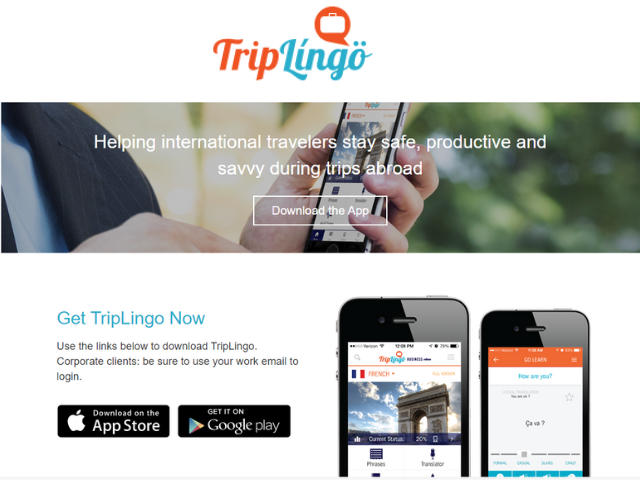 Meant for travelers, this application will help you easily learn some of the best aspects of different languages. From going on our dream holiday to a business trip around the world, you can make the best out of every travel experience by learning the language of the country or place you are visiting. With this application, you won't need extra practice or separate lessons to communicate like a native.
There will be no more feelings of loneliness or embarrassment in a foreign country, especially when you don't understand what the other people are saying in their native language. The inbuilt voice translator is designed to help you seek emergency help by translating your English statement to the desired language. You can have both free and paid versions accordingly.
Features:
The slang slider differentiates informal and offensive words from your context
Every spoken phrase is divided into safety and business zone
Allows you to connect with emergency services through the English language
App Category: Education
App Downloads: 1000+
Reviews/Ratings: 3.6 out of 5 stars (iOS)
Available for: iOS
Pros:
Helps speak the native language
Makes foreign trips easier
Access to an easy translator
Cons:
Not suitable for learning languages for education
(16) MosaLingua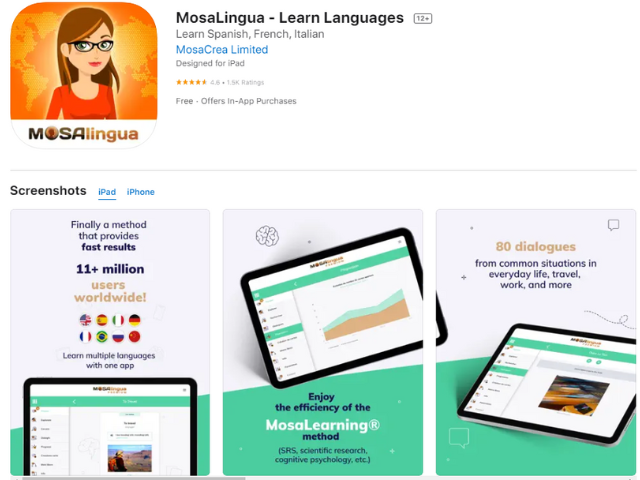 It is one of the best language learning apps with which you will be able to learn an entire language with ease. From Italian to Spanish, several options are already present within the application. Start from learning about simple phrases and then move to complex numbers.
Take a tour of wonderful graphics and bask in the beauty of different places. Then, spell the words, record them, and speak them out in different sentences to improve your vocabulary in a language you don't know or have very little knowledge about the same.
Features:
The free version offers multiple features to explore.
Native languages are integrated for better learning.
Helps tourists and travelers with foreign languages.
Learning can be customized with difficulty levels.
App Category: Education
App Downloads: 11+ million.
Reviews/Ratings: 4.6 out of 5 stars (iOS)
Available for: iOS
Pros:
No complicated words or sentences are used at the beginning
Easier to learn for beginners
Intuitive user interface
Cons:
Need subscription for advanced features
(17) HiNative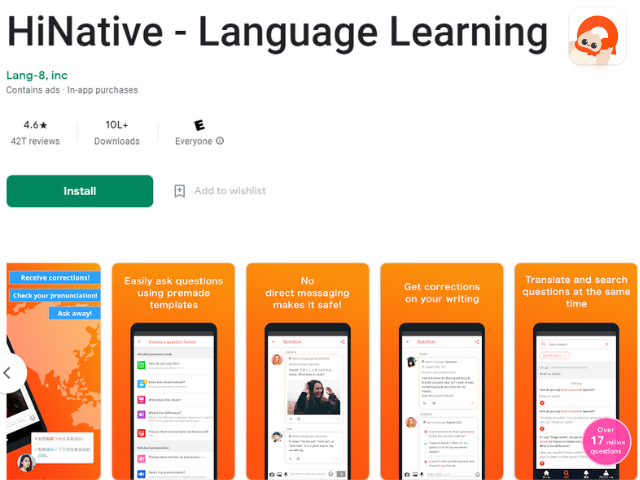 From the name itself, you can understand how wonderful this application is helping you learn more about native language and the accent. From Italian to German, several language options are there. So, you won't have any problem in sounding like a native while being in a foreign country or conversing with someone speaking differently than yours.
Features:
Works wonder for beginners
Offers free trial period to ensure you can use it and check if it matches your requirements
Widespread community of native speakers
App Category: Education
App Downloads:
Reviews/Ratings: 4.7 out of five stars (iOS), 4.4 out of 5 stars (Android)
Pros:
Access to multiple languages spoken worldwide
Helps you learn the mistakes
Converse with others easily
Cons:
Doesn't come with tutor support
(18) (How to) Pronounce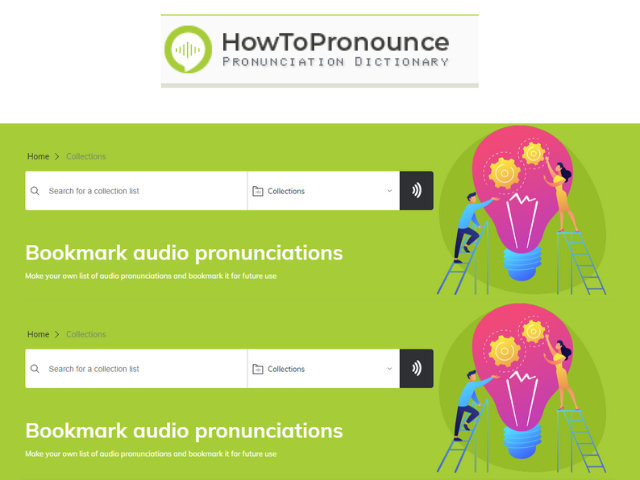 This language learning application can help you bring finesse in your pronunciation, ensuring you can speak out the words clearly and convey your thoughts and opinions with ease. It offers excellent features with which you can listen to the audio and learn more about how the native accent is and people speak the words in the concerned language. So, if you want to speak just like a native, this application is for you.
Features:
Pronunciations based on native accent
Helps identify your mistakes with ease
Provides extensive help on foreign language
Comes with an excellent community
App Category: Education
App Downloads:
Reviews/Ratings: 4.8 out of five stars (iOS)
Available for: iOS
Pros:
Multiple language options
Easy to navigate between app pages
Gamified way of learning
Cons:
Isn't suitable for beginners
(19) Lirica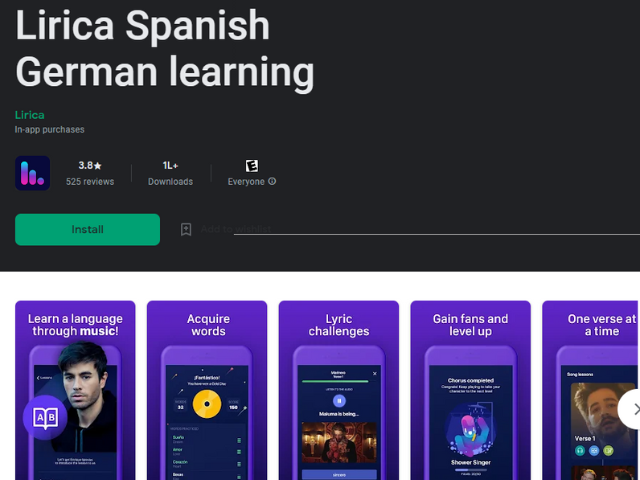 If you are interested to learn music and a language simultaneously, Lirica is made for you. This application comes with an interactive interface to ensure every person can understand what is present and how to navigate between multiple tabs. It mainly teaches German and Spanish but implements musical learning through Latin songs. From understanding the language to knowing more about the grammar and the errors you are committing, Lirica will help you improve your pronunciations and language easily.
Features:
Implements a musical way to teach different languages
Shows all details about the artist whose music you listen to
Comes with a one week free trial.
You can play and learn by arranging the lyrics
App Category: educational
App Downloads:
Reviews/Ratings: 4.8 out of five stars (iOS), 3.9 out of 5 stars (Android)
Pros:
Easier learning process
Best for beginners
Shows different facts about the artist
Cons:
Trial period is for one week only
Conclusion
Now that you are aware of the topmost language learning apps, you will aim to find the best-in-class app and get started with learning about different lingua spoken around the world. Do not wait for any professional translation company or a translator to understand what any other person is saying, especially when you are on a trip.
These language learning applications are packed with multiple features that will help you become a master of different languages, from Italian to Spanish, French, and so on.
FAQs