Over the last few years, we have seen a revolution in the development of the education industry. Digital transformation has enabled innovative ways of learning with the rise of technologies like artificial intelligence (AI). The AI-based mobile learning apps allow learners to study on the go, test their knowledge, get a certification, and improve knowledge and skills.
Today, one of such mobile apps is Elsa Speak that has made its prominence as one of the most used AI mobile apps on Google Play Store and App Store. The app is handy for people who want to learn English speaking and practical communication skills. While there are numerous English learning apps available today, Elsa Speak comes powered by AI technology. The intuitive features and user interface has attracted millions of learners.
In this article, we will discuss the Elsa Speak app, how to develop app like Elsa Speak, the required features, as well as the cost of development.
What is Elsa Speak?
Elsa Speak is a leading online language-learning app that helps students and professionals speak English quickly and pronounce words correctly. The app has been powered by AI for the smart learning experience. 
It has nearly 5 million downloads on Google Play Store, with a rating of 4.2 for its performance and user experience. Elsa Speak is among the top 5 most popular artificial intelligence apps. For learning, the app offers various speech audios in a native speaking accent in the form of a number of lessons. Native accent allows users to practice speaking the words and sentences easily and improve their skills.
Elsa Speak uses speech recognition technology to identify the voice of users. So, while practicing, the app listens to the user's voice and compares it with the speakers' accent. In case the users pronounce words wrong, it will quickly detect them and suggest the correct pronunciation.
The learning experience includes a wide range of ways, such as exciting lessons, songs, regular conversations, etc. Additionally, an online dictionary is integrated within the app that assists users in finding the meaning of words immediately.
Why develop apps like Elsa Speak?
The demand for learning English isn't new. It's always been here, but globalization has made it the need of the hour. Whether it is school, college, or workplace, speaking in English has become a necessity. It is the most spoken and studied language in the world.
In such a scenario, everybody is looking to learn English speaking or improve their existing skills. It is because English is not only about Grammar and structure, but also about reading, listening, writing, and speaking. Of these, speaking is the most required skill for effective and proper communication.
As a result, people are increasingly relying on education mobile apps to learn English. Elsa Speak is catering to millions of people today to help them learn English, create proper sentences, express their thoughts, and speak English like they are speaking their native language. 

Several studies reveal that demand for digital language learning apps is on the rise. According to ResearchAndMarkets, the online language learning market around the world will surpass the $20 billion mark by 2027, from $8.17 billion in 2019. This is a year-over-year growth of 12.1 during the forecast period.
If we talk about the overall online learning market, it is predicted to reach $325 billion by 2025, showing that more and more people are choosing an eLearning experience.
Required Features for AI Language Learning App
Sign up/in
This is an essential feature that allows new users to register on the app using the email address, phone number, and password, or simply using a Google Account. Once registered, the users can sign in with their credentials or Google Account. You can also collect information like name, gender, age, etc.
Pronunciation checker
Your app will be incomplete without this feature. Integrate a pronunciation checker that uses speech recognition and machine learning solutions to recognize the words spoken by the user. It will then check whether they have pronounced everything correctly and suggest things accordingly.

Community
By creating a community of your app users, you can allow them to share their questions with each other and answer to others. Users can also share their tips and discuss things. This will reduce the number of queries you receive through support while improving their learning experience.
Push notifications
Sometimes, the users install the app but use it rarely because of a lack of motivation for learning new things. You can send customized push notifications to catch their attention and encourage them to learn what they want to learn. You can also send short inspiring quotes that can bring them back to the app.
Appealing UI/UX
User interface (UI) and user experience (UX) play a significant role in keeping the users engaged and drive growth over time. There should be proper navigation so that users can find things quickly. UX must be easy and straightforward. The color combinations, vector elements, as well as other visual aspects in the mobile app, should be captivating.
Fun and gaming features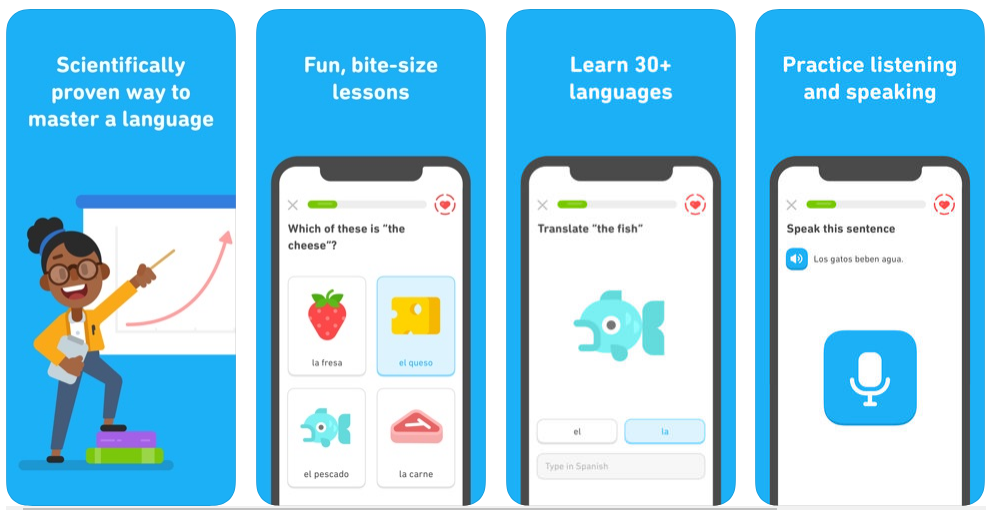 The days of traditional ways of learning are now gone. When people are learning on their own, you have to ensure that their experience doesn't become boring. For this purpose, you can integrate some gaming and fun features. For instance, you can set multiple levels and stages, host contests, give a badge when they complete some lessons, etc. This will make the app interesting and fun to use.
Practice
There should be features that allow users to practice English speaking. They can't improve without practice. You can offer audio clips that they can listen to learn pronunciation and practice on their own. Some features like daily reminders to practice and revision can also be added for faster learning.
Vocabulary
The addition of a vocabulary feature will help assist users in learning new words regularly. This is an integral part of a language learning app. They will be able to learn new words every day and use them while speaking.
Competition
This feature will make the app more engaging. Once a week or month, you can conduct some contests or competitions among the users to test how much they have learned. Competitive spirit encourages users to practice more and win the contest. This way, they will use the app more and learn faster.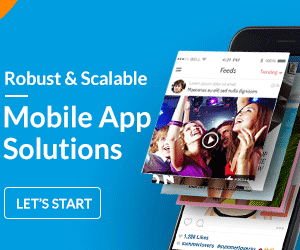 Personal tutor
There are times when a personal tutor can be the most helpful for the user. AI chatbot app is excellent, but real users can be added as a premium feature.
Feedback
It is yet another essential feature to find what users think about the app or if they are facing any issues. You can collect feedback from users to see their views related to the learning experience, courses, etc. If there are any issues, you can fix them and improve the app.
Goals
Goal setting is a valuable feature using which the learners can set goals for themselves for a defined time. The goals can be set on a daily, weekly, or monthly basis. The aim of goals is to keep users on track and take benefits of the app.
Voice search
Enabled by AI, the voice search interface makes the search experience effortless for the users. If they want to search for something, they can do so using voice commands. There will be no need to type anything.
Dictionary
Like Elsa Speak, you also have to integrate a dictionary feature in the app. The dictionary will help users find the meaning of the words they pronounce during practice or learning. They can also see the forms of verbs and remember them.
Online tests
Tests are a great way to check the performance level and analyze to what extent they have learnt. The scores can be saved every time and compared when a new test is taken.
Performance tracking
There should be an analytics window where users can see their activities, test scores, time spent on learning, and other key metrics. This will make everything measurable for them.
Multilingual option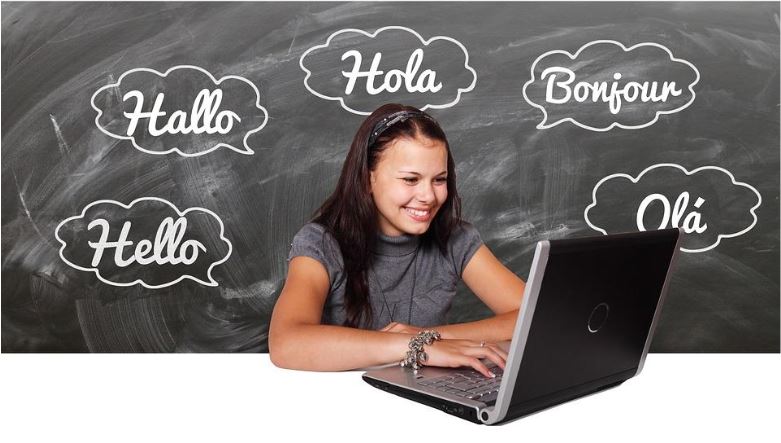 When users have the option to learn in the language of their choice, they can learn quickly and faster. You can also allow them to translate the lessons to their native language.
Admin dashboard
An intuitive dashboard for the administrator at the backend will help in checking all the app activities from a single point. From here, your team can access new users, payments made by the learners, the ability to manage subscribers, manage push notifications, check analytics, etc.
Social sharing
When you have the options for users to share some content on social media platforms like Facebook or Twitter, the learners can post the relevant lessons on their timelines. This will be great for your marketing and may bring in new users.
Also Read: Use of AI & ML in Everyday Life Brings Future to the Present
How to develop mobile app like Elsa Speak
Discuss the idea and project
Before proceeding with the app development, discuss AI and ML app ideas and projects with the experts in this field. You will get to understand the things AI can do for you, what else you can do for a better app, from where to get your app developed, etc.
Moreover, they can also suggest the best options for AI-based mobile app development at a cost-effective price.
Finalize features and design
You may not want to integrate all the features mentioned in this article. While these features will make your app an exceptional one, you can still give a second thought to the optional features, like social sharing. Create a list of the features you have finalized.
Then move to the UI/UX design. Think about branding colors, aesthetic design, advanced features, logo, and navigation. A great UI/UX design will increase your chances of retaining the users and making the users of other apps switch to yours. People want their experience to be user-friendly and straightforward.
Hire app development company or freelancers
Once you have discussed the idea and finalized the features and UI/UX, it is time to find the best app development company for AI mobile apps. While there are numerous companies available in the market, you have to opt for a reliable and professional firm with expertise in developing such apps and Python development. The right choice will bring the best outcome for you and meet your expectations.
Freelance developers are also available nowadays, but this is a big project, so you better rely on a professional development company. Experienced companies have a team of broad minds who have more knowledge of AI, iOS, and Android mobile app development, and in-house teams of testers and UI/UX designers. You won't need to hire multiple entities for a single project.
Also Read: E-Learning Application Development Cost and Features
App testing
App testing brings you to the final stage of getting your app developed. It is one of the most critical steps in the process to detect the bugs and issues that remain in the development process. The testing teams will find and fix these issues so that the app performance is not hampered. You can't release the app before testing because it will impact the user experience when they come across glitches and issues.

Cost of developing similar app like Elsa Speak
The total cost of developing a language learning app like Elsa Speak depends on several factors, such as the complexity of the platform, operating systems chosen, integrated features, UI/UX designer, quality of the app development company, data sets, etc.
For example, if you are developing the app for only Android, the cost will be lower. But if you are creating it for both iOS and Android, the cost will increase as it will involve both development and testing methods.
The cost of developing an app like Elsa Speak will range between $10,000 to $40,000.
Wrapping up:
If you have been thinking about creating a language learning app like Elsa, then it is high time to implement your idea. AI apps are in demand today, which will only grow over the years. With the information mentioned above, you get a better idea of everything. Take the decision to make an impact. Get connected with us to consult about web and app development services.
For any doubts or queries related to AI mobile apps, you can get in touch with us.