Before we talk about the Robinhood Business Model, lets understand the need for investment. With time, people have become aware of investing their hard-earned money at the right place as they have been introduced with the benefits of it. There are numerous stock-trending and investing mobile applications providing a lot of ways to capitalize your money in all the possible ways. Even, businesses are looking at this industry to gain profit and maximize their revenue via business expansion.
It is not possible to not talk about the Robinhood mobile app when it comes to investing your money in the right place. Robinhood is an app that holds the trust of a large number of users and allows them to trade and deal with stocks & exchanges. It has become a dominant player in the market of stock trade and investment. Developing a stock trading app like Robinhood is indeed a preferable business choice for entrepreneurs who are looking for a fresh idea to invest in the marketplace and expand their business.
But before investing, they must learn about the Robinhood business model and how does it work? This article will also provide an understanding of the revenue model of the Robinhood app. Without any further ado, let's move forward-
Introduction to Robinhood App
Robinhood app was launched in 2013 and started providing services in 2015, March but at that time, there were only a few people who believed that it would get success or will make any impact hardly. But today, with such a big valuation of about $11.2 billion, this firm has recently fundraised over $200 million. It has largely interrupted the entire fintech market.
In simple words, Robinhood is like a broker-dealer app regulated by FINRA and is registered with the US SEC. This app allows its users to add their saving accounts with the cash management feature. It has helped the firm a lot to upsurge its market share knowingly. It has been also beneficial to transfigure the space of online trading.
In the rouse of the financial crisis 2008, Robinhood was considered due to the longing to democratize the financial system of America and interrupt the market of online investing by offering a platform for youngsters of world-weary investors to trade commission-free. This app was named after a famous fictional character that used to help poor people by robbing the rich ones. Hence, this app is designed to provide people amazing & low-priced access to trading that would help them to get friendly with the market earlier.

Robinhood-related Terms:
Certain terms are somewhere relevant to the Robinhood stock trading app. Get to know about them below-
Funds & Stocks: These are the ways through which users can invest in ETFs (bundle of investments) or to individual firms.
Robinhood Options: It facilitates users with commission-fee opportunities trading without any per-contract fees. It helps users in option management and implements effective strategies such as straddles, condors, and strangles.
Cash Management: Provides 0.30% APY (annual percentage yield) relied on uninvested cash in user's brokerage account. Users don't need to have any minimum amount in their account, paying foreign transaction fees or pay transfer fees.
Robinhood Crypto: It enables app users to purchase and sell different cryptocurrencies such as Ethereum, Bitcoin, Dogecoin without any commission.
Robinhood Gold: It is a paid subscription package by Robinhood that starts at $5/month. With this, users get access to trade on margin with additional buying power & less waiting time to get deposited funds, professional research reports, and create $5K to $50K instant deposits.
How does Robinhood Works?
Before capitalizing in any sector, it would be great if you gain knowledge about its working procedure. The same goes for the investment app industry. Let's jump into the details of the working process of the Robinhood app-
Robinhood is known as a famous online platform that permits stock traders and investors to deal online without paying any fees. It has worked as a platform for users where they can purchase or sell their stocks according to their investment strategy. People must sign up for the app to avail all kinds of benefits. It doesn't take much time and users need to submit their basic detail to register the app. After getting registered, users don't need to pay anything to open an account on the app.
The app will have a review process before giving access to different features to the users. However, the mobile app is the first preference for users to make the transactions but Robinhood also makes this happen through the web. Users have both the options to choose from to use the services comprising the same features. Being an online financial service provider app, it allows users to use their money while transactions and deposits are prompt for user convenience.
What Is Robinhood Business Model?
Robinhood business model is way similar to other stock trading apps when it comes to services. It deals with online financial and brokerage services and allows app users to purchase and sell their online stocks without paying any fees. When Robinhood introduced the world with its business model, it brought a lot of competition from different platforms. It was able to compete with those rivals due to the broad range of services & products offered by the firm.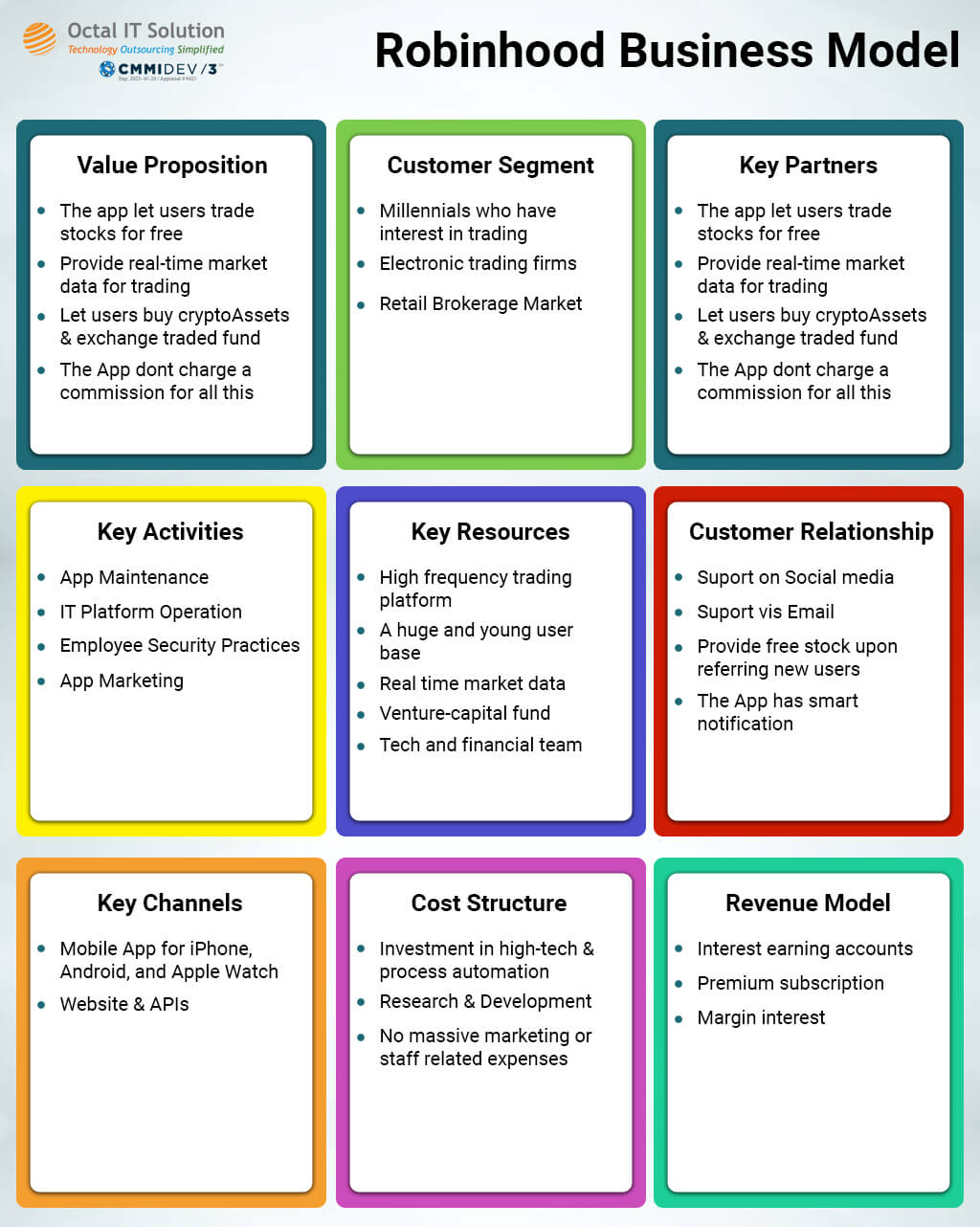 The business model of Robinhood allows the users to do everything via the mobile app, right from the initial registration to stock purchasing; all can be done with just a few clicks. By providing a little basic information, users can experience an easy and simple app process for financial services.
Robinhood is known as the best stock trading app in the market at present. Even, it comprises features that spin around the stocks user's tracking, searching the similar, checking order status, trading, etc. The app has paid and free version. In the free version, users are allowed to access stocks, Bitcoin, and ETFs but the paid one allows them to invest in and out of mutual funds.
Feature of Robinhood App Business Model
The main purpose behind developing the Robinhood app was to alleviate the gap between individuals with no experience and stockbrokers in the investment market. This app mainly targets millennials who show an interest in stock trading.
While talking about the value proposition of the Robinhood app, it includes stock purchasing and commission-free selling. Instant free stock trading can be done by the users after registering into the app. Users can make a lot of money through the app by using their uninvested cash and modest APY.
Dashboard of the Robinhood app offers all the necessary data needed by an investor before putting their money on the stack. This data includes real-time news and market data, balance, order status, etc.
Trading tools of the Robinhood app provide access to users of the needed data and it sends alerts & notifications regarding upcoming events for portfolio management efficiently.
The business model helps users to capitalize their money in funds, stocks, and other options. Even, it lets the users purchase and sell the cryptocurrencies such as Dogecoin (DOGE), Ethereum (ETH), and Bitcoin (BTC) along with the Robinhood crypto.
The Robinhood business model has applied a great strategy to handle all the expenses that are helping in its growth. It manages the cost with the help of technology. The company doesn't have many employees and doesn't believe in customer support or marketing.
Robinhood applies different monetizing ways that are entirely ethical and logical. It doesn't apply the monetization way in which they have to sell the user's data to make a profit.
By looking at this business model of the Robinhood app, we can say that Robinhood is best among all for money capitalization. It comprises everything needed such as trading tools, different services, and products for trading & cash management efficiently, finance-related news, etc.
Why You Should Invest In Robinhood Business Model?
The triumph of the Robinhood app to around $11 billion. It has been a very tough journey with lots of ups and downs. Apart from the anarchy aroused during the pandemic. This stock trading app managed anyhow to rise over $200 million that time. Have a glance at the below points to know about the market statistics. It also shows the revenue growth of the Robinhood app in 2021:-
Stats for Robinhood Business Model
There was a 35% decrease versus $565 million at the time of the prior quarter. Still, Robinhood succeeded to have the revenue of $365million in Q3 2021. Hence, the revenue hiked 35% that was from $270 million in Q3 2020.
The ARPU (average revenue per user) diminished 36% to $365 on September 30, 2021. In comparison to the $102 in Q3 2020.
In August 2020, the valuation of this platform has reached $11.2 billion after a $200 million funding. It was higher by around one-third from the previous funds.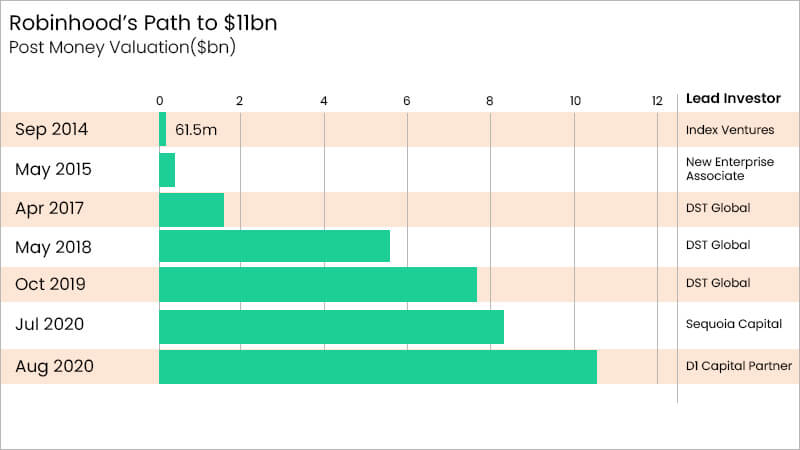 Robinhood unleashed in February 2021 that it has gained 6 million new users in the first two months on Robinhood crypto.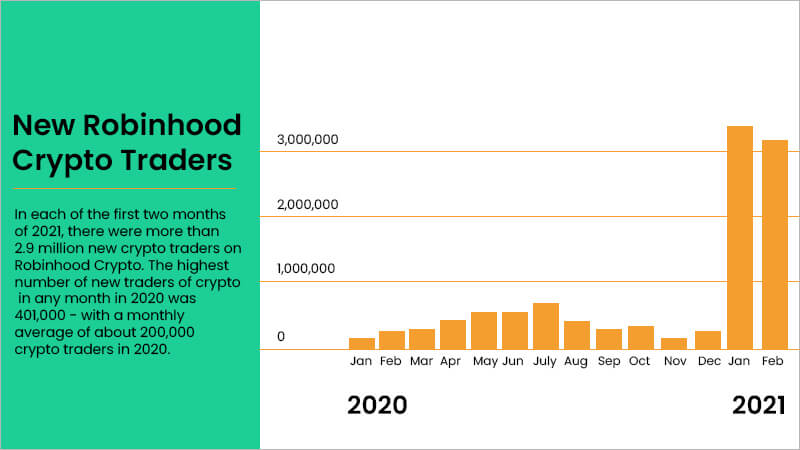 Robinhood is a stock trading and investment app. It managed to be on the first rank on the app store first time. It has downloaded over 120k in a single day along with a record of over 2.6 million active users on the daily basis.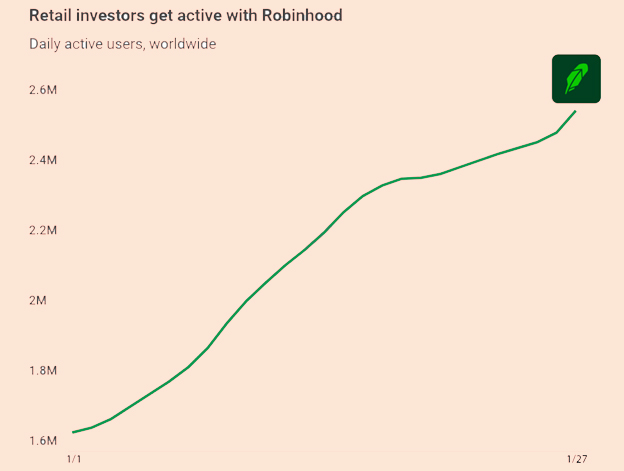 The number of Robinhood accounts has reached around 13 million in May 2020 that was higher than 10 million in the year 2019.
The Monetization Model: How Robinhood Business Makes Money?
We have got enough knowledge about the freemium business model of the Robinhood app that also comprises different revenue sources or monetization ways. However, the Robinhood app doesn't charge a single penny from the users to make any commission or place the trades. The business model is dependent on the approach of 'payment for order flow'. It is a fee applied by Robinhood to fulfill the orders. They use third-party companies known as market-makers. These are high-frequency trading organizations that comprise a broad inventory of shares that help as a middleman between the stock market and investing applications. These companies pay to public-facing broker platforms as they provide them access to trade placement. In the premium service called Robinhood Gold that charges $5 monthly. It provides rights to users to a $1000 margin to trade.
How Does the Process 'Payment for Order Flow' Works?
In this process, each time an app user places his order, the app sends this order to one market-maker partner who pays Robinhood due to the right to order execution. Robinhood doesn't take out off a huge amount through it, but it does 4.3 million trades every day and has 13 million users. It has an $11 billion valuation as the cash adds up in August.
When it comes to Robinhood, it makes more than half of its revenue with the help of firms, Citadel Securities and Two Sigma securities. In this whole industry, Robinhood charges the highest fees for order flow rates as it takes 17 cents for 100 shares of equity trades, and 58 cents for options, outperforming the rivals like Schwab and Charles that takes home 37 cents and 11 cents for 100 shares for the similar types, respectively. Payment for order flow works as a backbone for the industry as it comes in the first place when it is about free investment apps.
Some of the Different Money-Making Ways Applied by Robinhood in its Business Model
Let's navigate to the expounded analysis of the Robinhood pricing model to see what are the ways through which Robinhood makes money even when it provides commission-free trading all around on its platform-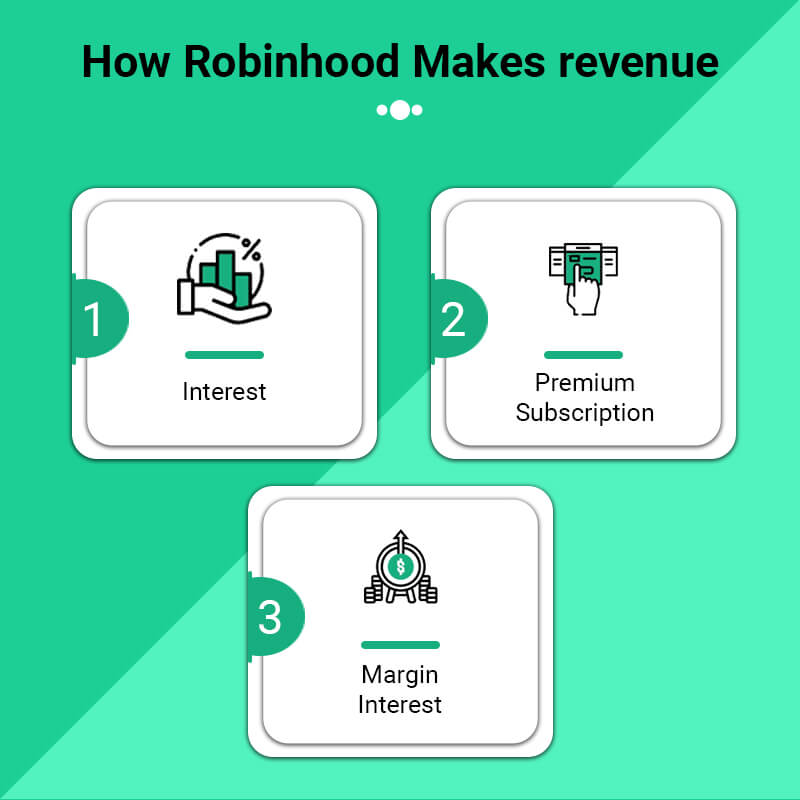 Revenue from Interest
Robinhood app charges interest over the uninvested cash of users. Interest bearing accounts hold this money. It is in outer the sweep services. It is one of the primary revenue sources of stock trading apps.
For instance, if a user has $1000 in the account and currently there is an applied interest rate of 3%. Annually the app gets $30 in return. Although it is a small account, if we combined millions of accounts with it, it makes a difference for sure. It will produce a lot of money with the rise of the number of app accounts and interest rates.
Margin Interest
It is one of the most used ways of the Robinhood revenue model. In this, the app lets you borrow the cash to enhance the number of impending earnings after the stock rises.
For instance, there is more value of 10% interest rate of $2000 than 10% of $1000. Hence, the application lets you lend money to enhance your earning on a specific stock. For this, users need to have a minimum of $2000 in the account to purchase on margin. Be careful while doing it as you can lose more than invested in this risky method. They have to pay back the value they lent.
Premium Subscription
Robinhood gold is such type of monetization. Its major part of revenue comes from it. It is particularly for practiced investors who have a large amount to invest in the stock market. Users will get additional purchasing power and protracted trading hours by having the membership plan. It also allows users to lend the money to purchase ETFs and stocks. With this, users don't have to wait for long to utilize the money to trade via using this plan.

High-frequency Trading
Robinhood has received doubts from people towards its dependency on the app revenue. The high-frequency trading and a strategy known as payment for order flow. It earns half of its revenue from these two ways. The Robinhood app sends your cash orders to market makers. Permitting you to get improved execution quality and best prices. Further, the received revenue from rebates facilitates robinhood to bear the costs of business operations. And permits users for commission-free trading.
Orders are not executed on the public exchange in this type. Stock trading apps like Robinhood make money through trade processes including behind-the-scenes groups that have the trade's other end.
Rebates
Robinhood makes money out of it, however, it provides minimal payout. As per the co-CEO and co-founder Vlad Tenev, Robinhood earns around ~$0.00026 in rebates. It refers to that if you purchase a stock with the value of $100. Then the app makes 2.6 cents from the market maker.
Final Verdict
While it is about online stock trading & investment, shareholders prefer to use a reliable application like Robinhood. It is a brokerage app providing securities. SEC (Securities & exchange commission) control it. Additionally, Robinhood also has an association with the FINRA (financial industry regulatory authority). FINRA is a self-regulated union that depends upon the voluntary contribution from firms like Robinhood.
In the above article, we have mentioned every detail about the Robinhood business model and how Robinhood makes money? It will help a lot to those businesses who want to expand their venture by stepping into the account & finance industry. Having Robinhood mobile app development services is the perfect pick for businesses that want to earn high revenue. Keep the customer base and profit margin high by implementing Robinhood business and revenue model with effective strategies.