Mobile apps make it possible to reach a wide audience and today it is no exception for religious aspects as well. Thus, it didn't really come as a surprise, when we heard of a mobile app for churches. Yes, it is true. Churches and other religious organizations are befriending technology, endeavoring to use this means to enhance interaction with the congregation. This certainly opens a pool of opportunities for churches. First things first, the creation of a church app can be a tricky affair, but it can be greatly beneficial too. When you decide to create a church app for your business make sure you hire the right app development team that can help you through. If you are also looking to know How to develop a Church App? then keep reading this blog. In this article, we will discuss the Church Mobile App Development process with cost and key features.
All that's needed is to take a few things into account, such as specific features that must be added, and once these certain aspects are taken care of, you really can present a church app, that's not just great to use but will also receive accolades from the users. Custom church app developers are already using these apps to ensure improved communication with the congregation & many other purposes. Few choose to tape sermons; others prefer broadcasting them to remote locations via their platform. All in all, by having a digital presence, churches are able to offer and give more to their people and successfully integrate religion into modern life that is full of technology. In this article, we will suggest ways in which you can develop a unique church app. So, before our church management app development team starts with how to develop a church app let's begin this ride by first exploring why ministries require church apps.
How Ministries Can Benefit Through Church Apps?
Integrating church mobile app development has many benefits, like to begin with it allows the church owners to stay connected with their audience. Besides, it's great to effectively manage upcoming events and celebrations, like all that's needed, is to send alerts or push notifications to update the people regarding any crisis or important situation. Another great benefit is streaming video features, as they add value to the church app development when in certain situations people are unable to attend church, but really want to participate in some way. In fact, as per the research, 54% of practicing Christian Millennials tend to regularly watch these religious videos while 70% even read sacred Scripture from a mobile phone or a laptop.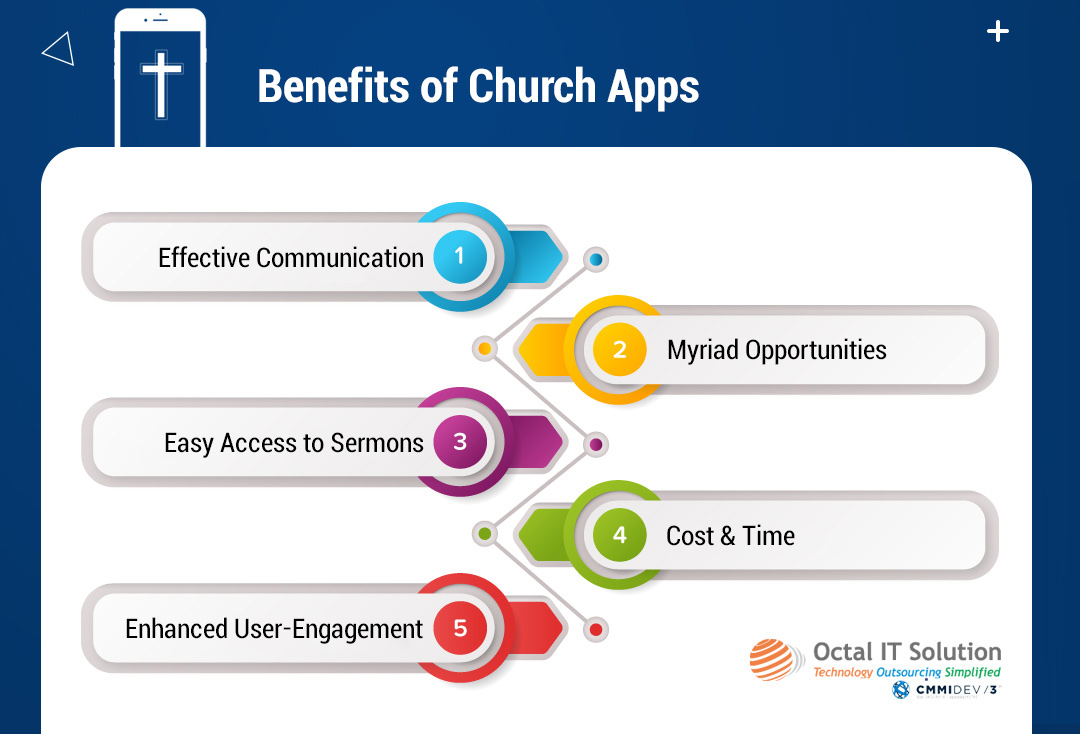 Here, we have provided a few reasons why build church apps are a hit among people and why you should have a mobile app for your church:
Effective and seamless Communication
Church apps are a great way to make communication easier by helping users stay up-to-date regarding the latest occurring within the community. Besides, a mobile app also proves handy to directly influence a new audience and to increase the visibility of your church locally and globally.
Offers Myriad Opportunities
It is not easy to manage donations, noting the fact that churches constantly receive donations. In fact, it is believed that 40% of Christians go to churches once a month. By having top church app developers for your church, you won't be required to worry about payment-related hassles. As with a mobile app, payment processes will be a lot simpler, secure & comfortable, and app users will be able to receive payments from just anyone securely & instantly, sans any hassle.
Easy Access to Sermons
Your app users will certainly love the fact that by installing a church app they will have 24/7 access to Sermons, Holy Bible, & videos, at just a touch of their finger. How cool is that? All that is possible with a church mobile app. So, go ahead and spread the holy message of God to your people, simply via an English version of the Bible to daily messages & sermons.
Cost & Time
A lot of time churches spend a huge sum of money on getting newsletters printing and emails in order to inform people regarding the latest causes/events, which eventually go into the trash bin of course. Thus, by having a church management app development team, this scenario will change forever, enabling the church to save time & money as you can draft & send alerts or messages via push notifications about just anything in literally no time at all.
Checkout More: How to Develop an App Like Instagram

Enhanced User-Engagement
Through the best church app developers, it gets easier to inform users in case of an important event or special prayer session through push notifications, which are also a great means to keep the users engaged. Users can also be encouraged to take part in special causes with push notifications.
Other than the above, there are several other benefits, like:
It helps you connect with your community while being on the go.
It enables the congregants to view & share the latest updates on social media platforms.
It allows you to send texts, pictures, or videos to your app audience with just a single tap.
Prayer requests can be submitted to your congregants.
Offers clear-cut directions to the congregants of your church with a GPS feature.
Tracks user behavior when you build a church app
Enables the church to maintain a digital record of all the members.
Feedback can also be received via surveys, polls, or RSVPs.
These are just a few advantages that can help you grow your business. If you want to enjoy the benefits of the church mobile applications it would help you upscale your business to the best.
Now, that you have the exact idea of how your church can benefit from the mobile apps, next we will explore the types of church mobile app solutions.
What Types of Church Mobile Apps Can Be Developed?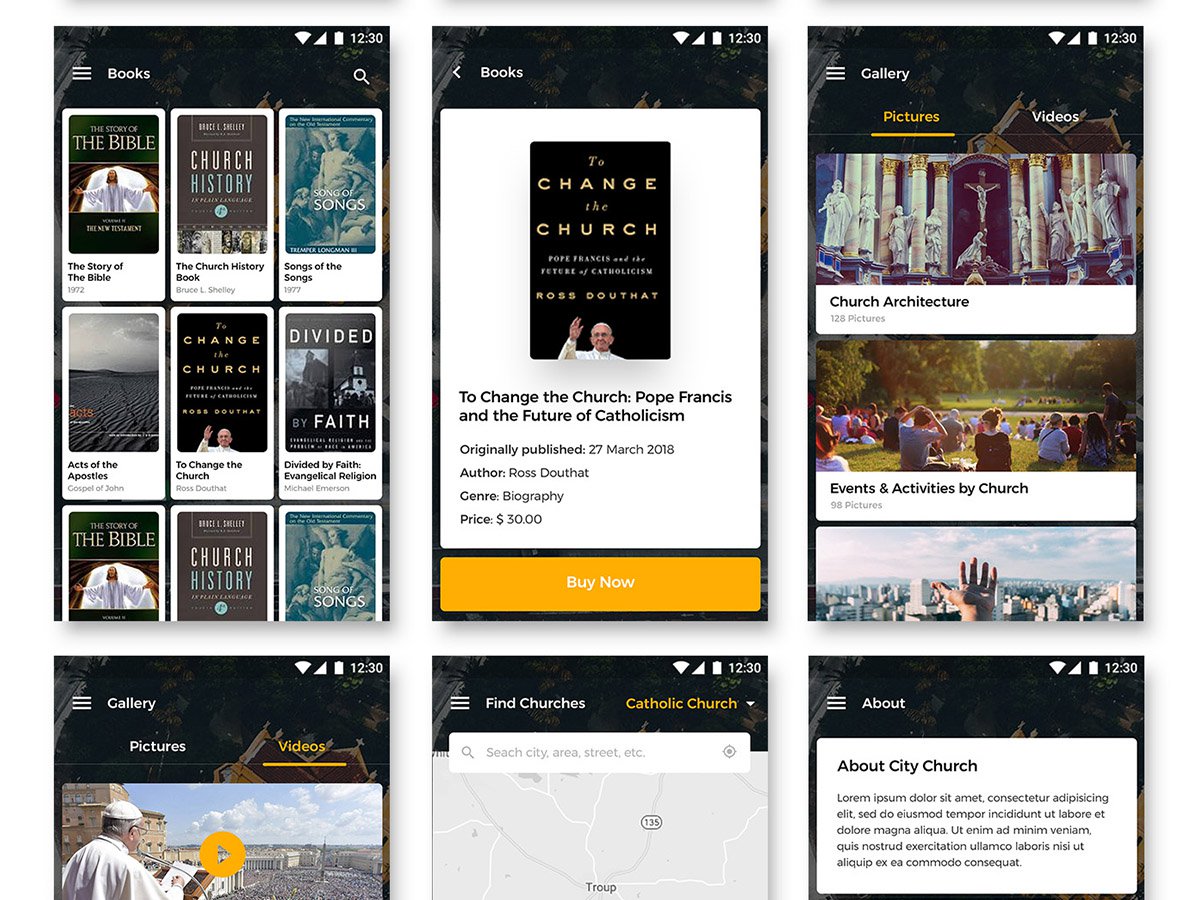 Like any other application, church mobile apps have various types depending on their utility. Over the years, there have been a lot of growth opportunities that such apps have witnessed. We share here the basic types of church apps that are available in the market. It is decided as per its utility and significance.
Basically, there are three types of prominent church mobile apps:
For the church members
For the spiritual leaders
For the Clerics
Mobile Apps for the Church Members
By getting a church mobile app development team for the church, it will be easier to spread God's Book and God's messages among the church members. Instead of translating on TV channels, you can instead use Vimeo or YouTube as a medium to translate to the members. Church members will be able to register for events, propose podcasts, record the preaching as well, and donate via an app. In the case of big churches, they can offer a campus map as well as a map for events taking place in different rooms/classes of the church. Meanwhile, a church mobile app can also offer one single feature, like a report church's news, or allow reading the Gospel & other religious texts.
Related Blog: 12 Strategies on How to Reduce Mobile App Development Cost
Mobile Apps for the Spiritual Leaders
These apps are focused on managing the groups of parishioners in the church. The app can track attendance and allow spiritual leaders to make notes regarding participants of various groups. Authorization is a useful means to protect the church app as that way no one will be able to access the personal data of the parishioners.
Mobile Applications for the Clerics
When you look for how to develop a church app for clerics, this is exactly what you get.
These are the apps that allow the church leaders & clerics to converse with one another in a productive manner and also have sole access to the church database, which can then be protected by a password. For instance, in case a leader enters attendance data along with a few notes, they will be updated & synchronized automatically, so that clerics are able to see changes via their personal profiles. This also gives the clerics a chance to make attendance reports, evaluate the level of the parishioners' participation in various events, etc.
These are the three types of mobile applications that can help you build a church mobile application that reflects great ROI. Each of these has its own significance in the field and can easily be worked on. We further share here some interesting features that you need to include in your church app that can earn you great results.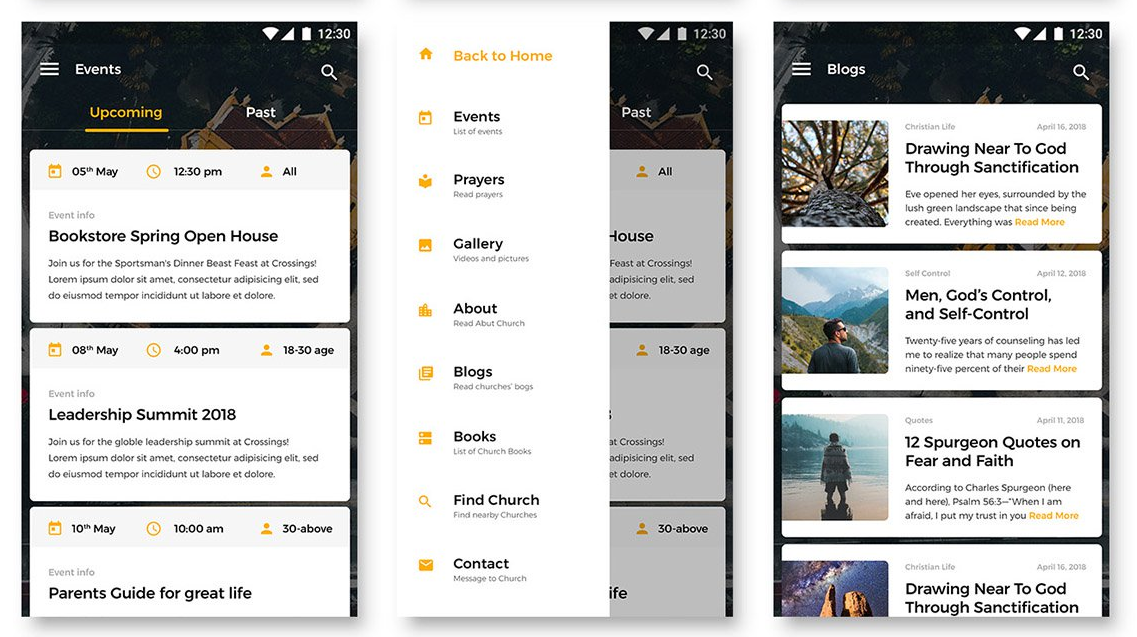 Features to be Included in Church Software Development Process
The church management app development is one of the hottest trends in today's market with mobile app developers creating it both for iOS and Android app development; such has been its popularity. If you are one of the people looking to develop a church app or a company trying to go with the flow you need to know the basics behind creating the app. These features will prove vital in the future journey of app creation and will help you in assembling a masterpiece.
If the total cost that goes into mobile app development can be known in advance then it becomes quite easy to go about your work. Also, these features will let you & your team get to know about the process very quickly which in turn will speed up your app development task.
When talking about how to develop a church app, it is important that you discuss the details of the work easily. We worked on the feature list on three different panels. Let's discuss some features that can we include in the Church Software Development process.
User App Panel: Your Customer Uses the Panel
Church Web Panel: The Main Panel Where the Main Services of the Application Are Listed
Admin Panel: Another Important Aspect that Would Take Care of the Backend Features of the Application
Let us consider about each aspect of the church application one at a time.
User App Features:

Login/Register Discover Nearby churches with the help of GPS Church listing when the user attempts

search based on searched data & matched church is listed here
Sermons & notes are uploaded on an app for users to listen, watch, download and save
Audio & video of sermons which users can listen to and watch and the app supports video recording as well
Church calendar & reminder so that users stay updated of latest church activity and they can create their own calendar as well
Community feature is crucial so that users can join & share info, ask queries & answer questions
Push notification reminds users of upcoming activities, events & sermons
The chat feature can be used by the user to chat with church owner
Donations can be made via app to donate the amount to any specific church
The donation method can be two: recurring & non-recurring. Users can set time i.e. weekly/monthly/quarterly.
Online payment for charity donation by user
Transaction history to enable user vie entire transaction with date and date range. Also the transactions can be exported
Language translation to enable user to translate the language of app and view entire content in chosen language
Attend surveys where user can view surveys of church. The one selected by him to participate can be shared with that respective church
Read bible directly from app via a web view of bible
Attend surveys & provide feedback via app
Earn Rewards based on attendance
Book appointment for personal counselling
Manage profile with account info, reset password, transactions & church list
Notifications to keep the users notified through email & push notifications.

Church App & Web Panel Features:

Registration by entering details
Login through username & password
Manage schedules & event calendar that is visible to all users connected with the church
Manage sermons & notes. Church owners can also allow users to download & listen sermon's all series & episodes that are listed with a number for ease
Support audio/video as the app gives access to upload audio/video format of sermons
Chat to communicate with users
Manage donations for a church that will be saved with user name & amount
Track earnings for a specific time or data range
Manage Surveys to take user feedback for any event, sermons or any activity. Surveys can be analyzed here
Appointment can be made from here for private discussion and meetings
Reward-based on attendance of users so to motivate them to attend.
Pools & surveys to get user response to an activity. Church runs surveys to get user feedback
Events with RSVP for times when church announces an events so users knows about counts of the attendees via RSVP
Social Involvement so church has access to broadcast their events on social media, like YouTube & Facebook
Live Streaming so to allow church owners to provide the sermons Live so that users can have an access
Manage Profile with account information & reset password
Settings can be managed by church owners in regard of notification to be sent to users and church information and donations.
Admin Features
Login-
Dashboards are available to the admin to view overall statistics of app performance, like total no. of the church, sermons, total users & total donations, which are then filtered on the basis of data and date range
Manage Users & Church-
Allow admin to manage church and users, like the user list can be viewed and filtered by, & Register on data & date range. Admin can also view active users.
Manage Profile-
Here the admin can choose to add/delete/edit users if any doubtful or suspicious activities are detected
CMS (content management system)-
This is for the admin to manage app content, both in text as well as Image form. It majorly controls the content that is to be shared with the audience.
These are some really common and basic features that you can work on when talking about the church app development services from Octal IT Solution. Our experts have been providing these services for over a couple of decades and can bring into the picture interesting and engaging services.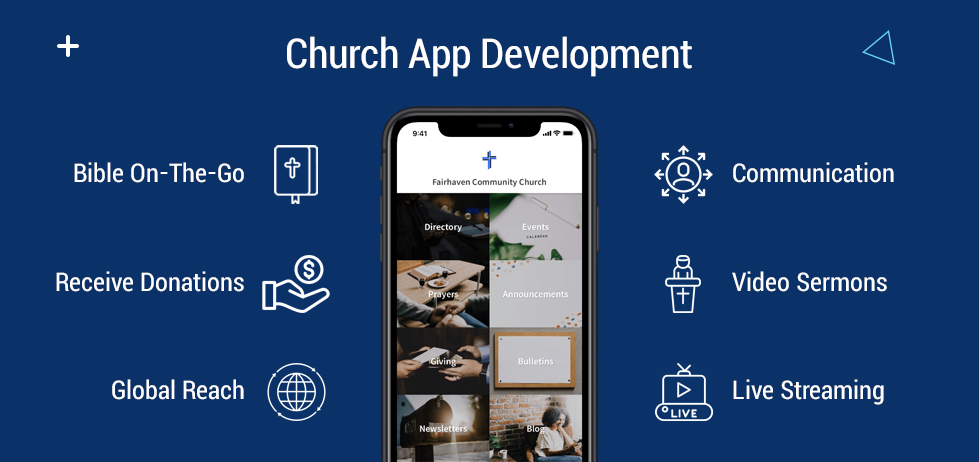 Other than these basic features, here are a few advanced features to include in your church app development that you can work on. We hold expertise in providing customized solutions that can help you build your organization a strong customer base.
Advance Features
The advanced features that we talk about here can easily be integrated into your business easily.
Cloud Storage Integration-
This feature helps the system store user data for the purpose of safety and privacy. Cloud computing solution is also required for live streaming.
Reporting & Analytics-
In all apps nowadays real-time reporting is crucial and so is with Church apps, where the admin can get updates and analyses overall app summary such as posted videos, registered users, audio with a time range, surveys & donations.
GPS Integration –
This feature is greatly useful as it can identify the current location of the user and accordingly display nearby churches on the mobile screen.
Live Streaming-
Again a greatly useful feature as it allows users to go live & broadcast the sermons in real-time. For this purpose, Live streaming API can be integrated into live streaming.
Third-party API integration-
To ensure bible reading can be viewed by the app users in real-time, third-party website API can be integrated.
Read More: Top 10 Laravel Development Companies in 2024
Collecting donations-
Collecting donations effectively is the prime task for any non-commercial organization. People at times want to make a good gesture by donating to the organization but they forget the hard cash at home, so helping them out in making the donations can turn out to be a great notion. A lot of ready-made solutions are out there that can be easily integrated with apps on Android or iOS. Creating customized solutions is not necessary for that.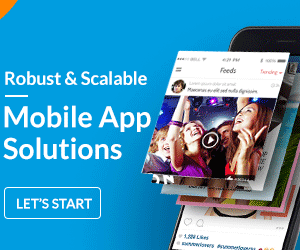 Mobile Bible Carrying around a heavy and large book with you all the time cannot be easy and it certainly cannot be deemed as smart. But bible reading is a vital part of spiritual life that certainly can't be brushed aside. But if people can read them from their phone devices then it will for sure become a hit overnight. And if one can have the leisure to make notes, then you can create play a masterstroke. The church app development cost won't be changing too much with this innovation but the amount of value it is going to add to the app is unparalleled.
Digital Bulletins & Integrated Blog Posts –
A bulletin such as The Sunday Bulletin has been an important part of any religious community for quite a while now. Not only for this generation but this tradition is here to stay for many upcoming generations. If you put the option of bulletin digital into the custom app then it will also help the church save money as it will have to print fewer copies than earlier. With push notifications, the chances of your congregation missing out will decrease significantly. Different forms of blog posts can also share useful thoughts and ideas. Like, Parishioners can be allowed by the church to write articles by themselves. This can turn out to be fruitful in getting good quality at once and also unearthing some fresh talent.
Notifications-
Notifications are known to provide all the basic information needed to be given to the congregation. These can be provided in the form of push notifications and email subscriptions. According to a survey, notifications were voted as the most important feature of the church mobile app by 75% of the voters with news voted by 89% of the respondents. The benefit of notifications is not just that they keep you updated with upcoming events but also that they remind you about spiritual dates important to you or even prayer time. People often miss out on spiritual time in their busy life so if something reminds them to have a date with reality, they will certainly appreciate it.
Visit Also: Top 100+ Fun Websites to Cure Boredom 2024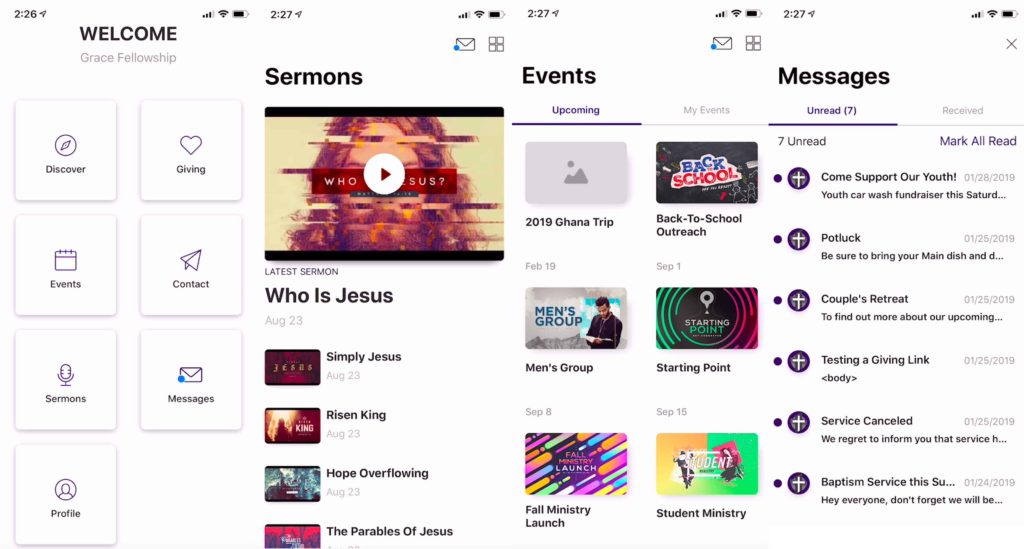 Podcasts, Sermons, Media Libraries –
The most basic aspect of creating an app is the value it can provide to people. Providing brilliant content and quality usage to their users should be the prime motive of church app developers. This can be in the form of:
Worship services
Sermons
Bible Studies
Educational videos
Lectures
Spiritual movies
Religious songs
There can be a lot of reasons why people can miss out on information provided to them be it traveling, getting sick, or attending some event. But if a media library and podcast are implemented in the app then people won't be missing out on anything, even on the go. It can also provide great help to the people who live far away from the church and visit it on a regular basis.
Dashboard and General Information about the Church –
Providing people with the right amount of information about the church at the earliest has become paramount in this recent chaos of different religious movements. This information is a collection of history, ministry programs, and goals, maps of the church and surrounding territory, and many more. Every detailed information that will help people get a better understanding of the church should be shared at the very beginning lest they get confused. Give the proper definition before moving on to the next chapter.
Social Media Integration-
Integrating your app with social networks is one thing that no mobile church app developer should miss out on lest it will hurt them big time in the future. This part can be helpful in registration and login plus also in sharing important information via the app. This will also serve tremendously in the option of the app. Creating a community has its own benefits in the form of making the church popular, bringing in more people, allowing the congregation to share devotionals on a daily basis, and also invitations to important events.
Features for Children-
Adding special pages by keeping children in mind can be one of the other useful pieces of advice for a church app developer. But you have to come up with an innovative approach to keep the children interested in reading the bible. In order to make it a hit, you can add games, interactive content, and puzzles that can entertain and educate at the exact same time.
Read Also: Baby Learning Mobile App Development Cost & Features
These are some interesting features that can make your church app stand ahead of your competition. If you are looking forward to creating interesting solutions that can help you monetize your application then you can hire the best church app development services from us.
Estimated Church Software Development Cost
So, there are a number of churches out there and for all of them having a church mobile app can be greatly helpful. Now, many of these churches, some are big congression which can very well afford to hire a team of best app development in order to develop a brilliant app. However, other churches can look for cheaper yet effective church app development companies or developers' options. Now the cost of church mobile app development differs from one nation to another on the basis of the number of hours spent on the creation process and mobile app complexity. This way, the church app pricing can fall somewhere around $10-100/hour.

Now, it can be beneficial to hire a dedicated developer for this purpose as this way one can also ensure that they have plenty of experience and skill set to perform many tasks on a high level.
Meanwhile, as you go on to hire an app development firm, ensure that you check their portfolio and have a team of good app developers, designers, and QA Testers. Besides, having a detailed plan of action is also a good idea to save some money. The question remains how much does it cost to develop a church app? The average cost to develop such an app is expected to be from $20000-$35000, whereas if you choose to include advanced features and develop an app for both iOS & Android platforms, then the cost is certain to reach $50000. However, spending that much money ensures that you get an amazing feature-rich church mobile app.
The Final Words!
Sometimes finding the right church management app development service providers becomes a great challenge. You need to make sure that before you reach a team for investment, you are well aware of their work. Also, you must understand how various aspects of the development process work. Check if the team is available for communications regularly and if they offer after-deployment support and can help you debug and update your app. If you are looking forward to creating solutions that can help you monetize your solutions, then you are at the right place. You can also choose the top mobile app development company from this list.
So, without much ado make the right decision and move ahead with the experts in the best possible manner.
FAQs: