Before we dive deep into healthcare apps ideas lets understand the significance of healthcare mobile apps. It's all too simple to fall into unhealthy routines. Some of us end up spending a lot of our days slumped over our workstation. With any residual spare time spent looking at different screens. Obstacles at this scale might also induce us to overlook important everyday healthcare measures. The Medical App allows users to accurately measure their health.
The mobile health sector was developing at a breakneck pace even before the outbreak. 76 percent of customers think they are slightly or extremely inclined to be using telehealth online services, as per McKinsey. For each succeeding day, medical applications become more widespread. Everyone must be vulnerable to health problems since the outbreak of this epidemic. People are curious about their current health status. We'll share several ground-breaking healthcare app concepts with you all in this tutorial.
Why Invest in Medical App Ideas – Industry Stats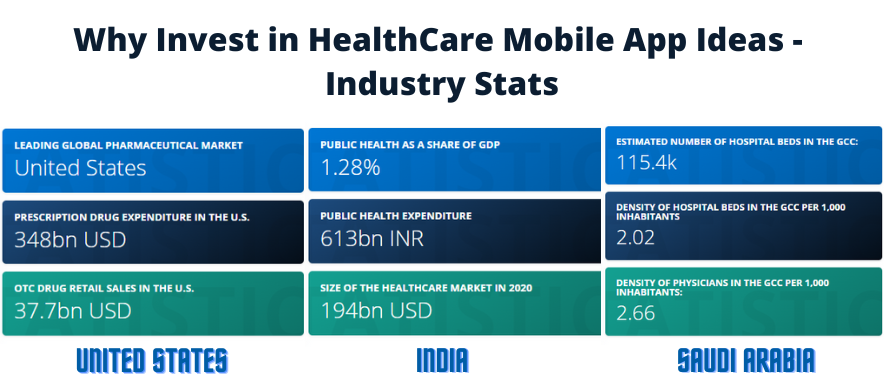 New Technology has impacted every aspects of business. And, as a result of the COVID epidemic, we are taking our health more seriously. As a result of this awareness, we are also reaping the benefits of technological innovation in health-related apps.
Let's take a look at some statistics on the healthcare firm's recent rise. As per a Statista analysis, the Indian public health system was valued at 160 billion dollars in 2017. And is expected to increase to 372 billion US dollars by 2022. By 2023, the Indian government intends to increase healthcare expenditure to 3% of GDP.
Healthcare Industry Digitization
COVID is an innovation management accelerator for the healthcare business. Around 65 percent of European medical business ideas have boosted use of modern techniques to help professionals perform more efficiently.
In augmented worlds, an extreme data model was applied to patient-facing applications. And accompanying technology to save healthcare costs while also increasing income.
Cloud spending climbed by 11% in the mid-2020s relative to the earlier year. It enables remote treatment and employment, as well as the creation of a flexible desktop computer.
What Are the Benefits of Healthcare Mobile Apps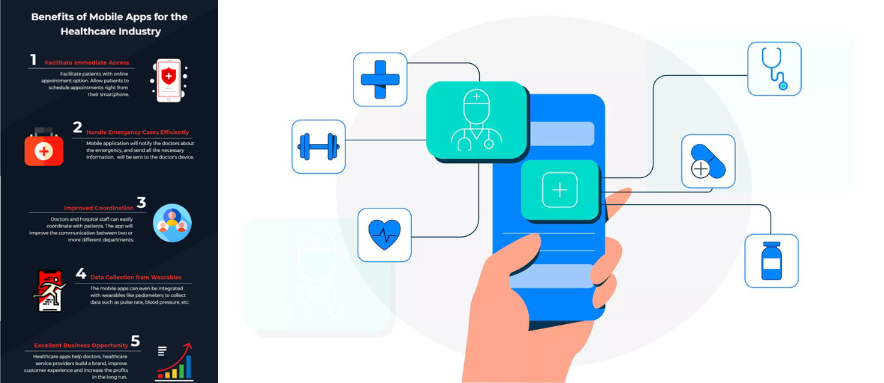 Mobile healthcare would be the technology of the future. So whether you're a customer or a doctor, you could depend on a wide range of benefits. From mobile healthcare apps in India in your everyday life. Let's take a closer look at each of these advantages:
1. Increased Patient Participation
Quality treatment is more crucial than ever before in today's patient-centered atmosphere. Patient-centered care, tailored experiences, and information sharing between physicians and patients are all facilitated by health information.
Patients may consult and manage their healthcare data and medication information. Also control their privacy, eliminating the need to visit clinics right from their home.
2. Reduce the chances of a misdiagnosis
Manually monitoring medical files is time-consuming and susceptible to diagnostic mistakes and errors. The best health apps, on the other hand, eliminate any such possible hazards that may prove lethal to the patient. Aids in the storage media of an accurate assessment of the patient's current health in the application.
This makes it easier for doctors to give the proper prescription with the appropriate dosages and molecular makeup. When a patient switches from one medical provider to another. Such information may be quickly collected and used to make easy medical choices.
3. Immediate Access to Care – Anytime, anywhere!
Unlike cumbersome conventional phone connections to physicians and healthcare groups, the mobile hospital app makes it simple and secure for users to transmit information, appointment scheduling, and connect with healthcare professionals for telemedicine visits 24 hours a day, seven days a week. To prevent offline appointments for minor concerns, customers can address their inquiries via videoconferencing, chats, or phone conversations. As a result, the procedure is extremely efficient.
4. No-hassle payments
Dealing with invoices has always been a time-consuming procedure for both patients and healthcare employees. People no longer have to wait in enormous lines for years to create payments thanks to mobile application scenarios.

The hospital app's secure communications online payment interface allows users to make safe financial intermediaries with only a few presses. They may also choose their chosen payment option, pay online (with a payment method), and interact with their provider (if necessary) using applications.
5. Prescription Alerts Have Improved
Set up digital notifications for medications, scheduled meetings with experts, renew prescriptions, and more using a variety of health checkup apps. Patients have a great deal of control over their counseling now, and they don't have to worry about finding a session. Automatic reminders eliminate a lot of tiresome and repetitive bureaucratic labor and give patients a richer outcome.
6. Improving Information Management
Every day, healthcare organizations handle a large amount of personal data. Healthcare applications integrated with EHRs automatically track important patients. Its generated by connected components in the network or wearables. This allows healthcare practitioners to construct a thorough overview of each individual and comply with HIPAA regulations.
7. IoT Frameworks Improve Medical Facilities
IoT-connected existing technologies, such as activity trackers and other connected devices such as heart and vascular rate monitors, glucometers, and other devices, provide the best health tracking apps, allowing doctors to appropriate location health information from their patient populations at any given location or time.
Furthermore, ultrasounds, thermometers, electrocardiograms, and other devices are becoming increasingly linked, allowing people and medical authorities to monitor their health. IoT healthcare devices generate data that allows clinicians to make educated decisions and provide outstanding treatment.
App for Doctor Consultation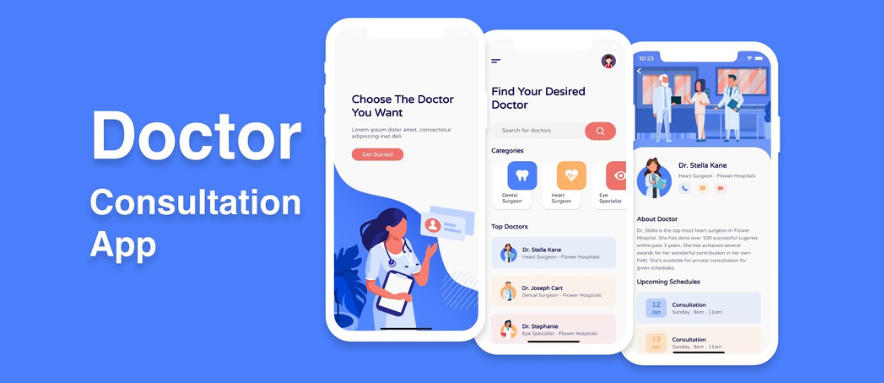 It's a brilliant concept that has exploded in popularity with the release of COVID-19. Patients can arrange online appointments and communicate with the appropriate e-healthcare professional via videoconferencing or immediate chat using a doctor discussion app or the best medical apps. Its one of the best healthcare app ideas to perceive.
Users may get health treatment with comfort and privacy and discuss their ailments and medical complications with doctors to receive instant help. A doctor discussion app would be an innovative idea in healthcare that has the potential to succeed in the health insurance market. However, technological innovations such as AI, ML and Big Data is base to provide end-users with a tailored experience.
1. Key Insights
Let's take a closer look at how an online streaming advisor app for hospitals and physicians works:
The first issue that comes up after a user gets and opens the doctor video discussion software on their smartphone or PC is to register or register.
After registering and creating a profile, the visitor can touch or drag the search feature and help differentiate of physician they want.
The user may limit the performance by adding date, time, language, consultancy costs, and previous employment filters to the search engine results.
Apart from that, there are several additional criteria you can use to narrow down the presented list, including image, ratings, feedback, and area of specialty. The customer pay again for the call with the specific doctor. And clicking the Arrange appointment option to proceed with next appointment.
Online and pay with a bank card, a MasterCard or Maestro card, or just about any acceptable payment method. After paying, the user may produce a short call or send messages to the doctor of their choice. Following the meeting, both the client and the doctor would have the opportunity to provide comments and assess the session.
2. Examples
For physicians and patients, a medical consultation app removes all obstacles of location and language. Before going to another nation, a client in one nation can contact and consult with a specialist doctor in another country. Remote counsel from professionals in the field is now feasible thanks to such healthcare mobile apps. Besides these three, there could be plenty of other benefits of consulting a doctor via an app. For physicians and patients, this is an important and common discussion app.
Heal Pager
HealthTap
ZocDoc
So, if you need to see a doctor about a health issue, use an on-demand scheduling appointments app right now.
3. Stats
In 2023, earnings from the Online Doctor Consultation process are expected to reach US$23.74 billion.
Revenue is estimated to rise at a 9.90 percent annual rate (CAGR 2022-2026), registering a growth of US$ 34.63 billion by 2026.
In 2022, user penetration would be 1.45 percent, with 1.66 percent projected by 2026.
The ARPU (average sales per user) is estimated to be US$214.80.
In terms of worldwide revenue, China (US$8,724.00 million in 2022) would generate the highest.
Related Post: Healthcare – Medical Application Development
Healthcare app ideas that remind you to take care of your health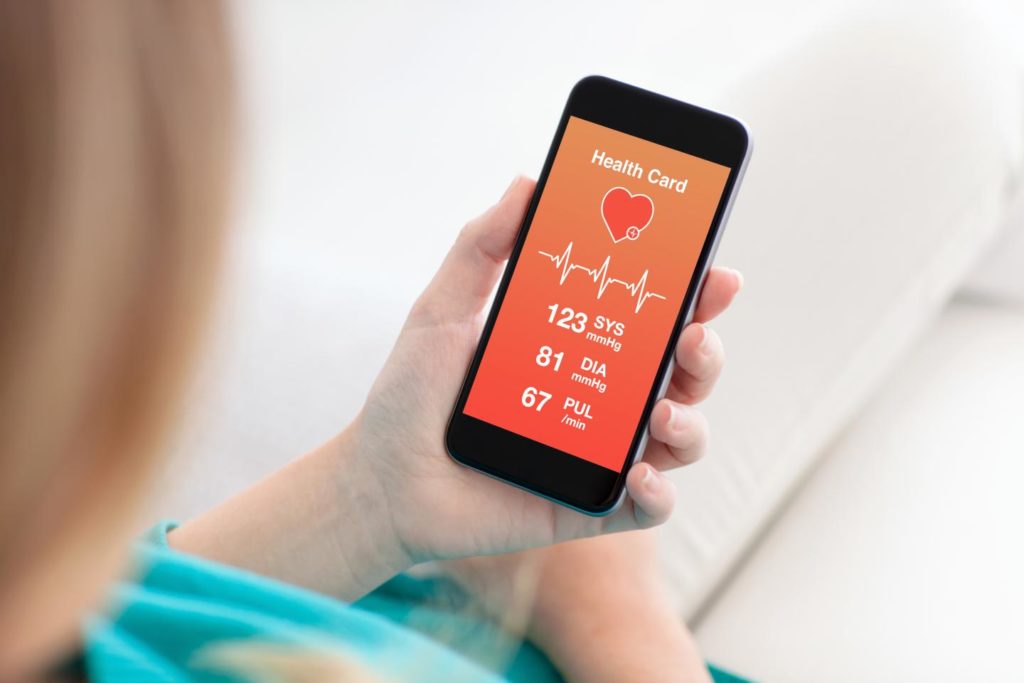 Generally Health Reminder software has an automatic warning mechanism. This software is primarily designed to help patients by facilitating interactions with doctors. Patients must be encouraged to take their medicines, and this software assists them in doing so by creating reminders, alerting them, and informing people to take their medication at the appropriate time. An interesting healthcare & medical app ideas to pursue in 2023.
Because our lives are so reliant on cellphones and information, we take advantage of this chance to improve the lives of others by repurposing technology in ways that others may benefit from.
Any patient's main issue is that he or she fails to take the correct medication in the appropriate dose at the appropriate time. As a result, Health Reminder Programs must be employed to solve this problem.
1. Key Insights
The advantages of any app are determined by its nature or genre. As previously said, there are several types of Apps for health reminders, and their advantages vary depending on the severity of the app. However, we're talking about a drug reminder application, which would be a subcategory of a health reminder app.
Medicines & Prescribed Drugs Cautionary tale:
The capacity of Health Remembering Software to remember the consumers to perform the prescription medication at the correct time and dose is its most important function.
Reminder about your health
It is an automatic reminder mechanism that the customer must configure as per the time at which he must swallow the medicine, and these applications will remember him whether by ringing, texting, or sending an email, depending on the user's preference.
Health Reminder Applications not only remember users to take their prescribed medications on time, but they would remember them to renew their prescriptions and make sure they wouldn't run out of medication.
more key insights
Health reminder apps gather medications and treatments that a user is taking and give details about the pharmaceutical that he is taking. They also track customers the patient's medical records and assist in monitoring the past medication used in the previous few months.
Since the user may alter the notification time to suit his requirements, healthcare business ideas can be quite versatile. It gives you a lot of freedom in terms of customizing the time to match your requirements. It also aids in the correct creation of a timetable that may be quickly modified.
Any wellness reminding software should have a simple and clear graphical interface to prevent misunderstandings and trouble in using the app. Even if any of your healthcare or medical app ideas is excellent, if its not user friendly, its better to scrap the idea, as it won't hold your targeted users.
Read More: How to Develop a Telemedicine app on the concept of Doctor on Demand?
2. Illustrations
MediSafe is an easy-to-use software that delivers prescription and renewal reminders, warns users about drug interactions, and assists caregivers in managing medicines for family members.
MangoHealth promotes medicine and healthcare administration enjoyable by offering prizes for customers who take their drugs on time and adhere to daily healthy behaviors.
RoundHealth would be an easy-to-use reminder software that allows users to schedule reminders for pharmaceutical and over-the-counter drugs, and also herbal supplements. It became currently only accessible for Apple products.
DoseCast — The Most Expensive App
While DoseCast has a free version, it also has a premium edition with additional features, such as the capability to sync notifications across several digital sensors.
more Illustrations
MyTherapy is a complete fitness & wellbeing software that allows the user to schedule reminders for prescriptions, vitals readings, and movement. It is accessible in over 30 languages.
Lady Pill – Best for Women's Health
Lady Pill Reminder would be a user-friendly software that reminds women to take their contraceptive pills daily, with a colorful visual layout that enables pill compliance easy to identify. A very innovative healthcare & medical app ideas as instead of showing direct relation to their menstrual cycles, alternate images can be used like flowers.
CareZone is a comprehensive healthcare administration software that helps users make sure to take their meds, get prescribed medications, schedule medical visits, and more.
Care4Today is a medicine reminder software that also allows you to create fitness routines, manage your activity and food, and track your vital data.
The MedPlan prescription reminder software has a wealth of instructional content for customers who wish to understand further about leading a healthy life.
Groove Health – The Best Artificial Intelligence Tool
Groove Health's innovative A.I.-powered device, Maxwell, provides further help to consumers by answering queries regarding drugs and providing individualized health suggestions.
3. Statistics
As per the research, 66% of Americans utilize mobile health care applications to monitor their health, with the following apps being the most popular:
In 2015, 64 percent of the American population and 82 percent of those aged 18 to 49 years old held an app-enabled smartphone. In addition, 15% of the national population has a smartphone-connected wearable gadget like a Fitbit or wristwatch.
As a result, it's no surprise that health, exercise, and medical care-related smartphone applications (also known as health applications) have now become quite popular. As of 2013, the Apple iTunes store alone has over 40,000 health-related applications available for free.
App for Medicine Delivery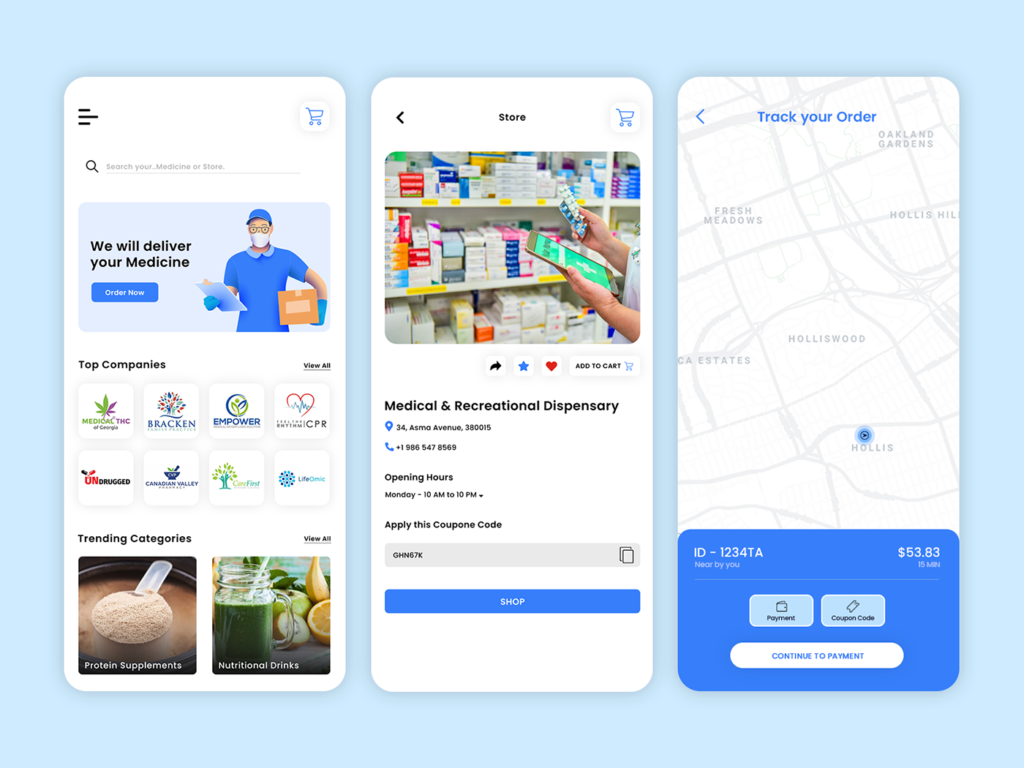 Customers may purchase pharmaceutical items online and have them delivered to their homes using products from the internet delivery app. In the pharmacy sector, delivery software would be a game-changer. There would be no option to purchase drugs from a traditional pharmacy until lately. It is one of the successful healthcare & medical apps ideas, which is doing big business across the globe.
Customers can utilize pharmaceutical software to go through a variety of pharmaceutical subcategories. Once they've found what they're looking for, they may add it to their basket and finish out. Users may then make safe transactions and get delivery information in real-time.
Related Post: Online Medicine Delivery App Development Cost and Features
1. Key Insights
Your customers may get medications and healthcare consumables instantly and have them delivered quickly. It's eligible for tax restrictions because it's an online medical business idea. You'll like to be certain your program safeguards details about your prescriptions. We have a lot of expertise with HIPAA and HL7-compliant software.
Customers,
Pharmacists,
Administrators,
Couriers are all represented in medicine delivery systems.
Based on your company strategy, you may also have to design all or just a very few components. All the user must do is browse for the pharmaceutical, submit the prescription, schedule, and have the medicine brought to them anywhere they need it at a lesser cost. Folks who reside away from parents but have somebody who requires monthly meds may find the mobile health-related apps useful since it enables them to purchase medicine from wherever they may be and then have it delivered to their chosen location.
Conclusion of healthcare & medical app ideas
As I have discussed in the article, We can concluded that there is a great potential for medical app ideas in the healthcare industry. There is a wide range of opportunities available, ranging from apps that provide medical advice, to apps that help to manage medical records and appointments. We should continue researching and exploring new innovative idea. To find the best solution that can make a difference in the lives of patients and healthcare professionals.
In Conclusion, I have summarized couple of healthcare & medical app ideas in the end.
Wearable Health Tracker- This app will help users to monitor their health and track activities such as heart rate, sleep, and weight.
Electronic Health Records- This app will allow users to store and access their health records such as lab results, medications, and immunizations.
Cloud Medical Records- This app will allow users to store and share medical information with healthcare providers.
Virtual Doctor Visits- This app will allow users to have virtual visits with doctors and get medical advice from them remotely.
Remote Patient Monitoring- This app will allow users to monitor their health from home and provide doctors with real-time notifications of changes in vital signs.
We had a great article today discussing medical app ideas for the healthcare industry. After reviewing the latest trends and discussing the various ideas that were proposed, we concluded that developing a patient-focused app that integrates with existing hospital systems would be the best option. We also discussed the potential for utilizing AI for diagnostic purposes and creating a secure platform for doctors, hospitals, and patients. So if you're interested in developing any new innovative healthcare app ideas, please feel free to contact us today for FREE QUOTE to convert your healthcare or medical app idea into stable business.