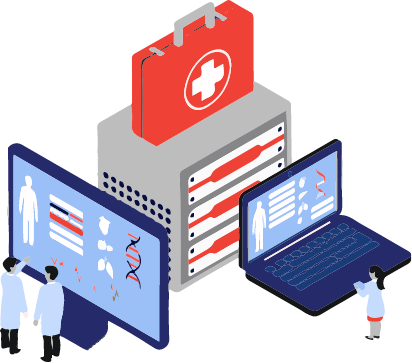 Powerful Software Solutions for HL7 interface Development & integration.
Medical applications need to exchange, integrate, share, and search electronic health information to provide effective medical services. HL7 is a standard that defines the format used for sending health related information.
We have the expertise to design, develop and manage a comprehensive HL7 interface compliant with required standards, specifications and formats. Our HL7 interface developer team succeeded in a successful project in this field.
Our Solutions
01

HL7 Integrated Solution
We develop HL7 of messaging (versions 2 and 3), user interface (CCOW), clinical document (CDA), patient nursing data (CCD), pharmaceutical information (SPL) and medical records (EHR / EMR).
02

HL7 Interface Development
We use HL7 interoperability standards to blend various medical information technologies such as laboratory and medical equipment, hospital information system (HIS), practical management system (PMS) and billing software.
03

Third-party HL7 Integration
HL7 Implementation Service includes a comprehensive assessment of traditional medical networks and determines an ideal custom or exclusive interface solution. We use Oracle SOA and BizTalk for secure message mapping and user communication.
04

HL7 Viewer Programming
We design manual and automatic HL7 test software to verify the message and ensure the stability of the network architecture developed around the LLP, MLLP, HLLP and TCP / IP protocols.
05

HL7 Fhir Service
FHIR is a standard of medical information exchange using a set of HL7 defined "resources" to support sharing of information in various means, including document, message, service, and RESTful interface.
06

HL7 Interface Engine
Development and deployment service that integration, development and deployment experts do not need, we will carry out almost all the tasks taking on the role of integration department.

All-in-One Solution
All the required features come up under a single portal so that user can manage and monitor all the related activities without any confusion.

Data Collection & Privacy
Implementing the most effective big data analytics solutions, we easily map the data of the right patient so flows out to the therapist, and makes sure that it comes with the effective solution.

Wearable Tech & Cloud
While using all the cutting edge technologies, we create fitness apps that delivers on-demand medicine services and patient care prescriptions and beyond.

Targeting Patients Personally
We deliver solutions that comprise of medical history, health care plans and other critical data so as to make the patients realize that he is being treated personally and with utmost importance.
What Makes Us the Buzz of Tech Town
Here's what our business partners say about us.
Tech Talk: Stay Up-to-Date with Our Latest Insights
We have our eyes on what's new in the tech world and bring you the latest updates here!
Octal In The News
Octal IT Solution Has Been Featured By Reputed Publishers Globally
Let's build something great together!
Connect with us and discover new possibilities.






Gain More With Your Field Service
We're always keeping our finger on the pulse of the industry. Browse our resources and learn more.
Let's schedule a call