Healthcare sector has seen a great shift in its functioning and operations with advancements in the technology. HIMS software, medicine delivery app, and health insurance claims management software has revolutionized the sector with the least human intervention and maximum efficiency. With all the details being in the database any errors at the time of claims can be avoided. Not just this, with everything available online the process, becomes easier, thus letting the user have their claims ASAP.
If you are keen to contribute to the healthcare sector with some with advanced technical solutions then you are at the right place. Before we understand the functioning and features of claim processing system we understand what it is about.
What Is a Medical Claim System?
Medical Claim Processing Automation Solution is beneficial for Healthcare Providers and Payers and is aimed at accomplishing complete automation of claims processing and faster access to customer information without having to compromise on the security of private medical information. The software is useful in reducing costs related to claims processing, utilizes a single platform for all the data sources, workflows to route claims for review & approval processes, and enhances the consistency & timeliness of payments.
As per the National Health Insurer Report Card, AMA, 2011, the elimination of claims errors is going to save $17 billion annually. Automation reduces paper storage & document retrieval costs while complying with regulatory standards like HIPAA.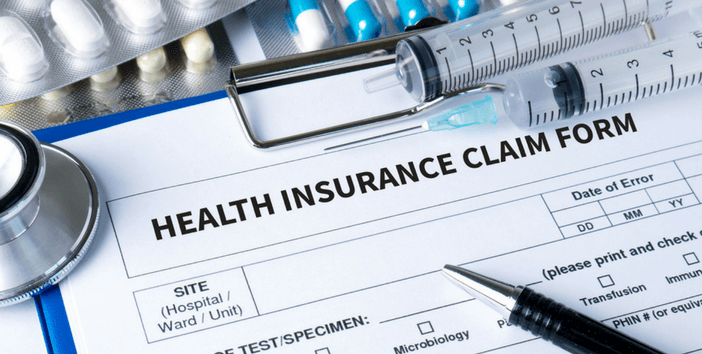 Meanwhile, Health insurance payers are investing in this claim processing system in healthcare with a focus on interoperability and faster release of new products instead of just enhancing the efficiency of claims processing. These flexible systems are able to create new benefit designs with great ease and provide integrated health management and should also have inherent flexibility & agility so as to adjust to changing marketing conditions.
Now that you have a clear picture of any medical claim software, the next is to understand the key elements of the software. For software to be efficient and highly engaging it is important that the role and needs of the key elements are well-considered.
Who Are the Key Players in Medical Insurance Claim Processing System?
The most important elements of health insurance claims automation system are insurance firms, healthcare providers, and policyholders. They are inter-related and the environment they create needs to be flawless and efficient. In order to tackle the details of the medical billing & coding process, it is first vital to understand the relationship between.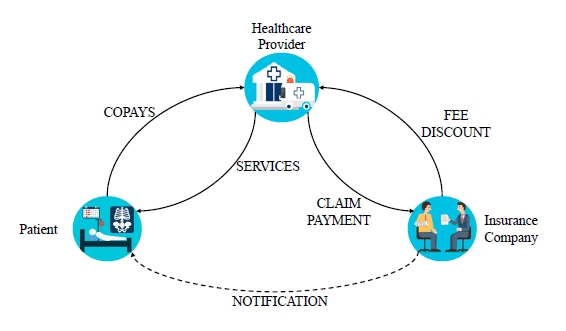 Policyholders
Well, a policyholder is the one who purchased health insurance. Like suppose, a young professional is looking for a basic insurance plan can purchase a policy where the insurance provider firm will be paying for all medical bills that costs more than deductible, which is a pre-decided amount that policyholder will be required to pay out-of-pocket prior to insurance coverage kicks-in. Claim processing in healthcare has made it easier for both the parties to track a record of how and where the claims have been utilized and what they get in return.
Insurance Companies
These firms sponsor medical care for qualified patients, known as policyholders. Even though health insurance is not mandatory in the USA, still a number of Americans have insurance coverage, which is maybe purchased privately or is obtained from their employer or government. Now the insurance policies may vary, but all of healthcare claims processing workflow have the same business model: a specific amount is paid each month or year by policyholders to the insurance company, and it is called a premium. In case, the policyholders require procedures for which they qualify, then the amount for that procedure is paid by insurance companies, either in part or in full.
Healthcare Providers
This is any practice or facility where the patients are billed for a service or a product related to personal health. This group of healthcare providers consists of private clinics, hospitals, pharmacies, and also specialized care providers, such as nursing homes, in-home caretakers & chiropractors. With health insurance claims processing software it becomes easier for the healthcare service providers to maintain the records of the services deployed.
These key elements play an important role in deciding the features and efficiency of working on such software. To bring insurance software in the picture, it is important to take care of the requirements of all the aspects. Let's now have a look at how these elements are inter-related.
How does Medical Claim Processing Automation Software works?
As soon as a claim processing system for health insurance receives a medical claim by a healthcare provider to a payer for reimbursement with the software, an automated end-to-end process is activated, from claim creation to adjudication tracking to reimbursement. The claim entry tools within the healthcare software solution allow creating, validate & submit healthcare claims electronically.
Thus, it gets easier to integrate APIs directly into existing websites or to leverage claims management web application.
The software is capable of combining medical benefits and payment services into a single user interface spanning the claims processing workflow. Meanwhile, the system enables real-time access to claims and payments via following features: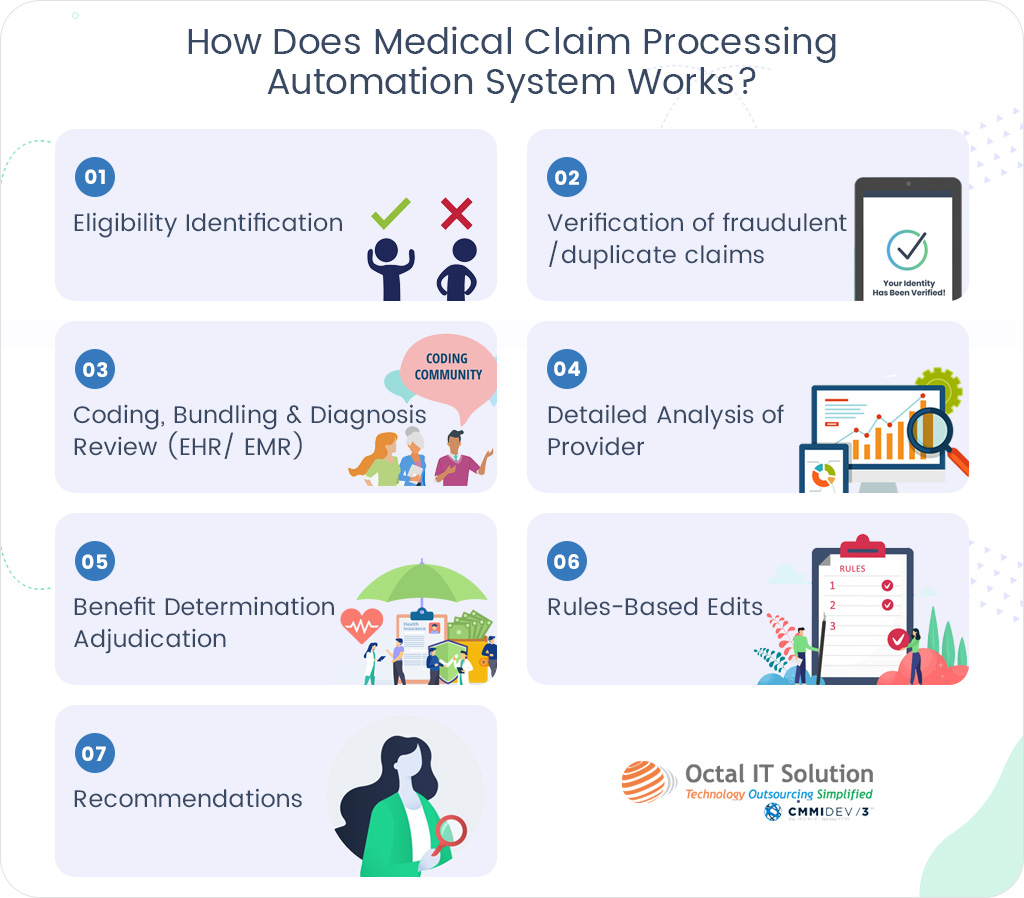 Automatically Populate Claims Data into Dashboards & Reports
There are no requirements to re-enter data manually from other tools into the health insurance claims software before invoice submission. With Claims Draft API it is easier to feed data programmatically.
Verification of Patient Coverage at the Time of Service
No need to wait for a week, only to end up receiving a denial owing to inactive coverage. With the help of the Medical Insurance Claim Processing System, it is possible to verify health insurance coverage upfront and initiate payment recovery workflows sooner.
Catch Mistakes Before Claim Submission
Remove errors before submitting the claims with the use of extensive rule sets. Automation leads to least human intervention and high efficiency.
Understand What Claims Require Your Attention
With the help of this medical claims processing software, it gets easier prioritizing your account receivable. The system highlights invoices require immediate attention, such as pending registration, new payments, and recent denials.
With software applications claiming your medical bills become quite easier. It is not only about least human intervention there are a lot more things that make this software so popular.
Why Is Medical Claim Processing Automation Software Needed?
This claims processing software is highly capable of doing a lot of functions like providing quick turnaround times for your business objectives, with a focus on quality execution. At the same time, it plays a pivotal role in reducing the costs associated with policy and medical claims processing.
Easy, Quick & Accurate
Most insurance companies head for this software solution owing to its enhanced operational efficiency & shorter processing cycle, thus easing out the insurance claims processing and solve problems. It benefits clients by:
Improving customer satisfaction.
Efficiently tracking, fraud detection & tracking reinsurer's recoverable.
Standardizing claims and reducing manual processing & enhancing productivity.
Responsive to process changed & marked cost reduction
Improving Operational efficiency& considerably shorter claims processing cycle.
Interactive transactional experience
Offers real-time claim adjudication for the professional claims, thus providing clients with an interactive transactional experience.
Lesser reconciliation activity for stakeholders
Reduced manual & paper-based transactions & telephonic interactions for updates.
Reduced administrative time & processing costs.

Enable Savings
The firms that file medical claims manually tend to spend $4 more per transaction, depending on the size of the organization. Then the costs get all the higher as you factor in the labor cost. Hence, by switching to Medical Claim Processing Automation System, savings are to be welcomed almost immediately.
Cuts Claim Processing Cost
Today the medical & health industry can't just afford to do things in an old-fashioned manner and it has become essential to cut costs wherever possible. It is pretty necessary so to stay competitive and stay in business. For doctors to have efficient administrative solutions is very crucial so they can perform their job in the medical and health field effectively. And mainly with insurance policies changing constantly, control needs to be taken on every aspect that can be controlled. And keep in mind that most of the cost comes from the administrative department.
This is how any medical claim system works. Over the years the system has been automated and requires least human efforts. With flawless claim processing things have become quite easier.
What Are the Benefits of Medical Insurance Claim Processing System?
When the medical claim system goes digital there surely are a lot of technology advancements that make things easier.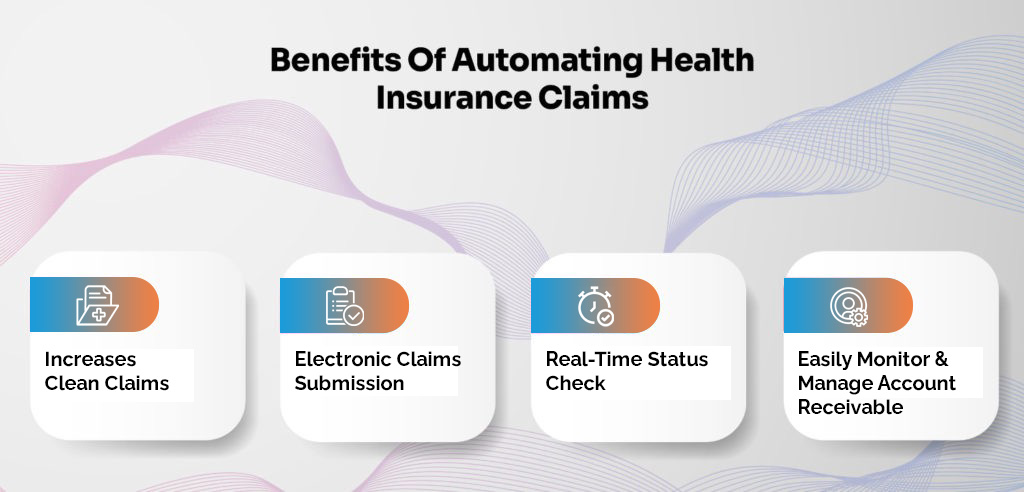 Increases Clean Claims
It is time to experience a clean claim on a regular note with Medical Claim Processing Automation Software. Its claims validation technology flags the problem areas prior to submission is made.
Electronic Claims Submission
No need for a never-ending thread of phone calls, emails, and faxes that overcomplicate healthcare invoicing with the submission of claims electronically.
Real-Time Status Check
With real-time claims status check things get significantly easy as the software is efficient at sending requests to one of the many hundred payer connections and receive response just instantly.
Easily Monitor & Manage Account Receivable
Here, in the system, ERAs and payer responses are linked to the corresponding claim file. This way it gets easier to manage and monitor account receivable.
These benefits have exponentially impacted the need of medical claim software development services over the years. Here's how the advancements have made things easier and more efficient for us.
How Electronic Medical Claims Processing Has Advanced over the Years?
Meanwhile, electronic medical claims processing technology has been there for quite some time, however, over the years it has changed a lot for the better, with Optical Character Recognition (OCR) being a great advancement. It is just great in decreasing the chances of costly mistakes made while coding & filing. OCR does this brilliant job of scanning documents, electronically isolating, and then records information contained in the fields.
It is also great in auto-filling information. This way, a human is still involved in the processing but that is to review the processing and to ensure accuracy, instead of being entirely responsible for it. In case, a medical code is not coded properly, then the error is reported by the specialist filing the claim. This way, the check and balance procedure saves money, time, and frustration for medical professionals and administrators. In fact, it is so efficient and effective that the medical institution simply cannot afford to miss out on this kind of medical claim processing system.
What are the features of Health Insurance Claims Processing Software?
A number of Health Insurance Claim Processing Software Development Companies use this system to process claims at a faster pace with very few errors. A few of the important features of the service include:
Data entry of patient demographics, such as referring physicians, ICD & CPT Codes, and Modifiers is entered into medical billing software.
Scanning documents for errors in billing and then correct them in required.
Adjudicate client claims to ensure accuracy
Preparing EOBs (Explanation of Benefits)
Submitting & Filing claims with the insurance firm
Follow-up on claims with the insurance firm
Apprising in regard to claim status
Processing denied claims and re-adjudicating them for claim submission
How to ensure Data Security in Medical Claim Processing Software?
For nearly two decades, HIPPA has been significant in keeping patient information safe, however, going by the present demand od today, we need to move further into a technologically-driven world, where HIPPA might not be enough to keep patients medical records and data are safe. In a survey, 90% of medical institutions reported a data breach, with some reporting as many as five separate data breaches. Patient satisfaction is crucial in healthcare, it is vital to ensure data security with modern technologies and methodologies, with one with GDPR compliance solution. For the understanding, General Data Protection Regulation (GDPR) is a regulation that involves EU citizens to avoid leakage of personal information starting by May 2018. It is a legal framework setting guidelines for the collection & processing of personal information of individuals within the European Union (EU).
The GDPR sets out the principles for data management and the rights of the individual, while also imposing fines that can be revenue-based. It is vital that healthcare institutions take the right steps to ensure that they are able to comply with the new requirements of GDPR. This will help these organizations in building and maintaining the trust and confidence of their customers, patients, business partners, and other individuals whose personal data they collect and process and to avoid breaches of relevant data protection rules.
How Electronic Prior Authorization (EPA) is helpful?
EPA is a process where an insurer or a payer decides upon the necessity of a prescription drug, medical service or medical device is necessary and accordingly approves the treatment. In case of emergency instance, this authorization is not required, otherwise, it is vital to meet this prior approval before the health plan will be allowing the patient to obtain treatment.
As of now, nearly the entire payer industry with leading market share is committed to EPA and is bringing additional lines of business onto their electronic solution. This way, payers create greater access for providers and decrease turnaround time; however, a lot of work still needs to be done for each payer to get every line of business on EPA and increase usage of auto-determination functionality.
Different Aspects That Influence Cost of Development of Medical Claim Processing Software
So, a number of aspects need to be considered for determining the cost to develop a Medical Claim Processing Software. The system is really massive, as it connects doctors, administrators, insurance firms, and patients at this one place. Now, as it comes to the development cost of a health insurance claim processing system, there are numerous factors that can affect it, such as:
Basic Features
Advance Features & Functionalities
Development Partner Location
Team engagement modal
Development Platforms (Android/iOS)
Third-Party API Integrations
Certifications & Compliances
IT infrastructure & maintenance costs
Integrate data export with claims software
User & administrator training
Integrate validation checks with claims software to ensure data like claimant, procedure code, diagnostic code, facility, etc. exist and are valid
Configuration of Explanation of Benefits (EOB) files
These are the integral factors considered while calculating the cost of Medical Insurance Claim Processing
How to Choose the Right Medical Claim Processing Automation Software Development Company?
It will take no time for the entire health industry to benefit from automated medical claim processing. The reduced financial burden which comes with the usage of this system is absolutely worth it. This is why more and more healthcare professionals are switching to the system and seems entirely pleased with results.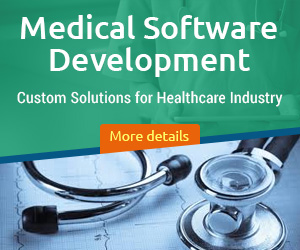 The key here is choosing the right medical software development company. After all, there are a number of options out there, and not each of them is the right fit. Hence, here are the few factors that need to be ensured while selecting the firm:
Ease-of-use, Feature-rich &User-friendly
Works efficiently on all devices (Desktops, Mobile & Tablets)
Integrated with the EHR system of the healthcare practice
In compliance with HIPPA, HL7, And GDPR
EPA (Electronic Prior Authorization) Integrated
Once you are sure that the Medical Claim Software Developers will be able to provide you with these essential features, you can go ahead with the development process.
Conclusion
We have discussed here how and when of a medical claim software system that would make it easier for you to let your users enjoy the ease of claiming and recording the insurances. Healthcare sector has seen a great technical advancement and with each development, it is becoming easier for the people to use the facilities.