Running a hospital efficiently is easier said than done as multiple challenges come in the way. Even though patient care and well-being stay at the top of the list, there are several other factors as well impacting the revenues & profitability of the operations. The challenges can come in any form, be it delay in discharge, cash flow issues, consultant relations, stock pilferages, or just sheer lack of key information & insights that can play an integral role in saving millions. What scalable hospital information management offers is operational visibility, which can certainly make a huge difference between running a hospital & running a hospital profitably.
It is efficient in integrating all the departments from imaging units to branches, pharmacies, diagnostic labs, and collection centers spread around various geographic locations offering a unified look at your business. The modular hospital information management system & configurable workflows can be easily customized as per the requirements, hence it gets easier to choose parameters that matter the most to you. Why do we need to develop a hospital management system? Now here let's explore the features of an efficient Hospital Information Management System.
Why have industries accounted for HIS system in 2022?
There are times when the healthcare sector needs a customized solution to maintain all of its records in a secured and foster way. New measures and technology have been introduced in the current times when medical practitioners do not need to worry about the discard of their data, rather they focus only on the patients.
We have come up with a few market analyses that would place more emphasis on the need and demand of the healthcare solution at present.
So here are they:
The market of the hospital information system is expected to reach $44,329.80M in the forecast period of 2021 to 2030, with a prominent growth rate of 11%.
As per the report by HIMSS, more than 80% of healthcare providers will surge for technological solutions using AI, ML, financial risk-free health, digital health in the coming next 5 years.
66% of the doctors state that IoT lowers the cost of operation by $100B per year.
Top players in the domain industry are regularly focused on improving the services of the healthcare market, are Allscripts Healthcare Solutions Inc., Cerner Corporation, GE Healthcare, Integrated Medical Systems, McKesson Corporation, and Wipro Limited.
According to the Frost & Sullivan forecast, the modern computing term AI and cognitive computing will save a pile of money of $150B by 2025.
Different healthcare solutions used in the industry are electronic medical records, practice management software, master patient index, patient portal, remote patient monitoring, etc.
To counter the good measures, companies focused on adopting the regulations by HIPAA (The health insurance portability and accountability act) to secure their data records.
In 2021-22, various technological advancements will be carried out with HIS like picture archiving and communication systems, radiology information systems, software as a service, and web-based systems.
Certain measures that companies adhere to using healthcare management systems to keep their system up to mark like: encrypt data, monitor the usage, buy insurance, access any vendor vulnerability, train their employees, etc.
Top hospital management systems are paragon, Flex-HIS, Halemind, Allscripts sunrise, health quest, hospital ERP software, etc.
Exemplary Features of Hospital Information System (HIS System)
When working on your hospital information system software the dedicated development team would need to take care of these features that would make hospital management easy. Automating tasks like these become quite easier and more fun to work with. If you want to enter the market with an interesting HIS Software then you surely need to consider these features for your product.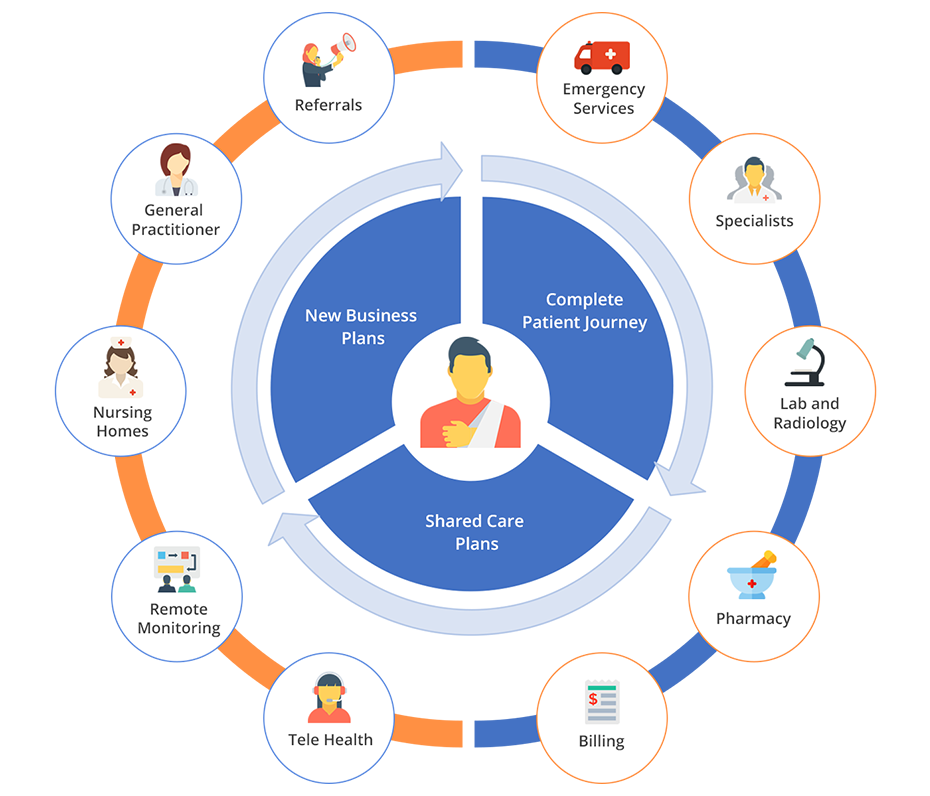 Patient Registration
Hospitals can register the patient into the system entering their crucial information, such as diagnosis, medication, recovery, etc. using HIS system software. This would be time-saving and effort saving too. Thus patients need not strain themselves over petty issues.
Insurance & TPA Billing, Credit Tracking
It has all the information related to the insurance & TPA Billing which will come useful during the payment process. The credit tracking feature is also there to track past pending payments. The accounts and money-related department needs to have an automated system that would help the hospital stand strong and make things easier for the staff.
Patient Referral
The record of all the patients referred to the hospital is maintained in the system and it can be used for future requirements. With such records one can also track medical assistance the hospital is provided and what facilities do other hospitals have to offer.
Pharmacy Information System
The hospital information management software system is integrated with the pharmacy information system as well, to keep track of the sales, inventory, etc. This way it also gets easier to manage billings for hospitals.
Radiology Information System
It is also integrated with the system to manage medical imagery & associated data. This is useful in tracking radiology imaging orders and billing information and is often used in conjunction with PACS and VNAs to manage image archives, record-keeping, and billing.
Accident and Emergency Care
HIS software hospital keeps a record of the patients admitted for accidental cases or emergency care is maintained in the separate module of the system for better and speedy treatment & care. Since accident cases are to be well taken care of, it is important that your HIS maintains a detailed record.
In-patient Management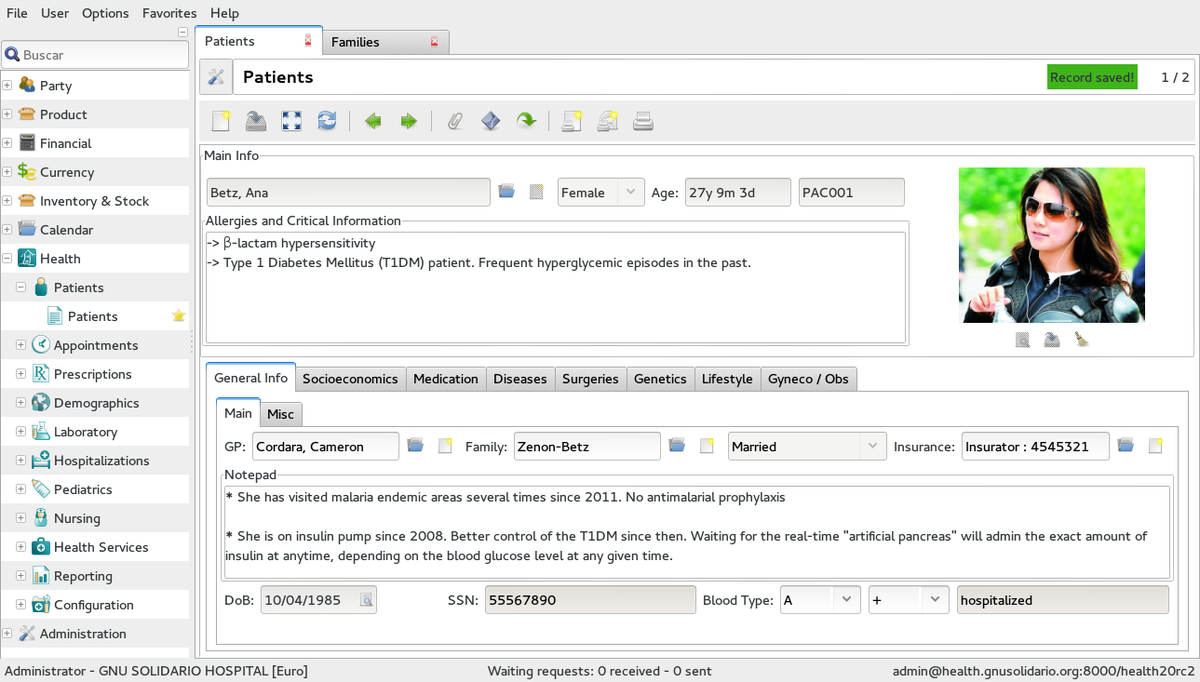 The HIS software manages all of the patients admitted to the hospital, maintains records of their medications, needs, doctor visit timings, etc.
Operation Theater Management
It is easier to manage the operation theater, its proceedings, equipment, and everything through this system.
In-patient Diet & Kitchen Tracking
The HIS software for hospitals maintains the prescribed diet of each patient admitted to the hospital and also tracks the kitchen to monitor the quality of food and stock.
MIS Reports
HIS software modules automate financial, administrative, and patient care activities of a hospital, generate extensive management reports, operational statistics & offer a powerful query module.
Doctor Scheduling & Appointments
There is a section of the system that manages the doctor scheduling and appointments, so they can keep themselves updated about the daily proceedings.
SOAP Notes & EMR
Hospital information systems offer SOAP notes that are useful for admission notes, medical histories, and other documents in a patient's chart, while an EMR system is to maintain an electronic medical record for the patients as well as hospitals.
E-prescription
It allows storing prescriptions and other related records online and also has an impact on discharge information communication and prescribing errors.
Lab Information System
It processes, stores, and manages data from all stages of medical processes and tests.
Integration with PACS
A clinical picture archiving and communication system (PACS) will have incomplete, incorrect, and inconsistent data when entered manually. The correct routing of studies for diagnostic reporting and clinical review requires accurate information about the study type and the referring physician or service, often not easily entered manually. Hence it is vital that it is integrated with the HIS hospital information system for better performance and management.
Day Care Management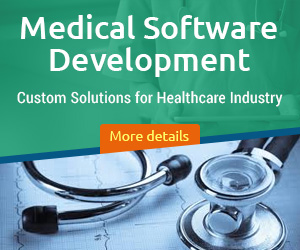 This comprehensive system can easily handle Day Care functionalities. It is designed to register and handle patients quickly with nil or minimal personal information, yet ensure that no data of any patient is mixed up or lost.
Nursing Care & Ward Management
It is in coordinating patient care activities and in ensuring safety and quality care in hospital wards.
Purchase and Inventory Management
The HIS system is efficient in managing stock, purchase requests and vendor management, etc.
Linen & Laundry Management
Patients expect daily linen changes, hence having a Linen & laundry management system that automatically tracks soiled & cleaned linen items continuously all along the linen cycle is greatly helpful.
Additional Features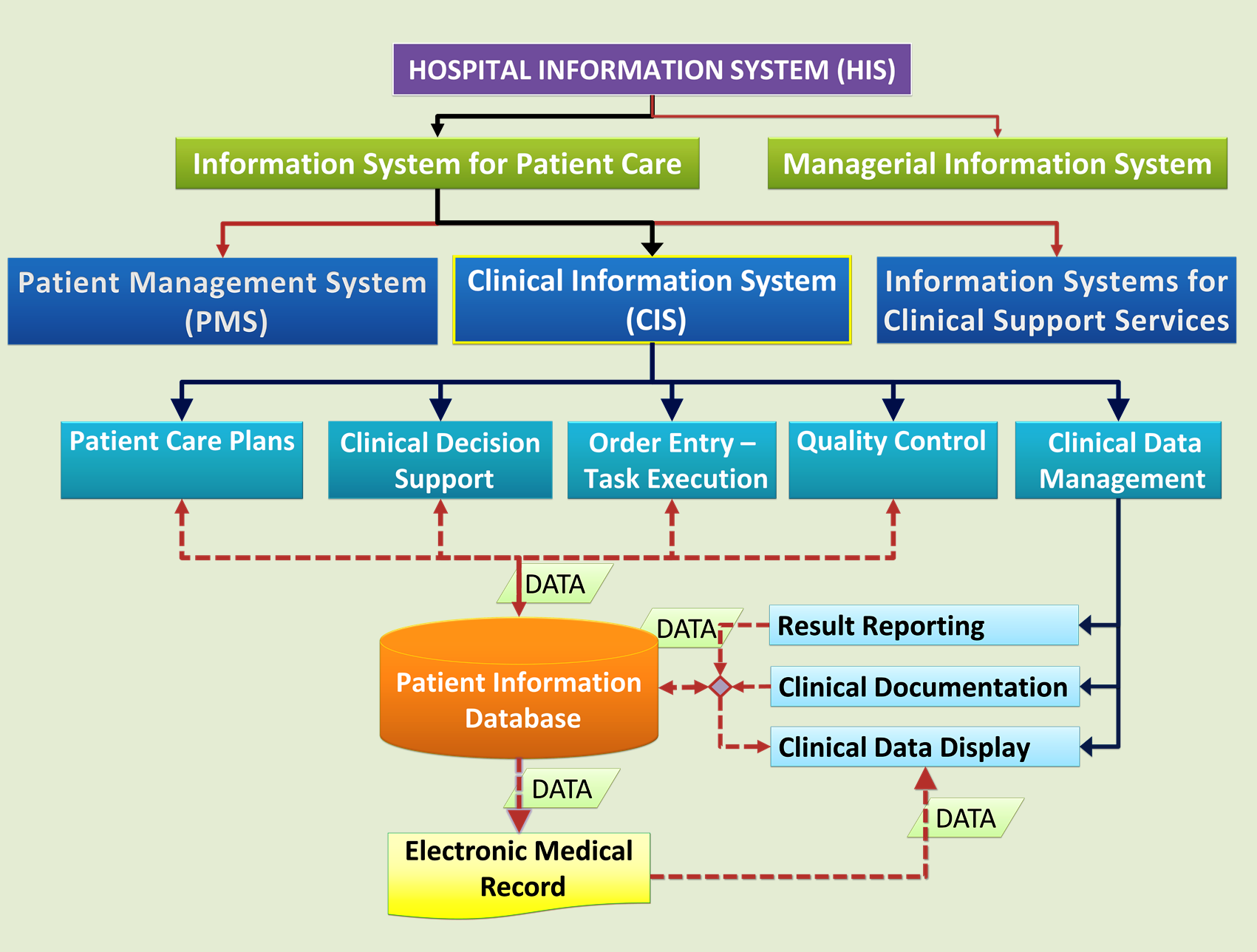 When you try to figure out a hospital information system, just check the benefits and features it includes. We share here some of the additional features that would make your app better than the competition.
Multi-Language Support
Providing a multilingual environment can be greatly helpful for the proceedings, as your hospital staff may have people coming from various cultures, countries, and cities. Hence getting this feature integrated is crucial for a Hospital Information System.
System Administration Controls
The software would be capable of managing all the aspects of a hospital's operation, such as medical, administrative, financial, and legal issues and the corresponding processing of services.
Multiple Payment Modes
Patient payment has changed a lot and today hardly anyone makes cash payments, hence the hospital information software system should provide multiple payment modes to the payments, such as Braintree, PayPal, Stripe, Credit/Debit Card option, etc.
POS System Integration
POS software development, integration, and implementation in hospitals are highly useful to meet your specific demands. Have a system that can support cafeteria operations including integrations with existing platforms for kitchen management, menu management, currency conversions, and sales tax collection.

The hospital information system software services are ladened with features that could make your institution worth it. With such interesting features in your solution, you can ensure that your business would be taking the right flight in a limited time.
Important Aspects to Keep in Mind While Developing Hospital Information System
To start with, it is vital to keep the system safe and secure from a data management point of view. Such systems are responsible to handle highly sensitive data and hence the safety and privacy issues need to be taken care of. So, below are the few aspects that need serious consideration so to create and implement a viable hospital information solution that can deliver true value for money on a long-term basis:
Offer quick registration in emergency cases.
Address the issues of data privacy, security, and patient confidentiality.
Usage of a Unique Patient Identifier like UHID.
User-based-role-based access control with a sound and practical process using biometrics/passwords.
Must be able to offer e-Prescriptions for outpatients and CPOE for others (EPCS Integration).
Offer a Barcoding feature to track patients, material, medication, and services.
Allow secure remote access to view information & add notes.
Must be able to check EOQ & re-order levels as well as automatically list near-expiry items a minimum of 90 days before expiry.
As per prevailing rules & regulations and legal requirements, MIS reports serving as de facto registers should be maintained.
EMR should be integrated with PACS, RIS, and LIS thus allowing all images to be viewed and compared with any archived images.
Track slow-moving materials in the pharmacy stores and appropriate alerts must be sent to ensure all stakeholders are in the loop about this situation.
In the case of investigations, the consultants require knowing the total cost and individual investigation charges. This enables them to prioritize the ones patients must get done right away regardless of the costs whereas the rest can be left for later when they can afford them.
Must be eligible to check all the insurance and accept an upfront deposit to cover the estimated cost of care.
When hiring a mobile app development team for your hospital information management system, make sure you include all the important aspects that can help you build an identity in the market.
Ensure Your Compliance With
Health Insurance Portability and Accountability Act (HIPAA), Health Level 7 International (HL7), Food and Drug Administration (FDA), U.S. Department of Health and Human Services (HHS), HITECH's Meaningful Use Stage 1 and 2 (MU-1 & MU-2).
USE Cases for Hospital Information System App
To build a customized hospital information system you need to keep in mind the demands and ideologies of the client and their users which is very crucial to implement. Some trends could be followed to deliver a top-notch solution as the end product. Below they are:
Healthcare Information Exchange: This system exchanges the data information fastly, and could be a great tool for the analysis. HIE keeps inside the smartphone of the user allows them to track their health factors. They can track their blood pressure, heart rate, body temperature, and other crucial diagnoses.
E-Prescribing: Easy creation and maintenance of the records with this eRx software is scrutiny for the health ecosystem. This helps to minimize any errors of the patients as well as patients.
RCM & Medical Billing: Using this health information exchange system, the user can easily switch between the different medical apps, no need for separate login; access their records, bills offline too. This software keeps your data safe and encrypted from any hacker in the run.
Successful Hospital Information Systems in List
Below you can find out the already existing apps relative to the HIS; optimize the hospital day to day tasks, and add new entities into the list.
Epocrates
Doximity
MediXcel EMR and HIS
VisualDx
What are the benefits of a Hospital Information System?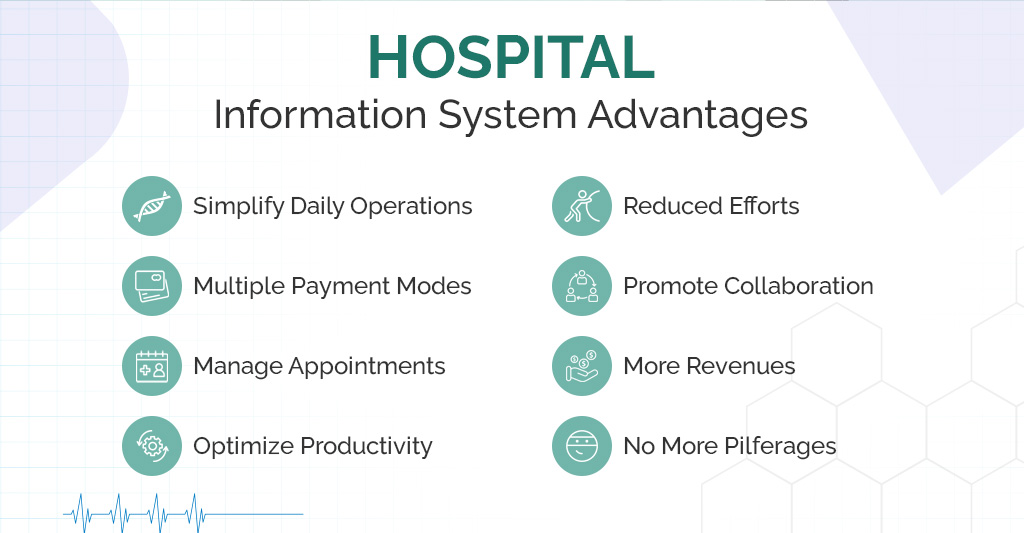 A good Hospital Information System is capable of doing a lot and the benefits offered by it are wide-ranging, so here let's explore a few:
1. Simplify Daily Operations
A well-implemented hospital information system software makes useful data available for the patient-care unit to different office staff. It is only a matter of a few clicks and all the requisite information is available to the relevant department.
2. Keeps Medical Professionals Happy
So in a hospital, doctors, nurses, and other staff members track different metrics and if all of them are offered the same data then they end up spending most of their time scanning through all the information to fetch what they want.
However, with a customized dashboard for physicians and other professionals, you can offer information that is of matter to them. Moreover, it also makes operations smoother & reduces errors, resultantly saving a lot of time.
3. Handles Multiple Payment Modes on a Single Platform
In the administration department, the maximum complications occur in the Payment & billing section. However, with powerful billing modules offered by this hospital information system can manage a large number of patients efficiently by minimizing delays & reducing the time needed to settle bills. Moreover, mapping different insurance clients for credit customers eliminate error & confusion in billing, which makes it easier for a cashier to deal with the complexities.
4. Easily Manage Appointments
The hospital information management software system's calendar facilitates scheduling & tracking all of the patient appointments by treatment, consultant, center, and/or equipment. Appointment confirmations can be viewed and updated, or the auto-email confirmation tool will handle that for you. It is also easier to access the fastest and most efficient scheduling tool on the go and enhance your operational efficiency significantly.
5. Optimize Productivity
An efficient HIS assists in real-time decision-making that not only improves patient care but enhances overall productivity. With the least human intervention, the results are flawless. If you want to start with the hospital management system, then you can surely proceed for better results.
6. Reduced Efforts on Resource Allocation for Each Treatment
So, it does get laborious to establish an effective resource allocation system for every surgery and treatment. However, with predefined & custom-defined surgery kits, it is easier to automate and track resources consumed during the course of treatment. This is useful in maintaining schedules and tracking resources consumed during the course of treatment. Hence, the ambiguity over material usage will then be a thing of the past.
7. Promote Collaboration
By integrating different stakeholders who are involved in a patient's health decision on a stable and secure platform, you can ensure effective interaction and promote collaboration. The hospital management system is beneficial in creating seamless communication as it provides timely inputs for better diagnostics and treatment plans, and offers real-time information that directly translates to better patient outcomes.
8. Patients Can Be Treated in the Same Timeframe
With the use of our simple & intuitive patient dashboard, you can get a quick snapshot of the patient history and case progress. You get to view key trends, test reports, investigations, treatment plans, patient medical history on a single screen and all the crucial information can be gathered at a glance. This saves significant time during a consultation and leads to better outcomes. Moreover, by using the registration process which generates a unique patient ID and visits ID for instant visit registration, you can ensure that the number of patients is treated within a stipulated time frame. Having these systems in place, the number of patients treated will increase considerably, thus generating higher profits.
9. More Revenues
It helps in generating more revenue by cutting down manpower because a lot of work gets automated and does not require manual intervention to store or analyze the information.
Track performance: This can be done anytime, anywhere and on a regular note to create better business strategies with the end-of-day (EOD) consolidated report system. It is possible to evaluate your hospital performance on a single screen on a daily note, detect issues, prior to them escalating, by resolving them immediately. The tools are useful in implementing new actions, analyzing potential and maximizing profitability.

10.No More Pilferages & Unnecessary Spending
There will be less worry about procurement logistics & resource depletion as the advanced inventory module helps in automating purchases via predictive reordering & expiration alerts. This way, it removes pilferages, eliminates waste & cuts unnecessary spending. Identify what brings the highest revenues: With the help of powerful & robust Hospital Information System dashboards, it is easier to make operational, department, inventory, and financial-based reports available in custom formats. It offers tools that are helpful in mining data, crunching numbers, creating trends & projections. It also tracks metrics that are most crucial for your business with the use of custom dashboards with intuitive visualization to recognize the processes that maximize revenues.
These are a few benefits that are to be considered when you hire a software app development team for your hospital management software. These features would not only make your work more efficient but would result in better profits and higher customer satisfaction.
Tech Stack
Technical stack is vital for any of the industries. It measures the industry paradigms, with the latest integrations, tools, and technicalities the experts would keep in mind. For the broad category like a hospital information system, there are multiple tasks to handle that reply to the scrutiny of the hospitals. Businesses who are planning to make a grip on this industry would have thoroughly monitored all of the crucial points.
Here we have a few of the tech stacks in the sequence:
Front end: python, react native, node, Flutter
Back end: ruby, golang, C++, JS,
Programming languages: Java, angular, swift, objective C, jQuery
Server: Apache, NGINX, XAMPP
Frameworks: Laravel
Database: MongoDB, Postgres, MySql
Cloud hosting: Amazon AWS
Real-time analytics: Azure stream analytics, Google cloud dataflow, amazon kinesis.
Conclusion
Change is inevitable in the healthcare industry and should be upgraded with time. With the help of the Hospital Information Management System, it is possible to offer better care by dividing the whole system in different manners. It is categorized into various modules and offers all features for ease of the user. If you are keen on developing a hospital management system for your hospital then begin your search for the right HIS Software Development Partner in the arena who offers excellent medical and healthcare Software development services at affordable prices. With round-the-clock availability and technologically updated professionals, you can surely get future-ready solutions that would help you stand the test of time. We implement cutting-edge technology to offer scalable, flexible, and future-ready solutions that are meant to help you provide reliable and efficient health-related services.