Health Information Exchange Software Solutions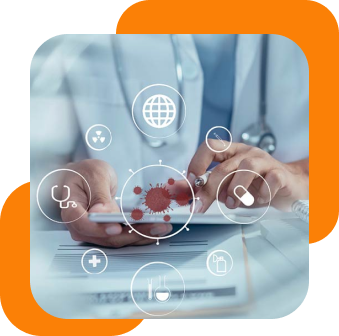 Powerful Software Solutions for Health Information Exchange (HIE).
Octal IT Solution is the leading provider of Healthcare IT Solutions, including Health Information Exchange (HIE) software. We build powerful and feature-rich HIE solutions providing you with a secured and reliable medium of information exchange between patients, doctors and other medical authorities.
The HIE software comes with a centralized clinical data repository where all the data is securely stored. Accessing the data and sharing it among everyone is efficient, fast and secured. We build one-point of access to larger healthcare ecosystem, elimination of paper documentation, support of all healthcare policies (HL7, FHIR, C-CDA and HIPPA etc.) and supports network-to-network connection to the healthcare industry.
Our Solutions
01

HIE Interface Development
We provide interfaces for public and private HIE design and implementation, network architecture development services. We provide real-time sharing of data between patients, including ACO or RHIO and other clinical information systems.
02

Engineering HIE Architecture
Joint and hybrid HIE architecture solutions such as messaging protocols, Web services, FHIR APIs. We call the existing code database, for example LOINC and SNOMED–CT.
03

Programming HIE Standard
Our HIE is development solutions meet the communication standards of medical technology, including IHE, DICOM and NWHIN. We have integrated the HL7 standard of CDA, CCD and QRDA.
04

HIE Interoperability Solutions
We integrate HIE with EHR / EMR program, HIS / PMS E-Rx network laboratory and test equipment, DICOM / PACS, ER information systems, medical IoT devices and billing/insurance software.
05

Implementation Of Third-party HIE Vendors
We use third-party HIE vendor software and APIs to use features from Cerner, Orion Health, Aetna Medicity, Intersystems, and Allscripts vendors. We use HIE resources and specifications from OpenHIE, HIEOS and MOSS.
06

Mobile HIE Software Services
We develop cross-platform mobile apps for HIE data. We build patient portals, mobile apps, with C-CDA for optimized sharing of medical data and records.

All-in-One Solution
All the required features come up under a single portal so that user can manage and monitor all the related activities without any confusion.

Data Collection & Privacy
Implementing the most effective big data analytics solutions, we easily map the data of the right patient so flows out to the therapist, and makes sure that it comes with the effective solution.

Wearable Tech & Cloud
While using all the cutting edge technologies, we create fitness apps that delivers on-demand medicine services and patient care prescriptions and beyond.

Targeting Patients Personally
We deliver solutions that comprise of medical history, health care plans and other critical data so as to make the patients realize that he is being treated personally and with utmost importance.
What Makes Us the Buzz of Tech Town
Here's what our business partners say about us.
Tech Talk: Stay Up-to-Date with Our Latest Insights
We have our eyes on what's new in the tech world and bring you the latest updates here!
Octal In The News
Octal IT Solution Has Been Featured By Reputed Publishers Globally
Let's build something great together!
Connect with us and discover new possibilities.






Gain More With Your Field Service
We're always keeping our finger on the pulse of the industry. Browse our resources and learn more.
Let's schedule a call