Gone are the days when you had to demand people to accomplish the day-to-day tasks, as today virtually everything can be managed pretty easily simply from your smartphone. Be it ordering lunch, booking a deep house cleaning, getting a cab booked, everything is just super easy allowing this tiny little thing filled with amazing and helpful mobile apps. All you require is to install the required mobile apps and give them a go.
Transforming the businesses
These on-demand mobile apps have significantly changed the scenario of business. It can't be denied that the on-demand services providers bring in on an average $57.6B revenue annually. As per the Harvard Business Reports, the on-demand economy attracts more than 22.4 million annual consumers, where it spends around $57.6 billion.
These on-demand services usually comprise of home services, food & grocery, transportation, freelance services, health services, maid-booking, and other such services. In all, there is no dearth of ideas in the arena of on-demand mobile apps. So around 49 percent of the on-demand app users are millennials, whereas 30 percent of the consumers tend to be between the age of 35-54. Now as we go by these figures, it is pretty clear that the growth is just going to be immense in this sector of on-demand apps in the coming times, and there will certainly be increased activity in this industry.
Going by recent research, it is expected that in the coming future:
On-demand services are going to be more personalized.
These apps will enable the sellers to interact directly with the seller, removing the requirement for the intermediaries & platforms, which charge very high commissions just to facilitate the transactions. ?
On-demand apps are expected to generate more demands for products/services online.
These apps will continue helping millennials to monetize their assets, skills, & time.
Also, they will facilitate the service providers in meeting the needs instantly anywhere.
Other statistics reveal:
There are around 45% of these mobile apps users have a degree or even higher than that.
Around 68% of users are having an annual income of $50000.
Around 59% of users of the on-demand mobile apps are males.
55 percent of on-demand app users are people who are aged between 25 and 44 years.
Around 47% of users are having an annual income of $75000.
There are 54% of app users living in the suburb, whereas only 18 percent are inner-city residents.
How do on-demand mobile apps influence the industry?
Below are the industries commonly influenced by on-demand mobile apps: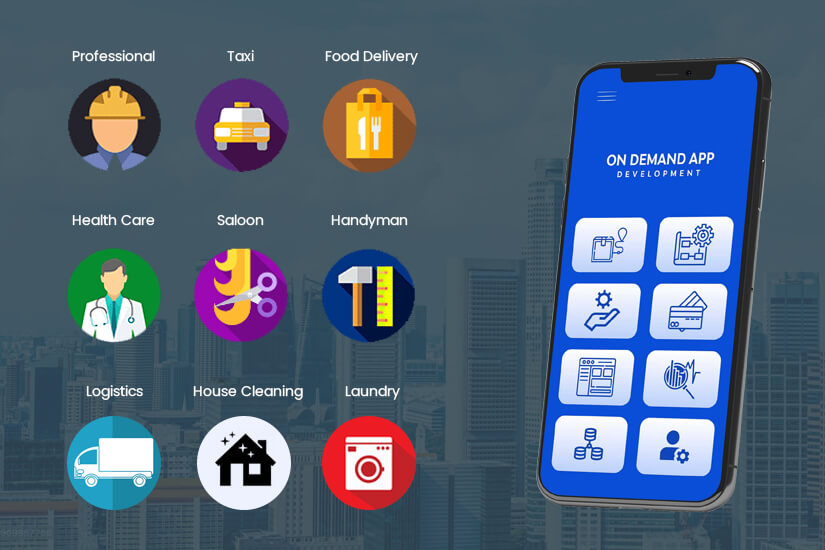 Fitness: Today, as most people prefer to use a mobile app instead of a website, hence most businesses into the fitness sector, as well as the fitness coaches, are choosing to deliver their services & acquire new clients via an on-demand app that is crafted for such a purpose.
Cab services: It has become immensely easy for people today, to place a request for cab rides to various locations anytime with their mobile phones.
Maintenance: Earlier the individuals & companies faced these challenges of trying to hire maintenance & repair service providers. However, the presence of on-demand mobile apps has made it easy for them, especially at times of an emergency, such as a vehicle breakdown.
Laundry: The laundry service company nowadays offers their services to clients in far-away areas as well, thus increasing the chances to set up in multiple regions and providing more employment opportunities.
House Cleaning: Earlier the house cleaners or the maids were required to go house-to-house, asking for the need for cleaning services. However, the maids/house cleaners of today do it differently, by using the on-demand apps to connect with their potential clients.
Wine/Alcohol: In the past some time, there has been an emergence in the on-demand mobile apps that serve the liquor industry. Today, it has become immensely easier for people to order their favorite drinks and then have them delivered to their doorstep at any given time.
Logistics: The usage of on-demand mobile apps in the logistics sector is growing constantly and it is soon expected to reach a stage where a larger percentage of the millennials will be preferring to use these apps rather than the traditional methods.
Pet Care: Earlier pet services consisted of catering to the only clients who live within a specific geographical area. However, today the pet care providers are moving into other regions and thus increasing their scope for higher-earning and diversifying the range of solutions they offer.
Tutor/Coaching: Today the concept of on-demand mobile apps has optimized this whole idea of hiring private tutors who are adept, skilled, and knowledgeable of different and are keen to reach at any time as per the students? convenience.
Beauty Services: Today anyone can place a request for the salon services based on their schedule, whereas the beauty service providers can enjoy flexible working hours.
Doctor On-Demand: Today, allowing doctor on-demand mobile apps, the provision of medical care is not simply restricted by the location/time when a patient requires medical assistance. This way there is a huge reduction in the number of medical emergencies and death rates.
Food Ordering: The mobile app service allows the food vendors to reach consumers on a larger scale, which results in accomplishing more order numbers and also maintaining a flexible menu that is based on consumer demands.
Read More: How to Develop a Telemedicine app on the concept of Doctor on Demand?
These few tips can help businesses in increasing the reach of their app and attain a higher return on investment (ROI):
Flexibility:
On-demand mobile apps need to be flexible to address and meet the ever-changing requirements of users. It is also important to offer 24/7 assistance and along with that, the app must be scalable so that the additional features & functionalities can be added in the future, keeping the app updated.
Pricing Strategy:
It is not that simple to determine the monetary value of an on-demand mobile app. What happens is that while offering the online services coming with utmost convenience and doorstep delivery, the business can take some charge or fee. But while deciding on the same, it is important to keep competitors' strategy in terms of pricing in mind, as people hate unnecessarily expensive apps & services. Hence, the businesses should keep their target audience in mind while deciding on the charge. With the right pricing, the app's success can be ensured.

Technology Integration:
When the businesses get in touch with mobile app development companies to meet their app-related demands, they'll then get an insight into the current market trends and the technological advancements in the mobile app domain. An app needs to offer a pleasant user experience with a simple, intuitive interface & seamless performance. This can be done by integrating the latest technology.
How much does it cost to create an on-demand mobile app?
Same as other customized mobile apps for the business, the cost of on-demand apps as well primarily depends on the features & hourly rate. Now the hourly rates for app development vary hugely across different geographic regions. For instance, the countries of North America, like the USA and Canada have the highest hourly development rates, i.e. up to $150/hour, while in India and other few Asian nations, the hourly development rates are at the lowest at $25/hour or little more for the on-demand mobile apps. Over the years we have affirmed that the solutions that are delivered to you are best in the market at the most affordable prices.
The Key Features in Most On-demand Mobile Apps
Any on-demand mobile application would have a few basic features that would define how the users interact with the application. If you are looking forward to building a solution that can help you grow and build a stronger presence in the market, we are just a click away. We would affirm that the solutions that are dropped to you are interesting and engaging.
Push Notifications: It is important to keep your audience updated with the latest happenings in the business making you available and attracting some attention.
Payment Gateway: In-app payment has become one of the most vital features to be integrated with your solutions. We make it a point to integrate the in-app payment feature and various gateways that would make it easier for the user to make transactions.
Booking/Reservation: It makes it easier for people to connect with the service provider and fix the bookings or services for ease of using them.
Navigation: Most on-demand mobile applications need you to deliver the products and for that, they would need navigation. We affirm to integrating navigation features with your product would make delivering services easier.
List of Order: As you place an order with the service provider, we affirm that the list of orders is always available. This would help you build a strong presence online.
Fare Calculator: For any solution provider, we make sure that the solutions that are delivered to you can calculate the price of the services and include the rewards and discounts your user would have been offered.
Order & Delivery Confirmation: For any on-demand mobile application, it is important that the orders booked are confirmed. We affirm to deliver solutions that are easy to understand and can help you better results.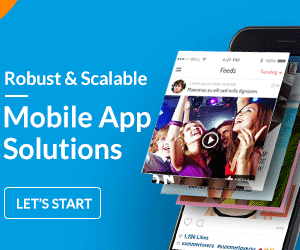 Now considering the integration of the features, hourly rates, market research, and development duration, the cost of the making of the on-demand mobile app development can be anywhere between $5000 to $50000, depending on the business requirements and the preferences.
You can surely add some advanced features to your mobile application that would make your product stand out from the crowd.
Wrapping This Up!
On-demand mobile app development has seen exponential growth in terms of demand and utility. The mobile application domain that started with simple games around 1997, has now turned into a one-stop solution for all the basic needs. From ordering food to taking doctor appointments online, there is nothing that you can think of and the little device in your hand can't do it.
Over the years we have dropped some interesting solutions that have made it easier for the customers to make sure that the solutions are engaging. The on demand economy app development company affirms that the solutions are unique to your business and can simply help them survive the market pressure and build better results.