In today's tech-driven era, smartphones have seamlessly become a part of our daily routines. On average, a user spends over 5 hours daily using mobile applications. Witnessing the immense potential of apps, businesses have started investing in mobile app development. It helps businesses reduce their reliance on physical stores to engage customers and unlock new realms of growth possibilities.
Mobile applications are emerging as a game-changer for businesses; it is fundamentally transforming how businesses connect with their target audience and enhance their brand presence.
In this blog, we will dive into the list of compelling benefits of mobile app development and reasons to invest in it.
Key Statistics and Facts Highlighting the Importance of Mobile App Development for Businesses
The global market of mobile apps is anticipated to generate around $935 billion in revenue by the end of 2023.
When using smartphones, a user spends around 90% of their time on applications, emphasizing the necessity for businesses to build their presence in this space.
As of 2023, the count of smartphone users has touched the benchmark of 6.9 Billion, which is approximately 85% of the world's population.
An average smartphone user checks their phone around 262 times in a day.
On average, a smartphone user uses around 9 to 10 apps per day.
Compared to websites, mobile apps have a better conversion rate. On average, the conversion rate of apps is 3 times higher than that of websites.
As of October 2023, the Google Play Store and App Store have 3.7 million and 1.8 million apps, respectively.
As per a report by Statista, the revenue from mobile apps is expected to increase across all business segments and reach an estimated amount of $613.
Read More: Top-Rated Mobile App Development
Revolutionizing Business Dynamics: Benefits of Mobile App Development for Businesses
In today's digital landscape, mobile app development offers businesses a wide array of benefits, ranging from enhanced customer engagement and visibility to streamlined operations and swift revenue growth. Here is a quick look at those benefits.
Engage Customers to Grow Business
Mobile apps are bridging the gap between businesses and their clients to empower direct and personalized interactions. Features like push notifications, real-time updates, and exclusive promotions are paving the way to build deeper and enduring relationships.
Improve Visibility and Brand Awareness
Mobile applications that are available in popular app stores can significantly boost the brand's visibility. Moreover, it lends an air of credibility and professionalism to your business. Your brand awareness is the key to surviving the market and the digital ecosystem.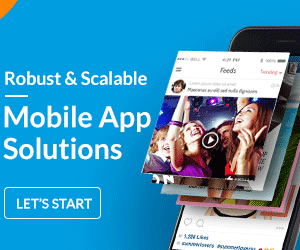 Make Your Business Accessible
One can access applications easily on smart devices, enabling them to access services and products according to their convenience. The convenience of mobile apps can significantly elevate the sales of a business.
Enhance Customer Experience
Mobile applications can be customized to offer an intuitive and user-friendly interface, ultimately elevating the customer experience and resulting in increased customer retention rates.
Trust Data and Plan
Applications have the ability to gather valuable information about a user, their preferences, and their behavior. This information can be analyzed to make data-driven decisions, tailor marketing strategies, and improve services and products accordingly.
Expand Globally with Mobile Apps
Mobile applications have the capacity to help businesses connect with a wider audience pushing the geographical limitations. Businesses can launch their apps in various languages and further customize them according to diverse markets.
Gain Competitive Edge
Not every business invests in mobile app development; therefore, having a mobile app can give you a competitive advantage and help you stand out from the competition. It also demonstrates your commitment to leveraging cutting-edge technology to enhance customer service.
Expand Revenue Horizons
Beyond traditional sales, mobile apps open doors to diverse income streams, including in-app advertisements, collaborations, subscription models, and affiliate marketing.
Personalized User Experience
By integrating AI into mobile apps, businesses can easily track user behavior and preferences. It enables businesses to send personalized notifications and product recommendations to their customers. This personal touch can significantly increase conversion rates.
Cut on Your Investments
Mobile apps can lead to long-term cost reductions. They have the ability to replace conventional paper-based procedures, simplify inventory management, and minimize the necessity for physical marketing collateral.
Operate Efficiently
Mobile apps offer a streamlined solution for internal business processes, serving purposes such as project collaboration, employee communication, and inventory management.
Augment Customer Loyalty and Retention
Introducing rewards and loyalty programs within your mobile app can effectively add to your customer loyalty. This strategy allows you to recognize and reward loyal customers with discounts and exclusive offers to encourage them to stay engaged with your business.
Read More: Best Android App Development Company
Amplify Social Sharing
One of the major benefits of mobile applications is users have the convenience of effortlessly sharing content, like services and products from your app on their social profiles. It is the modern-day word-of-mouth marketing for your business and extends your reach and influence.
Feedback and Communication
Businesses can use mobile apps as a direct channel to seek feedback through ratings, reviews, and contact forms. This valuable input allows you to promptly address concerns and enhance your offerings.
Location-Based Targeting
With mobile applications businesses can leverage GPS technology to offer location-specific products and services. It is particularly valuable for businesses that are looking forward to establishing themselves in a new location.
Boost Sales and Revenue
The mobile apps can incorporate e-commerce capabilities, allowing customers to make purchases seamlessly within the app. This can lead to a substantial increase in the count of both sales and revenue.
Cross-Platform Compatibility
Thanks to advancements in mobile app development frameworks, businesses can invest in applications that function seamlessly on various platforms, including Android and iOS, cutting down on development time and expenses.
Scale Your App as Your Business Grows
As your business blossoms, your app can effortlessly expand in tandem. You also have the flexibility to incorporate fresh features, venture into new markets, and offer your services to a larger user base, all without the need for major infrastructure overhauls.
In brief, mobile app development can have a profound effect on businesses by boosting customer engagement, enhancing visibility, elevating customer experiences, and furnishing invaluable data. It represents a strategic investment that can help generate substantial returns in today's digital era.

How Much Does It Cost to Develop a Mobile App for Business?
Defining the cost of developing a mobile app for business is quite complicated. Factors like app complexity, chosen platform, features, design intricacy, development team location and expertise, third-party integration demands, and security measures all contribute.
The formula to calculate mobile app development cost is quite simple i.e. multiply the per-hour charges of a mobile app development company by the number of hours required for developing the application.
| | | |
| --- | --- | --- |
| App Type | Average Time | Cost |
| Android App | 1,200h | $50,000-$300,000 |
| iOS App | 1,200h | $55,000-$300,000 |
| Web App | 1,200h | $60,000-$300,000 |
| Startup App | 1,600h | $60,000-$600,000 |
| Augmented Reality App | 1,600h | $100,000-$250,000 |
| Enterprise App | 1,600h | $50,000-$200,000 |
In order to calculate the hours required for developing an application, you need to get in touch with any leading mobile app development company that can understand your app requirements and business model. A basic mobile application can be easily developed within the budget of $15K to $30K.
Why Choose Octal IT Solution for Business Mobile App Development?
Developing a mobile app has the potential to transform a business and accelerate its growth. The team of experts at Octal IT Solution develops custom solutions for businesses that boost sales figures, elevate brand presence, and enhance operational efficiency. With 15+ years of experience in mobile app development, we can comprehensively build business-driven solutions and contribute to your success story.
We have a proven track record of partnering with renowned global brands like BMW, Vodafone, ZEE5, etc. Also, make sure to check out our portfolio to have a better understanding of our expertise.
Investing in proficient mobile app development services can unlock a substantial return on investment. You can trust Octal IT Solution to craft a custom app that is precisely tailored according to your business needs, enabling you to target a wider audience and outperform the competition.
Read More: Best iPhone App Development Services
Summing Up
The importance of mobile app development for businesses is crystal clear now. It plays the role of a key to unlocking success in today's digital realm. Mobile applications enable businesses to forge deeper connections with their customers, streamline operations, elevate brand visibility, and get a competitive edge.
In a world increasingly reliant on smartphones, businesses that are investing in mobile apps position themselves for persistent growth. It's a lot more than just a fleeting trend; it stands as a strategic imperative.
FAQs (Frequently Asked Questions)