"Snuggle up and feel so safe and comfy, and know that you'll never be lonely."
-Michael P. McParland
Nothing can match the comfort of a warm hug. All of us love to embrace the affection of our family members and friends. Sometimes, these hugs are the best therapy if you are feeling weak or low.
As people have become busy with their lives and work schedules, they lack time to cherish the little moments of life. There is a large part of their mental health that is affected by warmth and affection. People have become very occupied and lonely these days and thus, seek alternatives to give themselves comfort and listen to them physically and understand them. Over the years with a rise in on-demand solutions, we have walked away from where we have cuddle app solutions available in the market.
If you are one of those who want to bring to the market a solution that would help you provide your end-users the comfort and warmth of cuddles, then hire a cuddling app development team that understands the significance of the product and can deliver solutions that are in line with your market needs.
Before we see how the team can help you through, let's first see why these apps are gaining popularity around the globe.
Why Is Cuddling Mobile App Gaining Popularity?
When talking about developing a cuddling app, you must be aware of the benefits and the comforts that your end-user would expect from you. If you are looking forward to a solution that can make things easier for you, we affirm the solutions that are dropped to you are engaging and high earning. Some of the significant health benefits of cuddles are:
1. It Is a Stress Reliever
Hugs and cuddles often create a sense of calmness and relaxation. There are times when one needs a little comfort and affection to feel better, and according to the studies, cuddles can do wonders here. The scientific reason behind this is the "Cuddle Hormone" or Oxytocin.
This is often released when people or pets snuggle up or bond socially. The release has a domino effect throughout the body and is found to ignite reactions like
Reducing Inflammation
Healing Wounds Faster
Cutting Down Cravings for Drugs, Alcohol, and Sweets
Bringing Down the Heart Rate and Stress
Getting a warm, firm, and reassuring hug in times of any stressful event like waiting for your results or playing some significant game, can help you stay calm as the levels of oxytocin remain quite high.
In some researches, it is found that a heavy, cozy blanket also acts like a cuddle and helps relieve stress as they simulate being held or hugged. The weight of the blanket would create a pressure point, relieve anxiety, and lull you into a restful sleep.
2. Feel Happy about Everything
When you cuddle or hug someone, the level of serotonin or the "feel-good" hormone rises in the body and is spread in the brain by neurons. This makes us calm and confident. A calm and confident individual is happier and feels good about themselves all the time.
The low level of these hormones cause sleep disorders, and that further leads to obesity.
Most antidepressants in the market are functioning with the same theory. They are marketed to raise the production of serotonin. The alternative to these antidepressants is hugs. It triggers the release of the hormones in the brain that alleviate depression and make you feel happier.

3. Develop Stronger Bonds
This is human behavior to offer empathy and comfort when we know someone is in pain. When an individual receives a hug, they are comforted and feel safe. Sometimes, it plays quite a significant role in deciding the course of the day. In a lot of ways, hugs play a similar role as meditation. They let you be present at the moment, let go of various things, and flow with the energy.
In our busy lives, we may have forgotten how meaningful a hug can be, but with the cuddling mobile app, things could be better and easier.
Make sure not to underestimate the healing power of the hug. Simply, like we exercise to stay in shape, and check what we eat on most days, we should put in efforts to connect with people we care about.
4. A Hug a Day Keeps the Doctor Away
Hugs can help you boost your immunity. There are various experiments and reports that reflect how hugs can affirm that a person is less prone to any infection if they are given social support and hugs.
Even if individuals are exposed to greater internal conflicts, decision-making turns out to be easier.
Thus, scientifically hugs are a source of energy and wellness. With your Uber for Cuddling application let individuals feel better and healthier.
For such applications, you need experts who can take care of the ups and downs in the development process and are well-versed with the needs and feature set of such applications.
Our android and iOS app developers have delivered similar projects in the past and understand the needs of the market really well.
Want to get into some chit chats? Connect with our mobile app development team today!
Features to Include in Your On-Demand Cuddling App
When talking about a strong mobile application, it is needed that the solution is designed with a set of features that would bring on the screen easier solutions. If you are looking forward to online dating cuddling app development, here is a basic feature set you need to take care of: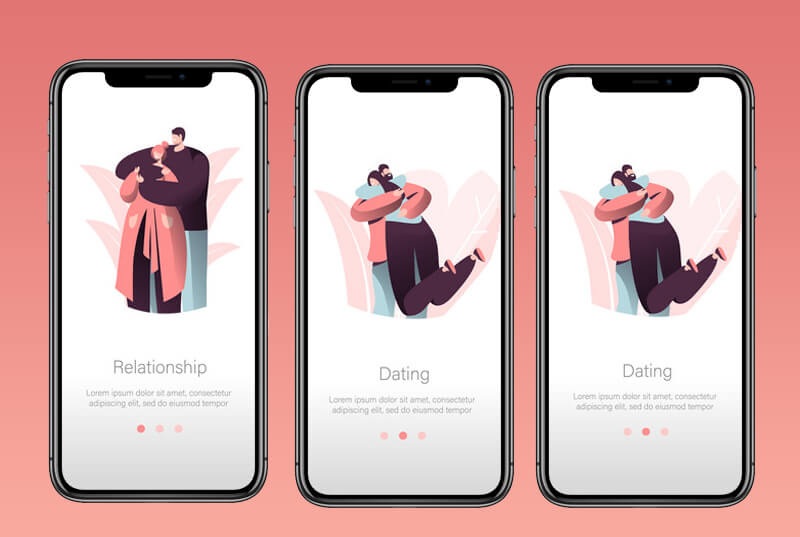 Build Your Profile: The cuddler and the end-user would get to create their profiles with easy sign-up processes. With their profiles, they can track the sessions, choose services and see how they can use your product for their health and well-being.
GPS Integration and Maps: This would make it easier for the people to see how far the service provider and the user are. Also, one can track how long it would take to reach a certain destination and what is the easiest way to reach a place.
In-app Calendar Integration: This makes it easier for the user and the cuddler to plan their day. With in-app calendars, one can simply choose and block the cuddler and the date would easily be marked in the calendar. This would help you track the time and date when the services were offered to you.
Push Notifications: When talking about the push notifications in the application, it makes it easier for the people to connect with the offers and your brand. As you communicate with them, they would engage with your business and seek more services. Our on demand cuddle app brings to the picture the solutions that would help you stand out from the crowd and get you the best results.
Real Time Tracking: Let your users keep a track of the solutions in the market. We affirm that the solutions that are dropped to you involve real time tracking to make sure that the services are well recorded. Some other features that make us your most loved iOS and

android app development

for cuddles.
Privacy Policy: We affirm that the solutions that are dropped to you can keep the identity of your users a secret. We develop solutions that abide by strict security and privacy infringement is a strict no.
Great Aesthetics: The solutions would engage users only if it has a few elements that attract. Our UI/UX designers make sure to deliver solutions that are easy to connect with and are centered around your business idea.
Social Sharing: With the social sharing button, it becomes easier for the users to tell about your services to their friends and market your application for free. This is how gradually your business would grow and get you great results.
Reviews: Let your users and cuddlers review each other so that the sharing process becomes easier. If you are looking forward to building a strong solution then, this is one of the most important features.
These are some of the features that would make it easier for you to make a strong presence in the market. These applications follow Urban Company like feature sets and affirm that the customer doesn't lose interest in the services ever.

Cost of Developing Cuddle App Solutions
Now, let's talk about the cost of development of cuddle on demand applications. The cost of development of these applications depends on various aspects. Unlike other solutions, these aren't defined by simply the clicks, but need the cuddler to be available for the while, and this brings a little change in the pattern.
The most dominant aspects that determine the cuddle app development cost are:
Basic Features Included: We offer a set of basic features with our development plan, that would be okay to make your organization to have its identity in the market. These features would be sufficient to have a stand in the market and can be customized as required.
Advanced Features Included: Our mobile app development team affirms the solutions that are dropped so you can easily experiment with the solutions.
Business Model: You can decide if you want a dating app business model or a chat based business model for your application. If you want something that is an amalgamation of various models would cost a little on the higher end.
Technology Used: With our on-demand cuddling app, you can be sure that it is integrated with the latest technology. Over the years we have been delivering similar results and these companies have gained popularity now.
Region of Development: When talking about the developers from various regions, hiring developers from the US would be a little expensive and the developers from south east Asian countries would charge less.
We understand selecting a mobile app development team is quite complicated, and here is a guide to hire mobile app developers for best profits.
The cost of development of basic application would be around $35k to $50k and with advanced solutions, the mobile application development company may cost $65k to $80k.
We offer you the best in the market rates for app development. We make it a point that the solutions that are delivered to you are interesting and engaging. We have been working in the direction of delivering interesting solutions that can help you earn the best results.
Conclusion!
When talking about the solutions that can help you take over the market then you are at the right place. We can help you build a strong presence in the digital universe that would bring great sales and profits.
With technology like Artificial Intelligence and Machine Learning it is easier to feel better without any humans around for comfort and empathy.
You think your app idea needs to turn into a strong reality? Reach to the techies at Octal IT Solution, who can help you build strong solutions.