In this blog, we discuss daily motivation app development like how to make a motivation app, its features, and the cost involved in the daily inspirational quotes app.
Ohh…I feel like doing nothing!
I want some rest.
I am tired for no reason.
And whatnot.
The struggle of a lazy and dull day begins in the morning itself. And for some of us as the Sun goes higher the motivation drops. How amazing would it be if we could wake up in the morning to something that motivates us for the rest of our day?
Or small challenges and tasks in the middle of the day to break the monotony and keep us charged.
Great na. Well, simply go to the play store and download a daily motivation application. Easy!
If you are looking forward to helping your audience with something that is interesting and engaging and keeps them motivated for their goals, then all you need is to hire a daily app motivation app development team that can make things easier for you.
Well, before we get into the technical details of the mobile application development let's talk about how effective these applications are and how they can help your users be focused and motivated.

How Do Motivation Applications Help Users Stay Focussed and Reflective: Understanding the Science Behind
When talking about being focused the most difficult aspect is arranging your ideas and sentiments. There is no limit to what you think and how many ideas strike your mind at once. There are so many theories, sessions, websites, apps, forums, and YouTube channels that strive to deliver inspirational thoughts and hand-picked motivational quotes and stories from mentors around the world who scientifically create the process to make users feel confident.
Getting inspiration from unexpected places, whether it's a quote on your phone screen or a message in your palm lines, always delves deeper into your heart. Reading quotations may seem cliché at times, but having the correct phrase appear on your screen at the right time might provide you with the boost you need to get whatever's on your mind done and off your to-do list.
Thousands of quotes are usually included in the app for a variety of situations, times, purposes, locations, and moods. Some users, but not all, are always in one of these moods and can easily connect with the thought, allowing you to create your own daily positive affirmation reminders as notifications.
Our motivational daily quotes app developers understand the significance of such a product and help you build a solution that can help maximum number of users at once. 
Many of us, at times, feel why such applications have surfaced over the years and how they could be not beneficial for the users.  
What Are the Benefits of These Motivation Apps?
When talking about such applications, you'll often be amazed at how a quote might accurately interpret what you're thinking. Positive mantras have been scientifically demonstrated to have a major impact on your mental health, according to various research.
Hearing your encouraging ideas spoken to you in your own voice is 5 times more effective than hearing them spoken to you in someone else's voice. Amazing Right!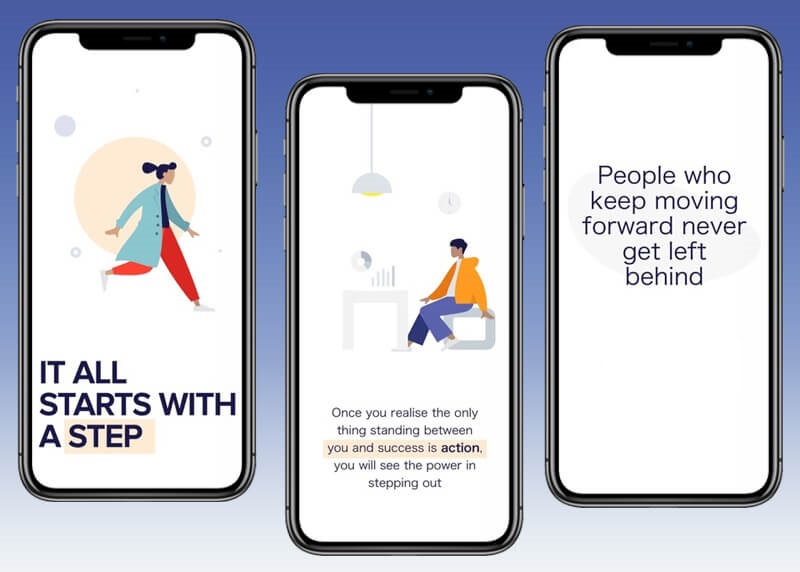 Build Habits
All thanks to mobile app development companies that combine their exceptional talents and expertise with the most cutting-edge technologies to create a science-based motivation software that motivates you across the board by helping users in developing a life-changing habit.
Motivation applications take advantage of elements like an extensive library to boost productivity and focus, as well as mental health activities like meditation and relaxation.
Track Goals
To make this daily inspirational quotes app work, mobile app developers watch the user's habits and keep a close eye on everything. It creates motivating quotes by analyzing everything and grouping your goals, habits, and routines together. Furthermore, motivation applications come with a well-defined dashboard, reminders, charts, adjustable target dates, and other features that help you stay on track with your goals.
Pen Down Ideas
It's a basic tool for jotting down your ideas and feelings and tracking how they change over time. In fact, text message quotes app development businesses create an interface that reflects inspirational quotations with emotion to help users keep track of all the good and bad things that happen to them over time. This can assist them in remembering all of the joyous events and growth opportunities they've had throughout their life, as well as allowing them to create new ones.
Know Your Emotions
This can assist you in remembering all of the opportunities for enjoyment and growth that have come your way over time, as well as understanding your mood swings.
Given this data, it's safe to predict that motivation apps will be the most popular apps in the coming years since they help users stay focused and motivated by creating a visible link between their thoughts, goals, chores, and personalized notes.
Help Stay Focused
Most entrepreneurs attribute their business success to their laser-like focus on their objectives and the effort they put in to make it happen on time. And it's for this reason that you should promote your application among startups and entrepreneurs, focusing on their objectives.
These are the basic benefits of using applications like these. We have been working on motivation notification app development, to make sure that no person around the world feels suffocated or lonely when talking about the development process.
However, keep in mind that the most important thing is to identify a mobile app development company that can assist you in creating a fantastic motivation app.
An important factor when you decide to enter the market is the cost. You have to make sure that your motivation app development doesn't ask for a lot. Over the years we have built solutions that can make things easier for you and help you build a strong presence in the market. 
What Factors Influence the Cost of Developing a Mobile App?
It's obvious that the complexity of the app and the number of features it contains are important variables in determining the ultimate cost of app development. They aren't, however, the only ones. The app's features and functionalities, platforms you want to build for, visual design customization, the complexity of backend infrastructure and administration, and maintenance costs (which we'll discuss later) are all important aspects that influence our development prices.
One major driver of the cost of motivation app development is the feature set. Let's have a quick look at what features you must integrate with your daily motivation app.
Features to Include in Your Mobile Application
As we already talked about it, the feature and function design of your application have an impact on the cost of developing a mobile app. Your daily inspirational messages app development team will work on the maths of how many man-hours will be required to implement your specifications before starting the development process. This is a crucial step in the mobile app development process.
The innovation and complexity of features you plan to include in your app is the major cost driver in app development. Along with this, also let the team know if you need a dedicated website, as well as the number of screens, buttons, and other features that require third-party integrations, such as in-app purchases that would help estimate the cost of app development.
While certain features are relatively simple to implement, others may be more difficult. Depending on the intricacy of the project, the development team may choose to use ready-made solutions.
The development team may employ ready-made solutions or write code from scratch, depending on the needs and requirements of the project.

Top Features in Your Motivational Mobile Application
When talking about the solutions that can make things easier for you, all you need to Here are some examples of app features you might want to add to your app and how they affect the overall cost of development.
Features That Encourage User Participation
Easy Onboarding: Easy onboarding and authorization make it easier for the users to rely on the application and engage with it. If they are expected to fill in a lot of details, they sometimes succumb and abandon the application without even interacting with it.
Notifications: It is important that the user gets notifications from time to time. This would not only keep them motivated but also increase engagement with the application. You can then add some daily challenges with deadlines they would have to complete.
Aesthetic Designs: We make sure that the daily quote application that is deployed to you displays quotes and motivation in an aesthetically pleasing way. Not just this, using the application is also easy and the colors are soothing to keep users calm.
Social Network: Another important aspect to consider here is the social integration of the solution. With social media buttons integrated into your solution, it becomes easier for users to share with their friends and family.
In-app Wallet: If you are looking forward to building a solution that is interesting and may need some transactions to be made then an in-app e-wallet would be a great idea. This would help users avoid the inconvenience of switching the applications. Within apps, credit cards, Google Wallet, Apple Pay, and PayPal are all common methods of payment. Every payment processing option will take more time to deploy and raise the development cost. The mobile app developers can now incorporate a variety of other features, such as near-field communication (NFC) chips, payment systems, and freshly developed device functionalities.
Location Tracking: A basic feature that is these days integrated with almost all applications to offer customized services.
Building novel technologies such as geo-fencing or beacons can be time-consuming and expensive. You'll also need to discover a development team with the necessary skills to provide you with such services, which could take some time. Integrating any of the more advanced location-based services will, in the end, increase the cost of your app.
These are a few features that would dominantly decide the cost of development of the mobile application that you want to take to the market.
Specifications of the Device
Make sure that the solutions that you take to the audience are accessible over various devices. Not just this the solution is expected to ask permission to use various features like dialing, camera, or location information at any time. Developers must use platform-specific APIs to construct an app that can access mobile device functionalities. New features will necessitate the introduction of new APIs, which development teams may be unfamiliar with. As a result, the development time may increase, affecting the total cost of developing your motivational mobile application.
Location of the Mobile App Development Team
So, depending on where you plan to, how much does it cost to develop an app? The breakdown of average hourly wages for development teams around the world is different. Depending on where you choose your development team, the cost of mobile development will vary significantly. Naturally, the hourly rates of software engineers in countries like the United Kingdom, the United States, and Australia are substantially more than in places like India, China, or Eastern European countries like Poland or Ukraine, which are becoming popular outsourcing destinations.
These are some of the very basic factors that would decide the cost of development of solutions that you would be taking to the market. Along with this, there are small licensing, copyright, certificate, etc. that would cost you a little.
If you are looking forward to developing an application that helps you earn great money, then another important thing to consider is the monetization model. You cannot rely on any monetization technique to earn the most from your application.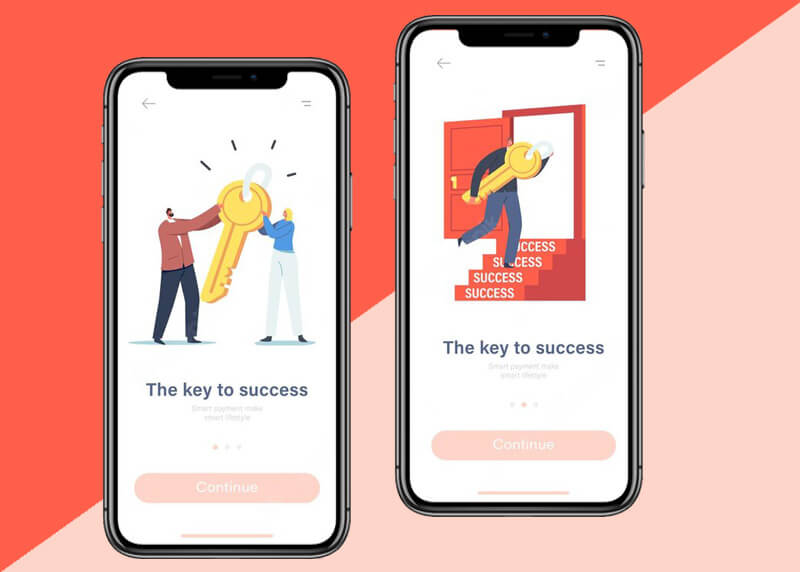 Top Monetization Strategies Our Motivation Quotes App Development Team Suggests
The main intention of taking any business online is to affirm that it generates great business. We make sure that the solutions that are to be deployed to you help you earn the best.
Free or Paid Version
When you enter the market with an application idea, you can either enter the market with a free version and earn revenue from various other sources. In the case of a paid version, build an application where you ask your users for a free trial for a few days and then ask for a paid subscription.
Freemium Version
You can opt to enter the market with a freemium version that would make it easier for the users to see if they want to pay for your application. Here, they can use some features of the application for free, and for other features, you can ask them to make a little payment.
Advertisements
Why not let others interested in your target audience pay you a little to earn better. Simply collaborate with the businesses that would make it easier for you to help you build a solution that would help you earn the best profits.
Choose any of these monetary strategies that would make things easier for you.
Wrapping It All Up!
If you want to enter the market with a solution that can help you build a strong business then we are surely here to help. All you need to do is reach out to our motivational and daily quote app developers and enter the market with a solution that stands out from the crowd.
Our experts work on highly engaging solutions that can help you earn great profits without any extra expense.