Why to go with Enterprise mobility solution?

By Mann Sharma

August 27, 2015
Enterprise mobility solution is becoming an important part of every business. This solution provide ways to work with emails, documents, CRM records, and business intelligence apps on mobile devices.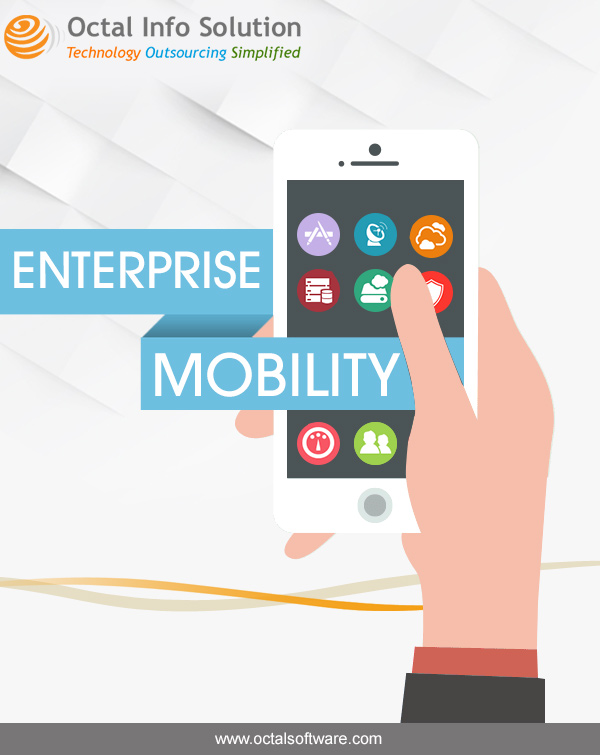 Below are the reasons why you should choose Enterprise mobility:
Maintain business reach across the globe
Manage office and workers from other location
Centralize a way to operate a business
Maintain security during data exchange with no data loss.
Octal Info Solution provides enterprise mobility solutions for different industries. This solution also has helped many clients in checking performance, get updates, reporting, analysis and there are many other benefits. Consequently securing data risk when accessed by employees using their own personal devices.
Frequently Asked Questions
What is Enterprise Mobility?
Enterprise mobility (also known as business mobility) is the popular businesses trend to facilitate remote working. It allows the user to bring your own devices(BYOD) to work. Devices such as personal laptops and mobile devices are used for business purposes. These devices have strict BYOD security policies and make use of cloud technology for data access. Hence Enterprise mobility identifies such a need where traditional office business model needs to work in cloud and provide data access remotely.
What is Bring Your Own Device (BYOD)?
Bring your own device (BYOD) is the new business trend where employees use their personal devices on the office network for working. They connect to their organizational data networks and access all work-related systems and confidential data. Personal devices in BYOD include mobile phones, personal laptops, desktops, USB pen drives, tablets etc.
What do you mean by enterprise mobility solutions?
An enterprise mobility solution provides specific mobility solutions in order to prevent the risks of data access without compromising on security and data accessibility. This is essential when company's data is accessed on various mobile devices and their management is necessary.
What is Enterprise Mobility Management (EMM)?
Enterprise mobility management (EMM) is a set of services and technologies designed to secure corporate data on employees' mobile & personal devices. Although it can be demonstrated in various ways, its a set of mobile device management systems and services to safeguard & protect intellectual property. As data is digital in nature preventing the breach in first place is the main goal. This specific processes that ensure data security and systems it must integrate with a wide range of enterprise IT systems to meet a variety of business interests. Such systems are referred as Enterprise Mobility Management (EMM)
What are the objectives of Enterprise mobility solution?
The objectives of an enterprise mobility solution are:
1. Enabling easy & streamlined communication with the remote employees of the company by providing them access to all of the resources and data of the company which is traditionally available on the company's own devices.
2. Increasing the overall productivity of the company employees by offering them access to real-time data of the company at any time and from anywhere.
3. After all the prime aim is to convert data into digital form and eliminate paper work. Overall ensuring the flow of information via various digital channels and remove dependency on physical documentation. As simple it is once the data is in digital form, with the usage of enterprise mobility solutions, the possibility of data loss or information is impossible.
Conclusion
Enterprise Mobility solutions is common for companies around the world after COVID 19. As all companies offered their employees to work from anywhere and encouraged use of their own personal devices for office work. Basically "Prevention is better than cure" hence use of Enterprise Mobility solution is must. Along with cost savings there are other wide range of benefits from Enterprise Mobility solutions. It offers boost in employees work, multiple device sharing, better user experience and much more. Hence businesses should hire enterprise mobility solution providers that have extensive experience in developing such solutions.