In the digital era, the software is the new logistic and shipping vehicle, and digital files are the new necessary commodities. And if you want your business to transform with the changing trends, build custom software. 
Custom software development is the ideation, designing, and development of software tailored to suit your business needs and operations. When you have an application designed and developed to meet your business needs, you can address your business operations and functions specifically instead of struggling with standard software's conventional roles. Some notable reasons your business needs custom software are: 
Increase team coordination as the work is predefined and can be accomplished with turnkey apps for various business operations.
Eliminate the use of various applications for one task, as the software designed understands your business functions.
Lower the risk of being prone to external cyber threats and hackers.
Modify the software as and when required according to the changes in your business module.
Reduce investment in external software and other infrastructure.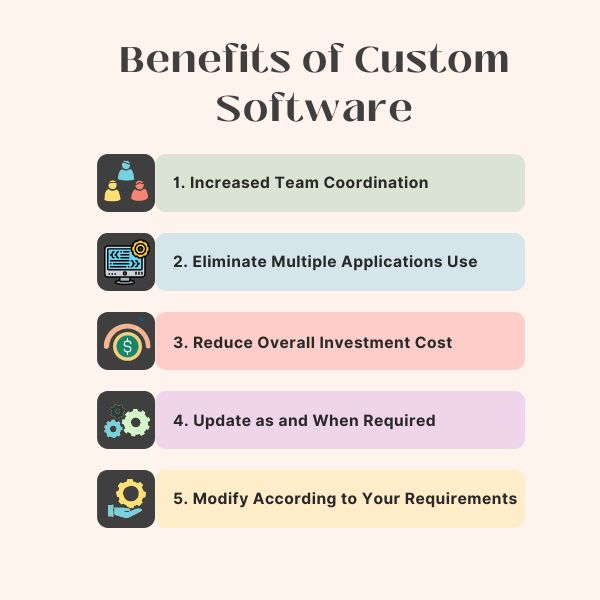 A custom software app is the best thing to have for easy coordination within your organization and with your customers. Some everyday operations that businesses adhere to include payroll preparation, tax checking, attendance recording, etc. To ensure your team focuses on growing your core business, you can partner with online software developers who can automate your business operations.
Common Types of Custom Business Software
Your business, no matter how large or small, needs your team's focus for its expansion and customer acquisition. As you partner with a custom software development firm, share your business operations and functions with them with a detailed layout of its working.
Some of the common custom software apps that our global clients often request us to integrate with their solutions are:
Word Processing Software
Every organization works on documents shared and edited by various team members as the work proceeds. Many organizations use internal emailing; thus, access to Google Docs is yet to be available. In this case, word processing applications make it easier for the employees to create a document and mark edits, comments, etc., similar to Docs.
Inventory Management Software
We integrate inventory management software for all eCommerce Solutions or manufacturing-related business solutions. The software reduces the manual efforts required to maintain the inventory. As a product is ordered, the stock is automatically updated, thus avoiding any human intervention and making the chances of any mistake negligible.
Also Read: How to Develop Inventory Management Software
Billing Software
No matter what business you run, one thing that you surely need is a bill. An invoice would be required for every service your customer avails of. We make sure every business application we deploy has billing software that adheres to the laws of the industry and the country.
Our IT consulting team can help you automate most of your business operations and be in the lead.
Payroll Software
If you have a team that works with you, payroll is an indispensable part of your weekend schedule. Our custom software solution service providers integrate payroll software with your HRMS software to help your human resource team focus on other significant tasks.
Database Software
Any customer relationship management software that reflects and tracks customer activities uses robust database management software. The CRM solution providers associated with us can build custom solutions that are easy to integrate with your business software. With little to no technical skills to operate them, your sales team can always focus on the reports and drive expected results.
Logistics and Transportation Software
Most businesses have basic logistics and transportation requirements. We are well-versed in the advanced technology that allows us to help you transport basic needs to your partners, users, or other locations easily. You can continually monitor the shipment's movement and reach the right place on time.
Ewallet Applications
Business is a transaction. With time the transaction methods may have changed from simple fiat money exchange to digital transactions and crypto exchange. Integrating an eWallet application with your business would save time and build credibility. Users would not have to switch between applications to make payments.
Also Read: Digital Wallet App Development Cost
These are some of the most common software businesses need. Along with this, based on your expertise and services, you would need to integrate more solutions that can further automate your business functioning and help you focus on further expansions and growth.
How Custom Software Development Makes a Difference to Your Business?
So, what difference does having custom software make for your business? Well, it may seem like any other white-label solution, but custom software is designed and developed to suit the functioning and operation of your business. It helps you stand out from the competition.
You can add features that align with your business objective and remove elements that don't align with your vision.
Some of the points you can think of are:
Uniquely Yours
As discussed, the design and development of the software are to suit your business needs, reflecting your chances of making a brand identity over the internet with your custom software.
Even if you are looking for software for internal business use only, it would be specific to your business, saving time in learning the technicalities involved.
Increases Efficiency
Since you aren't involved with various random steps to perform the final function, the efficiency and productivity of the team and business increase several folds. The users need not engage in general steps and can get to the desired function and accomplish it in lesser time.
Handpicked Technology
For a moment, let's ditch the latest technology. Sometimes there are specific functions and features that work on a specific technology. With custom software development, you can choose the technology that suits your business domain and function.
This helps you enter the market with an easy-to-use and economical solution.
Precisely Controlled Environment
The best thing about custom software is its controlled environment. Since the software is designed and developed to your needs, technology, and objectives, you can precisely change what you want with time.
A controlled environment makes you less dependent on the software development agency and lets you have charge of the changes and modifications you want to make.
Also Read: Guide to Hire Dedicated Developers' Team 
Increased Security
Your custom software is safer than off-the-shelf software. You can add elements, security authentication, and other details. Also, since the software is specified for your business and custom developed, it would give you enough scope to work on the security and safety of the applications.
Personalized User Experience
Since you have a dedicated developer working for you, add elements of personal touch to your software. Custom software would look exactly like your brand on the screen and can include as much modification and personalization as you want.
Integrate Authentic Platforms
As you build custom software, you can integrate various platforms required for sorted business operations. You need to integrate platforms for Customer Relationships, Content Management, etc.
Custom Software Are Economical
Pay only for what you want!
Custom software would include the features and functions you want, and you would be charged accordingly. In the future, these solutions can easily be edited as the backend of such software are simpler than the white-label solutions.
In the case of any white-label solution, you would be
Automation of Daily Tasks
You can automate the daily tasks of your team, which would not only save a lot of time and keep the functioning streamlined. With custom business software, you can even track and record employee performance, customer engagement, and other things making managing business relatively easy.
Convenient Reporting
Custom software would make generating reports and creating graphs a cakewalk. Once you know how and what works for your business and what may bring it down, you can always work towards betterment.
These are some of the perks you can enjoy when working on your custom software.
Criteria
Custom Solution
White Label Solution
Flexibility
Add or Remove Functions as Business Scales
Most Functions Come Integrated, and Modifying Them Is Difficult
Market Launch
Depends on the Pace of Development
Faster as the Solution Is Ready
Costs
Economical as It Doesn't Need Many Elements.
(Pay for What You Want)
Initially Affordable. The Future Edits Are Costlier and Need Expert Assistance
Security
Secure Protocols and Encryptions as Required
Less Secure. Exposed to Cyber Crimes
Maintenance
The Internal Team Can Be Trained for Basic Edits
Engage a Development Firm to Make the Changes
So, Yes!
The call is clear. Custom Software development is easier and more economical and the best choice for your business if you are looking forward to building a strong presence on the internet.
Best Practices for Developing Custom Software
Follow these basic practices to ensure everything goes well and your business software is exactly what you expect.
Discuss Your Current and Future Business Scope
To develop custom software that is scalable, flexible, and in line with your business needs, the developers must be on the same page as you are with your expectations.
It is important that your developers can understand and meet your current and future expectations.
To ensure you have amazing custom software share the following:
What Is the Current Business Process?
Don't just come up with guesses! Ask your employees about their daily work and where automation can help them. Try to extract as much information as possible.
What Problem Does the Software Solve?
Be clear about the issue you are addressing with the software. It should deliver the solution to all your problems related to customers or businesses.
What Does Success Look Like?
Draw the workflow considering the future of the business and check for the scope of further enhancement as the business expands.
Make a Realistic Plan with Set Milestones
Develop a feasible project roadmap with a sorted workflow and delivery system in a week. With development milestones, you can track the project's progress and see whether you need to adjust your budget or schedule.
To avoid misunderstandings, specify the milestones, testing period, and support in the contract to develop custom software.
Test Your Software for Its Functions
Before adopting the new software for your business, test its functioning. Let the development agency helping you in the journey share the test results before you implement them with your business.
Technical Testing
To guarantee the fundamental components of the software are operating correctly, developers and IT specialists do technical testing.
User Testing
User testing ensures there are no loopholes. The user experience and interface must ensure employees can work on the software quickly.
Have It All Documented
Documenting the development and implementation process to make things easier for you is important. Your document must have
Test plan and checklist
Statement of scope
Who Gets to Access What Aspect
Training Plan
These are some of the most dominant things you need to take care of when working on your custom software. Once you hire a dedicated development team to work on your project, the major problem could be the work methods.
Here, we share some dominant methodologies our custom software development team works for.
Wrapping It Up!
Custom software can help you manage your customers and employees easily. With software that reflects your business on the screen, you can always earn loyalty and reflect credibility.
Connect with our experts if you are looking forward to collaborating with a custom software development team that understands your business and helps you with a solution specifically for you.