An initiative by the government of India, ONDC is a digital space to help with the upliftment of small business owners. It is a private organization that the government of India supports for developing a digital platform. The platform will be an open network and can be accessed by all suppliers and customers without restrictions. It has been launched in five cities in India and is proposed to be made available nationwide by august this year. The open network was established in India and is believed to revolutionize the Indian online market.
The platform requires all the online market (e-commerce) giants to register to carry out their operations in India. Now the online needs are entirely managed and manipulated by the market leaders like Amazon, Tencent-owned Flipkart, and other retail firms. Ecommerce giants are curbing small e-commerce businesses and retailers from growing. The online sites offer deals that draw customers towards them, making offline retailers and businesses suffer.
ONDC (Open Network for Digital Commerce) will help small retailers and other businesses to register online without much restrictions and commission and thereby get access to customers nationwide. It will also be mandatory for all the e-commerce sites in India to register on ONDC, making it a common platform for all.
Develop an eCommerce App for your Own Business
The benefit of ONDC is that it helps cross-trade between suppliers and customers. Any customer registered with any e-commerce site can buy products from any supplier registered on ONDC. Now, it is a closed platform or single platform operation. Any supplier registered with particular e-commerce could only sell to the customers signed up with that site. But, ONDC helps suppliers gain access to customers outside the e-commerce site they have registered with.
With time the program would bring in necessary changes to accomplish its objectives. The government of India sees immense potential in the idea and is looking forward to taking it beyond the selected cities of Bangalore, Delhi, Coimbatore, Shillong, and Bhopal. ONDC is expected to revolutionize the eCommerce industry as UPI transformed online transactions.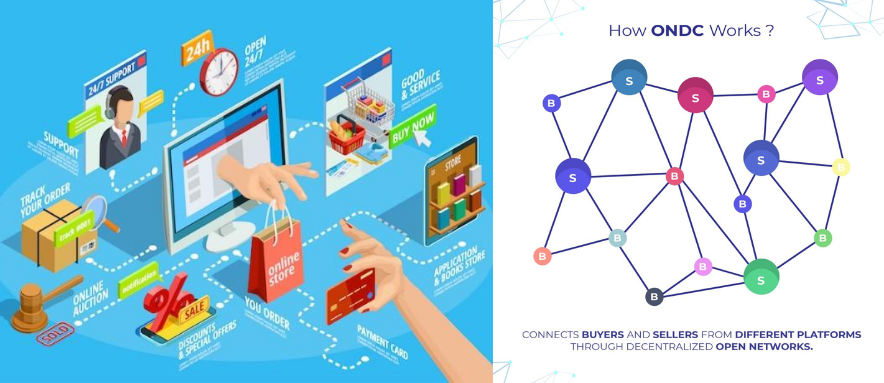 Objectives of Open Network for Digital Commerce
e-Commerce and Industry Ministry outlined the following objectives as they worked on the concept:
The participant platforms and software would get an open, competitive, and highly competitive marketplace to build their presence on the internet.
Upscale and increased reach of local eCommerce stores.
Develop an ecosystem for Ecommerce for small-scale businesses.
To accelerate the process of digital transformation for urban and rural sellers and buyers.
Offer a platform with varied eCommerce-related services at ease.
ONDC enters the market to walk with eCommerce giants like Amazon and Flipkart and aims to make eCommerce for rural India as convenient and easy as it is for urban India. The government of India has brought under one roof the experts in their fields to boost the Indian ecosystem to its best.

ONDC Will Democratise digital commerce & move it from a platform-centric model to an open-network model.
Piyush Goyal – Minister of Commerce and Industry India
Advisory Council of ONDC
Here's the list of members of the Advisory Council of ONDC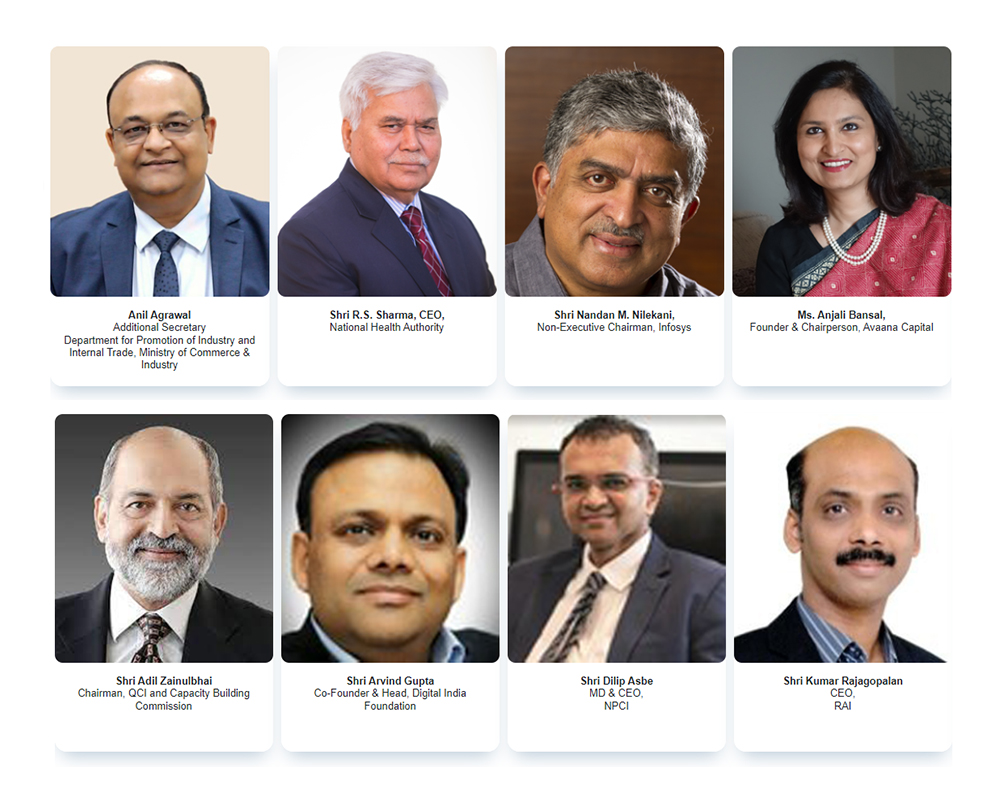 Shri R.S. Sharma – National Health Authority
Ms. Anjali Bansal -Founder & Chairperson, Avaana Capital
Anil Agrawal – Additional Secretary Department for Promotion of Industry and Internal Trade, Ministry of Commerce & Industry
Shri Adil Zainulbhai – Chairman, QCI and Capacity Building Commission
Shri Dilip Asbe – MD & CEO, NPCI
Shri Suresh Sethi – MD & CEO, NSDL
Shri Nandan M. Nilekani – Non-Executive Chairman, Infosys
Shri Arvind Gupta – Co-Founder & Head, Digital India Foundation
Shri Kumar Rajagopalan – CEO, Retailers Association of India
The council aims to decentralize digital commerce and build an open network that adds to the ease of buying and selling in the eCommerce space.
Board of Directors of ONDC
Adil Zainulbhai – Chairman, QCI and Capacity Building Commission
Arvind Gupta – Co-Founder & Head, Digital India Foundation
Suresh Sethi – Managing Director & CEO NSDL
Thampy Koshy– Chief Executive Officer ONDC
Initial Promoters and Funding Companies
As already stated, ONDC has been appreciated and welcomed by the business arena with enthusiasm, it has managed to get initial investments from various government and non-government entities. Some of the most dominant organizations that are funding ONDC are:
State Bank of India
Axis Bank
Kotak Mahindra Bank
HDFC Bank
Bank of Baroda
NPCIL
BSE
NSE
CDSIL (Central Depository Services (India) Ltd.)
Small Industries Development Bank of India
NABARD
Key Investors in ONDC
The initiative by the government of India is highly appreciated in the business arena and is well appreciated by the experts. According to the reports by April 2022, ONDC saw an investment of around ₹255 crores (US$33 million) by more than 20 organizations. The list of investors includes the QCI, CDSL, Kotak Bank, State Bank of India, SIDBI, Bank of Baroda, UCO Bank, HDFC Bank, ICICI Bank, Protean (NSDL eGov), and NABARD.
| | | | |
| --- | --- | --- | --- |
| Investor | Investment | Equity (%) | Equity (Value) |
| State Bank of India | ₹100,000,000 | 7.84 | 10,00,000 |
| HDFC Bank | ₹100,000,000 | 7.84 | 10,00,000 |
| Kotak Mahindra Bank | ₹100,000,000 | 7.84 | 10,00,000 |
| Axis Bank | ₹100,000,000 | 7.84 | 10,00,000 |
| Punjab National Bank | ₹100,000,000 | 5.97 | 7,61,479 |
| BSE Investments | Not Disclosed | 5.88 | 749,999 |
How does ONDC Work?
The Open Network for Digital Commerce (ONDC) is a non-profit organization that aims to provide open networks that are built on open-source. It will allow online vendor platforms to display products and services across all apps registered with ONDC. India launched the project to make digital commerce more accessible to all.
The e-commerce platform mainly operates in a single platform, enabling them to control the traffic and access their platforms. The payment to these e-commerce sites is via their payment partners only. Businesses and retailers must register on this e-commerce platform and carry on business under the e-commerce site's banner. In return, they get access to the customer base of the particular e-commerce site. ONDC restricts the business from operating on an independent basis. The e-commerce sites offer half-price sales and other sales campaigns, increasing customer traffic to their sites, and the offline suppliers find it hard to beat those campaigns.
That is where ONDC is advantageous. This open-source network allows all businesses wishing to enter the digital platform to register. So, what are the benefits of registering on this platform?
Businesses do not have to develop an individual operation platform, saving capital.
For Small Businesses, customer access can be widened.
They can continue business on large e-commerce platforms, as well as offer services via the open platform as well.
The vendors and customers can buy and sell from any apps registered on ONDC.
ONDC will benefit cottage industries and small businesses with a lesser customer base and working capital.
All the e-commerce giants and suppliers will be brought under a common platform, reducing price inflation and unrealistic offers.
Will it help gain the complete digitization process at a faster rate?
Logistics, supply chain, services, and technologies can be easily accessed by all businesses that register with the open platform.
What are ONDC's features?
ONDC is an open network that aims at bringing all macro and micro-businesses under a common platform. ONDC will end the monopoly of the e-commerce giants. The Indian e-commerce industry has many players in different sectors. Every sector has entered the online market decades back in clothing, grocery, food delivery, travel, or tourism. The ones that have gained market are engulfing the online platform and suffocating the small enterprises. This monopoly is restricting the growth of small businesses, and the new enterprises are finding it difficult to survive the vast trends and offers unleashed by these e-commerce giants.
ONDC helps businesses mark their presence online, thereby ending the monopoly of market giants. ONDC will help small businesses and entrepreneurs from across the country access customers nationwide. The market leaders will be registering with ONDC, enabling a free and easy online trade channel for every business registered with it, be it small or big.
The customers can buy products and services from all apps and businesses registered with ONDC without accessing the independent e-commerce platforms. The ONDC will help establish a common payment partner for all companies, and the government aims to control the cash flow in the economy. ONDC will help enhance and improvise the B2B transactions and B2C transactions. Small businesses could reach their customers faster and on a reliable platform.
How ONDC will impact Digital Commerce and eCommerce Businesses?
E-commerce is a process used to sell and buy products online. It involves managing various aspects of a business, supply chain, multiple steps in transactions and payments, etc. Digital commerce also includes features such as content management and analytics. With a variety of tools and capabilities, it can help businesses improve their customer experience and increase their sales.
Digital commerce is a process that aims to enhance the customer experience by connecting all of the touchpoints of a buyer's journey. It involves leveraging the power of the Internet of Things (IoT). Digital self-service is more preferred than talking to an agent when interacting with retailers. This is because customers are more likely to use mobile apps and smart speakers to interact with a company.
ONDC will help businesses get the advantages of digitalization and the internet on the same platform. The businesses will access logistics and supply chain networks, efficient payment partners, digital platforms, and every added service that a business needs to survive and establish. Small-scale businesses do not have to worry about intermediaries management in the business line to reach their customers. The ONDC will collaborate with all the online business management services and facilities. The businesses will not have to spend millions on content management and related services.
How ONDC will take On Amazon, and Flipkart in India?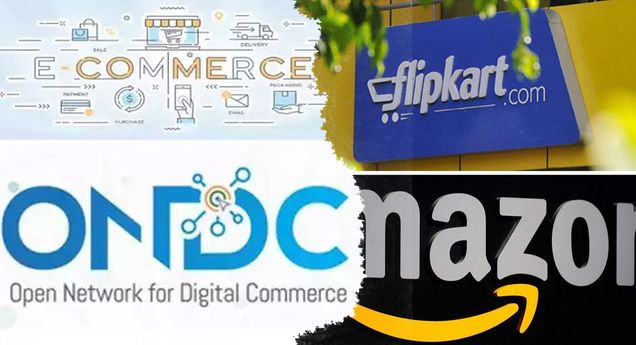 The e-commerce giants like Amazon and Flipkart operate through their independent platforms. Firms manage and control their operations, logistics, and other supply chains. They also restrict other small-scale businesses from entering the online and digital platforms. The small enterprises will find it difficult to compete with these competitors, making them step back from the process.
ONDC, on the other hand, is inviting all small businesses to enter into digital platforms. All businesses registered with ONDC will have access to logistics and supply chain services it collaborates with. The main advantage is the open platform will be operating throughout the Indian subcontinent. It will help access the platform and the benefits it offers from any part of the country.
ONDC will reduce the gap between online giants and small businesses. The government is trying to implement the digitalization scheme with the help of ONDC. The online payments, transactions, and services will; be easy to access. The customers directly accessing the manufacturers will reduce their preference for online e-commerce sites, thereby affecting their business and profits.
Final Opinion
Open networks for digital commerce will be a big step toward digital India. ONDC will revolutionize the Indian digital platform. Every business in India will have access to technology and related services. ONDC will help businesses get access to customers all over the country.
The businesses will also access the supply and logistics channels which will help them reach the vast and diverse customers around the nation. The opportunities for businesses that wish to enter the digital platform widen, which will help improve businesses.
Small-scale businesses with limited access to customers and technology will now enjoy the benefits of digital platforms and technology under the common platform. The ONDC will change the way businesses happen in India. If its implementation happens on a full scale with continuous monitoring and improvisation, this surely will change the way India shops. This will also help the nation revive its economy after the pandemic.
The pandemic has affected offline businesses and services to a large extent. The ONDC will be able to bring together the diverse businesses and services and thereby offer efficient services to the customers leading to a better buying experience.