If you are in a retail business, you can very well understand the struggles faced by retailers due to the prominence of e-commerce businesses among the customers. It is no secret that retailers are badly struggling to retain their customer base and provide a superior customer experience in order to survive in the market where e-commerce stores continue to thrive. And with the absence of a proven strategy, the service quality has further deteriorated.
Now, the need of the hour for the retail businesses is to analyze the business scenario and come up with a full-fledged plan to make customers head back to their stores, connect with the products, hence increasing the overall revenues. Meanwhile, before exploring the right solutions, first let's understand the major challenges faced by the business at the moment:
Unable to attract/retain customers
Difficulty reaching the target audience
Poor understanding of customer preferences
Need to analyze purchase history
Gain customer feedback
Better strategizing of a marketing plan
How an indoor navigation app help businesses in retaining and attracting customers?

 
With the retail businesses looking for the right solution that appeals to their audience, Indoor Navigation App can do wonders to them. This technology-based marketing solution is able to identify whenever any of the existing customers are in the vicinity of the store outlet. Accordingly, it starts the processing to gain the customer attention and its strategy takes place in the following steps:
Attending
Geofencing
Entering
Connecting
Purchasing
Leaving
So how does the app works?
Everyone is aware of the fact that smartphone adoption is on a high rise globally. But there is one less obvious fact which is how the smartphone revolution is impacting the way customers are using their mobile devices outside their home and also inside the retail stores. Now, are you familiar with the term show-rooming  Well, lately, the term signified for checking out a store or maybe stores to find an item and then buying it on e-commerce stores at a discounted price However, today the things have changed and the term show-rooming has also got a new meaning, which is checking out prices of products in-store via our smartphones.
Recent research by IDC claimed, approx. 70% of people check the prices of products on their phones and around 53% are using their phones to find deals offered in the store. Also, the same study states that 20% of customers make purchases in-store with their smartphones. Hence, it is pretty evident that mobility in-store are driving great revenues presently.
In fact, these insights give a clear indication that the divide between ?bricks & clicks? is rapidly blurring and retailers can leverage the power of location to boost their sales & offer an improved shopping experience to the consumers.
How to develop an Indoor Navigation Mobile App?

 
Well, creating a location-based mobile app will prove to be pivotal for the retail business. And here let?s find out how to do it:
Get a retail app
If you are in retail business and yet don?t own an app, then you should definitely get one RIGHT NOW!! In the present day-and-age, it is almost impossible for a business to sustain in the market without having a digital presence. It is an urgent need-of-the hour. In fact get an app developed, both for iOS and Android, as the user base for both the platforms is huge. Today almost everyone likes engaging in m-commerce and buy stuff on their smartphones with just a few swipes and taps. Hence, the retailers, without any delay, must integrate apps and offer additional personalized services (such as location-based offers & deals) on the apps, in order to keep the users hooked to the app and make them use it during their visits.
Customer Assistance with Navigation
As soon as a retail business gets a mobile app, the next step should be to get location-based services integrated into the app as they become an important part of the user?s buying journey. Think of the first thing that users often need assistance with as soon as they enter into a shopping center, mall or a store. Navigation, it is. And this is where a navigation app proves helpful. The in-store navigation app is integral and the same is with product-search functionality. Being a shop owner, you just want to offer a great shopping experience to your users, where they are not just able to find your store and products inside, but also able to view item details in order to induce purchases. Search capability coming with navigation will certainly help your customers in making a better decision regarding a purchase.
Real-time offers & content
Presently, retailers are making the best use of various engagement technologies to appeal to the shoppers, like they are combining insights from the multiple sources to offer content which is highly relevant for consumers. Like, they are putting the CRM data regarding customer?s payment preferences, purchase history, or liking with current deals, offers& social recommendations to good use, by creating an extremely targeted & contextual message which is delivered to shoppers precisely at right time & place. For this, they use a location-based feature of the app and push the right offers and deals effectively with customers based on their location.
Utilizing Mobile Retargeting to Drive Sales
Data generated from location-based technology also help retailers in using store data outside the store. Like, imagine a customer entered into Hamley?s flagship store at Mall of India in Noida but left without buying anything. So, the in-store information can be used to know the aisles where that customer spent most of his time and he checked out many toys but didn?t make a purchase. Now the retailer has a limited time-frame during which that he can reach the customer in the real-world. It can by displaying an ad about toys and offering her 15% off it ordered via Hamley?s App within the next two hours. This way by using mobile retargeting, the chances of converting the sale within the next two years is higher. This way, Location-based mobile app development prove greatly helpful in making apps that guide customers through a store, offer mobile coupons, and also for mobile retargeting, thus hugely increasing the chances of a purchase.
Indoor Navigation apps offer new digital opportunities for the retail industry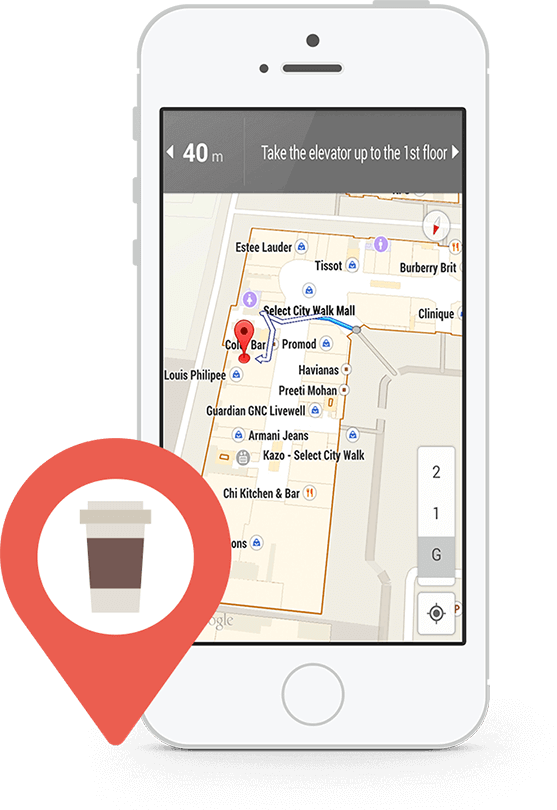 By now you must have understood the importance of indoor positioning mobile apps in the retail industry. They not just create added value for your customers, but also help in better coordination of internal processes. As per a study conducted by ECE in 2016, digital services are much asked for by customers:
two-thirds of visitors update themselves about the store via app & website before paying a visit
arrival services (84%) and information on-site (86%) are highly relevant
each fourth client wants to use a 3D guidance system (indoor navigation), among people under 40 it is even each third
How Beacons (integral to the integration of indoor-navigation app) changing things in Retail sector?
Talking about Beacons technology, it won't be wrong to call it A real shield for retailers in a war with eCommerce?. Quite literally, Beacon technology is creating waves in the retail industry. Soon, these tiny transmitters for micro-location will be driving the next phase of innovation in the retail sector. Making the best use of Beacons, retailers are able to give their audience a more personalized digital experience.
Lets understand Beacons & BLE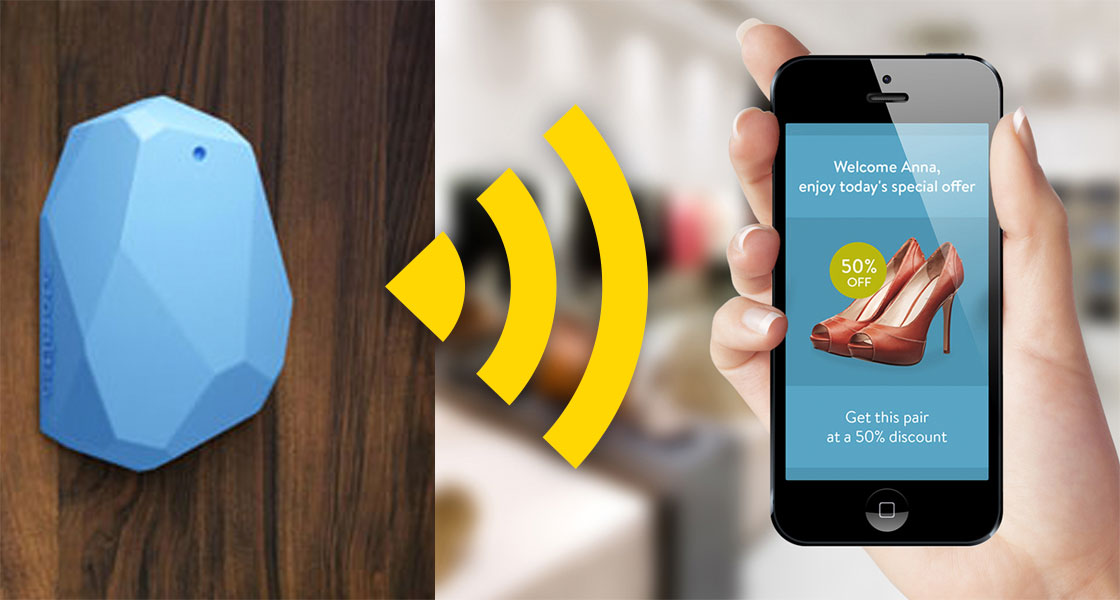 Also known as Bluetooth Low Energy, BLE is the powerful and app-friendly version of Bluetooth which enables connectivity between devices & beacons. Used widely, BLE is the basis for Google Eddystone and apple iBeacon. What Beacons do is that they work in tandem with mobile apps so to trigger specific messages or actions based on rules, like, it will trigger a push notification when a user is within a certain distance from a beacon. They prove to be greatly useful in retail shopping by changing people?s shopping habits, as they lure customers in many a way to buy products and services from the stores.
How Beacons empower retail business?
Beacon-enabled mobile apps empower retailers with interactive marketing solutions. These kinds of mobile apps contain portable tracking & event management SDK, which is able to communicate with beacons which are installed at multiple locations in the store, hence it merges in-store shopping with mobile access to information. The content management system (CMS) with a role-based access control enables clients to manage all beacons and contextual messages from a single location.
Business benefits:
Rich insights for improved decision making
Enabling the delivery of valuable content to shoppers in real-time
Access to shop locations in the mall and on-going offers from a smartphone
Increased customer engagement with personalized, more relevant offers
With the technology development, the demand for retailers to offer increasingly tailored user experience continues to rise. And to offer a new-age customer experience, navigation platforms are becoming commonplace within the retail industry.
Thus, if you have been constantly looking to develop your customer experience to keep up with changing the landscape of the sector, the Indoor Navigation apps can offer great benefits to your business. They make user experiences within shopping stores as seamless as possible by making browsing and purchase process way more streamlined. All you need now is to choose the right mobile app development partner to get the app to develop and make the most of this trend.