Today technology is reaching every nook and corner of our lives and it has not left the world of comics untouched as well. Same as books, today comics have also gone digital (surely every comic-lover is beaming from ear-to-ear over the same). The digitalization of comics has resulted in the proliferation of mobile apps that allow users to read their favorite digital comics and organize their electronic collection.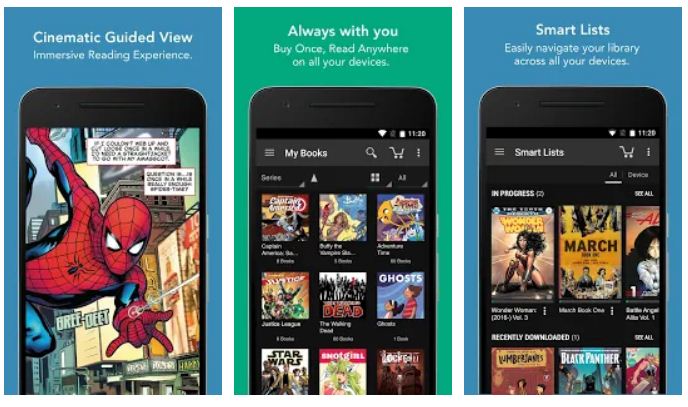 Why should Comic Brands look forward to getting a Mobile App?
The big names in the comic world, such as Marvel, DC, and many others, have already made their presence felt in the digital world by launching their individual mobile apps. Needless to mention, this shift has urged the other comic brands to also make an entry in the arena of the digital comics world. In fact, going by the frenzy created by these comic apps, it is the right time for most comic brands to surprise their audience by creating a comic app for their users, in iOS and Android. Certainly, a great way to grab the attention of new users and further satisfy the present audience.
    Also Read – Best Online Manga Book Reader Mobile App 
Developing a comic app is not a time-consuming process, and in order to get such an app developed for your brand, you can simply begin by hiring a good Comic Mobile App development company that understands your needs and delivers a user-friendly and exciting feature-rich app. Once the app is ready, it can be published on different app stores like Google Play Store, iTunes, etc., to get more users. Furthermore, the comic business can also enable in-app purchases within the app, so to enjoy long-term revenue, sans any hassles.
What are the benefits of Comic App Solutions?
It is a pretty easy process to get your Comic Mobile App developed by getting the Comic App Development Services. This, in fact, will be a good marketing gimmick as well, because your audience would just love the ease offered by comic mobile apps, like:
The users can read their favorite comics anytime and anywhere on their mobile devices or tablets.
Users will get to save up on luggage while they travel, as the comic books are instead loaded onto the app.
An online bookstore can be created with an in-app purchase feature.
Supports .rtf, .txt, pdf & HTML5
Push notifications, emails & text messages
Available on Android & iOS

How you can create a Comic Mobile App?
Once you are sure about the kind of format you want for your Comic mobile app, you can go ahead with the development process. It can be done in two ways:
By creating it with a software that can be used independently/without the need of an Internet connection
By creating it with a web-based app
Meanwhile, web-based comic apps tend to offer user-friendly and simpler features as compared to offline software (mobile apps), which are more suitable to design graphically intense content. In case, you are in search to create a comic app in the shortest possible time, then you can take advantage of a number of free online software available out there. However, in order to create a feature-rich mobile app, you better get in touch with a Comic Mobile App Development Company that has the best development team and updated technologies and advanced tools to create a kind of app that will certainly make a mark in the arena of comic mobile apps.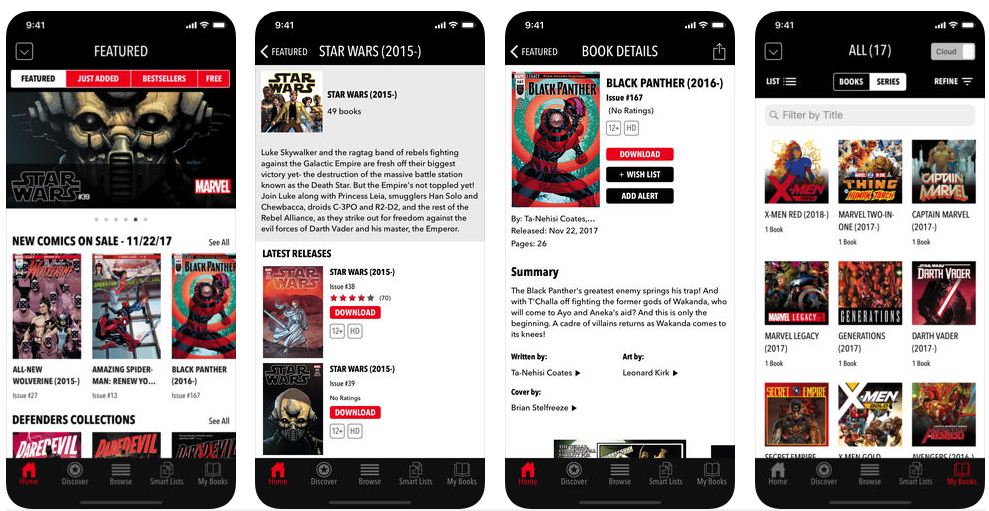 What are the Features of a Comic Mobile App?
Registration: This is how the users will be signing-in to your app, so the app developers can offer various ways to register into the app, like via email registration, social media credentials, or by using their mobile number.
Comic Book Category: It is this section that displays the list of comics available to read for the users. It would include both free & paid comic e-books. This way the comic can go through the list and pick for themselves.
Personalization: Certainly, a kind of feature that will keep the users engaged with your comic book app. Like, while the users register to the app, ask them their choice and preferences. Accordingly, you can suggest to them the comics every time they open the app and inform them about the new entrants.
Favorite: Allow your app users to select their preferred comic books and mark them as a favorite. This way they will know their preferences in the comic book category offered within the mobile app and they won't need to scroll the entire category every time they open the app to read their much-liked comic book.
Ratings & Reviews: Allow your users to rate your app and write reviews as well. Offer an individual section for the same, so that the users can share their reviews about your app over there. This will be beneficial in a way that you'll know your audience preferences and hence will be able to serve them accordingly.
Push Notifications: This is one feature that is crucial for most mobile apps, and it is quite useful in the comic mobile app as well. Herein, this feature is useful to inform the app-users about new comic book launches, new offers, discount vouchers on every in-app purchase (like, worth 500rs.), and a lot more.
In-App Purchase: This feature will allow the users to make in-app purchases, like to purchase the comic e-books.
Blogs/News: Within your comic mobile app, you can import your blog posts or site feeds in order to update your fans seamlessly regarding the latest news and launches in the world of comics & books.
Multiple Languages: Having this feature into your Comic app will allow you to capture wide user-market, as your users can be from different parts of the world and they all might not be familiar with just one language.
Payment Integration: Within the app, offer multiple payment modes, so that users can easily make payments. For instance, Credit/Debit Cards, Braintree, Stripe, PayPal, etc.
Social Sharing: This again is one exciting feature and by integrating your app with social media platforms, you can allow the app users to share stuff on their social media account, like the comic they are reading presently, their favorite-list, and a lot more.
Prominent Comic Mobile Apps
Here is the list of famous Comic Book Mobile apps: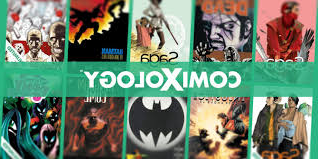 ComiXology: Regarded as one of the most prominent digital comic platforms online, this comic app features content from the renowned comic publishers, like Image, DC & Marvel. Here the readers may purchase the comic and read it from ComiXology Website. The firm's mobile app, Comic is available on both iOS & Android platforms and enjoys wide audience-base. The app also allows the users to download the comic and read it in-app. Its special feature is "Guided view-mode", which is useful for reading on small screens as well as there is a new "Unlimited mode" that is a kind of subscription enabling users to read-all-they-can. However, this app doesn't allow users to import in an existing comic collection or make an in-app purchase on iOS.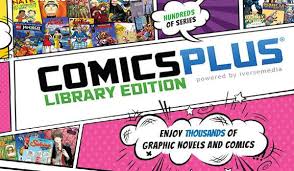 Comics Plus: This platform allows its users to purchase & download digital comics. What sets this platform apart from the others is that it comes with some neat extras. Here, the readers can buy & read e-comics from various publishers like DC, Archie Comics & IDW, and make use of uView enhanced reading technology, used to guide user's reading flow on a touch-screen device. It also offers in-app parental control. Users can choose to import their own DRM-free comics into their personal collection, thus they are enabled to view CBZ, CBR, PDF, ePUB files easily. Here, the readers can also rent a graphic novel for like 24, 48, or 120-hours.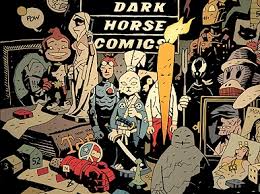 Dark Horse Comics: Most publishers have shown a keen interest in the one-stop comic marketplaces, such as Comixology, others chose to put their own digital storefronts, like Dark Horse Comics mobile app. This functions as comic books marketplace, as download manager as well as the comic reader, hence everything-in-a-single-package. Though its reader experience may not be as polished as other mobile apps, Dark Horse comic apps feature a panel zoom reading mode & support for right-to-left reading modes. Apart from paid-comics, Dark Horse also offers many free & introductory issues which serve as free samples & teasers for its rich-library of comics series.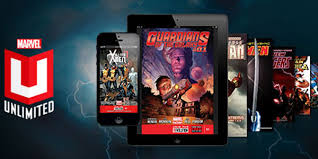 Marvel Unlimited: Instead of buying title one-by-one, readers can access numerous issues from Marvel Comics' archives through the Marvel Unlimited app. Users can choose to subscribe for $10/month to $70/year, getting access to more than 13,000 issues from a wide variety of classics from the Marvel archive, where new issues are added weekly. Though, it does have a downside, as it requires the users to be online in order to access & read comics (users can only bookmark up to 12 issues to be read offline). However, it is certainly a great offering for the Marvel fans to binge-read classic tales of the Marvel universe.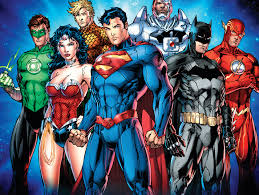 DC Comics: This one is more than just a mobile app to read online comics, rather it is a gateway. Once users download the app, they can access the catalog of DC Entertainment, ranging from the tales of Wonder Woman, Superman & Batman. The users are enabled to synchronize the app across multiple devices, this way they don't need to remember every time where they left, as they switch from their phone to a tablet. Besides, the guided view reading mode makes the app easy-to-use on all the devices.
How much does it cost to develop a Comic Mobile App?
Usually, the cost to develop a comic mobile app depends largely on three main factors, like
App Complexity
Size of the mobile app
Number of platforms you want the app to run on
Another crucial factor that affects the cost of a comic mobile app is the "Region where the App Development Company falls", for instance:
S. based developers: $50 to $250 per hour
Eastern Europe based developers: $30 to $150 per hour
India based developers: $10 to $80 per hour
Adding all the costs, the development of a Comic Mobile App with average features will cost somewhere around $15,000 – $30,000, for a single-platform (either Android or iOS). However, if you choose to develop a cross-platform or add more features to your comic mobile app than the cost can go up to $50,000.