These days there are mobile apps and online platforms for literally everything, and hotel booking is no different. Post the success of online hotel booking platforms like OYO rooms, people are willing to cash into this trend. And this research shows exactly why it is the right time to launch a hotel booking platform of your own to make a lot of revenue. The research that took place in the USA, states that 60 percent of hotel bookings are made by mobile devices instead of going to book offline.
Digital travel sales worldwide from 2014 to 2020 (in billion U.S. dollars)
This timeline shows the online travel sales worldwide from 2014 to 2020. In 2016, global online travel sales totaled 564.87 billion U.S. dollars. This figure is projected to grow to 755.94 billion U.S. dollars in 2019.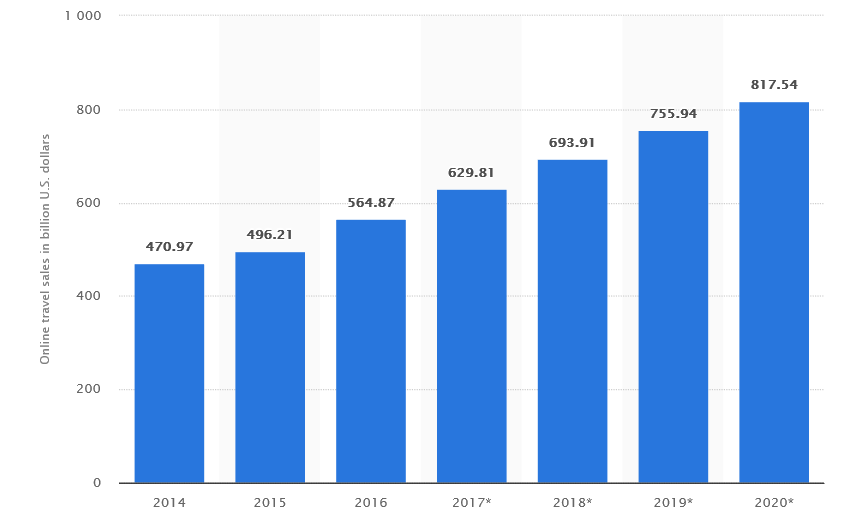 This pretty much presents the future of hotel booking. There is absolutely no stopping for it. The hospitality industry is witnessing drastic changes with the investments made in this sector increase massively in the last decade. With immense private equity & bank funding, the new generation has entirely changed the landscape of the hospitality industry, and it is getting more and more advanced today with more and more businesses heading towards mobile solutions.
And why not? Most people today use hotel booking mobile apps and platforms in order to find the best hotels and rooms too at the best prices. Hence, saving them time and money. For someone who is willing to launch their own hotel booking app like OYO, this article can descriptively guide you about what all you require to create an app like OYO, which is a network that presently covers 18000 properties in over 500 cities across the globe and in just a few years, it has touched the mark of $950 million in revenues.
We will first begin by understanding the concept of OYO. Little History behind who built the OYO app. Oyo was founded in the year 2013 by Ritesh Agarwal, OYO, OYO rooms, or aka Oravel Stays is the largest hospitality firm in India, and today it also rules in the market of UK, Malaysia, China, Nepal, and the USA. In China, it has attained the stature of the third-largest hotel brand in China. This brand has introduced several new products in the market, consisting of SilverKey, OYO Homes, OYO Living, and Palette. As per STR, OYO has successfully collected 515,000 rooms and with this, it has become the world's eighth-largest hotel chain by rooms under management.
Why Are People Going for Hotel Booking Apps?
As compared to the websites, a hotel booking app can offer a high-quality user experience (UX), thus making the process of booking seamless and hassle-free. A Google study reveals that American Hotel-related search queries made from smartphones increased by 120 percent in the year 2012 and from tablets it jumped 306 percent. A lot of companies have reported a huge rise in mobile-based queries and sales. For instance, a travel metasearch engine, Kayak has reported that the global smartphone queries have increased by 88 percent. In 2017, the co-living industry was valued at $55 million, and then in 2018, it went on to gain a market value of $120 million. Another study by RedSeer reveals that this market is forecasted to gain $2.2 billion by 2022. And with these data, it is clear that the hotel booking apps have caught up among people and no time can be better than this to venture into this business. But before starting with the full-fledged development guide, first, let's understand the types of hotel booking apps.

Types of Hotel Booking apps
When talking about the OYO app development, we need to be aware of the details. You need to be clear what kind of app you want, what features you want to include, and how you would want to move ahead.
Basically, there are two types:
Last-Minute Hotel Booking App
This kind of app is best suitable for spontaneous trips. The ones who are known to offer the best service in this category are apps like Hipmunk, HotelQuickly, and HotelTonight. When you struggle how to develop an app like OYO all you need to do is bring with another idea.
Before-hand Hotel Booking App
In this type of app, travelers can freely book a room a month in advance. There are apps like Priceline and Expedia which are known to offer services in this category.
Meanwhile, first starting with the on demand app development, decide on whether you want to go for a classic booking app or wish to go for something different. For instance, Airbnb changed the very idea of traveling upside down by enabling tourists to explore the foreign culture by hiring local houses and apartments.
Then there is TripAdvisor, which allows finding the visitors to find out the most attractive place to go based on the reviews from other travelers.
Top Players in the Hotel Booking Sectors
When you decide to develop app similar to OYO, then you need to study similar apps to have a basic idea of the features and the functioning that you need to focus on. There are several businesses that are raising funds in the hotel booking market space and a few of them have established themselves successfully. Here we have talked about the top players in this domain.
OYO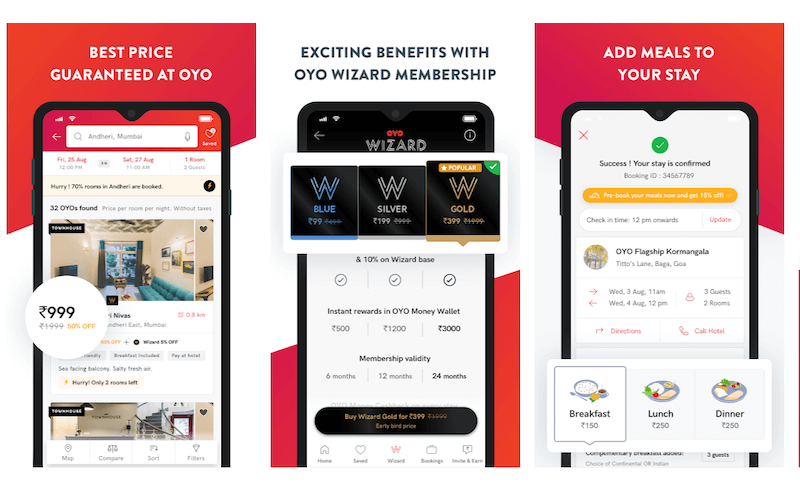 This company is growing day by day at a tremendous rate. Their aim is to create gorgeous living spaces in 24 countries around the world, in about over 800 cities with over 18000 properties & over 45000-holiday homes. They are the trendsetters in the field of hospitality with over 10,000 employees working for them. They have their headquarters settled in Gurugram, Haryana. This company was bought into existence in the year of 2013. They specialize in budget hotels, premium hotels, elite hotels, long stays, women exclusive hotels.
Nestaway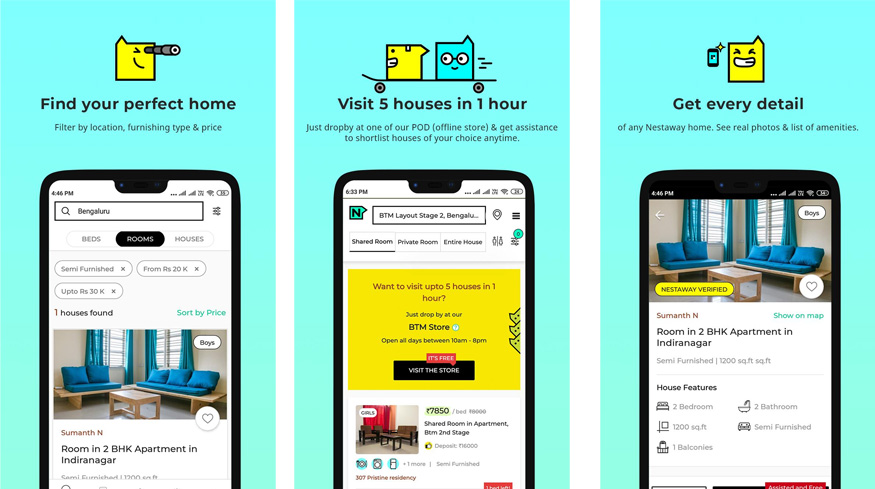 They are one of the fastest-growing companies in India, in terms of providing better rental solutions through design & technology. Their main focus is to provide high rental incomes to house owners, providing beautiful houses at normal PG rentals to the youth of India, and also easy on-boarding, servicing & exit experience to tenants & owners also. They have employees from 200 to 500, working for them. Their headquarters lies in Bangalore, Karnataka. They came into existence in 2015. Their specialty lies in the marketplace, rentals & youth.
Ziffyhomes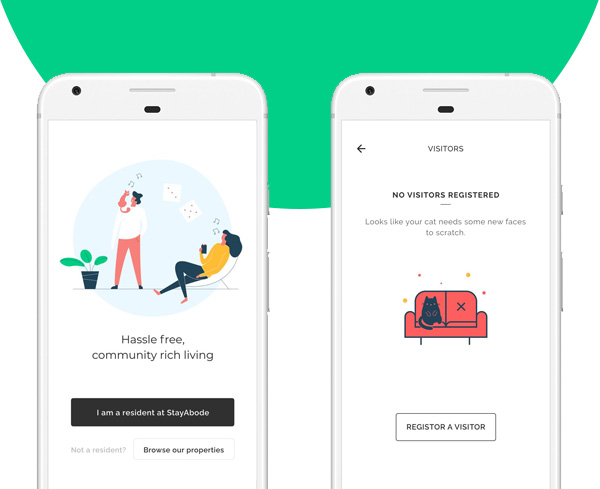 Ziffyhomes is the savior for all the young professionals who are looking for beautiful living spaces, satisfactory services, vibrant community & all-time support. They try their best to provide a top-notch level of support to all the young working-class & save them their precious time. They are a real estate company with a batch of 50 employees headquartered in Gurugram, Haryana. It was founded in the year of 2015. Their specialty lies in the real estate marketplace, hassle-free renting, rental accommodation. Theirs was an initiative that was started keeping in mind where young professionals' interest lies.
StayAbode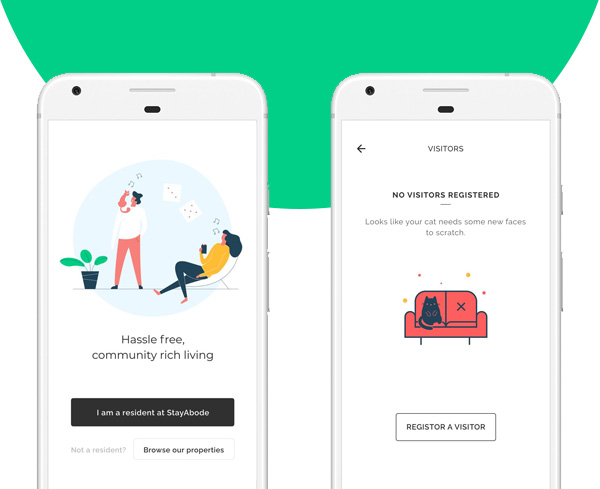 They came into existence in 2016 when they realized that demand for quality houses is inversely proportional to the actual houses present in the cities. They wanted the youth of today, which travel far from home to live in other cities, to get the feeling of living at home. They also wanted to solve the other problems like that of high rents, the hassle of furnishing, high deposits, unreasonable restrictions, curfew & many others. They introduced the concept of co-living through their brilliant idea. They are a real estate company with have around 50 employees working under them. They have their headquarters situated in Bengaluru, Karnataka.
GoLive
They make life easier by their act of flexible lease agreement. Users can easily resign for free at any point in time. Their team finds the user's outstanding properties & their decorator turns it into an amazing place for them. They take care of everything like that of insurance, water, gas, electricity, internet, TV, cleaning & much other stuff. Users can spend their time with a whole community of co-livers. Their houses are present in the most popular neighborhoods which are close to all the public transports. They have their headquarters based in Brussels, Belgium.
Zolostays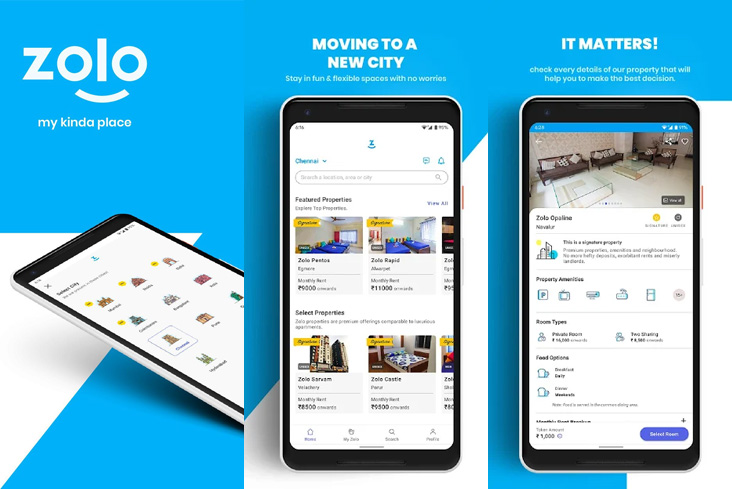 They provide users with clean spaces for the starters. Homely food is one of their specialties apart from caring staff. Their furniture is of top quality. High-speed wi-fi is provided by them. If the users want their location to be relocated to a different location, Zolostays will get them relocated without any problem. They ask for a one-month deposit in advance & you can download the app for managing the situations better. Hassle-free utilities are one of their other qualities. So if anyone is looking for a place to stay in a new city then Zolostays might be the solution to all of their worries.
Despite the fact that all of these apps are giving tough competition to one another, the one that has succeeded in proving its potential to be number one is OYO Rooms. Although all budget-building hotel booking apps are giving a tough competition to each other, the app that has proven to hold the potential to be the No.1 in the industry is OYO Rooms.
Business & Revenue Models of OYO Rooms
If you are looking to create an app like OYO, then it is essential to understand the business and revenue models that OYO Rooms work on. They are:
Aggregator Model
This model was followed by OYO Rooms until last year. It allowed them to connect with several hotels, room owners and property dealers for partnership and provide rooms to customers under their own brand. This way, customers connect them through your platform and receive the hospital services from them without knowing about their actual name. Oyo only partners with hotels that meet their set guidelines, like standardization of the basic amenities, security, staff quality, location, pricing, etc. With this business & revenue model, they used to earn around 22 percent of the profit share whereas the partnered room owners and hotels gained huge traction at their end, while the customers certainly received an amazing experience.
Franchise Model
Presently, OYO is working with this business model, where the hotel & room owners became constrained to their term & offer plans. Here the OYO rents out the hotels and rooms at a predefined price and offers them to their users at a take-up price. Here the hotels and room owners must provide great customer services and their business will grow as per OYO's standards. This is a commission-based revenue model and here the commission varies as per the services provided by the brand.
The OYO business model is quite interesting. Considering the n0eeds of your audience and the problems they face you can surely come up with some interesting elements to add to your app that would make things easier for them. If you are looking forward to the oyo mobile app developer for amazing hotel application development, then we can provide services that are similar.
Key Features of Building a Hotel Booking App like OYO
The business model of OYO rooms is quite simple. They have monetized the simple idea of providing travellers a place to stay even before they reach the destination. If you are still not sure how to start a business like OYO rooms then relax. We share here the features you need to include in your hotel booking app for best results.
Easy Registration and Login
Your hotel-booking app should have a very smooth registration process, as usually, users get irritated filling long registration forms and leave mid-way. So, keep the registration simple and also integrate social signups.
Booking Rooms from the App
A Hotel Booking app should enable the users to easily book rooms from the app. Make the booking process effortless from them with easy payment options. After all, the instant nature of these apps to book hotels easily is what gets the users attracted to them in the first place.
GPS Functionality
Upon reaching their destination city, the app users should be able to easily locate the hotel, hence it is integral to incorporate GPS functionality to make the search effective and less time-consuming.
Room Availability and Search Functionality 
The app should display the available rooms to the users so that they can book in a hassle-free manner. At the same time search functionality along with the filters, like room availability on specific dates, locations, should be integrated into the app. This way, it gets convenient to book rooms. Contact us to get a oyo clone website development services at affordable prices.
Prices of Different Rooms
In the app, the users should be able to see the prices of different rooms. This way they can make the selection as per their budget.
Check-in and Check-out
Users must be allowed to easily check-in and check-out of the app.
Easy Payment
A hotel booking app should offer easy and multiple payment options for its users, like Debit/Credit Cards, PayPal, Braintree, and Stripe. With ewallet apps integrated payments become easier.
Checking Various Amenities
The app should offer the users to look at the available amenities in order to make the decision process easier for them.
Modifications in Booking
In case a book has been done by the users, but later on s/he wishes to modify it, then the app must allow it. They might wish to upgrade their room or add the breakfast option. Accordingly, the additional amount can be charged.
External Features
The app must display nearby malls, theatres, restaurants, or other must-visit places.
Easy Cancellations
Often it happens that due to certain urgencies, your user may ask for cancellation. Make sure that you keep the cancellation process easy for them. This will build their trust in your brand and they are certain to use your service next time of their travel as well.
These are a few features that would make it easier for you to gain popularity. A well-developed application that is feature ladened can easily help you build a customer base that would look towards you each time they need some assistance.
Oyo rooms website developer has worked on the features quite well. Depending on the features and the functions that you would include in your app we would determine the cost of development of an app like OYO.
How Much Does It Cost to Create an App like OYO?
Usually, the cost to develop a mobile app depends on factors like app features, development platforms, hourly price in a region, the number of hours required to develop an app, and tech stack. And the same goes for hotel booking app development like OYO. As compared to other regions, the development cost per hour is significantly lesser in India. So, upon calculating the overall development cost for the OYO-like app, we can say it will come down to around $55000 if you choose to get it developed in India.

Final Words
Over the years, hotel booking app like OYO has gained popularity for its ease of use and the accessibility of the properties. We have helped various clients build apps similar to OYO that brought them great revenue. If you are looking for technically advanced solutions that are future ready you are at the right stop. We can be your tech-partners and help you gain popularity and profits with our scalable and flexible solutions.