In the car wash industry, the Middle East tends to be among the most promising markets owing to the increasing number of cars and economic development of its many countries. In fact, if things remain the same then by the year 2020, we can expect 60% more cars out there on the roads of Middle East countries, with annual sales of light vehicles to reach over four million by the same year. It can be said that UAE's desert conditions and this strong luxury car market in Gulf offer vast opportunities for the car wash & car care providers.
Meanwhile, there are specifically three factors that make the Gulf market interesting for the car wash & car care professionals. It's a strong market for luxury vehicles, the number of new cars, and the desert's tough weather conditions with extreme heat. These tend to be the major reasons explaining the major number of washes carried out in this region.
per a survey conducted by VIS, who the organizers of Middle East Cleaning Technology Week (MECTW), it was found that in UAE, where the expatriates are representing 88% of its population, the non-Emirati residents get their car cleaned professionally at an average of three times a month, whereas Emiratis, usually wealthier, prefer to get their car for a wash five times in a month.
UAE Govt. Bans Carwash in pen, main streets, and public spaces
For the unbeknownst, the lawmakers in UAE have strictly prohibited car washing in the open, main streets, and public spaces, and a fine of Dh250 is imposed on those found guilty. The fine is charged on residents who pay people who are affiliated with an authorized firm to clean their cars. This brings into account the importance and dire need for water prevention. This is why, the Municipality council in UAE urged shops offering car wash services to use modern devices, so to minimize water waste. A fine of Dh500 is imposed on people who cause a great amount of water accumulated on the streets either by washing their vehicles in the driveway or those who negligently leave their water hose running.
What are the benefits of a Waterless Car-Wash?
Well, in case you are tired of spending your valuable hours washing & waxing your vehicle, then waterless car cleaning products, containing wax can actually be a lifesaver for you. It sure has its many advantages, however in case you are in two minds about the usage of a waterless car wash because you are unsure of its effectiveness, then this list of benefits can clear the air for you and tell you exactly why waterless car wash is just the best and why should everyone go for it.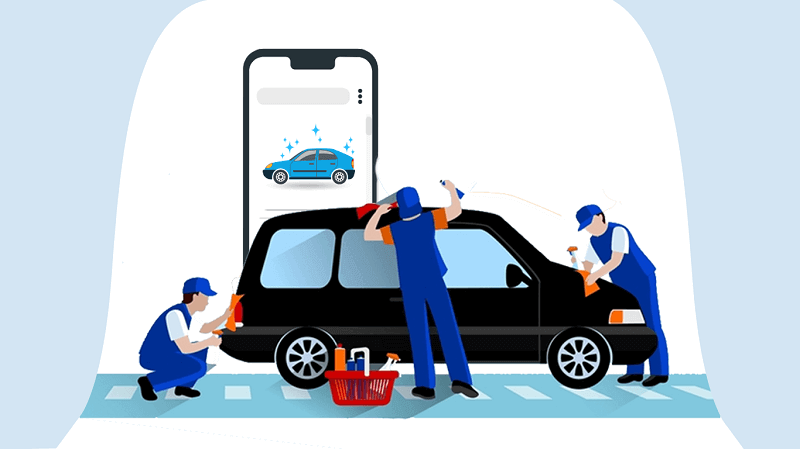 1. Saving gallons of water: By using a waterless car wash product like IBIZ or Quick Shibe, you won't need to use even one tiny drop of water for car washing. This way you will save 20 to 50 gallons of water, which means that the waterless wash products not just conserve water but also saves money on the water bill.
2. Harmless cleaning: Going waterless wash way ensures no harm is done to your vehicle during the cleaning, as most of the car wash formula consists of a mix of cleaning agents and special lubricants that lifts and surrounds dirt particles. This way, the surface of your vehicle can be wiped clean sans any scratching.
3. Provide a protective finish to your car in three basic steps: With the availability of waterless car cleaning products, it is very easy to wash up your car and provide a protective finish in 3 simple steps and is: spray, wipe, and buff. On a whole, the person has to spray on the formula, let it soak for a few minutes, wipe it off, and after that buff it. That's the level of simplicity.
4. Try to clean in a proper way: Waterless car washes out there remove not just the dirt but cleans the car in a proper manner. They can be used to get rid of bugs, tree sap, road tar, and scuff marks to make your car look brand new.
5. Saves previous time: One of the major benefits of using a waterless product to wash up your car is that it will save a lot of your time. The process of washing and waxing a car with a waterless solution takes a max of 30 minutes which is a lot less than the traditional way of doing it.
6. No harm to the environment: Using a hose to clean up your car is considered one of the most environmentally destructive traits. The water that was used to clean up your car carries harsh car washing detergents, on top of that there are gas, oil, and dirt from exhaust fumes. All this combinedly goes into storm drains and after that into the lakes, rivers, and oceans. All this destruction can be reduced just by using waterless car washes.
7. Save around $300 per car, every year: Your budget on buying a bucket full of car care products can easily be reduced if you switch to waterless car cleaning products. Day after day this money will add up and you will realize how much you saved because of these products.
8. Create long-lasting shine & protection: Long-lasting shine is produced by these waterless cleaning products. Catalytic converter emissions, tar bugs, road grime, bird droppings, salt are some of the things that these products protect your car from. They protect the car from water for up to 3 months.
9. Multi benefits: They along with car warnings bring other household benefits. They can be used to clean up shower stalls and ceilings fans too. Just prevent their usage on leather, vinyl, and textured surfaces.
10. Ease of application: As they come in a spray can in liquid form, they are very easy to apply in comparison to traditional car wax. So in short, you can keep your car shiny and brand new without the wastage of water and destruction of the environment by using these waterless car washes. So, give them a try!

What Makes Waterless Car Wash an Important Choice for You?
When talking about waterless car wash solutions, it becomes interesting and engaging for the service providers to earn better. We have been working in the direction of providing solutions that would help you survive the market easily.
The hybrid mobile applications that are delivered to you by our experts are designed to perfection. We affirm that the solutions that are delivered to you are interesting and engaging. We have been working in the direction of providing you solutions that make sure that the solutions delivered to you are innovative and technologically advanced.
Why Hire Octal IT Solution for Your App Business?
Octal IT Solution has been delivering unique solutions for a decade now. We make sure that the solutions that are delivered to you fit your business needs and are in line with the solutions that are dropped to you. We share here a few points that make us the best in the market.
1. Understand Customer Needs
Our experts connect with the customers and communicate their needs with us. We bring on the screen the solutions that our clients have envisioned. In no case, we leave the business objectives behind. Our experts can connect with you any time of the day to understand what you expect from us.
2. Be Available Round the Clock
We are available to connect with you round the clock. We understand that working remotely may create time zone differences. Thus, we affirm that the solutions that are dropped to you are to your satisfaction.
3. Expert Pool of Developers
Our pool of developers is well-trained and experienced. We make sure that the solutions they provide are according to the latest updates in the industry. We make sure that the solutions you ask are the best in the domain and can stand the test of time.
Wrapping it Up!
If you are looking forward to the solutions that can make things easier for you, then we are just a click away. You can always connect with us and make sure that the solutions you put to the screen are engaging and interesting.