Companies have always looked for ways to get in touch with their clients. With a separate department for sales and marketing in an organization, all things were happening manually until the digital trends started seeping in and strategically started taking over the manual labor.
There have been many new platforms in the digitalized era where the companies come in direct contact with the clients, without any middlemen in between and can trade directly with them. Also, the clients have the option to choose from a wide range of products and app development companies available.
Unique experiences, that are specially tailored for the consumers are being opted. Companies have the advantage to locate and understand their consumers better and in any part of the world through salesforce mobile application. The salesforce mobile application has come much in demand in recent years and is one big thing in the industry nowadays. Companies have to make sure to build a healthy relationship with their clients and keep providing services with quality. Once the consumer gets detached from the salesforce of a company, it might be difficult to win him over back. However, these applications have always proved to be healthy in building relations between the companies and the consumers.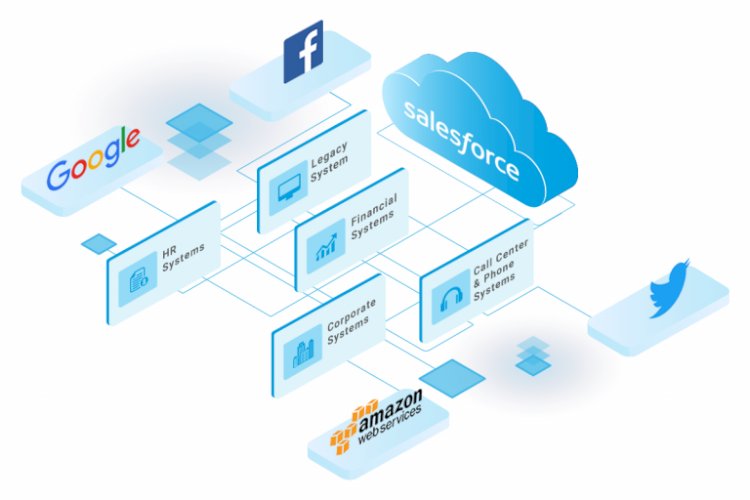 Let's take a look at the driving forces of the salesforce mobile applications
With Salesforce gaining popularity in the past few years, the market cap on the same has been raised to $88 billion.
There are various services provided with the help of salesforce including SAAS (Software as a Service), IAAS (Infrastructure as a service) and PAAS (Platform as a Service.)
It can handle the workload of the corporate IT world, accept challenges and has a wider scope of growth in the future. The demand for this platform has always been on a rise.
Here is a look at the percentage spent on cloud computing services by Salesforce – PAAS: 11 percent – IAAS: 16 percent – SAAS (apps): 61 per cent – SAAS: 12 percent.
Here is a look at the services provided by the salesforce application developers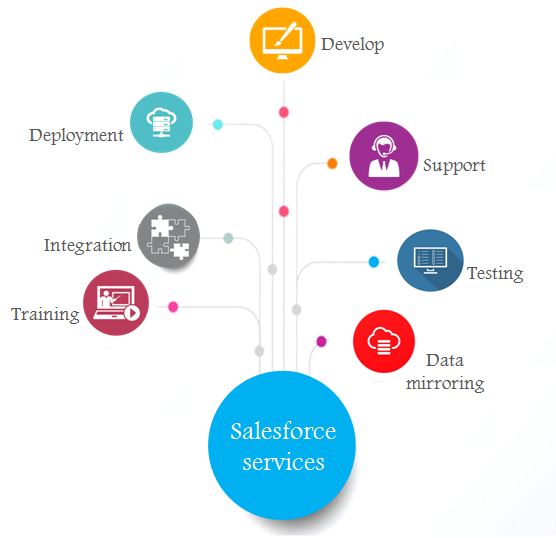 1- Customization
2- Migration
3- Implementation
4- Planning
5- Integration
6- Monitoring
7- Maintenance
8- Providing support
9- Grievance redressal
10- Custom development
Let's look at how Salesforce works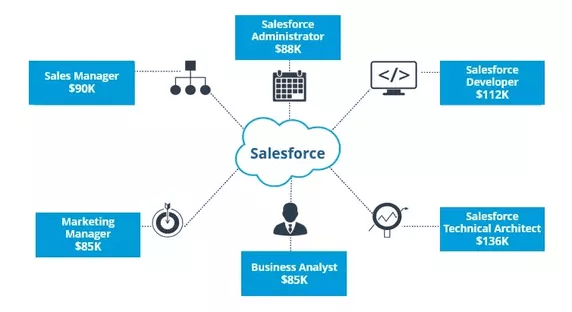 1- It is built on a platform called Force.com.
2- An organization is well connected with their consumers through this platform. However, Salesforce keeps a tab on the interaction between a customer and a company. It can control the interactions on any platform like phone calls, emails, media channels, and social media platforms.
Related read: Healthcare CRM Software Solutions – Key Features & Benefits
3- It helps in building a good rapport with the customer and focuses on sales of an organization. It also provides marketing support to an organization and helps it increase its sales and goodwill.
4- To escalate the growth of an organization, Salesforce allows companies to automate daily routines. It also makes interfaces for companies to manage their tasks.
5- Consumers are able to track their own cases by themselves and be a part of any conversation regarding the company or their product on social media, which is the strongest medium of connection between people these days. Salesforce allows the app developers to build apps in lesser time than needed. It has code-driven tools that prompt them to use the most effective tool for a task.

Benefits of Salesforce Mobile App Development
Let's take a look at some benefits of Salesforce mobile app development:
1- Instant availability
The runtime availability is available instantly on the Salesforce platform. Users are able to quickly download the applications either from google play if they are using an Android phone or from the app store in case the user has an iPhone.
2- Security
This is one thing that can never be at risk when using the Salesforce platform. It ensures proper and full security for its users. Only trustable, scalable and safe cloud mobile applications are created on this platform. Only trusted applications can be created and deployed on Salesforce. Also, it enhances the user experience by creating apps that are easy to use and are quick to download. In all, the user experience can never be bad when it comes to developing apps on this platform.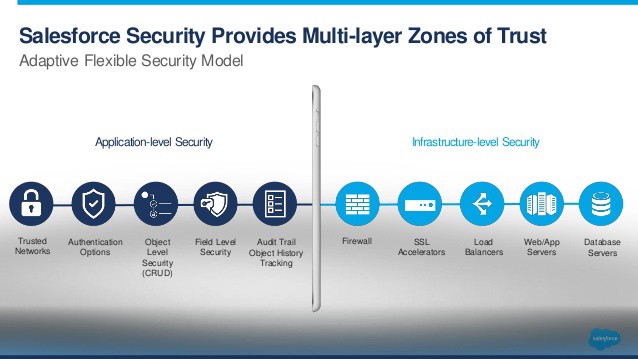 3- Custom mobile apps
Developers can build custom mobile apps with the help of Salesforce Mobile SDK, irrespective of the device being an iOS, Windows or Android. Smooth functioning apps can be created according to the will and requirements of an organization. Popular frameworks like React Native, Ionic and Polymer can be used to create smooth functioning applications. The developers might help in building a roadmap for the organization, but will only develop an app according to the company's requirements and customized as and when asked for.
4- Access to offline data
The services provided by the salesforce mobile app development, it is possible for the organizations to make their application go offline whenever they want. This is a big advantage for organizations. Data of an application can be synchronized between salesforce and offline database with the help of Salesforce SmartSync APIs. While you work and focus on other aspects of your organization and business, the Mobile SDK will meanwhile look after the synchronization.
Related blog: How To Select A Mobile App Development Company?
It is a CRM platform that helps in building a connection between the consumers and the companies. Another biggest feature of Salesforce is that it includes all departments like marketing, sales, and commerce. Hence, we can rightfully say that the companies are getting everything under one roof. They do not have to put in manual labor for each department now, however, they must know how to make use of this technology and reach to the audience and consumers far.
With a lot of companies opting for this business solution, there is a cut-throat competition in the industry and the companies should know how to build a plan and make their space in the market. This technique can only be used with the help of CRM experts who have a better understanding of all the tools, templates and methodologies.

Conclusion
Hiring a team of salesforce mobile app development has always proved to be beneficial for the organizations as they build the most compatible and aggressive apps to retain in the market for long. They know how to go about things and make work easier for organizations.
After understanding the needs of a company, they prepare a roadmap and implement it in their applications. One of the best ways to bring the consumer close to the company, the salesforce is the new driving force of new organizations. From small scale businesses to startups and big companies, everything is going the salesforce way. It is a supremee CRM platform that takes control over a lot of things and lets a company's manpower focus on other important things.
From a wide array of tools available, they have access to all of them and use them as and when required. It is the newest and the most effective way to create applications for companies. The future of salesforce apps looks bright. Companies can either hire an entire team to look after their project or one developer who will look after their application.