Usage of digital health records is increasing all across the globe and as we meet our colleagues in other countries, there is often some confusion. In fact, in some instances, disagreement with the definition of terms that are associated with digital health records.
The definition of these health records has turned pretty complex mainly when we consider users, the data, care settings, and, obviously, the technology. Meanwhile, there are three terms that are commonly used to define digital health records, they are electronic medical record (EMR), electronic health record (EHR), and personal health record (PHR). However, unfortunately, these terms have different definitions all around the world and this often creates confusion, both within and outside the e-health industry.
However, once these definitional barriers are broken, you will find it is a lot common, so why this confusion?
So, here we have tried explaining the three most common terms very simply:
Electronic Medical Record: It's a partial health record under the custodianship of healthcare providers who hold a portion of the relevant health information about a person over their lifetime. This is often defined as a provider-centric or health organization-centric health record of a person.
Electronic Health Record: It's a complete health record under the custodianship of healthcare providers who hold a portion of the relevant health information about a person over their lifetime.
This is often defined as a person-centric health record, which can be used by a number of approved healthcare providers or healthcare organizations.
Personal Health Record: It's a partial or complete health record under the custodianship of a person (s) (like a patient or family member) and it holds all or a part of the relevant health information about this person over their lifetime. It's also a person-centric health record.
What is the future of electronic health data?
A number of healthcare providers rely heavily on these systems in their clinics, hospitals, or their offices to store and manage patient data. But considering the obvious gaps with this system of health record management, the need has been there to update and improve how health data is shared and utilized in healthcare delivery. So, to make it beneficial for both patients and healthcare providers, many governments and organizations have pressed on the fact that healthcare providers should use a more robust EHR system.
Mainly, due to the fact that it is a lot more patient-friendly and transparent and addresses a few of the gaps in the EMR system. Moreover, it also limits errors in decision-making, as it offers a better understanding of the patient's medical history & health conditions. Meanwhile, in the case of Personal Health Records, it has gone a step further by ensuring meaningful use of patient health data. It offers all benefits of EHR, with an added advantage of more patient involvement as the health data is owned and managed by them. It also provides doctors an insight into patient health outside the purview of the clinic or hospital, thus enable a better understanding of patient health, which improves health outcomes.

So, let's go ahead and understand these concepts in-depth:
Electronic Medical Records (EMR)
To explain it all, an EMR is an electronic record of an episode of medical care, be it in-patient or out-patient. These records are the digital equivalent of paper records or charts at a hospital or clinician's office and they typically contain general information such as the treatment and medical history of a patient as it is collected by the individual medical practice. Meanwhile, these health records are solely owned by a particular health organization, be it an individual doctor, clinic, or hospital. It is primarily recorded for internal use and doesn't travel outside the medical practice.
Also Read: Doctor on Demand Mobile App Development Cost and Key Features
Even though the software platform is an integral part of any electronic medical records system, there are other crucial pieces as well. The many components of a well-established Electronic Medical Records system comprise the software, coordination procedures between departments for the transfer and reception of information, organizational rules with the office for personal use as well as established plans for continuing education & training by medical staff.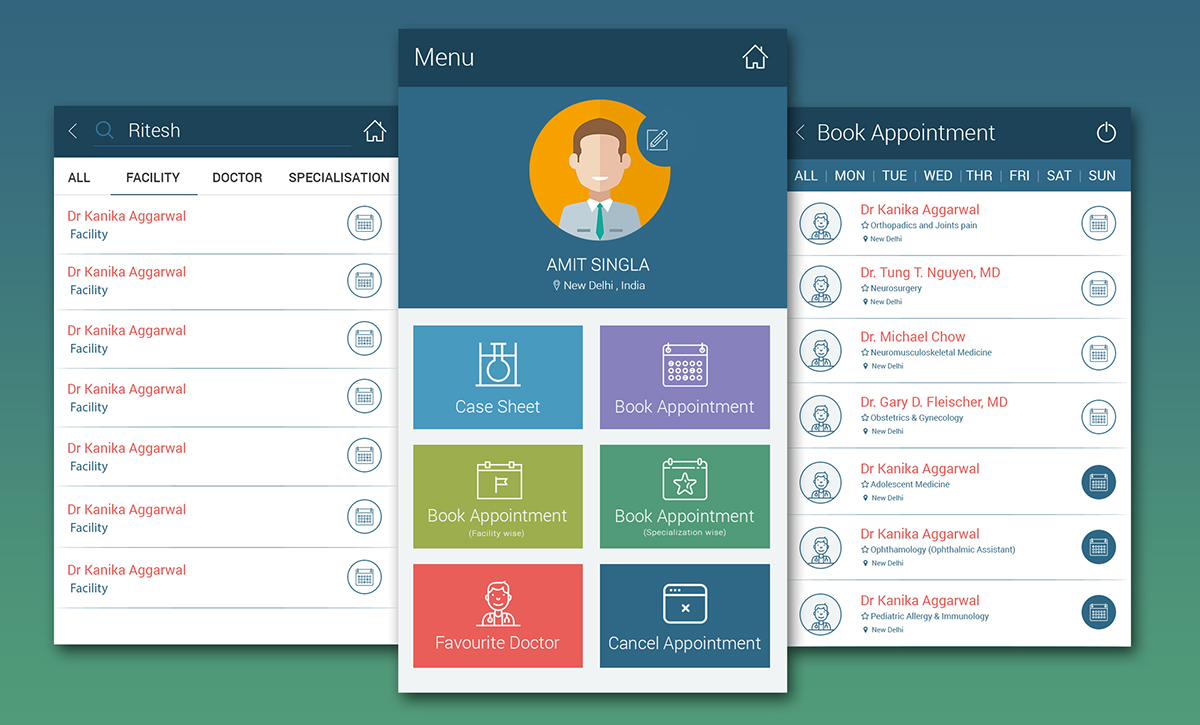 Benefits of EMR
Improved diagnoses & treatment
Advanced e-Prescribing & clinical documentation capabilities
Better results management and patient care
Faster care and decision-making responses from assigned medical professionals
The personal security aspect is a crucial factor as it meets a patient's privacy concerns.
EMR helps in producing a huge increase in the health-related safety of patients and patient welfare.
Reduced medical errors owing to EMR again represent a benefit for both patients and doctors.
The mechanisms of safety offered in EMRs, both in terms of patient diagnosis and security of their health records, are among the main elements that EMR companies design into their software systems.
Able to increase the number of patients served per day and this results in increased productivity and better patient workflow.
Offers space-saving advantage of a digital records environment.
It is able to quickly transfer patient data from one department to other and this is again a great asset.
Lesser operational costs such as transcription services & overtime labor expenses.
Scalable and customizable electronic medical records that will grow with practice.
With the EMR system, it gets easier to efficiently and accurately process patient billing.
However, there is one con as well with EMR that the patients don't have access to their health records and in case required, they will need to obtain a printed version of it to share with other health providers. Thus, healthcare providers only have a partial record of the patient's health, which is certainly limited to the information collected from that clinic or hospital.

Electronic Health Records (EHR)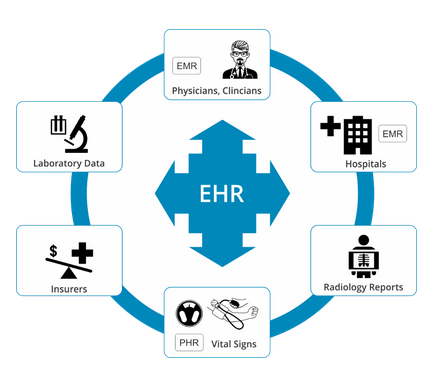 Busy practices always keep looking for ways to save time and focus more on patient care and EHR serves them just that by eliminating a good deal of paperwork, and cuts down on time spent by staff members on filing and retrieving patient information. Whenever a health practitioner requires access to data stored in EHR, it is instantly available. As per to HealthIT.gov, around 80% of providers using EHRs avers that it boosted efficiency.
Read More: How to Develop a Telemedicine app?
Then three-quarters state that EHRs enable them to receive lab results faster than before. Here the doctors can also give e-Prescriptions, a process that 82% say saves time. EHR is pretty the same as EMR, however, it goes beyond the clinical data gathered in one doctor's office. In fact, it represents a collective of health data from all the clinicians who are involved in a patient's treatment and care it consists of physicians, specialists, clinicians from laboratories as well as diagnostic facilities. This detailed health record can also be shared with other healthcare providers because it is created by the provider but made to be more patient-centric, hence it is more useful and powerful for diagnosis & treatment as compared to EMR.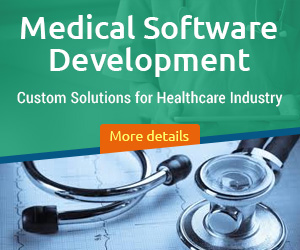 The crucial elements of EHR consist of
Patient support: Patients are able to receive educational material via EHR as well as can enter data themselves through home monitoring devices and online questionnaires.
Administrative processes: This system also helps in handling management as patients are enabled to schedule their own appointments while staffers can check on insurance eligibility.
Order entry: No more need of prescription pads all of your orders are automated.
Health information & data: The system maintains a record of problem lists, medication lists, & test results.
Results management: With an EHR system in place, you can electronically receive radiology reports, lab results, and even X-ray images.
Reporting and population health management: With EHR having a searchable database, it is able to show instant results to past medical records maintained in the system.
Decision support: An EHR system is pretty smart to warn about drug interactions, besides it can also help you in making a diagnosis, and offer evidence-based guidelines as you consider treatment options.
Electronic communications & connectivity: The system allows you to securely interact with patients, and your medical assistant, referring to doctors, hospitals, and insurers.
Benefits Offered by Electronic Health Records (EHR) System
It offers easier access to clinical data.
Enables continuous health monitoring by healthcare providers.
Lesser medical errors, better patient safety, and stronger support for clinical decision-making.
EHR system is capable of establishing and maintaining effective clinical workflows.
Unlike EMR, these records are entirely paperless. Thus, no need to store, manage & retrieve bulky paper records.
Ensures continuity of care among healthcare providers with patient health information being readily accessible.
It can be shared with multiple health providers for collaborative patient care.
Patients have more active involvement in their care as being able to view their health records while also being aware of their diagnosis & treatments.
Allows seamless interaction with affiliated clinics, hospitals, labs, & pharmacies.
Able to gather & analyze patient data that enables outreach to discrete populations.
The system allows providers to access charts even when away from the office. This flexibility encourages an efficient care coordination process.
EHRs provide an electronic network through which doctors & staff members can send and check referrals, handle billing, and send and receive messages from patients, other doctors, and staff members.
EHRs are able to send an alert to doctors when a prescription could be dangerous for a patient, owing to medication interactions and allergies.
Personal Health Records (PHR)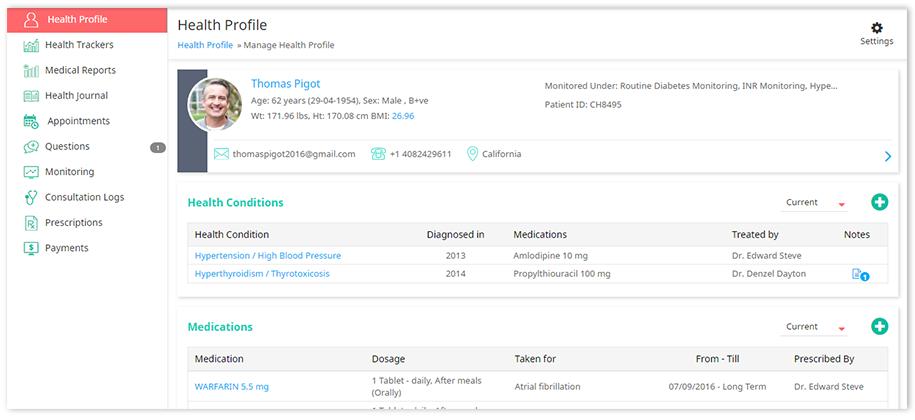 As the name itself suggests, Personal Health Records are managed by patients themselves and it enables in maintaining a log of their health- health conditions, treatments, medications, allergies, family medical history & a lot more. These records are either set up by patients themselves or healthcare providers, for personal use or patient engagement, respectively. This way, patients can have active participation in their care and have the power to make the right decisions regarding their health, as they are having all the necessary information available right there. Same as in the EHR system, here also the patients can share that information with their doctors whenever required. Often the information in PHR consists of a combination of clinical information from doctor visits, medical & lab reports, and data (in case they monitor themselves from home with monitoring devices or wearable activity trackers).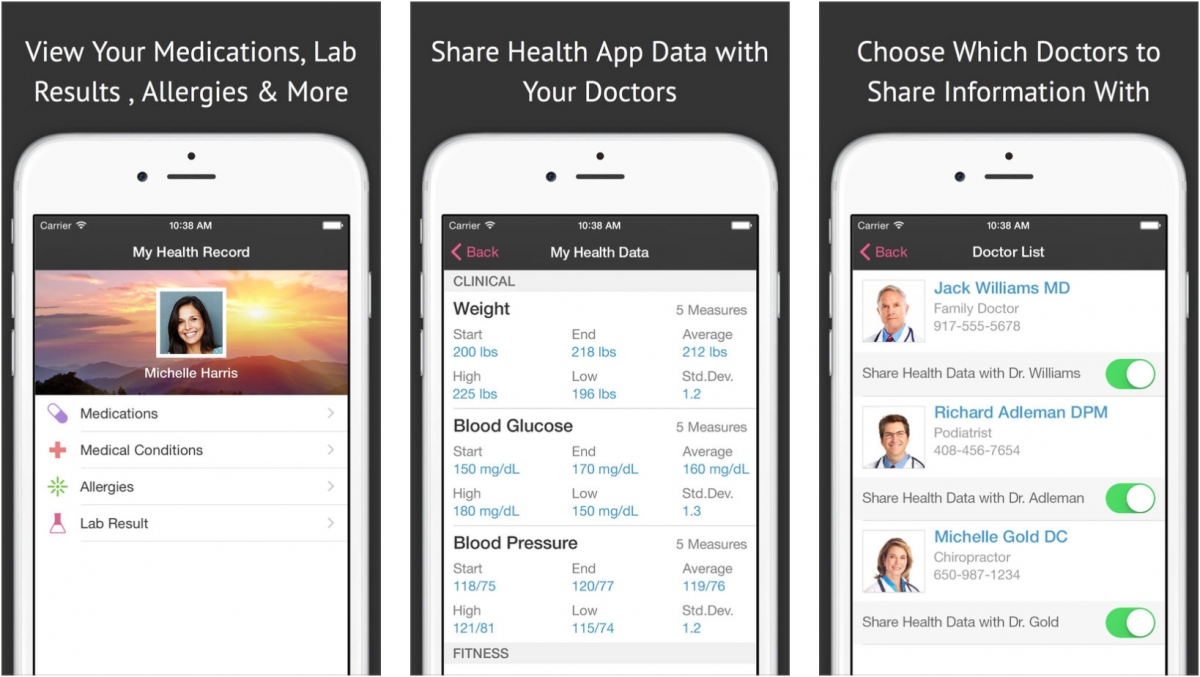 Benefits of Patient Health Records (PHR)
It is the most effective way to stay engaged and manage ongoing treatment. The many benefits of the PHR System include:
PHR allows patients to work together with doctors as a team, minimizing health complications.
It allows for effective home care and remote monitoring, as patients can actively provide updates to their care providers.
Offers comprehensive understanding to doctors about their patient's health.
Health Data saved in PHR can also be shared with various health providers for second opinions and follow-up care.
It empowers patients to take active participation in their health, thus improving adherence and health outcomes.
With a PHR, patients can provide doctors the information they need right away, rather than having to re-do a test, thus saving money.
By managing health records, patients can ensure that the information contained in their health records is accurate, up-to-date and inclusive.
Managing your PHR is a good way to be ready to provide the info when it is needed, like during emergencies, while traveling or when you visit a new doctor.
Information provided in PHR can also be considered as a combination of data from an EHR, together with patient-generated health data. It tends to be more meaningful with it being powered by the patients for their own care.
Book Free EMR, EHR & PHR Software Development Consultation
Conclusion
Hopefully, the detailed comparisons of these electronic health records have helped you gain a better understanding of EMR, EHR & PHR. Now you know that they contribute greatly to the healthcare sector and are appreciated by healthcare service providers as well as patients. In case, you are keen on getting these records developed for your healthcare facility or for personal usage, get in touch with experienced healthcare IT service provider who excels in the arena and is keen to offer great results.