Featuring apps is a unique job that the App Store performs, considering varied factors like UI design, app accessibility, app user experience, and more. For the developers, it's like an achievement to see the apps developed by them on Apple's feature page.
Featured apps boost visibility, attract increased traffic, and drive more downloads. According to the reports of 2022, the App Store has around 1.96 million applications available for downloads. As you can see, the competition is not that easy; every second app attempts dedicatedly to get noticed by the App Store's editors.
Source: Buildfire
However, there's no set protocol to get your app featured, but you can follow some Sureshot tactics that we will discuss in this article and increase the chances of getting featured.
What Is a Mobile App and App Store?
A mobile application, generally known as an app, is a type of application software crafted to run on a mobile device, like a smartphone. Often, mobile apps are small or separate software units, including unlimited functionalities. Initially, this app software usage was hyped by Apple Inc. and its App Store, which provides thousands of apps for iPad, iPod Touch, and iPhone.
Additionally, you can call a mobile app, an app, an online app, a smartphone app, a web app, or an iPhone app.
When the app stores are a matter of concern, let you know that it's an online shop where the consumers can pay for apps and download them. Being cloud-based, the app stores facilitate users to access the content through a web browser or free client software. Moreover, an app store is a free or commercial software and games collection approved for your device. You can search, purchase, download, install, and upgrade software via the device's app store.
Why Do App Stores Feature Apps?
Mobile apps make mobile devices and other handy devices valuable for their owners. Let's get deeper to know the scenario behind why app stores feature the apps.
As we know, app stores attract millions of users per week; this lets the app stores convert them into billions of dollars. More users mean more downloads which leads to increased revenue. This is one reason the app stores maintain good relationships with app developers and applaud their incredible work by featuring their apps. Also, app stores improve the store's personalized experience by featuring customized applications to every user's preferences.
The editors' team of the app stores creates content for the everyday tab and maintains the featured sections in various categories. The editors are also liable to write stories that append more content around particular apps they feature.

Benefits of Getting Your App Featured on the App Store
On the App Store, Apple has crafted the "Today" tab, where visitors arrive first when they open the App Store. Despite giving the looks of a storefront, this tab appears more like a curated magazine. In this tab, Apple hand-selects the apps with top-quality, captivating designs and fantastic storytelling. Besides, Apple also features the apps within the Apps tab. Here, the visitors find two sections; Editors' Choice and Apps We Love Right Now.
The best part of such featured apps is you would get limitless features, installs, and click-throughs from a related audience.
Above all, the featured apps on the App Store win an authentication mark, according to which Apple verifies this application as one of the top-quality designs and functionality. This mark appends an extra level of trust that boosts installs. Thanks to the mobile app development industry as because of this many companies make billions of dollars, for example like Apple. Apple makes billions of dollars and maintain a healthy relationship with developers by acknowledging quality products and featuring their work.
Factors App Store Considers to Feature an App
Teams of app stores look for top-quality games and apps across varied business models and categories. To get selected, the application stores don't offer any paid plan or checklist; everything is based on various factors. They aim to showcase a fantastic product that customers may love to download.
Check out the factors below:
(1) UI design
Simplicity is what app stores target and chooses the apps that feature the same. If the developers design their apps keeping simplicity in mind, the selection chances are high, and they can go quite a long way. Apps should meet all the essential needs and be appealing and of the best quality, like appealing visuals or intuitive controls and gestures.
Read More – Mobile App UI/UX Design Trends to Look For in 2022 & 2023
(2) User Experience
Most downloaded apps are easy-to-use, and the app stores support apps offering seamless user experiences. So, be sure that while developing your app, your aim should be providing your users with what they expect from an app. Develop an app that's efficient, user-friendly, and holds valuable functionality.
(3) Innovation
Innovative applications resolve unique issues of users adopting new technologies. Also, such apps provide the best possible user experience that may meet the customers' needs exceptionally.
(4) Uniqueness
Make sure that your app stands uniquely in the crowd holding exclusive features, defining the latest, in-demand genre, and following a new approach to a typical category that users usually prefer.
(5) Accessibility
The app stores prefer displaying those apps on the editor's page, which arrive well-integrated with accessibility features that may facilitate even users with different types of disabilities. This will make your app reach a broad audience.
(6) Localization
The developers should deploy high-quality apps with related localizations, like multiple language support, best-fit content (per the local culture), and related to the specific local markets.
(7) App Store Product Page
On this page, you should display everything relevant to your app, which can create an engaging first glimpse of your app. It may include your app's icon, preview videos, promotional texts, screenshots, reviews and ratings, and descriptions.
Types of Featuring on the App Store
(1) The Today tab
In the App Store, the Today tab is the most visited page. Every user who enters the store, not via any link or ad directly to a product page, falls squarely on the Today page. Also, this page frequently updates feeds of app features and stories
(2) The Games and Apps tab
The App Store has specific tabs of games or apps, including various lists that the store's team curates. Some lists are always updated there, like New Games We Love, while some are seasonal. Such tabs, however, attract less traffic than the Today page, which is bombarded with many visitors. Visitors with higher intent to find a specific app or game generally visit these pages.
(3) Stories
On the Search Results or Today page, you can find the stories that depend on the editor's decision to feature an app. Stories may cover a single app, being app-specific, or can be various apps' or games' collections that share a specific theme. The chief target of editors behind this is to encourage users to discover more games and apps.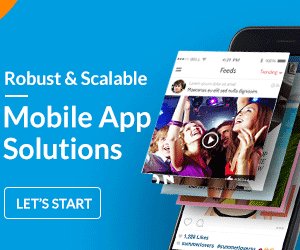 What Steps To Take To Get Featured In The App Store?
Nothing is easier on this globe; we must perform hard to simplify it. Similarly, to get featured on the App Store, you must work hard on your App Store Optimization (ASO). Like the other brands, Apple is a tech company that prefers content curation. If you want to be featured in the App Store, you focused on iOS development and build a native iOS app.
(1) Craft An Elegant User Interface (UI) And Intuitive User Experience (UX)
An engaging user interface is essential if you want Apple to choose your app to highlight it. They reward the best app design award to the app developers with apps that meet every aspect belonging to a featured app. Like, Apple chooses to appeal UX/UI apps that may appear exceptionally when downloaded on a mobile.
Mobile users are grown accustomed to captivatingly crafted apps as regardless of expected working, apps with old-fashioned UI may get rejected at first glimpse only.
Mobile holds limited space to display an app. So, be sure all the aspects of an app's design should be purposeful and built intuitively and beautifully. Your app's features should appear natural and flawless, which may not confuse users. You can know from your users only whether your app is intuitive or needs more modifications to be that. Hire a group of testers who may suit the best to your target audience and perform some app's jobs.
Also, you may ask them to let their opinions come to the table, good or bad, while they review your app. They will address the points that sound well-communicated and the rest that are pretty confusing.
(2) Use Apple APIs and Regularly Update Your Application
Apple likes to see users using its products besides loves to show off useful products crafted using the latest technologies. iOS developers find it good to use the advanced version of Swift and Apple APIs integration. iOS designs may also emerge with new designs. Xcode arrives with pre-developed iOS buttons, like back buttons, bottom navigation, and more.
Ahead, you will regularly prefer updating your app to show the app users and Apple that you take care of them. Also, don't forget that Apple's editor assists the App Store to provide visitors to emerge with the best, keeping the buggy and un-updated apps away from the list.
(3) Add and optimize app localizations
Well, it's good to start with a few, but ahead of it, you should expand. Similarly, slowly and steadily, you need to grow in various countries; it would be better for your success. Even Apple prefers apps that are installable in more than a few countries or have a worldwide audience.
It doesn't mean that you may add localizations unnecessarily. Every localization demands optimization. Every keyword and description must be translated into the localization's native language.
Also, you must ensure that you don't copy and paste the language because the two countries speak the same language. For example, a metal box that runs through electricity and facilitates people to go up and down is known as a lift in the UK, whereas in the US, it's an elevator. So, copy-pasting may ruin everything.
It would be time-consuming to optimize various localizations, which may take 10+ hours to manage around ten localizations.
Here, you can use an ASO tool to save time and save your efforts to follow other app growth strategies. Such tools permit app developers to append, manage, and optimize app localizations in one interface. The free ASO tool also offers AI-powered and data-driven recommendations on how to enhance ASO for every localization.
(4) Aim Your App Accessibility
Apple always wants to showcase its products to everyone, and you, too, need to ensure that everyone accesses your app easily. By defining the top four disability domains, Apple simplifies this process:
(a) Vision
A user may be blind, color blind, or have a vision challenge that makes it difficult to focus.
(b) Hearing
An app user may be deaf, may have partial hearing loss, or may even have issues hearing sounds within a particular range.
(c) Physical & Motor Skills
Reduced mobility in users may find it challenging to hold a device or tap the interface.
(d) Learning & Literacy
A person may need to remember a sequence of steps or find it tough to process and manage a complex user interface.
This doesn't mean you should invent something completely new. Apple offers the developers the foundation framework. You must integrate the pre-developed iOS accessibility features with your application to make it easily accessible.

(5) Optimize Your App Store Product Page
The App Store Product Page is one of the top factors that impact the app's growth. Here, on this page, app users are convinced to know more about your app and install it. If you want your App Store Product Page to be helpful, follow the tips below.
(a) App Name Optimization
The name of your app should communicate its chief aim. It needs to weigh high, considering key keywords. To rank in the top searches, name your apps, including a common search term, like food delivery, shopping app, and more, holding 30 or fewer characters.
Read More – How to Choose the Perfect Mobile App Name
(b) Include Engaging Screenshots
Undoubtedly; visuals are everything. What your app is all about would be explained in your description, but it would be better to use a catchy image to showcase the same. Developers should craft captivating app screenshots that may emphasize your application's essential features. Using the entire space is usually recommended.
(c) Create an App Preview
Within your app's product page; you can place your app's preview videos. This way, you can expose an eye-catching glimpse of your app from the inside. The app preview video must be only 30 seconds long.
(d) Choose relevant keywords
Finalize the keywords that can perfectly fit your app's functions and niche. Don't forget that this limit is only 100 characters, so pick wisely. Don't repeat your app name, again and again, using singular or plurals of the same word, the term "app," and category name.
(6) Stand Uniquely and tell your app's story
Applications with a "wow factor" are welcome on the App Store. So, app developers need to target aspects that make apps stand out uniquely, known as unique selling points (USPs) in the marketing world. Your app's story would be different depending on the shining aspects of your app.
(7) Fill Out the "Get Featured on the App Store" Form
To make your app featured on the App Store, you should fill out this form. This way, you can let Apple know about your app's story, its worth, and how it will help your users.
You can submit links to presentations, marketing materials, websites, and more in this form. Here, you should choose to be visual. Also, as Apple is a design company, you should know that it values products that appealingly exhibit themselves.
Try filling in every entry. Besides, be sure that you have presentations, a landing page, or others to link to. Be ready with alluring versions of your app that accentuate your app's top features.
(8) Keep Track of the Below Points Also
A good app is not a one-time job; it's a business. Apple features apps that show but take care of the users by offering better products. So, the question is, how to show the App Store that, yes, an app cares?
Let's find it out.
Here's what you should do to show Apple (and your users) that you care:

(a) Reply to Reviews
After a pretty long time, reviews have come to the surface, evolving as the best support for apps. Be it any feature suggestion or bug reports, users go to the App Store to talk to the developers.
Developers help the users by replying to these reviews and letting your potential users know that, yes, you are with them round-the-clock.
(b) Release Updates Regularly
Obviously, code may include bugs. You can use minor and routine releases to ensure your app performs expectedly for all users and enhance user experience.
It's not like whenever you are up with an update, it should hold massive new features to roll out. Implementing only small feature requests will let you go quite a long way; also, Apple will get you as a dedicated app developer who holds the caliber to handle new users. This will increase the chances of your app being featured.
(c) Maintain a Higher Rating
Good apps always hold a high rating, which is what the App Store follows. Apple always features apps that provide a seamless user experience and higher ratings. Be sure your app users leave a rating using the native rating prompt of Apple.
(d) Localize Your App
If you already have users or want to have more from various countries, you should perform app localization so that it may perform in their languages. However, English is the language that's spoken in almost every country worldwide. Apple features an app in multiple languages that enhances the customer experience.
App localization demands developers' effort and time, which may slow app updates, so you should keep track. The best way to start localizing your app is, to begin with 3-5 and localize both the App Store page and the app. The latter will help increase your app downloads in those markets and enhance your retention rate.
Conclusion
There's no particular format, list, or steps to follow to feature your app on the App Store. All you can do is use the above-mentioned tips and increase your app's chances of getting featured, which may help boost brand awareness.
Bonus Tip: Listen to your app users patiently and offer them what they expect from your app. This will help expand your user base and boost retention rates.
Getting your app featured on the Google Play and App Store can assist you in improving your discoverability, which leads to an increased impression rate, and the number of your app installs from Browse and Explore channels. Featuring is best for your app growth and ensures the best quality and reliability for the store users.
FAQ's
How do I get my app featured in the App Store?
You can feature your app in the App Store by following the below steps:

(1) Keep your app updated.
(2) Use Apple search ads.
(3) Create relationships with customers and offer them what they want.
(4) Tell them a good story about your app to let users craft an emotional bond with it.
(5) Use Apple's advanced features.
(6) Peep into other featured apps and see what you are missing. 
(7) Develop an exceptional, user-friendly, and customer-centric app.
How does Apple select featured apps?
Apple picks apps based on various factors that make a fantastic product that all customers will love. Your app should hold perfect usability and the best quality, engage users and offer them a seamless experience.
What does a featured app mean?
For the App Store and Google Play Store, you can look for a dedicated section for 'featured apps.' Such curated lists, crafted by editors, exhibit the best that app stores need to offer, easing the app users to catch up with something unique.