Sports have always been a special part of people's lives all around the world. Sports are filled with real-life excitement and don't need any script to move spectators to the edge of their seats. And with the evolving world, sports have also found an ally that has helped it to double the excitement and joy of the sports lovers. This partner is sports fantasy apps. Sports fantasy apps, in simple words, can be defined as a playground or technical arena for the sports experts of different sports.
Lovers of sports like Kabaddi, Cricket, Football, Basketball can use their intuitions and technical knowledge to score points and win in the virtual match running along with the live match. Kabaddi is one sport that has risen to fame in the past few years and it is no surprise that Fantasy Sports app developer in India has used it as an opportunity to throw Kabaddi in the fantasy sports mix to earn some good money. In the following points, we will look into the key areas that will assure us that Kabaddi's fantasy sport is going to be a big hit in the coming future.
Market Share in Fantasy sports
The market share of fantasy sports is expected to be growing by a huge $7.62 billion during 2018-2022. In India, the net worth of fantasy sports is INR 43.8 billion and is expected to reach around INR 118.8 billion by FY23 along with a CAGR growth rate of 22.1 %.
Future of Fantasy Kabaddi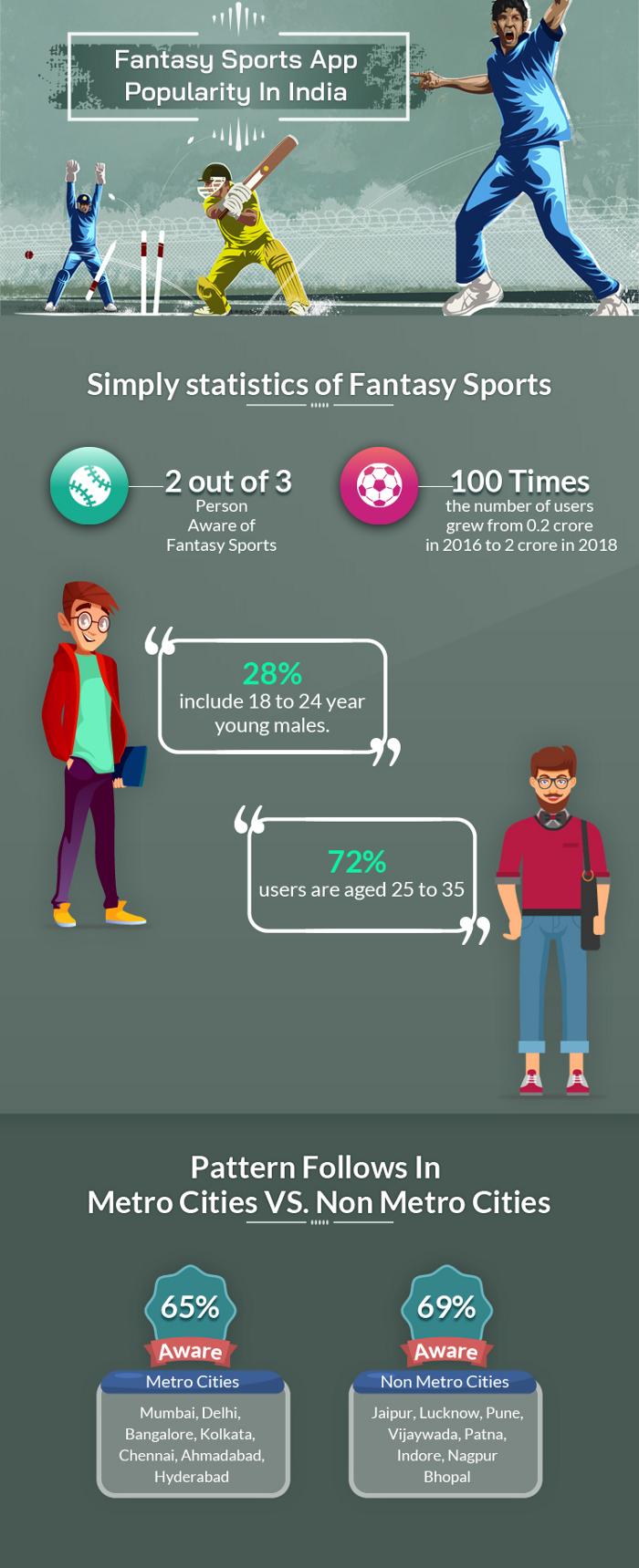 Kabaddi has come a long way after getting unrecognized for so many years in a country like India whose national team has been the World champions for last years. It was a long time coming that a sport that has fared so well at the World stage for India gains the attention that is richly deserved. Pro Kabaddi League has played a major role in publicizing this sport. It was created on the blueprint of the Indian Premier League that achieved so much success over its past ten seasons. Pro Kabaddi league attracted a lot of viewers and spectators with time as it is a quite interesting sport to be part of. The success curve of the Pro Kabaddi league has gone higher and higher with each passing season.
It has attracted a lot of sponsors that have infused a lot of money in the league and this infusion created a buzz of Kabaddi in the fantasy sports world too. Fantasy Sports App Development recognized that Kabaddi can play a major role in increasing it's brand and market value so they decided to release it with other sports. Fantasy sports has a bright future in India as they have a very wide fanbase. People involved with various fantasy sports will get to know that Kabaddi has also been added to the sports category and this, in turn, will create excitement among them to explore the ins-and-outs of this sport. They will look at it as an option to earn some good money through it.
Kabaddi in India has reached a fanbase of millions of people and these fans will look to test their skills and instincts to get some cash. The success of Fantasy Kabaddi App Development has been increasing exponentially over the past few years and directly increases the chances of success of fantasy kabaddi leagues.
Big Tournaments of Kabaddi
Pro Kabaddi League: This league was the trendsetter in the field of Kabaddi leagues that took over the domestic kabaddi in the coming time. It was launched in 2014 and supported by Mashal Sports and STAR India. Franchise based Kabaddi format was seen for the first time in this league. This tournament features 12 teams from all over the country- Bengal Warriors, Bengaluru Bulls, Dabang Delhi K.C, Gujarat Fortunegiants, Haryana Steelers, Jaipur Pink Panthers, Patna Pirates, PuneriPaltan, Tamil Thalavias, Telugu Titans, U Mumba, and U.P.Yodha. These teams fight each other in the round-robin format and then the top 4 teams battle it out in semifinals and then finals to decide the winner. Patna Pirates is the most successful team of this league having won the title for 3 successive years from 2016 to 2018.
National Kabaddi Championships
This is the oldest Kabaddi tournament in India and born brought into recognition in the year 1952. Several state teams of the country send their best-selected team to participate in the tournament and make the state more recognizable by winning this prestigious championship. There are various categories in the tournament like sub-junior, junior, senior. Tournaments considering these categories takes place at a different time of the year. A round-robin and playoff pattern is followed in this tournament.

Sports Authority of India toped in both boys and girls category, during the 29th National Sub-Junior Kabaddi Championships in November 2017 that took place in Jharkhand. In the 44th National Junior National Kabaddi Championships in December 2017 that took place in Odisha was also topped by Sports Authority of India. Maharashtra(men) and Himachal Pradesh(women) bagged the first place in the 65th Senior National Kabaddi Championship in December 2017 January 2018 that was held in Hyderabad.
Federation Cup
Since it was formed on the national stage in the country, it has become one of the most influential and successful tournaments going around. Similar to basketball, in Kabaddi also top 8 placed teams are pitted alongside the host team in a Round-robin and Play-off format. Resembling with the national kabaddi championships, this is also an annual tournament and has different categories like Sub Junior, Junior, and Senior in both boys and girls. All three are held at different times around the year. Tamil Nadu and Haryana topped in the 5th Junior Federation Cup for Men and Women respectively in March 2018. This tournament took place in Kakri, Uttar Pradesh. Services and Indian Railway secured top spots at 3rd Senior Federation Cup for Men and Women in February 2018 which was held in Mumbai.
Beach National Kabaddi Championship
Beach Kabaddi was a unique initiative taken by the Amateur Kabaddi Federation of India. The rules and regulations applied to this format were similar to that of normal Kabaddi, the only difference being the surface of playing and the number of players. It has completed 10 seasons and the 11th season is destined to take place this year only. This tournament has an only senior category for both Men and Women. Uttarakhand will be hosting the 11th season of this showbiz. The exact date of the tournament has not been decided yet but it will surely take place this year. Andra Pradesh and Himachal Pradesh were the winners of the 10th Beach Senior National Federation Cup for Men and Women that took place in February 2018, Andra Pradesh.
Departmental National Kabaddi Championship
The Departmental National Kabaddi Championship includes various Government Sector Industries or Departments. After its Inaugural season that was held in 2009, 20 teams got involved and took it to a new height. Since the success of the 1st edition, this tournament has become an annual one. In the 9th edition, 16 teams locked horns and Air India Sports Division were the takers of the Tournament.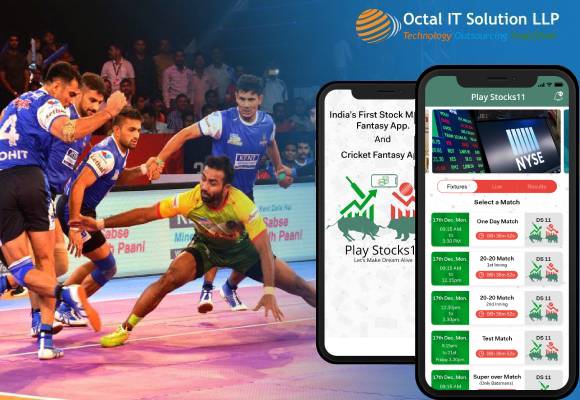 Play Stocks11 – Fantasy Kabaddi Mobile Application- Developed by Octal IT Solution
Rules of Kabaddi
Kabaddi is played between 2 teams consisting of twelve players each. But only 7 players per team are allowed to play in the team at a particular point in time. The playing surface has dimensions of 13m x 10m and is divided into two halves by a white line. The two teams occupy one half each. It can be played on various types of surfaces depending on the availability of surfaces. Kabaddi App Development is different from other famous sports like cricket or football because it does not require various special equipment, clothing, and accessories. Keeping scores in this sport is relatively simple. Teams scores one point for each opponent that they put out of the game. Eliminating an opponent can be achieved in various ways. While attacking, this can be done by the raider touching the opposition members and eliminating them. While defending, it can be done by preventing the raider from returning to his half. Bonus points are a special feature in Kabaddi.
The raider can earn an extra point by successfully touching the bonus line in the opposition?s half. Three bonus points are available to a team when all of their opponents are declared out and a point is also up for grabs if any part of an opposing team member's body goes outside of the boundary. The team which collects the most points at the end of the match is declared as the winner and if both the teams have an equal number of points at the end of the match then the match is deemed as a draw.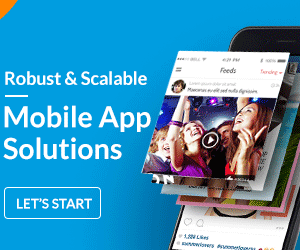 How to create a high featured fantasy Kabaddi application
A highly-featured Fantasy Kabaddi app consists of the following:
User Panel
Log in: Download the Fantasy Kabaddi League from the Play store or apple store. Then after downloading it, create an account on it by using your Facebook or Gmail id.
Contests: Various contests are available to be joined on the day of the match. These contests are a chance for the participants to win some cash.
Joining the contest: Various contests of different members?s size and the different winning price is available to be joined. You can join any contest on the matchday according to your purse size.
Payment mode: You can add money to your app wallet via online modes like Paytm or PhonePe or Google pay. This money can then be used to join various contests on the day of the match.
Create your own contest: You can create your own contest by adding fixing the size of the members to be included and also by deciding the entry money and prize money. You can ask your friends to join the contest and help you out in creating a contest that will benefit both parties.
My Profile or Dashboard: This is like the display picture of your account. This is the opening page on which your name appears, your winning money, your wallet money also appears. How you fared in the most recent contests can also be seen. Upcoming matches and contests are also displayed on this page.
Admin Panel
Admin login: Admin is required to log in to the app by using his username and password.
Dashboard: Statistics related to the concluded, ongoing and upcoming matches can be analyzed from the dashboard. The amount of money earned and several participants can also be looked upon via the dashboard.
User account manager: Admin would be able to manage the user accounts to edit, add, activate, delete, deactivate accounts.
Manage Matches: Admin has the permission to edit, delete, add, activate, deactivate entire matches.
Manage games category: Admin has the power to manage and look after the games category.
Contest manager: Admin can look into the contests and can edit, add, delete, activate or deactivate the contests.
Earnings: Admin can look for the total amount of earnings within the app via a different set of filters.
Additional Key Features
Live match scorecard: We can check the score of ongoing matches directly through the app. We can also watch the match highlights after the match and look for match experts within the app.
Live scorecard API Integration: Mobile app API present you ready to use data which you can easily integrate into your platforms.
CRM integration: Management of user location, sending of emails and tickets can be done with the help of a back-end panel that is well integrated within your system.
Push notifications: Users will automatically be notified via alerts, messages or updates about the upcoming match. In this way, they will be reminded that it is time to create their team.
Real-time data analytics: This feature is very important in capturing, storing and updating the data in real-time.
Mail Reminder System: Users will be notified about upcoming matches or their created teams via an email reminder.
Cost to develop a fantasy kabaddi mobile app
The amount can vary depending on the Fantasy Kabaddi App Development Company, the number of features and its functionality. Taking all things under consideration, in general, the cost varies between $25000 to $35000. As written above, the cost will fluctuate depending upon the features and functionality of the app. Conclusion: The market of fantasy apps is on the rise in India and so is the fame of Kabaddi. When you will combine these two aspects you provided surety of success in your vision and your vision here should be getting a fantasy kabaddi app developed as soon as possible. This article will help you to get developed a fantastic fantasy kabaddi app.