"I am convinced that nothing we do is more important than hiring and developing people. At the end of the day you bet on people, not on strategies."
– Lawrence Bossidy, GE
We live in a world that values the recruitment process along with just the brand name. It is high time that the recruitment and hiring process to see a reform and start trusting the technology for easy work experience. Gone are the days of paper resumes and cold calls to discuss your skills and your job role.
If you are someone who believes it is the people who drive the company and not the strategy, then you surely need to move to app development teams to integrate technology with your HRM software. Artificial intelligence in recruitment and selection has made recursive and boring tasks automated thus giving the key people involved in making better decisions and doing their work.
When talking about the role of Artificial Intelligence and Machine Learning in building employee force we need to understand their individual roles for the growth.
Artificial Intelligence: Transform and segregate the entire data in the format that is easy to understand.
Machine Learning: This is to scan data patterns and modify program codes as required.
The information that is managed by AI and ML can assist HR practitioners to retain and motivate employees in active participation in the organizational values. Let's further explore how Artificial Intelligence and Machine Learning help in the recruitment and talent acquisition process.
The Role Change for Recruiters and Hiring Managers
Let's talk about the opinions shared by the experts. Most tech experts believe that AI and ML in recruitment AI has a lot to offer when it comes to recruiting and hiring. The strongest support here is, the experts rely on Augmented Intelligence; it clearly reflects that you cannot fully replace human capabilities through technology. We need to look at the technology to enhance human aptitude and efficiency. It believes rather than replacing people we can use technology to add efficiency at the workplace. It can help us automate a lot of repetitive tasks and save valuable time that can be invested in the right place.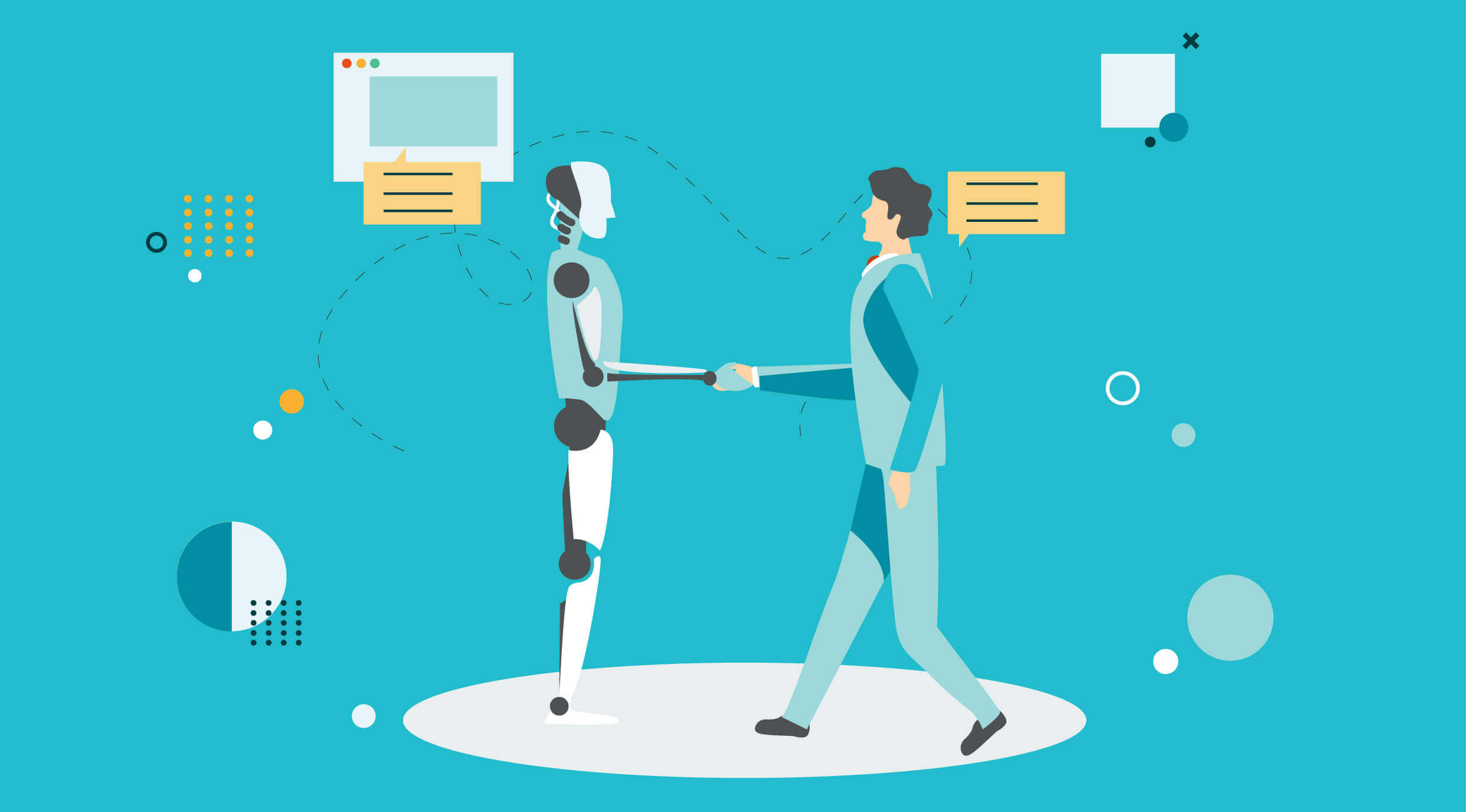 There are 3 main ways this technology will change the role of the recruiter:
Recruiters can conduct proactive strategic hiring, saving time on reactive backfilling.
Recruiters can communicate better with candidates in person to build relationships and help determine culture fit.
Recruiters can close the loop with further administration as AI can take care of the most processes.
Talent Sourcing and Mapping
The tedious job of sifting through numbers of resumes to find the right candidate who would help you meet your business goals leaves you sometimes hopeless and tired by the end. How good would that be to leverage machine learning in recruitment industry to screen the resumes that have been given to you? The AI based virtual assistant would integrate with your application tracking system and instead of going directly to the trash; the AI assistant adapts and identifies the important elements in the resume using pattern recognition.
The Artificial Intelligence solution based assistants filter the resume from the pool and ensure that you can save a little time in the further verification process. Save your time, energy and efforts with an automated selection process and let your resources help you build your business stronger.
No more turning pages over and over. Let AI do this for you.
Chatbot to Keep Candidates Engaged
This is a trend that the ml recruitment agency needs to wait for. There have been partial tests that let recruiters have real-time interaction with the potential candidates, where they can ask questions based on the job description and provide a feedback for the same. The candidates and the recruiter can work on the updates about the interview and proceed with next-step suggestions.
Being tech-enthusiast organization we believe in the potential of AI-powered chatbots to improve candidate and recruiter experience.
"58% of job seekers say they have a negative impression of a company if didn't hear back from the company after submitting an application, whereas 67% of job seekers have a positive impression of a company if they receive consistent updates throughout the application process."
Digital Interviews to Take Care Of
Application tracking software has been available for a while but these days technology claims to use Artificial Intelligence and ML in recruitment to assess and analyze his or her fit for the role and possibly study word choices, speech patterns, and facial expressions to assess their responses and work style to fit in the organization.
Artificial Intelligence can analyze human behavior and conduct to picture the mindset and responses of the potential employees to ensure if they can fit in. Predictive analysis is advancing gradually to make sure that things aren't troubled a lot over the years.
The application of artificial intelligence to the recruitment function is designed specifically to bring things inline or automate the tasks involved with recruitment workflow. Saving time in repetitive high volume tasks becomes quite a challenge to work on.
Another major advantage of using AI for the job is setting up standards and finding resumes that match those standards over the time.
With technology for your assistance, recruitment team would not have to put much efforts and time in managing the work for the data that they have built over the years.
With digitized interviews, AI for recruiting brings on the stage intelligent screening software that automates resume screening, chatbots interactions and few more exercises that determine the candidates' fit for the organization.
With augmented intelligence in action it becomes easier for the recruiters and candidates to get involved with the working of the organization and its culture.

Benefits of Using Artificial Intelligence for the Recruitment Process
Technology has been making things quite easier for various domains over the years. Let us further see the benefits of artificial intelligence in recruitment.

Save Recruiters' Time by Automating High-volume Tasks
Most talent acquisition leaders agree to the point that the rate of recruitments will rise by the end of next year and in most cases the teams will shrink to smaller sizes. Thus, the recruiters would be burdened with "doing more with less."
When it comes to manually screening resumes, it does take a lot of time and the worst part is the majority of the resumes do not fit the set standards. For a single hire we can consider a recruiter spends around 23 hours. Thus, with technology things would become easier and instead of investing so much of time, the team can focus on other things.
Improve Quality of Hire Through Standardized Job Matching
Quality of hire becomes much better as recruiting KPI black box due to an inability to close the data loop. As HR has to collect, access, and analyze over the years, quality of hire has become recruiting's top KPI. Artificial intelligence recruitment agency may see the light of the day by the end of the year.
Easy Employee Involvement
With AI in action, predictive analysis and employee behavior analysis becomes easier and the recruitment team can further engage the employees. Recruitment process is quite complicated and even after recruitment, there are a lot of things that need to be worked on. It is important that the team has enough time to interact with the existing employees and new joiners to make things better and easier for all.
With such benefits of artificial intelligence in recruitment research it becomes quite difficult for the organization to resist the use of AI in their operations. Most segments of any industry are influenced by technology and talent acquisition and HR management are the two departments that are moving  forward real slow. If you are looking forward to helping your recruitment team come up with efficient hiring just leverage some trust on the Technology too. If you are interested in web and mobile app development services then can contact us.
Final Words!
Artificial intelligence in recruitment and selection is playing a significant role. It has transformed the way the industry looks at the opportunities to employee new members in the team. Over the years, technology has been making things easier, but recruitment is one field that is completely run manually. Don't worry, the time is coming where AI and ML would take care of the recruitment process and the team can take care of employee welfare