Various Telehealth Software System That We Help You Develop
01

TELEHEALTH SOFTWARE SYSTEMS
We develop cloud-based telehealth software for hospitals, doctors, and healthcare networks. The telehealth Software as a Service (SaaS) boasts features like video-conferencing, medical consultations, clinical data, managing e-prescriptions, remote checkups, etc.
02

m-HEALTH AND TELEMEDICINE APPS
We build custom mobile telehealth applications (mHealth) for iOS, Android, and Windows phones, with features like SMS, VoIP, and camera APIs. We also provide portals, patient engagement systems, and on-demand doctor finder apps.
03

TELEMEDICINE VIDEO CONFERENCING
Our powerful video-conferencing software enables virtual doctor's appointments and doctor-to-patient consultations via desktops, smartphone, and web browser apps. We build telemedicine apps with features like screen sharing, recording, Multipoint Control Units (MCU), streaming, Single Sign-On, and IVR.
04

TELEMEDICINE PLATFORM INTEGRATIONS
We build telemedicine systems using HL7 standards. The system contains features like transmitting clinical data, EHR/EMR, teleradiology images, and DICOM/PACS. We use telehealth platforms for streamlining RCM workflows in HIS, PMS, and HIE.
05

REMOTE PATIENT MONITORING SYSTEMS
We develop remote monitoring telemedicine software systems that feature medical device sensors, data repositories, and diagnostic applications CDSS and intervention alerts.
06

STORE AND FORWARD TELEMEDICINE SERVICES
Our asynchronous telemedicine platforms have powerful features of store-and-forward services. We use secure messaging and file transfer protocols to transfer biometric data, test results, and teleradiology images.
Advanced Technologies We Use
Artificial Intelligence
The technology is making it easier for telemedicine service providers to build solutions that are user-friendly and can help health practitioners make things easier. With Artificial Intelligence based solutions we make sure that you up-scale your game. We have been providing solutions that are easy to connect with and help you make great profits.
Big Data
When we talk about telemedicine-based applications, it becomes important to take into account the solutions that can deal with huge data. With large data required for the process, it becomes easier for the service providers to maintain, record, and track the solutions. We have been offering big data-based solutions that make your products intuitive and easy to connect with.
Virtual Reality
Working on solutions that can help you peep in the future isn't easy. With our virtual reality and augmented reality-based solutions we bring on the screen an experience that is not just futuristic but comprehensive too. One can actually see things or get into the practical details before practicing the process on the real person.
Internet of Things
Another solution that makes it easier for people to connect to the devices and make healthcare services better. Internet of Things is not a new technology but its application is expanding like never before. The healthcare sector has never failed to use the technology to provide stronger solutions and earn better.
3D Printing
Another solution that makes things easier. Our telemedicine software development company has made it quite easier for healthcare practitioners and new learners to see the details of the body parts and delicate organs without actually performing actual surgery. With 3D printing technology, one can see various aspects of the infected area and precisely plan the next step.
Virtual Assistants
When talking about the benefits of technology, this is one thing where technology has gone too far. With AI-based assistants, it became easier for the service providers to maintain an accurate record and save the details of the patient. Also, the analysis process became easier, and dealing with customers saved time. With such telemedicine software features, we affirm that you stand out from the crowd with your product.
What Makes Octal IT Solution the Best Choice for Your Business?
01

All-in-One Solution
All the required features come up under a single portal so that users can manage and monitor all the related activities without any confusion.
02

Data Collection & Privacy
Implementing the most effective big data analytics solutions, we easily map the data of the right patient so flows out to the therapist, and makes sure that it comes with the effective solution.
03

Wearable Tech & Cloud
While using all the cutting-edge technologies, we create fitness apps that deliver on-demand medicine services and patient care prescriptions, and beyond.
04

Targeting Patients Personally
We deliver solutions that comprise of medical history, health care plans, and other critical data so as to make the patients realize that he is being treated personally and with utmost importance.
05

Advanced Technology
When talking about the technology that can make things easier, we make sure to deliver telemedicine solutions that use advanced technology and help you stand a step ahead of the competition.
06

Easily Navigable Solution
We affirm that the telehealth app development services we offer build solutions that are easily navigable and can help you survive the market pressure easily. We have been delivering great results over the years that make it easier for the end-users to make the best of the application.
Telemedicine & Telehealth Software Solutions
Octal IT Solution offers software solutions for hospitals, clinics, and doctors to facilitate telehealth and telemedicine to the patients, appointment booking & scheduling, health monitoring, and many more. Our fully customized healthcare solutions are programmed by seasoned experts with deep experience and understanding of the healthcare industry. We strictly follow the stringent methods of HIPAA-compliant solutions.
Our telehealth software system depends upon the unique access of providing the suppliers with advanced features like video chat, digital prescriptions, digital health data, medical consultancy, appointment booking, and much more. The systems are handy, easy to use, and very intuitive for the users. Therefore, you do not need any technical knowledge to work on the software as it comes fully integrated and ready to use.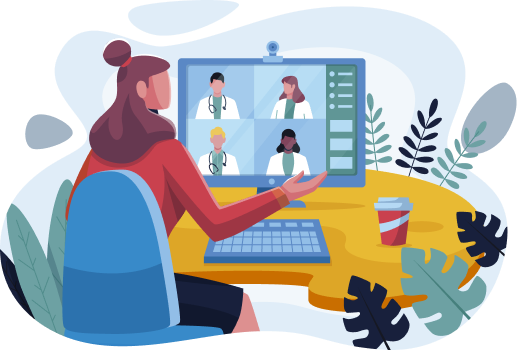 What Makes Us the Buzz of Tech Town
Here's what our business partners say about us.
Tech Talk: Stay Up-to-Date with Our Latest Insights
We have our eyes on what's new in the tech world and bring you the latest updates here!
Octal In The News
Octal IT Solution Has Been Featured By Reputed Publishers Globally
Let's build something great together!
Connect with us and discover new possibilities.






Gain More With Your Field Service
We're always keeping our finger on the pulse of the industry. Browse our resources and learn more.
Let's schedule a call