Symfony Web Development Company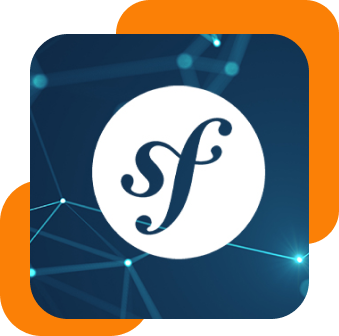 Symfony is the first choice for people who want it to be rapid! Regarded as one of the most important frameworks written on PHP, Symfony has embodied a more robust and highly optimized avatar with Symfony 2. Powered by a highly standardized directory structure, Symfony 2 development has been among the celebrated ones among the users.
Octal has adopted this technology with great alliance of thought and skills. Symfony 2 development at Octal IT Solution is accorded with the right knowledge of the platform and well-defined solution approach. Our expert resources do their most brilliant bit come out to your rescue. Symfony 2 development at Octal has the right processes employed and is supported by the most authentic supplies of technology and brains. By involving the development elements in Symfony development we make sure that their remains no deviations in the optimum support and possibilities provided by MVC paradigms and the utility derived and finally the solution conceived.
Symfony 2 technology is best treated at Octal with the right technology stack in place; technology support elements knitted well with the environment and qualified Symfony developers serving the project, besides having the best of support from the supervising authority.
Symfony Development Services
01

SYMFONY MIGRATION SOLUTIONS
Migration between Symfony platforms is now a lot easier with Symfony Migration Solutions.
02

3RD PARTY APP INTEGRATION
At Octal IT Solution, our Symfony Developers integrate Symfony development services with third-party APIs.
03

SYMFONY MODULE DEVELOPMENT
Our Symfony Developers are well-versed at lending your website that edge by module development thus keeping the users enticed.
04

SOCIAL NETWORKING DEVELOPMENT
Build an effective social network with the help of our reliable and effective Social Networking Development services suiting your business well.
05

SYMFONY ECOMMERCE SOLUTION
Yes, Shopping Cart Development in the arena where we deliver great services with smooth checkout and payment for users.
06

THEME DESIGN & INTEGRATION
Don't wait further to deck up your eCommerce website with our enticing Symfony theme meeting your business needs.
Why Octal For Symfony Web Development?
Fast and Easy Development
This PHP framework offers modular and extensible development solutions to help web developers build a solution that is fast, easy to scale, flexible, and secure. Our Symfony developers are adept at delivering custom solutions that are highly scalable, flexible, and secure.
Reusable PHP Components
Reusable PHP components are pre-built modules or libraries that can be used to enhance the functionality and efficiency of PHP applications. Our experts can provide a modular approach to software development, and save time from working from scratch.
Flexibility with Disconnected Components
When working with disconnected components, flexibility is key. Disconnected components refer to software components that operate independently and do not rely on continuous communication or integration with each other.
What Makes Us the Buzz of Tech Town
Here's what our business partners say about us.
Tech Talk: Stay Up-to-Date with Our Latest Insights
We have our eyes on what's new in the tech world and bring you the latest updates here!
Octal In The News
Octal IT Solution Has Been Featured By Reputed Publishers Globally
Let's build something great together!
Connect with us and discover new possibilities.






Gain More With Your Field Service
We're always keeping our finger on the pulse of the industry. Browse our resources and learn more.
Let's schedule a call