Joomla Web Development Company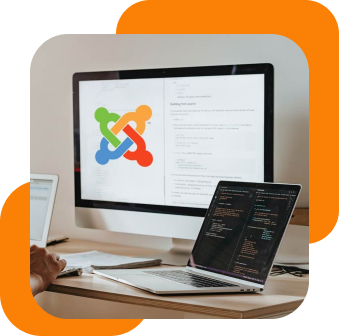 Having being downloaded for over 30 million times, Joomla is among the most used CMSs in the world. Joomla is built on PHP and is considered as exceptional platform for programming using OOP (Object Oriented Programming) techniques. It can be regarded as an open source framework which is totally focused towards the user convenience. Its development-friendly environment takes the programmer through easy and authentic ways of publishing content on the World Wide Web.
Joomla developers at Octal possess extreme skills to handle different CMS projects. We have developed a wide range of applications that have utilized the amazing features of Joomla like news flashes, language internationalization support, polls, printable pages, advanced search etc.
Our experience handling large number of commercial extensions from Joomla makes us one of the most sought after Joomla Development service provider. Our technology experts take note of the latest releases from official Joomla to keep the pace with the technology and continuously train and update our pool with the acquiescent knowledge and skills to avail you advanced Joomla Development solutions.
Hire Dedicated Joomla Developer
01

Proven Methodologies
Our years of experience, robust development methodologies and skilled resources help a project build effectively and smoothly.
02

250+ Skilled Developers
Proficient and excelled squad of developers for meeting the standards of all the your web development requirements.
03

Competitive Pricing
Get the most Competitive pricing for your exciting development projects to bring down overall development cost.
04

Seamless Communication
Stay connected right from the project inception till execution, We support your ideas & concerns with a serious dedication.
05

24/7 Technical Support
Our communication channels are open 24/7 that connects you promptly with right technical experts to diminish complications.
06

100% Confidentiality
We truly protect your business ideations and values and governs it with all the conservative documentation approaches.
Why Octal For Joomla Web Development?
Custom Development
Octal IT Solution is proud to have a team of highly skilled Joomla Developers who have handled several CMS projects in the past. Our squad of Joomla developers has built several responsive and robust web applications. The application was packed with astounding features of Joomla like printable pages, advanced search, news flashes, etc.
The application built by our Joomla developer can be altered and customized according to the business requirements. We also stay updated with the latest releases of the Joomla to keep up with the latest technology and be able to develop the finest web solutions for businesses and help them in expansion.
Dedicated Developers
Our team of Joomla developers carries experience in handling numerous commercial extensions from Joomla which makes us an ideal choice as a Joomla Development service provider. Our developers also utilize OOP (Object Oriented Programming) techniques to provide the best possible results to the clients.
The Joomla developers at Octal IT Solution can be hired on an hourly/daily/monthly basis, depending upon the business needs. Developers can be instructed and managed by the hiring team for the best possible results. Complete transparency is maintained throughout the project completion and regular updates are provided to keep track of progress.
Support & Maintenance
Investing in support and maintenance is equally important as much as investing in development. Website and Web applications tend to run into problems and need a dedicated team for maintenance. Investing in support and maintenance will ensure that the website and web application are up-to-date and functioning smoothly.
Our maintenance and support service includes optimizing the application over time, fixing bugs and errors on priority, and upgrading the application with the cutting-edge features to engage users and improvise the user experience. We also recommend essential changes in the web application that can help businesses to expand.
What Makes Us the Buzz of Tech Town
Here's what our business partners say about us.
Tech Talk: Stay Up-to-Date with Our Latest Insights
We have our eyes on what's new in the tech world and bring you the latest updates here!
Octal In The News
Octal IT Solution Has Been Featured By Reputed Publishers Globally
Let's build something great together!
Connect with us and discover new possibilities.






Gain More With Your Field Service
We're always keeping our finger on the pulse of the industry. Browse our resources and learn more.
Let's schedule a call